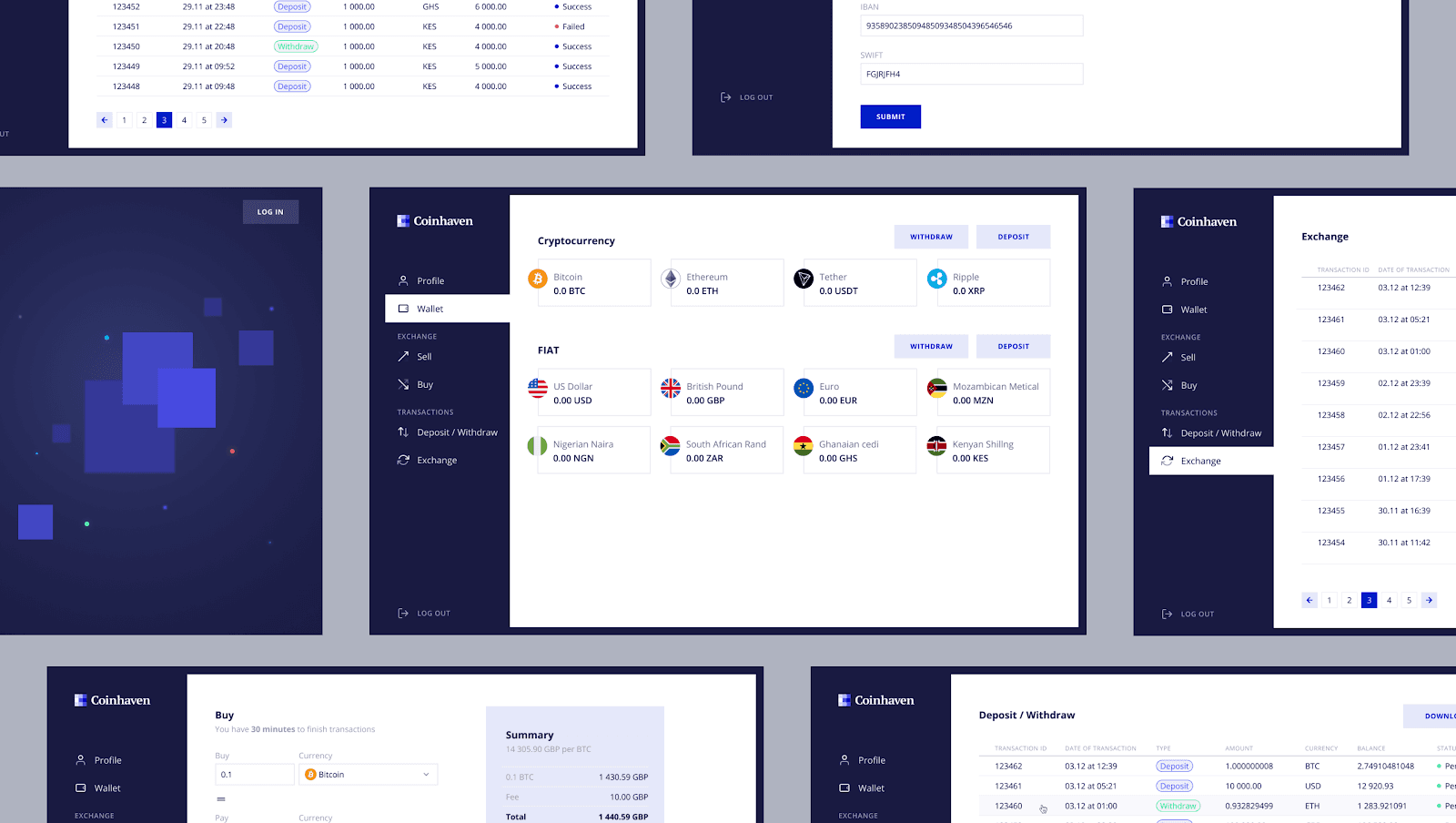 Top 15 Projects for Blockchain, Crypto, and NFT Firms: Artkai Case Studies
As of February 2022, Artkai has completed over 30 projects in the blockchain sphere. This article is a summary of valuable findings from the top 15 new blockchain projects, focused on these categories:
NFTs
Artemis - NFT marketplace and auction platform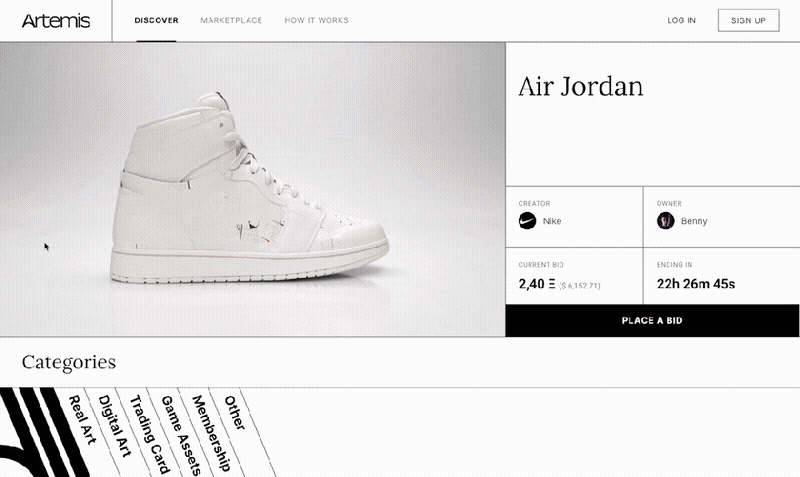 Geography: South Korea
Platform: Web
About
Artemis is a powerful NFT art auction marketplace for digital art and other digital assets. This top NFT project is designed to help creators display and sell their items while allowing buyers to resell them using cryptocurrency transactions.
Objectives
The client came to us with a mission to create an NFT marketplace that would become a decentralized Christie's or Sotheby's in the NFT ecosystem and dominate the market.
Challenges
The biggest challenge was that the product had to appeal to a variety of market niches with different target audiences. What is an NFT project in the art niche? Listings for unique pieces of digital art had to show a range of options. Artemis required an elegant storefront with a unique UX/UI design to naturally combine these elements and communicate high value.
Target audience
Digital artists
Analog artists
Art galleries
Curators
Art collectors
Investors
Gamers
Sneakers' resellers
Fans of artists
Outcomes
We created a beautiful blockchain project that makes it easy for anyone to get started with NFT technology. The marketplace connects artists and investors, digitalizes analog art, secures public confidence, and makes the process fun and exciting. The elegant design of this new NFT project also helps people simply enjoy digital art. 
Xtingles - NFT Marketplace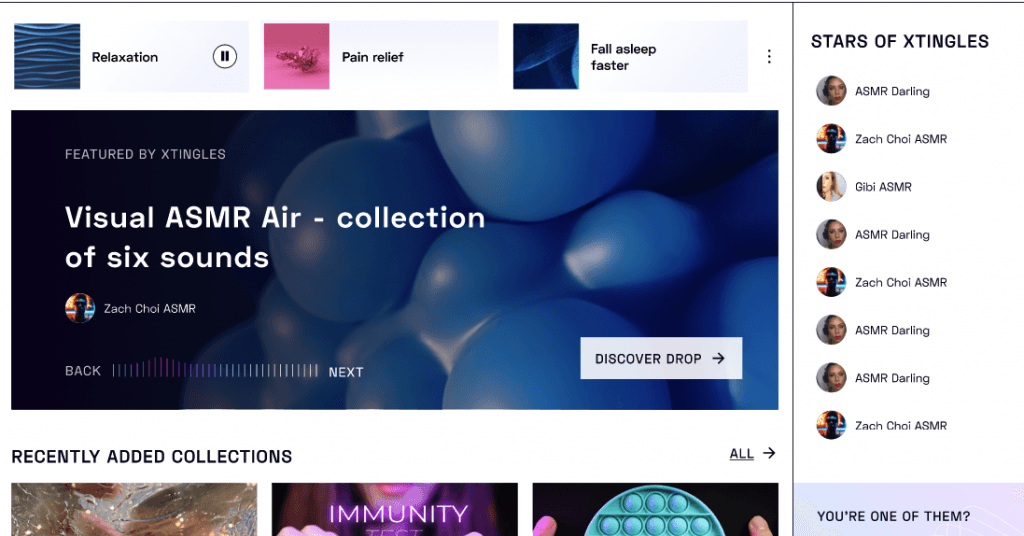 Geography: Taiwan
Platform: Web
About
Xtingles is a unique premier marketplace that allows creating, finding, and buying ASMR sounds NFTs.
Objectives
The main goal was to create an NFT marketplace that would connect ASMR fans with top global ASMR creators. The creators will be able to monetize their work by selling NFT sounds, and the fans can buy their favorite sounds from their favorite ASMR creator.
Challenges
The main challenge we had was to create a robust NFT project with a seamless experience for users that will allow them to listen to ASMR sounds and buy them comfortably. 
Target audience
ASMR creators
ASMR fans
Investors
Outcomes
Artkai helped to plan and design an eye-catching, easy-to-navigate, popular NFT platform that addresses the needs and preferences of all categories of the ASMR listeners and guides them through the new area of NFTs. The creators, in turn, have all the functionality to create, promote and sell their sounds on this best NFT project.
Trading & Investing
Huobi - Top-5 crypto trading platforms in Asia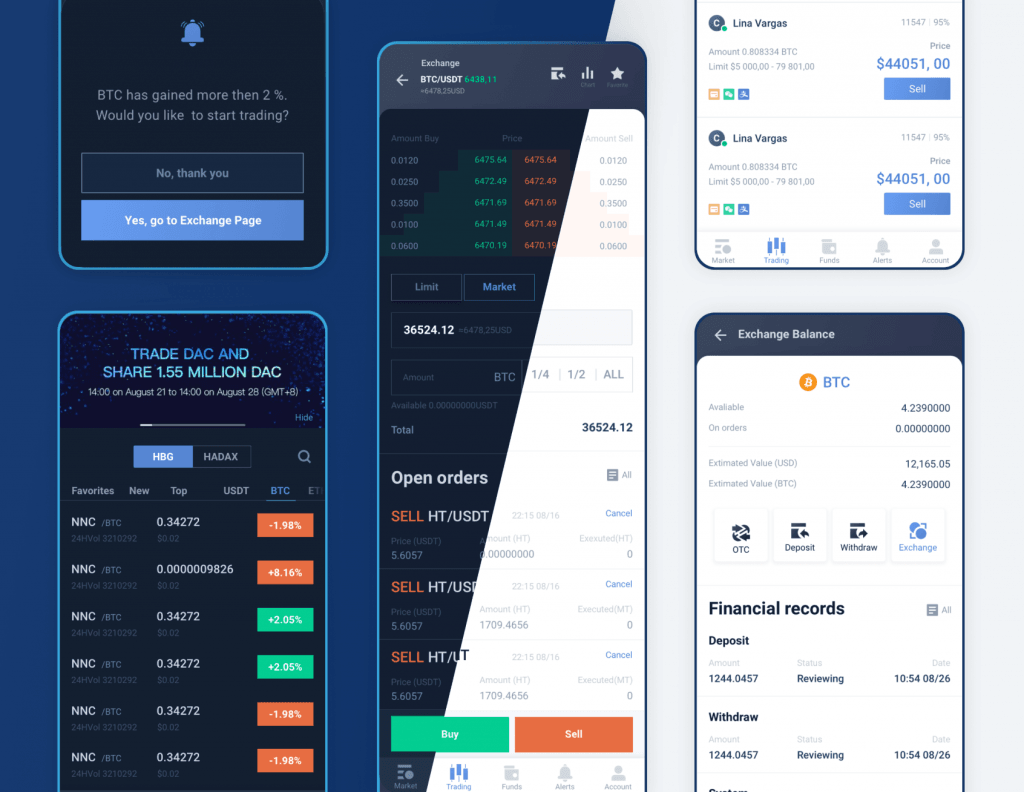 Geography: Asia
Platform: Web
About
Huobi is an established Asian crypto trading platform listed as a top-5 blockchain project ideas in China. The company established itself as an accomplished player in its home region, and opportunities began to emerge beyond the Asian market.
Objectives
Seeing the excellent performance of Huobi in Asia, our client planned to repeat the product's success and expand one of the best new crypto projects into the European market. Artkai's main task was to study and understand European users, uncover their pain points and understand how the product can address needs through the UX/UI design.
Challenges
User habits vary across different markets. To design the platform properly, we needed to find out the difference between Asian and European customers at top Web3 crypto projects. This would allow us to ensure successful adoption by the European trading audience. 
Outcomes
Thanks to the insights we received during our extensive UX research, we were able to create a UX/UI design that perfectly addresses Western users' needs and pain points. It ensured the blockchain development project's success in the new market and helped create new income streams for our client.
NDA - speculative tokenized trading service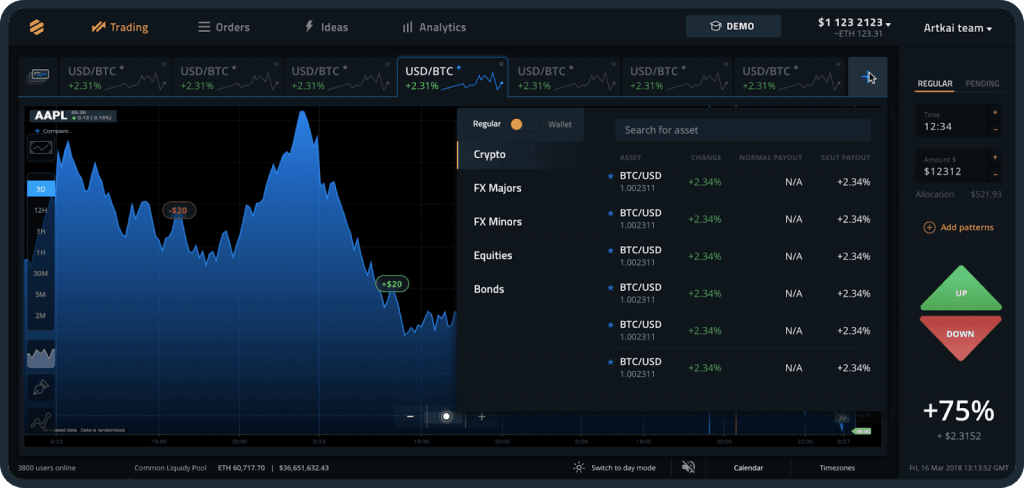 Platform: Web
About
NDA is the world's first AI-based broker-less financial trading platform, allowing users to trade directly against financial markets without involving an intermediary broker. Several thousand new user accounts are added every month, and the NDA Trading Platform is the fastest growing platform for digital contracts, becoming one of the top web 3.0 blockchain projects 2022.
Objectives
The main goal for our client was to substantially improve the user experience by visually and functionally refreshing the platform. The business goal behind these initiatives was to strengthen the retention of customers and speed up user adoption.
Processes
Research: project scoping, UX research, user interviews
Mind mapping and user scenarios
Backlog
UX/UI design: information architecture, wireframes, interface design, UI kit
Quality Assurance
Outcomes
Artkai came up with a unique, responsive, feature-rich, and easy-to-use web-based trading platform that exceeds customer expectations of the best web3 crypto projects. We made sure the venue was 1) equipped with all the essential trading tools and parameters required for a safe and fraud-free trading experience and 2) easily accessible to the masses thanks to a simple and interactive interface that educates its users from their very first trade.
To see in detail what technology project ideas we incorporated and what came out of it, check out the full NDA case study.
Coinhaven - an all-in-one platform for OTC, crypto trading, and exchange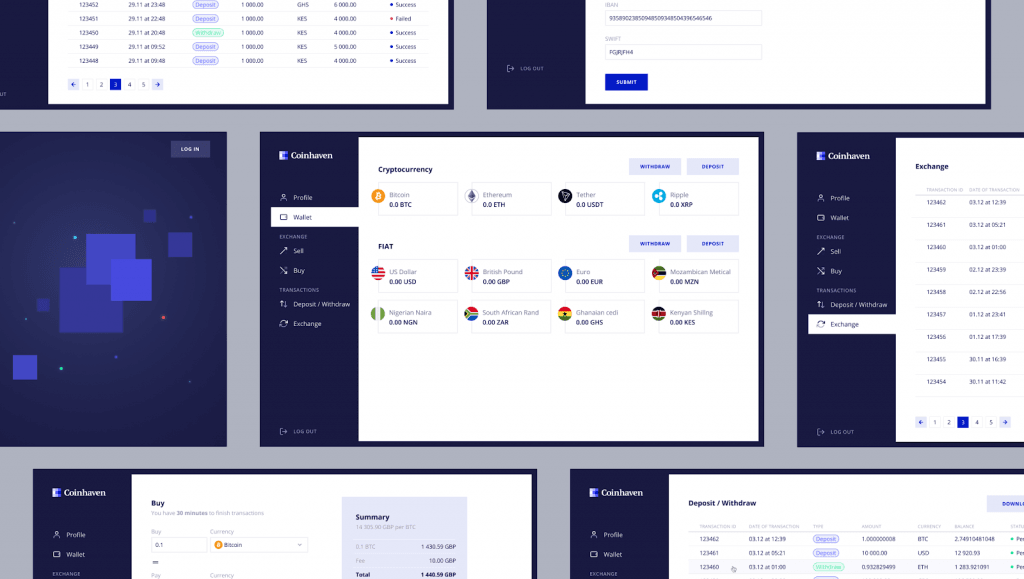 Geography: Germany
Platform: Web
About
Coinhaven is a crypto trading platform developed for African countries with the goal to provide African people the ability to trade cryptocurrencies using their local fiat currencies. The platform is one of the most promising crypto projects today; it is an over-the-counter (OTC) service for people who simply want to buy crypto and it includes the ability to trade crypto against local fiat currencies. 
Objectives
The goal of the Coinhaven platform was to deliver legally compliant and bank-approved OTC services to African countries. A unique requirement was to enable the platform to accept five major African fiat currencies.
Artkai's responsibility was to create a custom OTC platform with a unique UX/UI design concept for web 3.0 blockchain projects and connect it with a white label crypto trading platform & exchange. Artkai also managed the work of three independent service providers.  
Target audience
Professional and amateur investors
Citizens of African countries
Crypto enthusiasts
Outcomes
The result of our work was a perfectly designed three-in-one platform that gives its users the ability to:
Monitor crypto news and exchange rates for African fiat currencies
Trade crypto against these currencies
Buy or sell crypto directly from Coinhaven using its OTC feature
Geography: UK
Platform: iOS/Android
About
CEX.io is a crypto exchanger with 4 million registered users. The application allows users to buy, sell, trade, and earn cryptocurrencies wherever they are, being one of the best web3 projects to date.
Objectives
CEX.io wanted to adapt the existing Web experience to iOS and Android. The Artkai task was to redesign their mobile application, improve user experience, and help the platform gain new users through a more appealing and accessible UX design typical for the best node projects crypto. 
Outcomes
We created an edgy, accessible, and stylish design that adapted and improved the existing Web experience and the findings from the best NFT crypto projects. We made onboarding easier with QR codes, more natural human language, and more intuitive navigation paths. The result helped strengthen product adoption.
Lending & Loaning
CoinLoan - A Web-based P2P Lending Platform
Platform: Web
About
CoinLoan is the first crypto-to-fiat lending platform for digital assets-backed loans with marketplace opportunities. Its primary purpose is to allow crypto holders to get fiat money without selling their digital assets.
Objectives
Our client's key goal was to create a readily available, informative, and intuitive lending platform with a P2P ecosystem, custom UX & UI design, and easy user flows for funds withdrawal via transfer as a competitive advantage.
Outcomes
Together with the client, Artkai introduced a custom UX & UI design that featured a highly accessible, secure, and intuitive website and a landing platform with the P2P economy. As a direct result of our collaboration, the CoinLoan.io platform has gained more than 100k active users.
To see the solutions we came up with, check out the full CoinLoan case study.
Loyalty loans - P2P loan platform
Platform: Web
About
LoyaltyLoans is a loan platform that allows dApp tokens to be used as collateral.
Outcomes
We created a web platform with an excellent UX/UI that communicates the main idea and the functionality that makes the process of lending and borrowing clear and straightforward. The platform we designed can be swiftly integrated into any dApp frame size and includes an easy-to-set-up API.
Gambling & Gaming
Nezha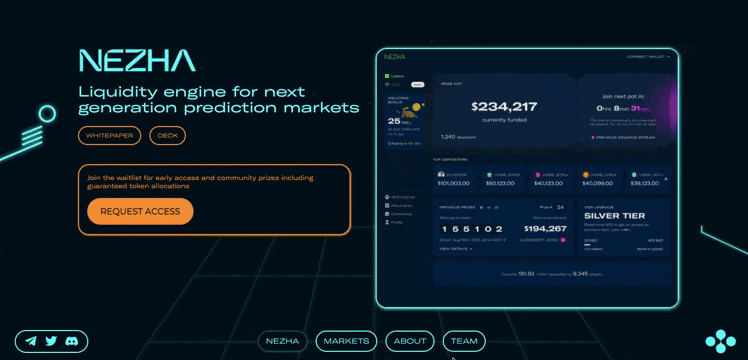 Geography: Germany
Platform: Web
About
Nezha is a liquidity engine for next-generation prediction markets. In other words, it is a no-loss blockchain lottery with a winning pool generated from a stake yield. Its unique functionality has made it one of the most expected 2022 NFT projects. 
Objectives
The goal was to design and develop a one-of-a-kind product, the one that could join the list of top NFT projects 2022, explore blockchain possibilities and collaborate with a separate blockchain development team.
Target audience
Crypto traders
Traditional gamblers
Outcomes
This exciting project is ongoing, and the results so far include Nezha lending where people can join the waitlist for early access.
Quanta - the first licensed blockchain lottery platform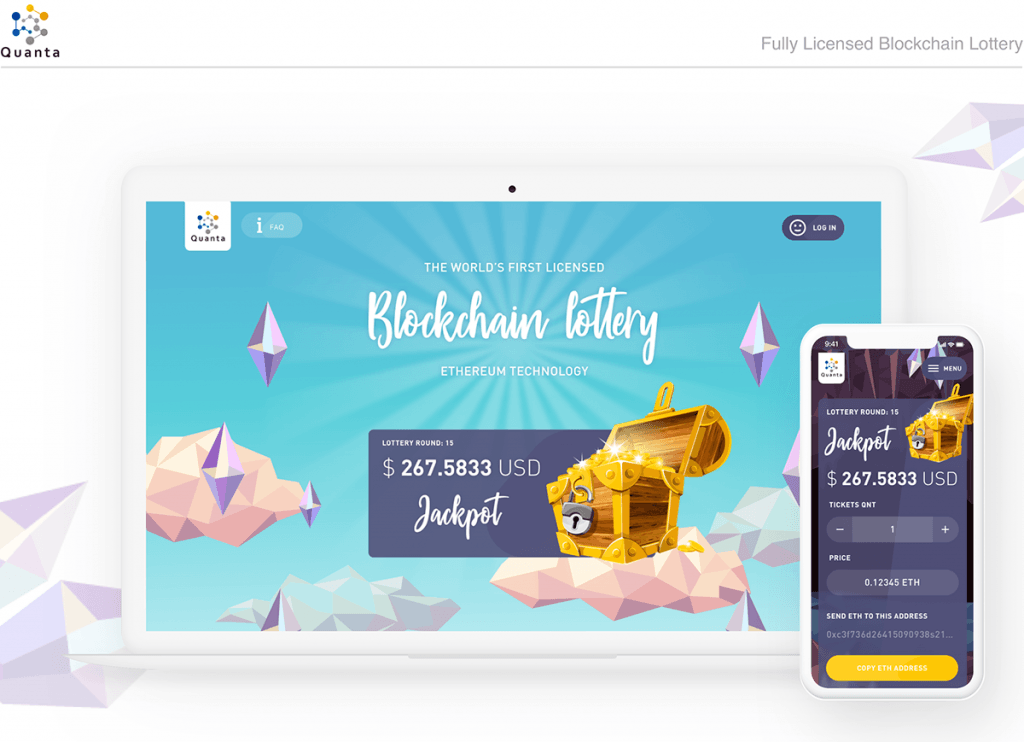 Platform: Web
About
Quanta is the first blockchain lottery platform to be granted an OGRA gambling license. Quanta sits at the intersection of gaming and fintech, using blockchain to provide highly transparent digital services & competitive lottery platform solutions. It's also on the list of the best NFT projects 2022. 
Objectives
Artkai was challenged to use its extensive expertise in building blockchain projects to design a UX/UI that would allow users to enjoy a transparent, fully autonomous, and manipulation-proof gaming experience. We needed to reflect lottery themes in the design, making it memorable, fun, and trust-evoking among new NFT projects 2022. 
Target audience
Crypto traders
Traditional gamblers
Outcomes
We developed a memorable and entertaining UX/UI design that is engaging, accessible and communicates the product's transparency, creating a fun gaming experience for users in love with NFT crypto projects.
MatchNet  - A TRON-based app for skilled P2P challenges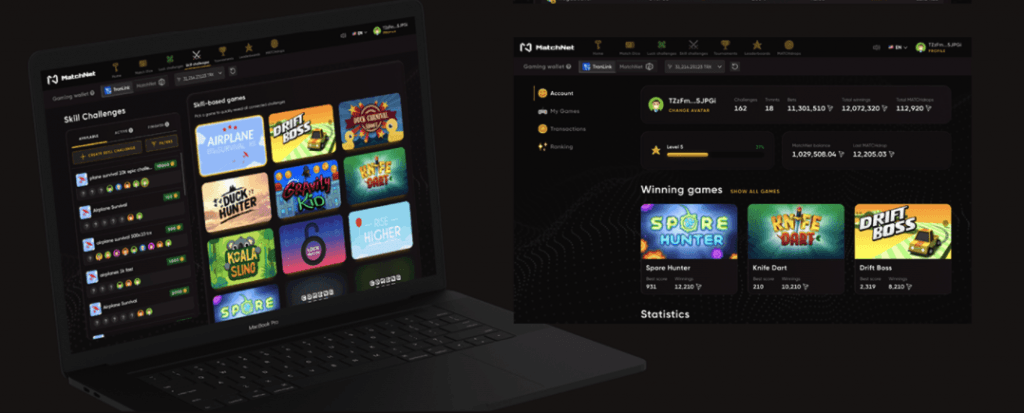 Platform: Web
About
MatchNet is a mobile-based platform that allows users to engage in P2P challenges and earn daily revenues by mining and gathering MATCH tokens. It has become one of the most successful NFT projects launched in recent years. 
Objectives
The client asked Artkai to design and develop a platform where players can 1) create skill-based challenges and win Loyalty Points they can exchange for sponsor products and merchandise, and 2) fight in big tournaments for sponsored prizes.
Target audience
Outcomes
We came up with a UX/UI concept, visual and motion design, and developed the web application. The app is perfect for big challenges and tournaments where up to 2000 players can fight for large prizes funded by partners and win daily revenues.
Loyalty App - Cross-platform blockchain mobile app to connect professional sports and fans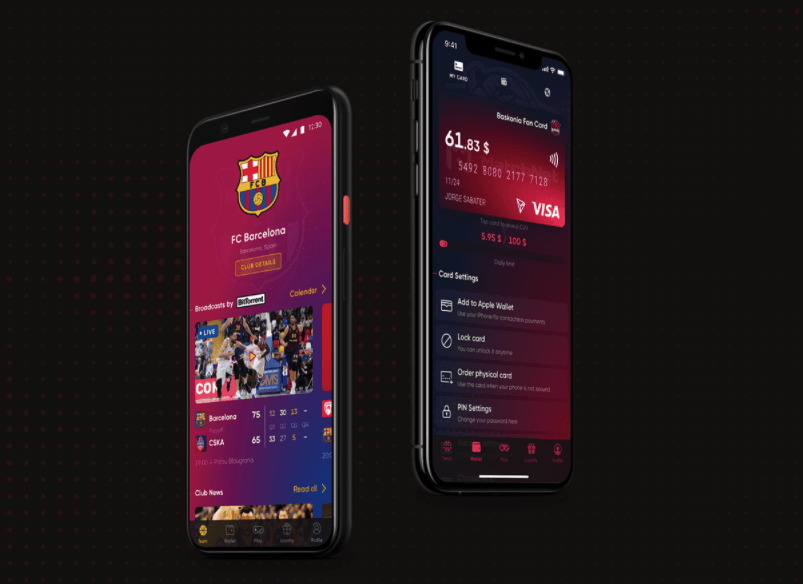 Platform: iOS, Android
About
Loyalty app is a cross-platform app for professional sports clubs and leagues. The app has united the best of both worlds in blockchain and sports - mass adoption and monetization of sports fans. This unique approach helped it top the list of top NFT crypto projects this year.  
Objectives
Our task was to create a mobile blockchain platform with visual and motion design from scratch to engage professional sports fans in monetizing their passion via crypto NFT projects. 
Target audience
Outcomes
We designed and developed an exciting app with the fan currency called Loyalty Points, used for in-app transactions. Fans can track their team's statistics and performance, watch live broadcasts, create challenges, and win Loyalty Points -  a cryptocurrency in disguise that is used for in-app transactions, playing in challenges and tournaments.
Brand identity
Matrix Port - next-generation fintech unicorn
Geography: China
Platform: Web/Mobile
About
Founded in February 2019, Matrixport is a next-generation fintech unicorn headquartered in Singapore. The company has an open and progressive vision and strives to participate in the emergence of a new and better generation of the banking system.
Objectives
The client's main objective was to create a new brand identity that would reflect the company's progressive vision, innovative decisions, and fast growth in the fintech arena.
Challenges
Create a Brand Identity for a unicorn crypto trading platform.
Target audience
Crypto traders and enthusiasts
Outcomes
We've delivered an awesome Brand Identity with a fresh and modern visual that evokes trust. Bright and "pure" colors, plus a font that supports more than 1,000 languages, including the main Chinese dialects, to highlight the brand's global presence. The logotype symbolizes a modern but reliable place for investments and growth. The down arrow is the key element of the visual language that enables composing all kinds of messages.
Aergo  - South Korean blockchain company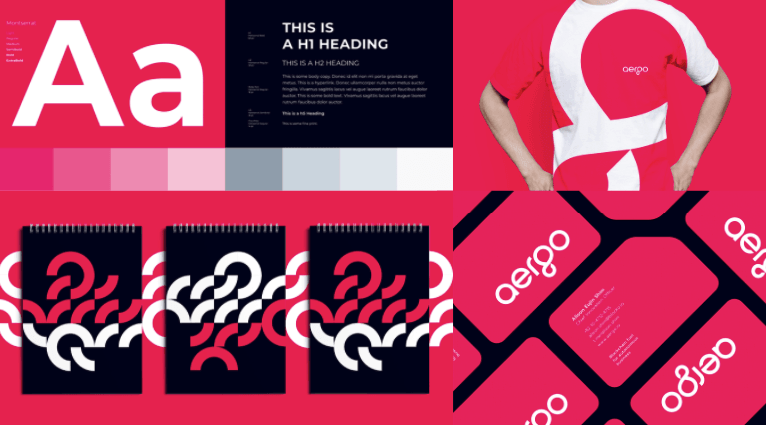 Geography: South Korea
Platform: Web
About
AERGO is a 4th generation enterprise-ready blockchain protocol combined with an IT platform for businesses. AERGO provides infinite possibilities for blockchain in various niches: Identity Authentication, Payment Settlement, Secure E-Voting, Document Management, and the Internet of Things. AERGO raised $30 million in funding, with Samsung Capital & Sequoia Capital among the backers.
Objectives
The key objective for the client was to reflect the platform's technological capabilities, scale, and innovativeness in a stylish brand design, and to further use the branding across all of the company's visual assets.
Outcomes
Artkai has created a new brand identity design and overall visual design for the website and marketing materials. We centered the attention around a modified lower case letter "g" that brings to mind the infinity symbol "∞," reflecting the infinite possibilities and endless potential for the platform's users and technological advantages. We created the unique rounded letter shape to evoke a feeling of constant movement.
We applied this style across all the client's visual assets, coming up with Logo design, Logo guidelines, WEB design, and marketing materials.
To see more about the beautiful brand identity style we came up with, check out the full Aergo case study.
Blocko - a blockchain enterprise platform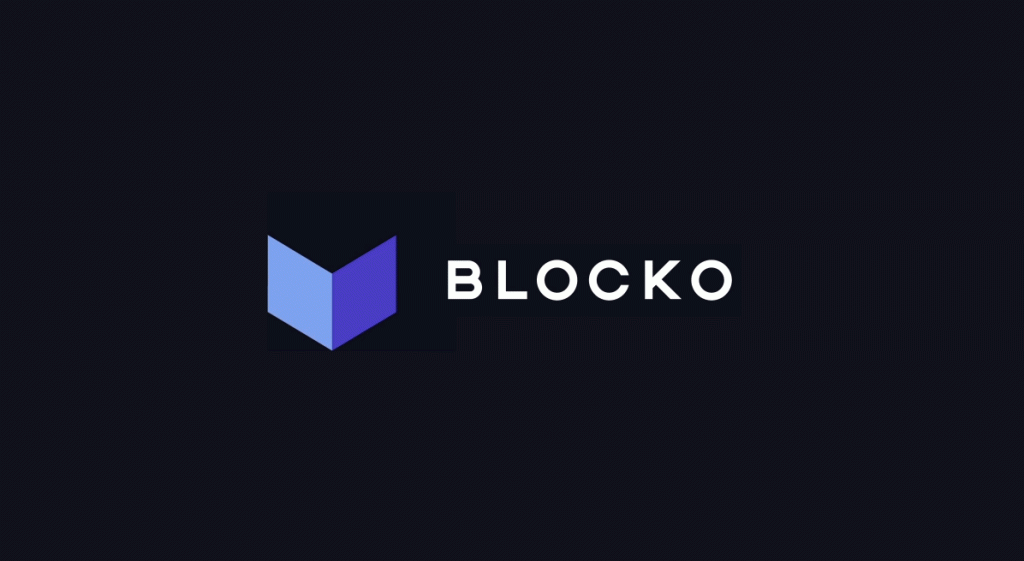 Geography: South Korea
Platform: Web
About
Blocko is a technology company that researches and develops Blockchain services to implement technologies in several different industries. Blocko has achieved significant business success in South Korea and has raised over $22 million in investor funding for the top NFT projects it supervises.
Objectives
Artkai design agency was challenged to create a logo and visual identity for Blocko to help Blocko communicate that they are a modern digital company in the B2B sector that is on the frontier of disruptive technology in the sector of new NFT projects.
Outcomes
We came up with an idea to visualize collaboration and complementary action by uniting a puzzle piece with a block to form a cube logo. The cube logo symbolizes the freedom to stand out and emphasizes the company's agility and innovativeness, highly relevant to the philosophy of best NFT projects.
Do you need help with discovery, UX/UI design, or end-to-end development for your NFT projects? Drop us a line, and let's chat!
Clients and Results






See Our Portfolio
Schedule your free consultation
Don't miss this opportunity to explore the best path for your product. We are ready to delve into the specifics of your project, providing you with expert insights and optimal solutions.
Book your free session
WHAT TO KNOW
Questions you may ask
Read More
Explore articles from Artkai - we have lots of stories to tell
Join us to do the best work of your life
Together we advance the human experience through design.