Building a Web-based P2P Lending Platform and Marketing Website
Сrypto-to-fiat lending platform for digital assets backed loans that includes an appealing marketing website.

OVERVIEW
About the business
Coіnloan is the first crypto-to-fiat lending platform for digital assets-backed loans with marketplace opportunities. Its primary purpose is to allow crypto holders to get fiat money without selling their digital assets. They combine the best of traditional and novel finance to offer both solid security and favorable terms.
OVERVIEW
Project tasks
Build a web-based P2P lending platform with a modern crypto space-related look and feel that appeals to both fintech experts and enthusiasts. The platform should be easy-to-understand, transparent, secure, and with a painless user experience.
Create an informative, valuable, and appealing marketing website to promote the platform.
OVERVIEW
Project team
Team: 2 UI/UX designers, 2 Front-end engineers, QA engineer, Project manager, Business analyst.
2
months for research and design
4
months for development and QA
Design and development are done in parallel after the research and discovery phase.
OVERVIEW
Tech stack
PROJECT JOURNEY
Product development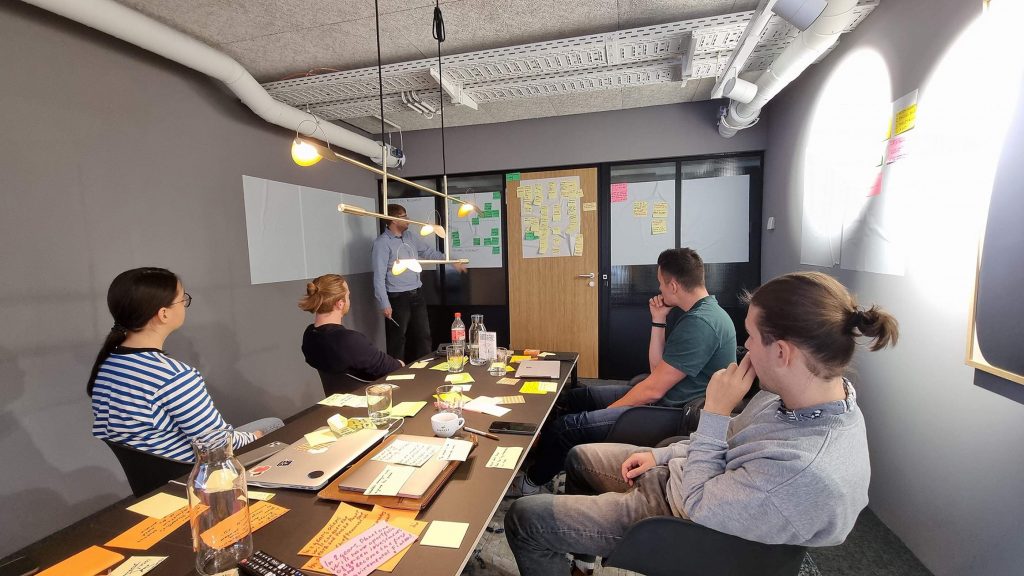 CoіnLoan. Research process.
Research Phase & Product Discovery
During the Research Phase we defined stakeholders' expectations, requirements, business objectives and KPIs.

The Research has shown that it was crucial for the success of the project to translate the following user benefits:
Customizable loan terms
Guaranteed, timely loan repayments
Transparent risk assessment
High platform security and product usability
We built platform features around the insights discovered during the Research Phase, increasing the simplicity and easiness of use.
Platform functionality and Information Architecture
KYC & AML:
User verification to provide a transparent ID process
Currency:
Withdrawing fiat/crypto assets
Depositing fiat/crypto assets
Payment:
Adding/Making a payment
Adding collateral to prevent risks
Loan:
Getting a loan
Creating a loan
Tracking the progress of my loan
Token:
Native CoinLoan token minting and distribution in the ERC-20 format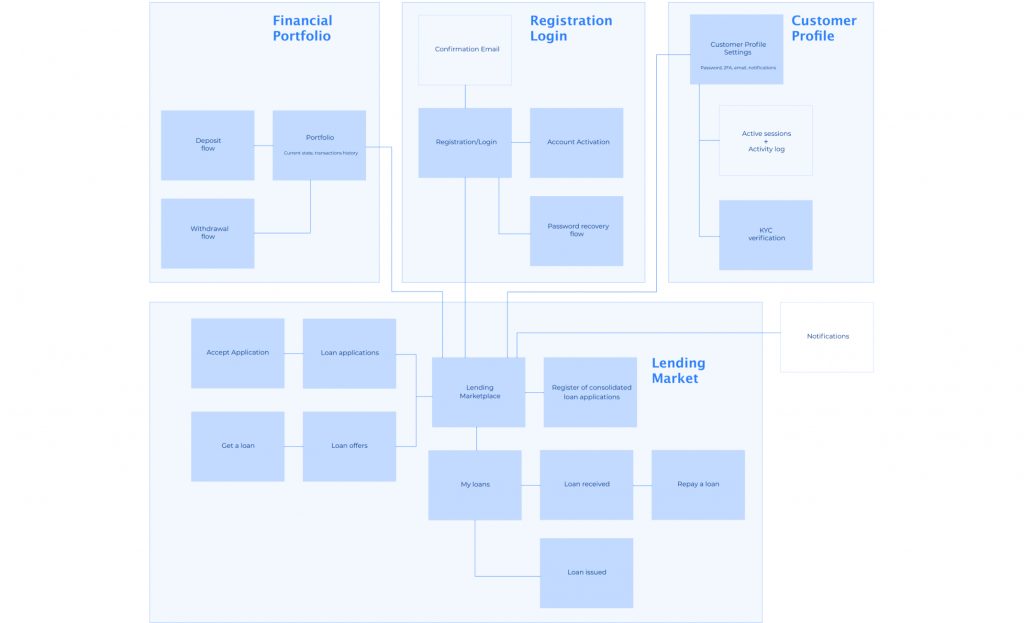 CoіnLoan. Information architecture.
Platform features
2
Funds withdrawal and transfer
3
Application creation in a few clicks
4
Clear loan terms selection with advanced search filters
5
Clear process of loan terms setup
6
Ability to make an early loan repayment
Marketing website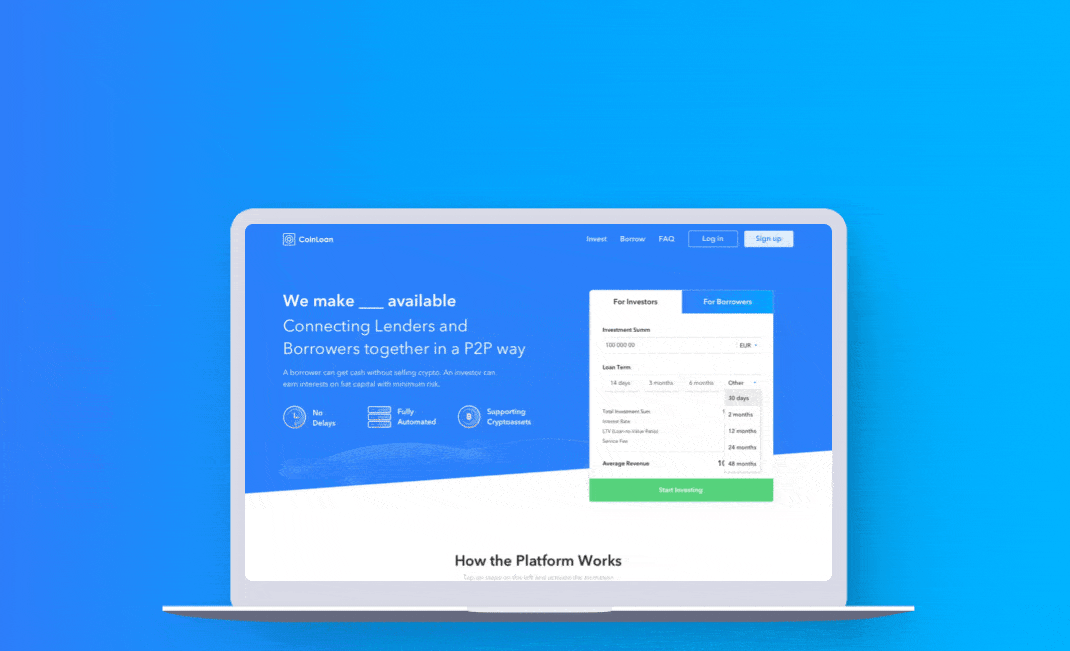 CoіnLoan. Website landing page.
Separate flows for each customer type
Artkai developed a customer journey map with the omnichannel experience in mind, including mobile, web, physical branch, and marketing interactions.
Visual communication
We offered the client three variants of visual style and identity. That means the platform has a slightly different vibe for each user type and suits it the best. We determined the visual style based on the audience of investors and crypto-enthusiasts.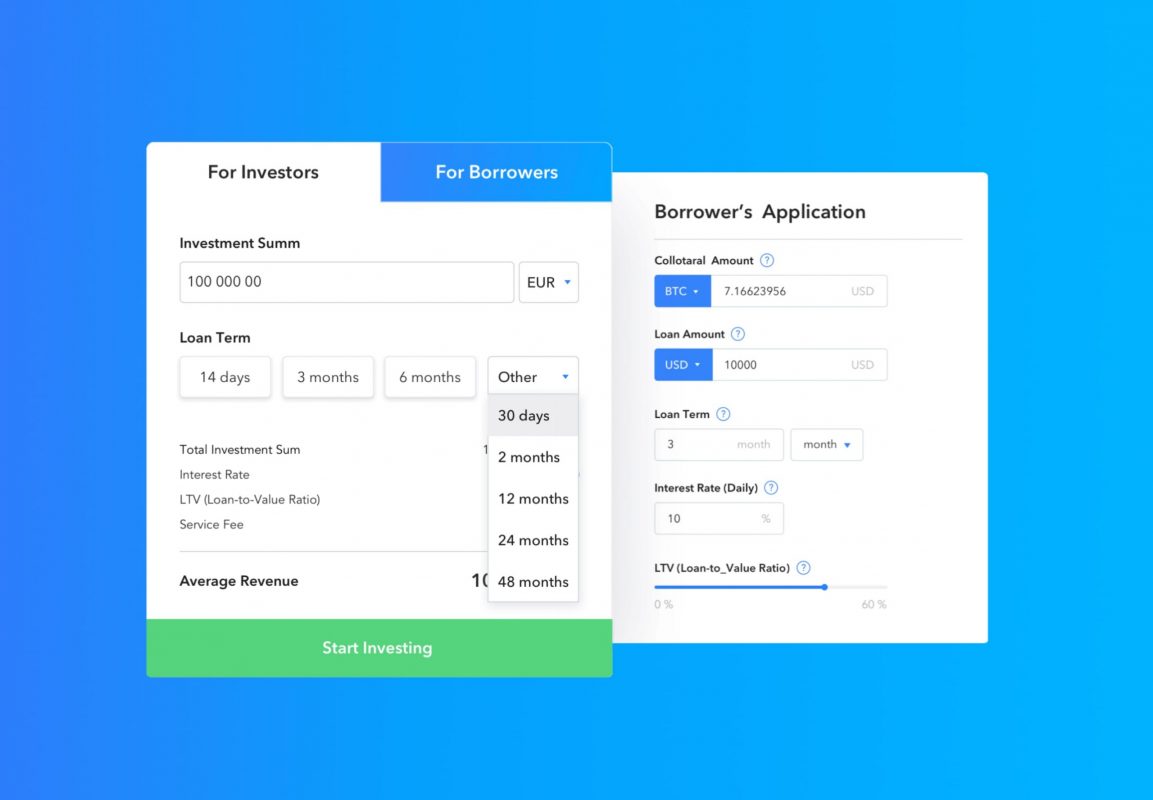 CoіnLoan. Investors and borrowers page.
OUTCOME
Outcome
An informative, useful and appealing website
Convenient, easy-to-understand, secure platform
Painless and valuable experience
More than 100k active users on the platform
Read More
Explore articles from Artkai - we have lots of stories to tell