The 20 Essential SaaS Trends You Should Watch Out For In 2023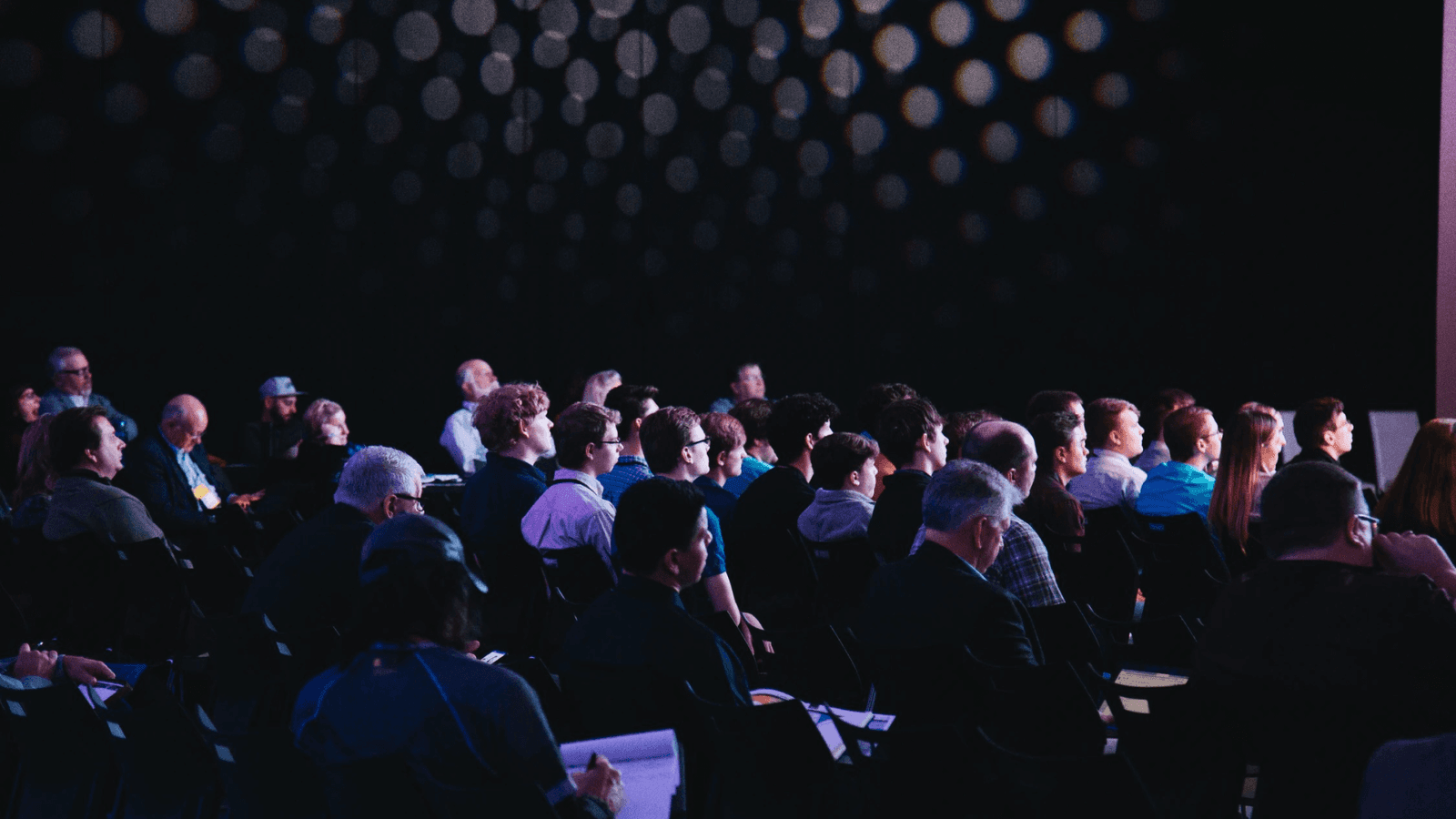 The emergence of cloud computing allowed for using Software-as-a-Service (SaaS) solutions to move entire business activities offsite, enabling them to expand quickly without incurring high overhead costs. According to Statista, the overall SaaS market is expected to grow, reaching 195 billion US dollars by the end of 2023.
SaaS technologies have grown from simple cloud operations to entire platforms with cutting-edge features, evolving into the finest software for small and large enterprises. Given the increasing adoption of SaaS, the 2023 SaaS Industry Market Report anticipates the emergence of game-changing technologies that will affect the SaaS environment.
This article will examine the key characteristics of Software-as-a-Service and discuss the top 20 SaaS trends to watch in 2023. You will learn about Artkai's expertise in SaaS based on the most striking case studies, such as the SaaS platform for the HR/recruitment teams in small & medium companies and the SaaS platform for digital advertising.
SaaS: The Key Characteristics
Before we examine the top trends in SaaS for 2023, it's critical to understand what constitutes SaaS, both as a functional business model and as a technological advancement.
Versatile payment options: SaaS solutions allow businesses to save up on buying hardware and software. Instead, they can choose from several pricing models.
Scalability: Organizations can quickly expand thanks to cloud-based SaaS's built-in scalability and have control over the features and alternatives they desire.
Updates and new features: Businesses can devote little time to this particular area of operation because SaaS providers manage the essential software updates and create new features over time.
Accessibility: SaaS allows businesses to use applications from any location and digital device, which is especially useful for mobile platforms. It also offers user-friendliness and simplicity of usage.
Adaptability: SaaS innovations offer an almost infinite degree of scalability, accessibility, and insight. Therefore, businesses that employ such tools or platforms become far more equipped to adjust to ongoing change or unforeseen organizational challenges.
Security: In comparison to many centralized, on-premise systems, most SaaS models are renowned for their enterprise-level security, which takes a more comprehensive approach to security. Cloud SaaS has disaster recovery procedures in place to mitigate potential system failures. It indicates that regardless of a data breach or system malfunction, your company's data is accessible and secure.
As long as companies continue to rely on cutting-edge data discovery tools and technologies to boost both their productivity and efficiency, Software-as-a-Service trends continue to appear and grow. Let's get started with the top SaaS industry trends for 2023.
SaaS Trends for 2023
Artificial Intelligence
Artificial intelligence enables computer programs to make judgments based on information processing as people do. All business-related data an intelligent software program has access to helps it learn over time and make better decisions in the future.
The set of tasks to be solved with the support of AI in 2023 is broad. It includes problems and can only be handled with Artificial Intelligence. They involve areas with an enormous volume of new data forms and different chatbots. SaaS products can leverage AI in a variety of ways.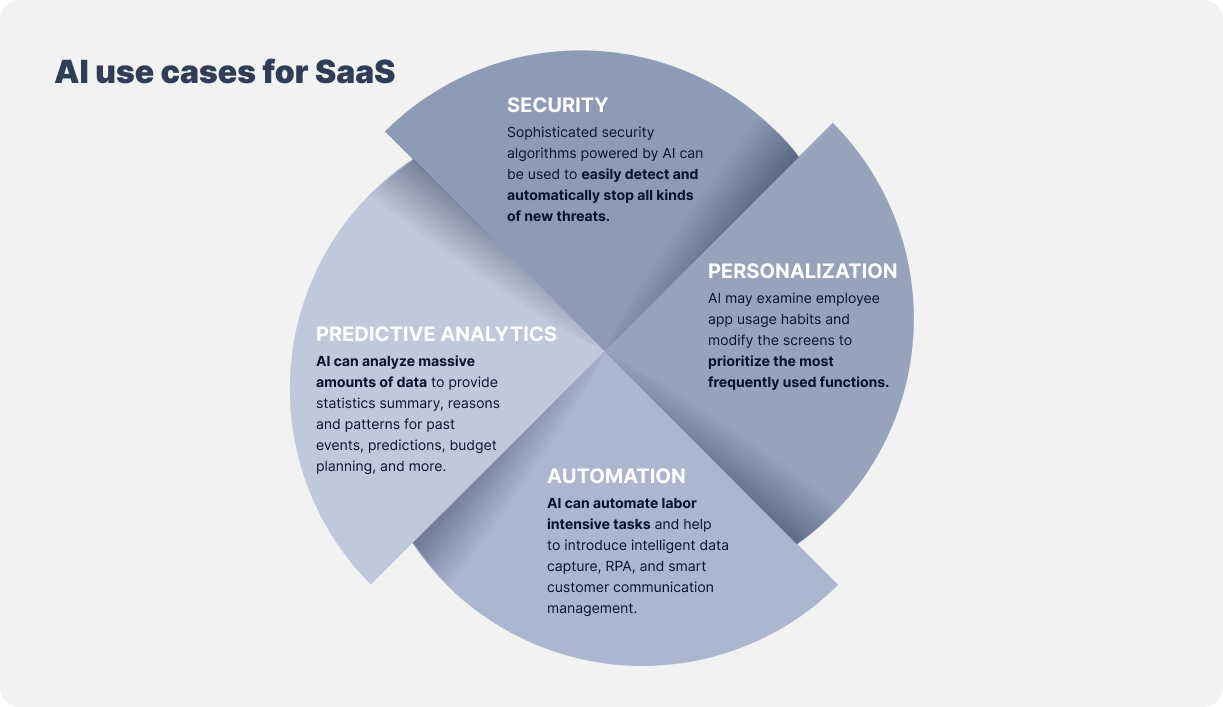 Personalization
Users' expectations for a more personalized experience in every app they use is one of the reasons why AI has become one of the fastest-growing SaaS opportunities. AI enables software to comprehend consumer better wants and automatically adjust the product to meet those needs. For instance, when implemented in business software, AI may examine employee app usage habits and modify the home or menu screens to prioritize the most frequently used functions.
Automation
SaaS providers employ AI to automate labor-intensive tasks, reduce the possibility of human error, and streamline manual procedures. Automation saves resources and money. Intelligent data capture, robotic process automation, and customer communication management are all possible uses for AI automation. By extracting printed and handwritten text from any document using AI, services like Amazon Textract cut the time needed to complete paperwork.
Predictive Analytics
Massive amounts of data are analyzed using sophisticated algorithms in predictive analytics to predict outcomes, trends, user behavior, etc. Predictive analytics offered by SaaS systems can provide information that will help your company, such as statistics summary, reasons and patterns for past events, future events predictions, budget planning, and risk identification and management. Tableau and Adobe Analytics are examples of SaaS for predictive analytics.
Security
The vulnerability of cloud-based data requires extraordinary security measures. However, you can utilize sophisticated security algorithms thanks to AI. Security systems powered by AI can detect and stop new threats automatically. Also, these systems don't require the expertise of cybersecurity specialists and can operate without user input. Seedata.io is an example of a SaaS startup leveraging AI for security.
Blockchain in SaaS
Blockchain is one of the SaaS trends with the quickest growth. Its concepts of cryptography and decentralization guarantee the security of transactions. Therefore, blockchain solutions help to secure transactions and users' private information inside SaaS software—consequently, blockchain in SaaS results in increased client loyalty.
Blockchain enables SaaS companies to build dependable solutions and steer clear of security-related issues that are challenging to solve with conventional databases. Smart contracts, online payments, auditing, and tax collection are just a few of the procedures that can be secured thanks to this technology. OriginStamp and MythX are examples of SaaS-based blockchain startups.
Vertical SaaS
Vertical SaaS is customized and targets customers within particular industries and supply chains, unlike horizontal SaaS, which focuses on clients across all sectors and industries. Vertical SaaS is an economical, sector-specific choice that enables businesses to benefit from specialization to fine-tune the customization of some aspects.
The flexibility to modify features to client demand and industry standards allows vertical SaaS providers to meet client needs in their specialized market: more flexibility, upselling opportunities, and lower customer acquisition expenses. Applications of vertical SaaS include software for modern logistics analytics, retail analytics, and healthcare analytics. Veeva, a company that develops software for the pharmaceutical market, is a vivid example.
Effective Marketing
Vertical SaaS companies can run more effective marketing efforts by focusing on a certain niche with a well-defined target audience. By concentrating your marketing efforts on a smaller audience, you may learn more about your clients' preferences and the best marketing strategies for them. Moreover, vertical SaaS provides more outstanding options for upselling and cross-selling. It helps to identify which products to bundle and how to attract clients with exclusive deals.
More Business Growth Opportunities
Most solutions attempt to be universal and one-size-fits-all, causing them to grow horizontally. The foundation of vertical products is different. You can deliver more business value by meeting more criteria. The competitiveness and the number of solutions adapted to specific market needs are smaller.
Less Competitive Market
Vertical SaaS companies face less competition than horizontal SaaS companies since they cater to a specific clientele with specific demands. Since it allows entrepreneurs more opportunities to develop a dominant position in a particular industry or, at the very least, successfully join the market by selecting a specific niche, vertical SaaS has become one of the prominent SaaS trends.
Hybrid Cloud Adoption
Hybrid cloud-based services could become a new direction for developing SaaS companies. They combine private and public cloud peculiarities. Such a property is indispensable for many platforms and applications that interact. According to Cisco 2022 Global Hybrid Cloud Trends report, 82% of organizations have adopted a hybrid cloud.
However, security and privacy questions disturb different companies. Due to this, SaaS customers use cloud security techniques to protect the data, namely: encryption, multi-factor identifications, etc. And SaaS providers should work with reliable data centers.
Machine Learning
Machine learning (ML) is a branch of artificial intelligence focusing on data processing and learning capabilities. Using ML in SaaS allows platforms to discover the interests and habits of users, analyze big amounts of contextual information and insights, improve internal communication and efficiency, boost customer engagement, and use pattern recognition to guarantee data security. Salesforce is an excellent example of a SaaS product making use of ML.
Prioritizing SaaS Security
The 2022 SaaS Security Survey Report from Adaptive Shield lists SaaS misconfiguration as one of the major security concerns for cloud enterprises. 63% of respondents reported that a SaaS misconfiguration resulted in a security incident in 2021. Two main reasons for this problem include a need for more insight into changes in the SaaS security settings and excessive departmental access to these settings. Since the cloud continues to face several security concerns and threats that need to be managed, this SaaS trend will rule the industry market in 2023.
Integrations
SaaS vendors start offering more integration capabilities, which attracts companies who seek hybrid systems that combine an on-premises and cloud back-end. SaaS integrations are beneficial because they enable the partial automation of operations, significantly reducing human error. An example of SaaS integration is Zapier, a product combining various systems, including email clients and CRMs.
Micro SaaS
Micro Saas businesses typically have small teams that solve problems with limited resources. Such solutions are frequently expansions or add-ons to bigger products that improve the user experience for specific industries. We might observe a significant increase in micro SaaS products due to the lower risk and relatively low operating costs of such businesses, particularly those attempting to service more specialized customer groups and niches. Particular areas are expected to thrive:
personnel management and tracking;
billing and invoicing;
web-based applications for email management (correspondence with partners, applicants, and customers);
efficient content creation that allows developers, designers, and technical writers to work together.
Mobile-First Approach
This trend has the most logical explanations for its existence. Statista suggests that by 2025 the number of mobile users worldwide will reach 7.49 billion. SaaS models and solutions will provide diversified functionality for mobile devices. There are all possibilities to create an efficient mobile product nowadays. Artkai works in this area and combines mobile development with business analysis and research.
Low-Code Platforms
According to Research and Markets Low-Code Development Platform Market Research Report, the market for low-code development platforms is expected to produce over $190 billion in sales, growing at a 31.1% CAGR by 2030. Low-code platforms mesmerize developers with high efficiency and possibilities for fast iterations.
Many small-sized, middle-sized companies and even giants like Salesforce and Microsoft will extend the usage of a low-code platform.

Data-As-A-Service (DaaS)
In-house data collection and storage have lost their effectiveness and security, establishing Data-as-a-Service (DaaS) as one of the top SaaS trends for 2023. In essence, DaaS refers to cloud-based software for data management procedures such as collecting, storage, integration, and analytics. Using DaaS helps businesses save the time needed to make crucial strategic and operational decisions while also improving the accuracy and dependability of their data.
Also, because setting up cloud-based software is far simpler than on-premise software, DaaS dramatically reduces the time and cost of setting up data tools and processes across the organization. Moreover, DaaS provides consumers secure on-demand access regardless of location or device. Thanks to these advantages, the global DaaS market is anticipated to increase by $56.85 billion between 2023 and 2027, expanding at a CAGR of 36.92%.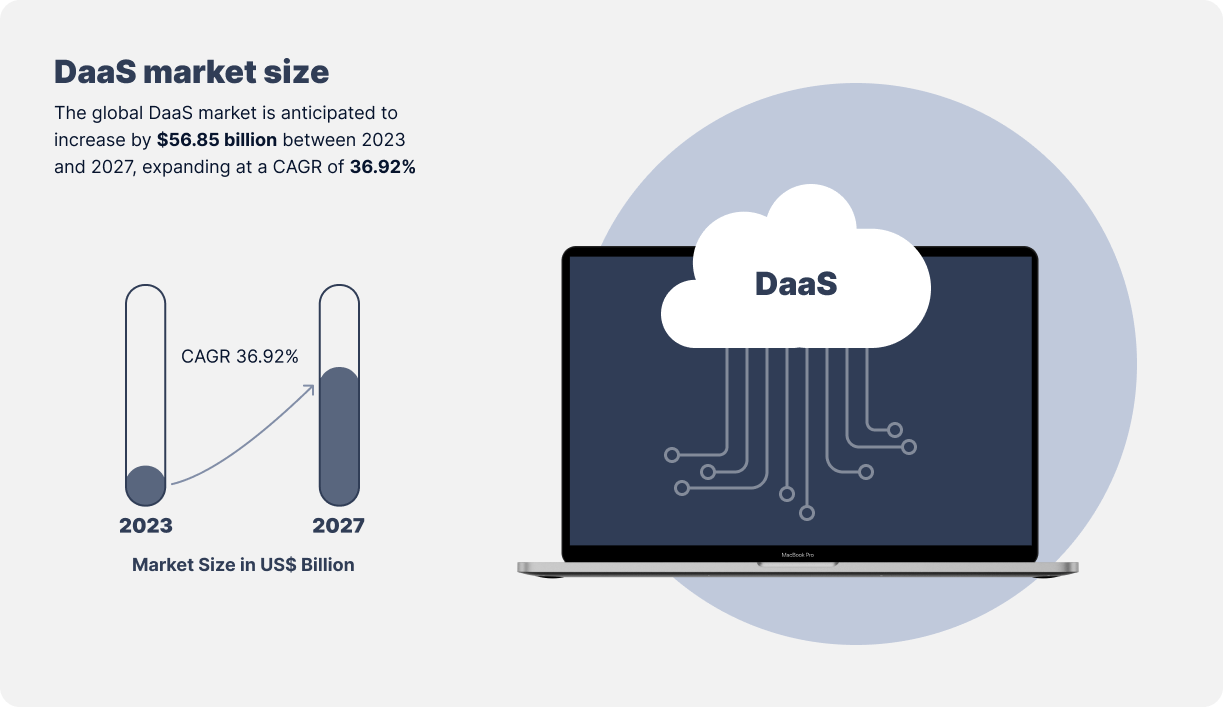 The Need for API Connections
Building new IT ecosystems is quite expensive in terms of crisis. Therefore, more APIs will be used for SaaS applications. They can be united in existing IT structures. In 2023, we will see a growing number of SaaS vendors tending to provide more excellent integration capabilities instead of redirecting their customers to third parties. The experience of big companies like Uber, PayPal, Airbnb, and Stripe confirms it.
SaaS Founders Double Down On Content And SEO
Many SaaS businesses struggle to raise customers' awareness about their software. Due to the decline in social media organic reach, they turn to content marketing and search engine optimization to attract new customers and more traffic. Over the last five years, SEO has boosted ranks and organic traffic for SaaS companies, with a 12% increase in volume to 480. Therefore, content and SEO for SaaS promotion will remain trending in 2023.
New Tools To Fight Churn
SaaS platform providers are working on various strategies to give maximum value to platform users to enhance retention rates and decrease churn as the SaaS market proliferates. As a result, many current platforms and upcoming innovations will be equipped with fully customizable features and tools that give users access to a wealth of information to assist businesses in streamlining their internal operations and directly addressing the needs of their customers.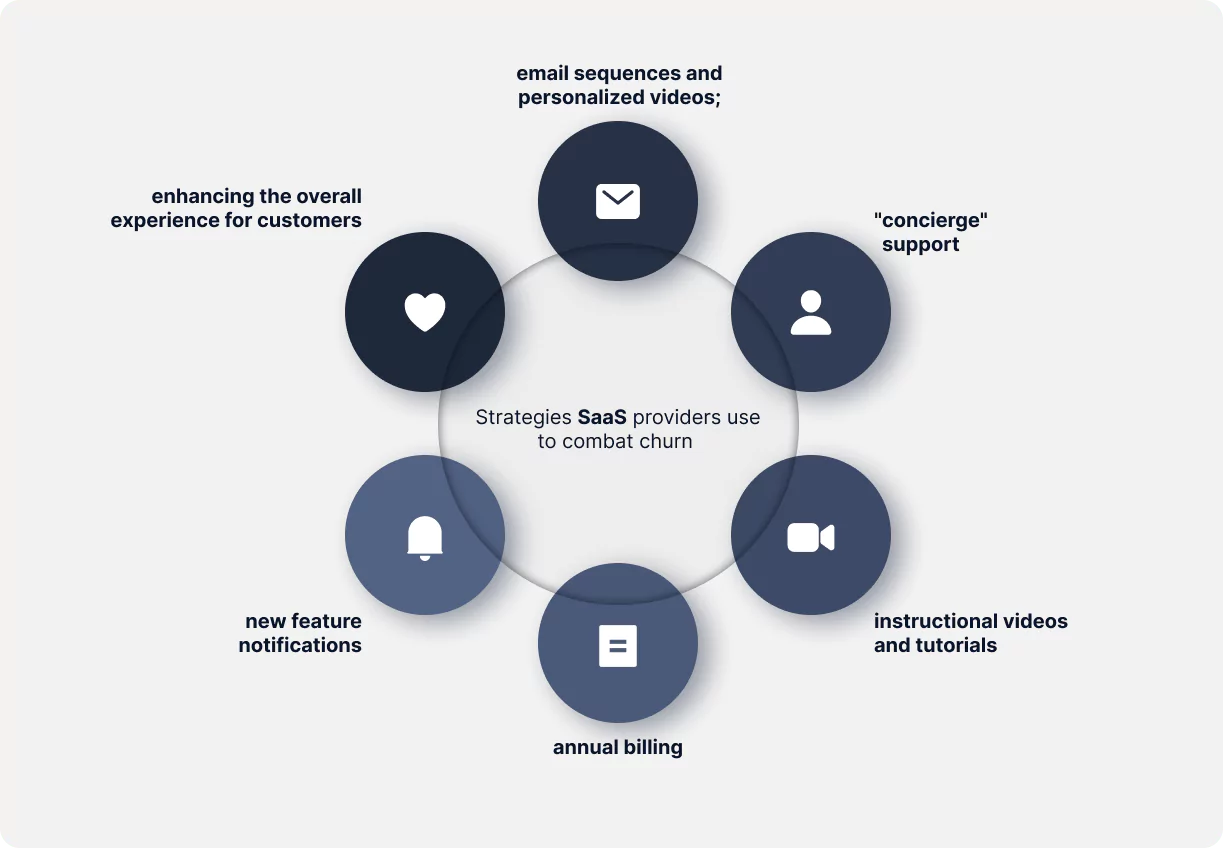 Growth of Note-Taking Apps
The market for note-taking apps is worth $5.76 billion and is anticipated to increase at a CAGR of 16.4% by 2029. The first note-taking app, Evernote, offered a single but innovative ability to rapidly capture notes on your phone and view them later on your PC. In recent years, the market for note-taking apps has fragmented. While some solutions are still limited to a single note-taking task, others include additional features such as automatic classification, networking, goal tracking, and theme customization.
More Tools for Cross-Platform Organizations
Companies of all sizes face the problem of dispersed company data in various locations. It prevents valuable information from being quickly accessed within an organization, presenting a barrier to growth. To address this issue, SaaS businesses of different categories emerge.
Document Management Systems
Document management systems allow employees to access documents distributed across numerous cloud platforms and communication tools. Open-source SaaS solutions of this type provide a variety of connectors intended to automate and speed the processing of documents from various apps. Nira (formerly FYI) is an example of this type.
Digital Asset Management Solutions
According to projections, the global market for digital asset management will increase at a CAGR of 16.5% to $8.5 billion in 2025. With the help of digital asset management solutions, any team member can independently locate the files they require in the formats and sizes they require. They connect employees with the tools they often use, keeping the company's data assets current. Some examples include Lingo, Third Light, and Canto.
Integration Platform as a Service (iPaaS)
The goal of an Integration Platform as a Service is not to assist employees with locating documents and files. Instead, it is designed to use APIs to connect an organization's data "pipes." They provide back-end capabilities for enterprises. The estimated value of the global iPaaS market is anticipated to grow at a CAGR of 40.4% to reach $10.3 billion by 2025. MuleSoft and Boomi are two famous examples of iPaaS.
Login Management Software
The typical worker can handle dozens of different passwords. Software for single sign-on (SSO) and password managers aid in resolving that issue. In the past five years, searches for "single sign-on" have grown by 127%. SSO software allows users to log in with sessions rather than passwords. Password managers maintain numerous logins protected by a single master password. LastPass and OneLogin are popular password managers.
Platform as a Service (PaaS)
PaaS helps engineers and developers create new software by providing them with the platform. It is becoming popular nowadays because of visible advantages, such as accessibility, flexibility, and safety. That's why many companies decide to improve their products and move to PaaS. They use such services to create additions for the main product.
The size of the global platform as a service market is anticipated to grow to $319 billion by 2030, with a CAGR of 22.0% between 2021 and 2030. It means that PaaS is a real SaaS trend in 2023.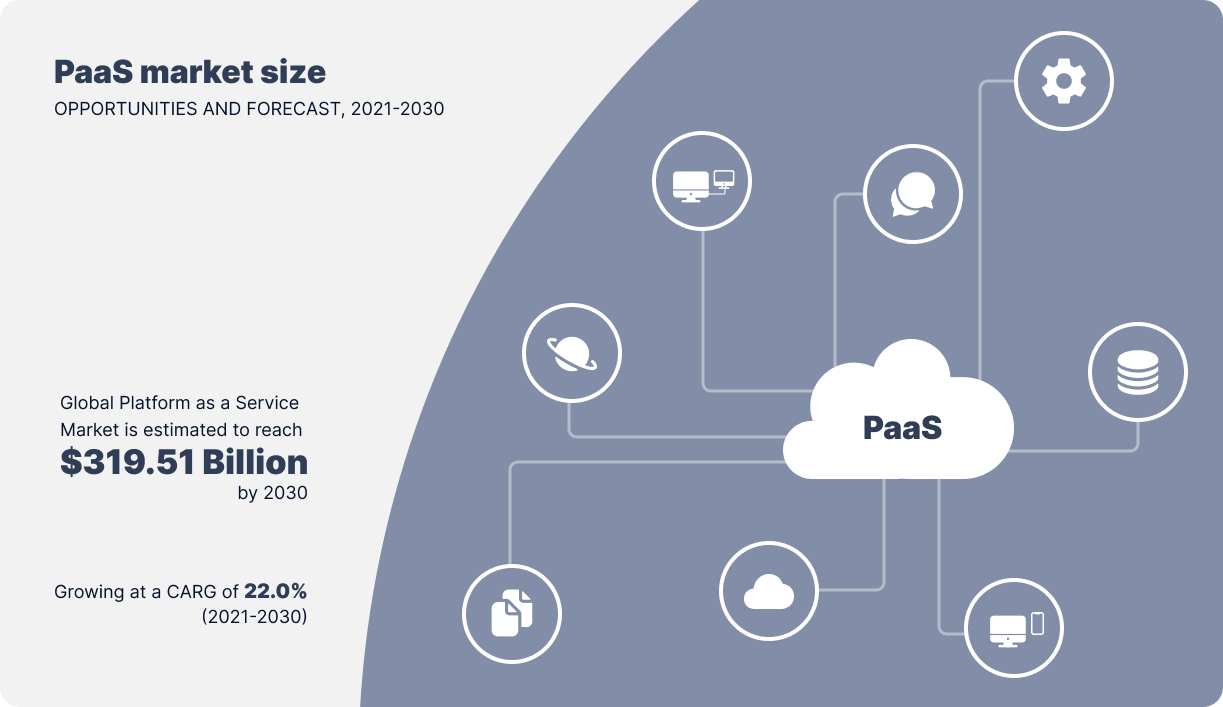 Consolidation of the SaaS Market
Rising rivalry in the SaaS market pushes big players in the sector to provide more features and capabilities to their clients to stay competitive and attract a more extensive customer base. In-house development of these extra features is frequently too expensive. Therefore, big businesses buy smaller companies to stay ahead of rivals as a solution.
Similarly, smaller businesses are resorting to consolidation as a safe strategy to expand their markets and produce a profit. The likelihood of growing independently decreases as the market becomes more crowded. As a result, it is frequently the wisest course of action to draw on larger companies' reputations and growth trajectories.
SaaS Superapps
As a result of SaaS market consolidation, emerging SaaS superapps are anticipated to become a significant trend in 2023. A superapp offers end users a set of fundamental functionality combined with access to independently generated mini-apps. It is a platform for delivering individualized and consistent app experiences that is anticipated to give its providers a significant competitive advantage.
A superapp is a composable application and architecture that enables several unconnected integrations to be created into one app. A superapp is more than just an application that offers multiple features and services in one interface. It allows businesses to create "one API for all" by combining many APIs into one. This SaaS trend will rise in 2023, particularly in the B2B market. Alloy Automation is an example of superapp with over 200 app integrations.
White Labeling In Saas
White Labeling in SaaS is a process of providing "on-tap" software by a supplier, which can sell it to other companies. These companies make rebranding and use this solution. Such white-labeled solutions are reliable for startups because they penetrate the market quickly. It is not a new tendency, but it still helps companies with different backgrounds provide support services to their customers.
Thanks to such services, customers achieve more significant profits per each client. Especially in the following areas:
mobile apps;
SEO;
email-marketing.
White Labeling in SaaS will remain popular in 2023. Such a solution has apparent advantages for most companies and small businesses. For instance, companies do not need particular expertise to build up a white-labeled product for their client and do not waste money and time on building software from the beginning.
Artkai Expertise In SaaS
Artkai is an award-winning full-service product development company that produces intelligent SaaS products. Our headquarters are in Ukraine, and we also have offices in the UK, the USA, Belgium, and Switzerland. Our remote team of top product design, strategy, and development specialists turns undeveloped ideas into market-winning products and exceptional user experiences.
Artkai designs, develops, and enhances SaaS products from the drawing board to the marketplace using best practices and the latest trends in the SaaS market. To understand Artkai's experience developing top-notch SaaS solutions, look at our case studies.
SaaS Platform for the HR/Recruitment Teams in SMEs
Our client, Cruitment, is a SaaS platform that helps to manage career websites and candidate pipelines. Developing and implementing new technology to build a lasting system that people could use and enjoy was one of our most significant project tasks. It includes designing a SaaS with two unique user flows for recruiters and job seekers and developing a new brand identity.
The Artkai team (an art director, a UI/UX designer, two front-end engineers, two back-end engineers, a solutions architect, a DevOps engineer, a QA engineer, a project manager, and a business analyst) invested two months in research and design. Four months — in development and quality control. Following the research and discovery stage, design and development were carried out concurrently.
We developed the entire app's architecture in response to user demands and pains. To develop valuable solutions and user flow, we collaborated extensively with stakeholders. The Artkai team created the functionality with recruiters' needs in mind, making it easy to personalize the recruiter's flow. The functionality of the candidate was also simplified.
We also created a new brand identity to provide the platform and brand with a visual framework. Our designers opted for a straightforward graphic style with practical color coding for recruiters everyday use following the latest UX/UI design trends. Ultimately, we created a marketing website with various graphics and marketing materials.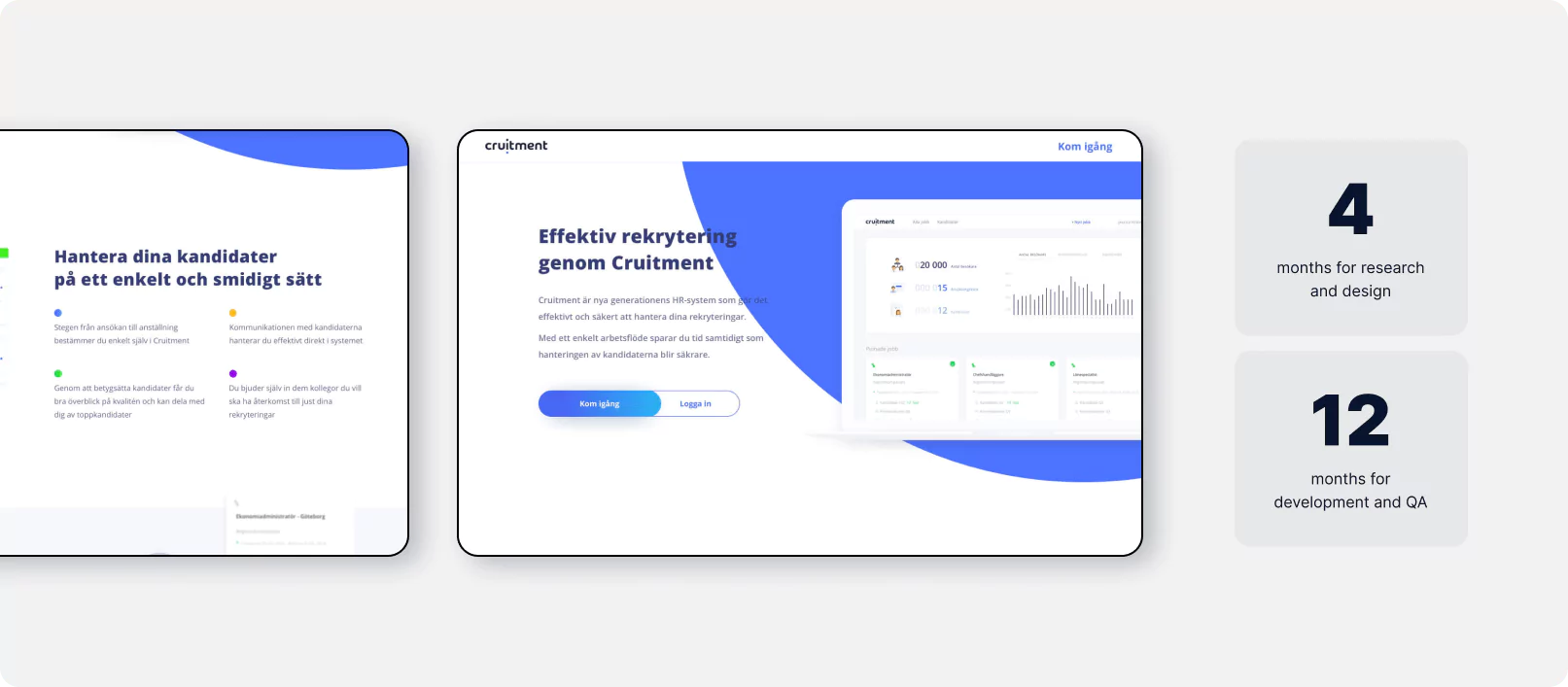 As a result, our clients achieved the following outcomes:
The talent pool grew by 200 percent.
The number of offers accepted has doubled, facilitating a 1.5x reduction in cost per application.
SaaS Platform for Digital Advertising
Our clients had substantial expertise in digital advertising and an idea for a tool that would fundamentally change the sector. However, they lacked accessible aggregating services to streamline the procedure. Advertisers were required to sign a contract with each site separately. Managers had to enter the information manually and used random third-party services and task trackers. In addition, the cost of advertising purchases needed to be more transparent.
The Artkai team was challenged to develop a system that would link advertising platforms in a single location, monitor money withdrawals, and facilitate document movement. We had to analyze the operational challenges and translate them into technical requirements, build a SaaS platform to automate the purchase and tracking of ads procedures, and create a unique admin panel to let the product team manage tasks.
Two UI/UX designers, a project manager, a business analyst, two front-end developers, two back-end developers, a software architect, a QA specialist, and an art director worked on the project for nearly a year. Following the research and discovery stage, design and development are carried out in parallel.
Our main objective was to compile all the resources needed for the efficient campaign launch, analysis, and optimization in one location. Our product's marketplace, which gathers platforms, services, and offers, is one of its main components. By the use of APIs that we created, we connected our solution to more than 100 advertising websites and services.
The task tracker is the next essential element on the platform. When every process is started and tracked in a single system, marketers can manage tasks more efficiently. We also made the advertising paperwork simpler by offering a set of document templates. Finally, we created a complex admin panel for admins and account managers.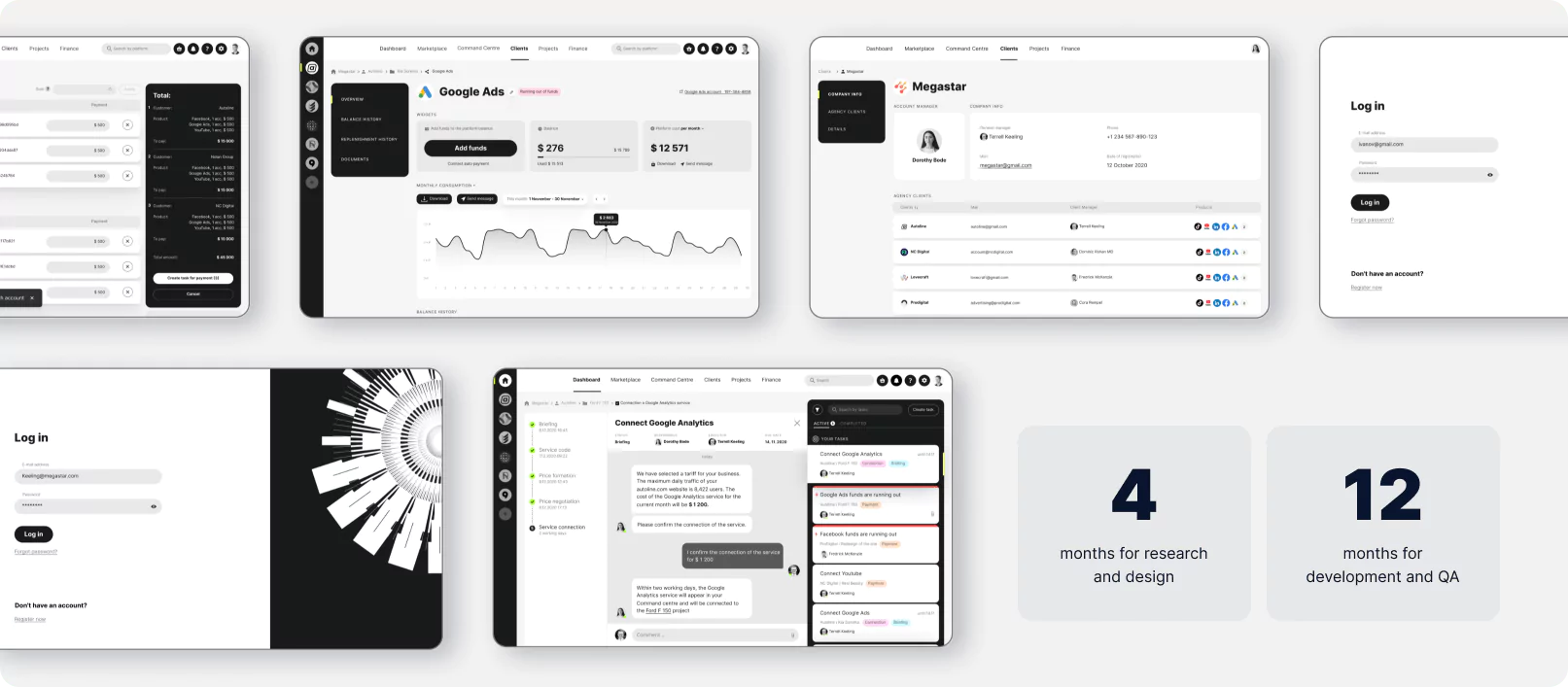 As a result of joint efforts of the Artkai team, our client has a steady increase in the amount of users, merchants, and money used for advertising.
685 platform users;
3,000 completed tasks per month.
Succeed in the SaaS Industry with Artkai's Solutions
The SaaS industry as a whole is anticipated to expand. However, SaaS evolves constantly, becoming the finest software for both small and large businesses. The emergence of game-changing technologies will keep impacting the SaaS environment. All the above trends could help SaaS providers and customers to grow and thrive.
If you want to stand out of the crowd with your SaaS app, consider Arkai as a trusted SaaS development partner. We have robust expertise in SaaS development. Our remote team will work with you to design, create, and improve your SaaS product with the latest industry trends in mind. We build customer-centric SaaS innovations that make sense.
Contact us to discuss your SaaS product in detail.
Read More
Explore articles from Artkai - we have lots of stories to tell
Join us to do the best work of your life
Together we advance the human experience through design.
Get the latest news from Artkai
Hand-picked insights from our experts on human-centricity, digitalization trends, and more in one click. No spam, only quality.