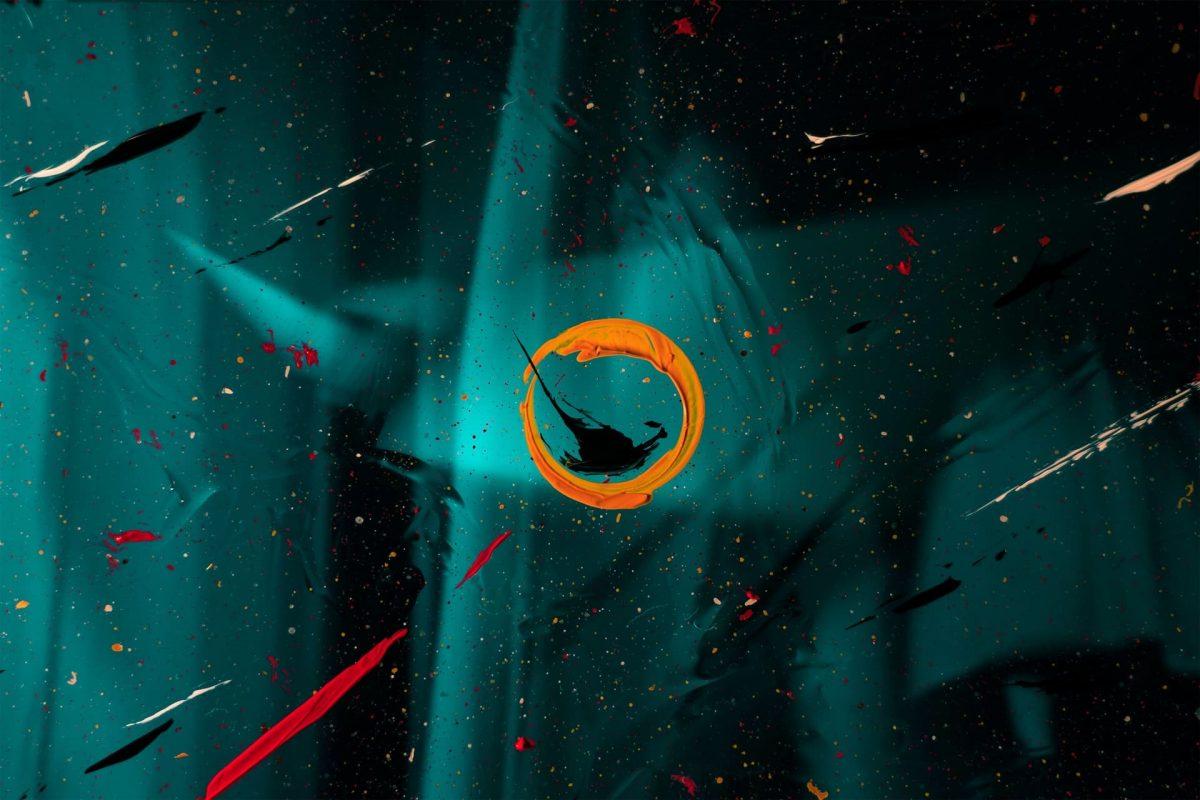 Customer-centricity through digital transformation: a 3-Step framework for SMEs
Customer experience has long stopped being just one of the elements businesses focus on with their digital transformation efforts. In 2022 and further, it is and will continue to be the central element companies should build their whole digital transformation strategy around.​
Here you will find out, what customer-centric digital transformation is and how exactly focusing on customer experience will help you to achieve better results from digital transformation. We'll also explain how small-to-medium businesses without in-house digitalization experts can execute it successfully without breaking the bank.
​In this post, we will cover:​
This guide covers a fraction of our transformative customer-centric digitalization whitepaper. Want to get access to all the insights from our domain experts?​
Why everyone should be customer/human-centric in 2023 (and further) 
Customer experience is set to be the number one brand differentiator in 2023;
1 in 3 customers will leave a brand they love after just one bad experience;
Customers are willing to pay a premium price of up to 13% (and as high as 18%) for luxury and indulgence services merely to receive a great customer experience;
49% of buyers have made impulse purchases after receiving a more personalized customer experience;
Customers who rate companies with a high customer experience score (i.e., 10/10) spend 140% more and remain loyal for up to 6 years.
In six years, there hasn't been a single instance when putting users' needs at the forefront of our digitalization efforts didn't result into:
More sales and revenue;
Bigger market share;
Improved services and support
Enhanced speed to market;
Reduced operational costs.
The success of virtually all businesses now relies on a strong digital customer experience. Now, let's move to how to put this knowledge into practice.
Customer experience as the heart of digital transformation
Customer-centric digital transformation is when you form your digital transformation strategy and decisions around data about your customer and their experience. It allows you to base your decisions on the essential basis of every business and its profits - the customer. 
Sometimes mistaken for customer service, customer experience goes much further. It defines every experience and interaction with a product or service at each stage of the classical sales cycle, from attracting attention to sparking interest to growing desire and getting action. 
Notably, the customer-centric approach doesn't conflict with achieving common digitalization goals like:
Streamlining internal business processes;
Increasing operational efficiency;
Upgrading tools;
Digitilizing communication and fostering remote work, etc.
The meta-goal behind these initiatives would always be to cut spending and increase profits for the company. And these goals are unachievable without a focus on the customer and tying your initiatives to their needs.
Putting customer experience at the heart of your digital transformation allows you to find ways to reduce costs and increase revenues organically.
Look at Uber, Airbnb, or Spotify. The leadership at those companies focuses on personalized and convenient interactions and communications with their customers. This has made them some of the most successful companies in the world.
Of course, it doesn't mean that more established companies should just copy their approach. What works for a start-up may hurt more mature businesses. What helps one industry may be a waste of resources for another. Each solution should be suited to a particular company or product.
By forming digital transformation efforts around customer-centricity, traditional firms have significantly higher chances of achieving their business goals. 
These case studies prove it.
To start building a strategy of digitalization, consider these fundamental questions: 
What does your ideal customer experience look like?
What is achievable in the short and long term?
How do your customers experience your organization?
What do your customers expect from you?
What do they need but don't get from your company?
Digitalization is best done when focused on improving your customers' lives, solving their problems faster, and communicating with them better. Digitalization is where business and IT have to meet and stay shoulder to shoulder.
Business managers that understand the market along with IT trailblazers and innovators can raise customer experiences to a new level.
Data for your digital transformation strategy 
For a digitalization strategy to make sense and bring the expected results, it must be built on solid data. In the case of customer-centric digital transformation, you will need comprehensive data about customer experience. 
At Artkai, we collect all key data during our research/discovery session with the client. The data we collect varies depending on goals, industry, and resources at our disposal. 
Here are examples of important types of data:
Product analytics (usage and event tracking)
UX research
Customer surveys
Web analytics
Custom-built analytics
Business intelligence
Customer journey analytics
Marketing attribution analytics
Mobile analytics
User session replay/heat mapping
Here are the customer experience metrics to take into account:
User engagement (e.g., daily active users, likes/comments/shares)
Customer retention
Customer lifetime value
User behavior (bounce rate, task time)
New user growth
New paying customers
UX research is one of the crucial stages of creating customer-centric products. It allows both creators and stakeholders to understand customers better and to find the shortest way to solve their problems.
This also reduces the risk of wrong decisions and lays the groundwork for successfully upgrading the product, service, or processes. Thorough research will save you time, effort, and money.
Connect with our digitalization experts to get a free consulting session about your business, no strings attached.
6 stages of a customer-centric digital transformation process
According to Brian Solis, a customer experience expert, there are six fundamental stages of the digital transformation process.
Stage 1: Business as usual. The need for change is defined. Digital solutions, even if they are already integrated into processes, don't play a strategic role, while metrics and analytics lack unity and are mostly used for reporting. 
Stage 2. Present and active. Here the company starts listening to customer experience metrics and social media. The leadership explores new channels, integrates digital education, and launches pilots in mobile, social, and digital directions.
Stage 3. Formalized. Digital transformation goes into a practical phase. Customer experience metrics drive decision-making processes; data analytics gaps are investigated and filled. Production, IT, and marketing unite to create a roadmap. New priorities are set for traditional and digital CX.
Stage 4. Strategic. The customer becomes the center of the operation. Departments unite along the customer journeys that are mapped and clarified. Change agents have more influence on decision-making and operations; investments are made in new technologies and processes. Cross-channel results are tracked closely, the sales funnel is reshaped, and it is more dynamic.
Stage 5. Converged. Customer journeys improve according to micro-moments. IT drives CX with new talents and collaborations, blending digital and traditional methods.
Stage 6. Innovative and adaptive. The company is transformed, and digital is a part of its DNA. Customer experience defines the process at all levels, from production and marketing to sales, service, support, and HR. Innovations are tracked, and the talent gap is filled with new hires. You are in your new "business as usual."
As with any large-scale decision-making change, all this activity requires time and effort. And to make it natural and flawless, the core of transformation should lie in customer experience.
A 3-step framework for effective customer-centric digital transformation
We approach all our digitalization cases using the following framework that has proven to be effective for SMEs across multiple industries: 
Shaping mindset
Building capabilities
Implementation flow
Shaping mindset
You can shape the mindset of people in your company with these methods: 
Quick wins: choose the projects aimed at specific results to reach quickly;
Real-world outcomes: select projects and objectives that solve specific real-world problems;
Lean thinking: rather than remake an existing app, take on a challenging issue and offer your solution;
Fast iterations: starting with a relatively small project, you can iterate and implement changes faster, test them with customers and polish the customer experience;
Building-out success: analyze the experience of successful projects and use them to drive bigger changes in digital transformation.
Building capabilities
If you want to move to a more digital flow of business processes and customer communication, it's vital to decide upon several fundamental issues:
- What transformational goals will you focus on, and how will you prioritize them: creating or enhancing applications for customers, applications for operational processes, deciding if you need a native application or a highly responsive web platform, integrating new digital solutions into existing ones, etc.;
- What tools and technologies you are going to use for each of those (this may reduce your need for particular tools and skills inside the company);
- Who is going to implement the practical aspects of the transformational processes (the company has to decide if it's going to hire specialists and do everything in-house or outsource certain tasks to contractors and partners);
What investment and level of change is the company ready to make (financial budgets, time and effort investments, employee education, schedule changes, etc.)
Implementation flow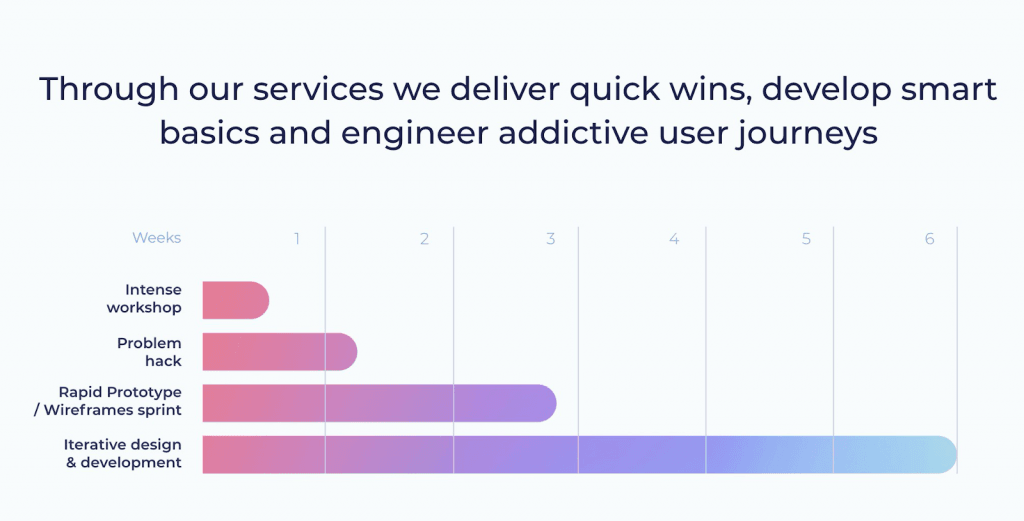 The effective and risk-free approach to customer-centric product development in Artkai

Learn and analyze
This stage includes a comprehensive analysis and review of what the company really offers to its clients, what is the state of competition, the target audience's needs and expectations, sales channels, and communication:
The company services blueprint;
Workshop to clarify which part of the operational processes can be digitized to increase productivity and efficiency;
Interviews with current and potential customers to uncover insights about competitive advantage;
Competitor analysis to fully identify strengths and weaknesses;
Backlog as the way of preparation and prioritization of objectives and tasks;
Timing, budgeting, and team composition,
...and many other exercises tailored to the particular business and type of product. 
Design and Improve
This stage is about the actual design of the user experience, the prototyping of intuitive interactions, and finding solutions that are effective in solving customers' problems seamlessly. This is where stakeholders and the creative team have to collaborate closely.  
Build
Having created the full user flow and with a polished design, the creative team and stakeholders move to the stage of making it live. Here they decide on the platform for implementation, consider any cross-platform issues, and complete the many tasks for front-end, back-end, and mobile development.
Maintain
After the digital product is working, it's the start of a new level. Now it is time to test and collect user data to update the product and make it even more user-friendly and customer-centric.
Key takeaways
Customer-centric digital transformation is the best way to reach your business goals. When the digitalization process is based on enhancing the customer experience, it will always help companies to: 
Increase conversions and customer retention;
Discover and leverage new revenue streams;
Increase operational efficiency;
Reach the customers where they are and where they expect it;
Personalize customer experience;
Increase the convenience of interacting and communicating with a brand;
Analyze interactions faster and respond quicker;
Educate customers and build effective sales funnels.
Clients and Results






See Our Portfolio
Schedule your free consultation
Don't miss this opportunity to explore the best path for your product. We are ready to delve into the specifics of your project, providing you with expert insights and optimal solutions.
Book your free session
Read More
Explore articles from Artkai - we have lots of stories to tell
Join us to do the best work of your life
Together we advance the human experience through design.