Hot Mobile Application Development Trends For Your Business In 2023
The number of mobile app loads increases steadily every year. According to Statista, they reached 235.3 billion downloads in 2022. The same research shows that the mobile app market's total revenue amounted to $430.9 billion in 2022. It is predicted to increase at a 6.91% CAGR (Compound Annual Growth Rate) from 2022 to 2027, with a market size of $641.10 billion anticipated by that year.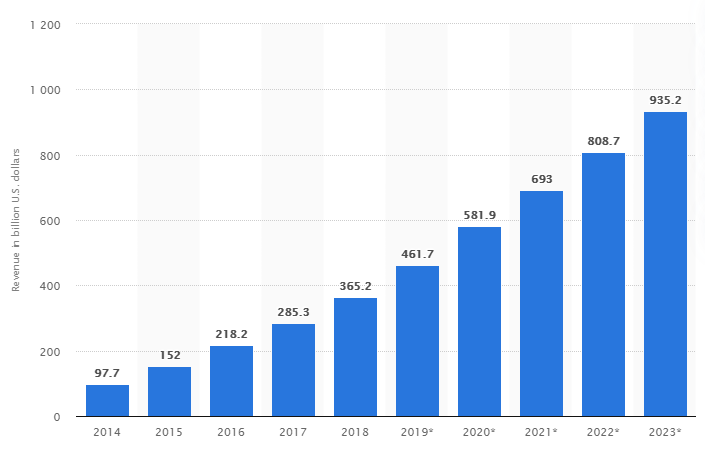 Which trend mobile apps should developers and business owners follow, and how to improve customer experience via mobile commerce, AI, or beacon technology? If you want to build a mobile app with any of the above technologies, always make a reasonable decision. And we are here to help.
This article will cover the latest mobile app trends in 2023. It will also reveal the apps of the future and share Artkai's experience in mobile app development. We'll demonstrate how we build cutting-edge mobile solutions, such as the ProCredit internet banking mobile app and Red Rocks financial wellness application.
Greater Focus On UX/UI
Given the small size of mobile screens, a clean and straightforward design is one of the important mobile development trends. In recent years, smartphone consumers' desire for a clear, minimalist user interface has grown significantly. Such a layout makes things easier to read and understand.
In 2023, user interface (UI) and user experience (UX) will be considered more in mobile app development than ever. According to LinkedIn research, UX and UI are critical for mobile apps in demand for the following reasons: enhancing customer satisfaction, improving ROI, connecting businesses with the target audience to understand their needs, and building a recognizable brand.
Consumers now use their mobile devices for purposes other than merely making and receiving calls and emails. They also use them for shopping, banking, entertainment, and more. Mobile app developers must ensure their apps are aesthetically pleasing and easy to use. Several creative concepts for attracting users have emerged due to the focus on UX/UI. For instance, paying attention to details other companies might ignore, like colors, can help achieve this goal.
Growing Mobile Privacy Concerns
Recent years have seen the emergence of particular mobile-first privacy concerns. It is caused by the growing usage of mobile devices, the widespread availability of mobile internet, and the significant role of applications in users' experiences. A survey conducted in the US found that 37% of Apple users were very concerned about their data being tracked online when using particular apps or websites.
Apple adjusted the iOS to make user's consent to advertising tracking a must. The impact of Apple's permission constraints on targeted advertising is significant. According to Meta, Apple's privacy improvements resulted in lost advertising income of $10 billion in 2022.
Paying closer attention to privacy is a trend for web and mobile apps. That includes end-to-end encryption for chat apps like Telegram. Therefore, anyone working in the app industry needs to keep an eye on the privacy trend this year.
Mobile Commerce & Mobile Banking Apps
The use of mobile devices for shopping is on the rise, with almost 70% of all retail website visits worldwide in late 2022 coming from smartphones. As a result, the majority of online orders are placed using mobile, a process known as mobile commerce (m-commerce). It is one of the apps trends for 2023, and companies that fail to adopt m-commerce risk losing customers.
Mobile banking offers numerous benefits that have led to changes in behavior among many banking consumers. Convenience and time savings are among the most frequently cited advantages. Conducting banking transactions using a smartphone eliminates the need to visit a bank branch during business hours. According to Statista, 86% of American banks provide mobile bill-pay services, further contributing to the growth of mobile banking in 2023.
Low-Code and No-Code Movement
The low-code/no-code movement enables the development of mobile apps with little to no coding knowledge. Instead of writing code, programmers create apps using frameworks that provide simple APIs, editors, and drag-and-drop functionality.
Low-code solutions can speed up the app development process, reduce costs, and enable non-programmers to participate in the process. It enables a mobile app development team to innovate, work more efficiently, and bring products to market faster.
According to the 2022 survey by Statista, Google Appsheet was the most popular low-code/no-code solution, used by developers and company owners about 40% of the time.

More Camera-Focused Apps
As a result of the growing work-from-home trend, people make video calls far more frequently now than they did in the past. Camera-focused apps such as Zoom, Google Meet, and Skype all see rapid growth. The popularity of video-based social programs like Facebook Watch and YouTube is also soaring.
The mobile app development trend for video is widely used on social media. Instagram Reels, similar to TikTok videos and YouTube shorts, allow users to express themselves and engage more followers. In a 2022 global survey of social media marketers, 68% of participating business executives indicated they would boost their video activity on Instagram over the following year, while 67% said they intended to do the same on YouTube.
Augmented Reality And Virtual Reality Development
Statista predicts the AR & VR market will generate $31.12 billion in revenue in 2023 and increase at a 13.72% CAGR from 2023 to 2027, with a predicted market size of $52.05 billion. AR technology supports realistic augmented reality experiences and has vast potential in various economic sectors, including design, the fashion and beauty industry, interior design, and utility services.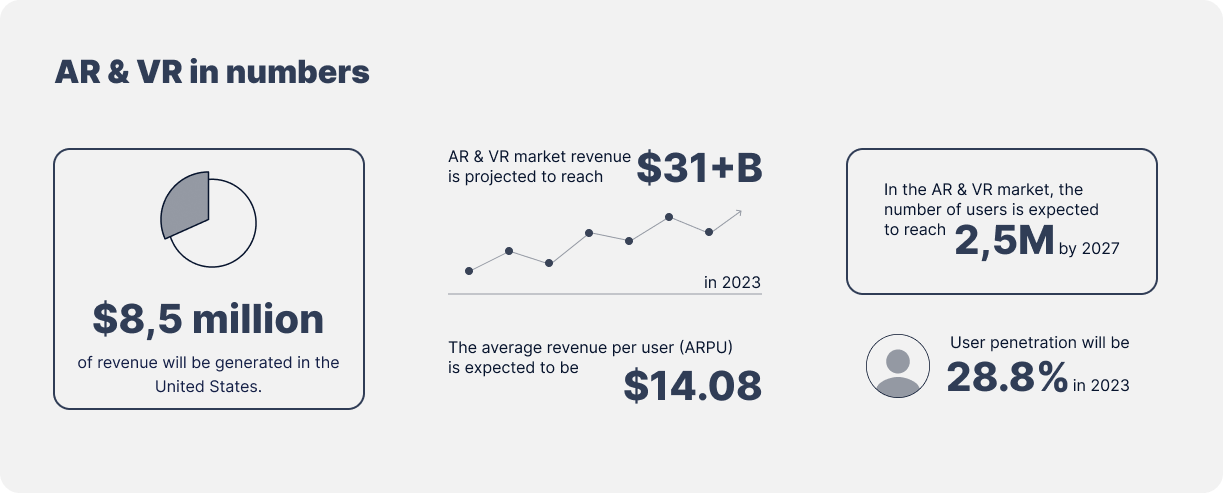 AR technology allows for creative expression similar to the use of face filters on Instagram and Snapchat. Another example of AR's application is Google Maps' "Live View" function, which provides users with real-time turn-by-turn directions on real-world photos. LiDAR systems go further by measuring the time it takes for light to reflect from a surface, enabling the creation of 3D depth maps of what you see.
Virtual reality also fundamentally transforms the development of mobile apps in demand, particularly in the gaming industry. Phones, applications, and wearables can all integrate with VR technology to enhance the gaming experience. If you work in one of the aforementioned sectors, it is essential to consider virtual and augmented reality's mobile application development trends.
Opportunities of 5G Technology
Fifth-generation (5G) wireless is the latest and most advanced mobile broadband technology currently being deployed, replacing previous 4G/LTE networks. The growing demand for faster and wider bandwidth from applications like the Internet of Things (IoT) and the metaverse is driving the adoption of 5G. By 2026, 5G subscription growth is anticipated to remain strong and reach 5 billion, including an increase of 900 million from 2023 to 2024 in subscription growth.
5G's improved features will enable the development of faster and more responsive mobile apps. This technology will also contribute to the development of more apps that utilize augmented and virtual reality, IoT, artificial intelligence, and machine learning. Therefore, mobile app developers need to prepare to scale the release of apps for emerging technology to take advantage of its potential.
Rise of Premium Apps Against Google's Free Offerings
For years, Google's free apps like Gmail, Google Sheets, and Google Hangouts (now Google Meet) were the default options for many. However, users are now actively seeking alternatives to some of the most widely used free Google programs. They opt for commercial apps that offer improved functionality and a faster, more straightforward experience.
For instance, some Gmail users are switching to the waitlist-only productivity email app, Superhuman, which raised $75 million. Similarly, Google Meet users are moving to Zoom, which has become the industry standard for video conferencing.
Even an increasing number of Google Sheets users are turning to Airtable to crunch data and complete tasks. These premium apps offer users similar functionality to Google's free offerings but with added benefits, such as faster speeds and more advanced features.
Advance of Beacon & Location-Based Technologies
Statista's research shows that the market for beacon technology is expanding at a compound annual growth rate of 59.8%, and its estimated value is expected to increase by $56.6 billion by 2026. Based on Bluetooth and GPS data, beacon technology improves the customer experience and is commonly used for marketing purposes. It enables the delivery of personalized messages and services to users.
By integrating with beacon technology, businesses can promote themselves with amazing deals, exclusive offers, and targeted product data delivered to customers in a timely manner. Furthermore, beacons help businesses discover their target audience and identify areas for improvement to boost sales. By providing personalized offers, mobile apps integrated with beacon technology can expand coverage and increase the customer base, resulting in improved sales.
The Emergence of New Audio-Focused Social Media Platforms
The conventional audio-based format is receiving increased attention in the social media realm, with the emergence of new audio-focused platforms. One such app is Clubhouse, an audio-based social network that was first introduced in April 2020. As of July 2022, there were over ten million weekly active users.
Clubhouse allows users to join any chat room and participate in conversations, providing a spontaneous and interactive experience. Due to the 100% growth of this ground-breaking voice-based software over the last four years, audio has become a "meta-trend" that extends well beyond social media apps.
Accelerated Mobile Pages & Progressive Web Applications
In 2023, one of the core objectives for developers will be to create websites that perform well on any device and can quickly and effectively render site data. Statistics show that one in two users abandons a website if it takes more than 6 seconds to load, and the same is true for mobile apps.
Accelerated Mobile Pages (AMP) and Progressive Web Applications (PWA) offer easy, fast, and smart solutions to these problems, improving the customer experience. While PWAs require installation, AMP does not. Adopting AMP and PWA enables companies to achieve the highest level of customer satisfaction and outperform competitors. By prioritizing these technologies, companies can provide a seamless mobile user experience and avoid losing customers due to slow loading times.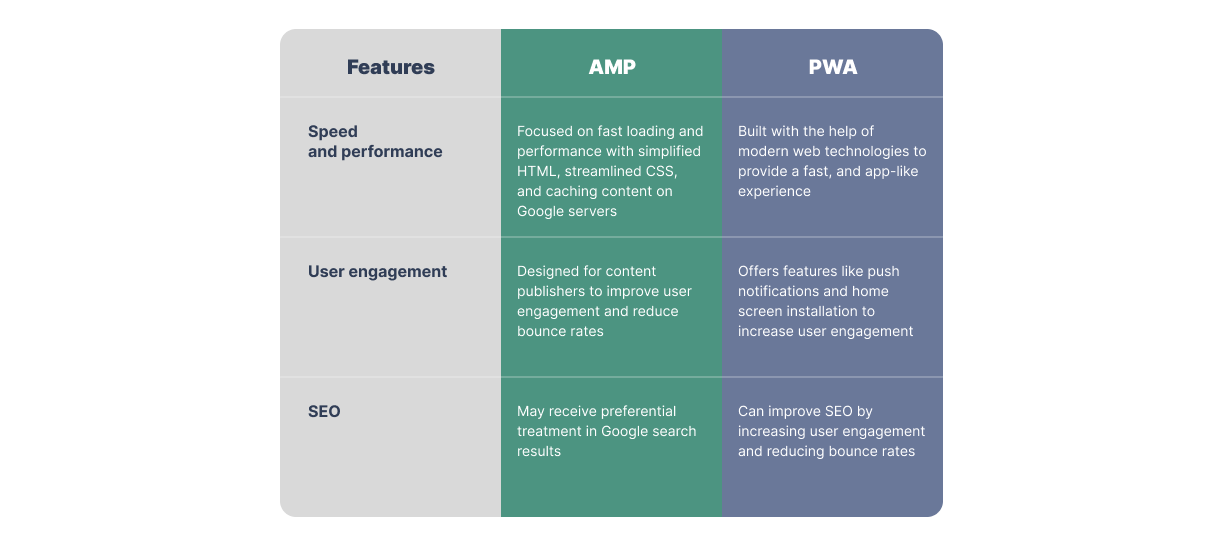 Growing Popularity of Voice User Interfaces
Voice user interface (VUI) technology is a fast-growing mobile app development technology in the industry, satisfying consumers' desire for quicker response times. By 2030, the market for voice user interfaces is expected to be worth $95.41 billion, growing at a CAGR of 21.5% between 2021 and 2030.
VUI technology allows customers to use vocal commands that the device understands to perform a function rather than typing a search request. For example, they can use AI-powered virtual assistants like Amazon's Alexa to order groceries or check the weather via the Amazon Alexa smartphone app. Other notable VUIs include Microsoft's Cortana, Google Assistant, and Apple's Siri. The rise of VUI technology has the potential to transform the mobile app industry, offering a more intuitive and convenient way for users to interact with their devices.
Enterprise Mobility Management
EMM (Enterprise Mobility Management) is another mobile trend that makes it possible to inform the employees about their task updates and monitor workers' activity. Also, it produces a positive effect on the customer experience as far as the users can give ratings and leave comments on this or that activity. In this way, both customers and users feel affiliated with the big system. Implementing EMM is also closely related to cloud technology trends.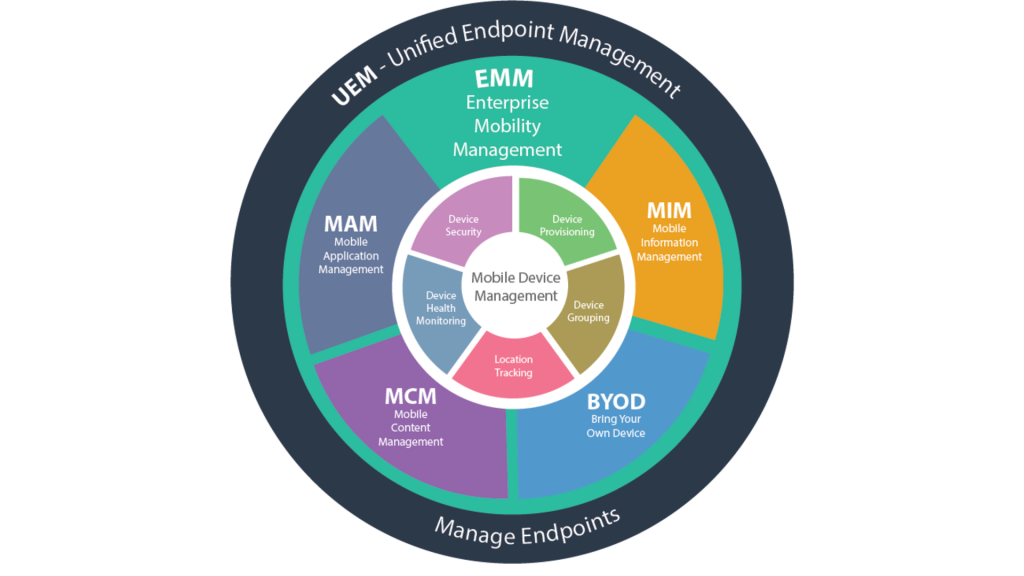 Focus On Enhanced App Security
Mobile apps generate a lot of data about users and their daily lives. Therefore, protecting mobile apps that contain this information is crucial as attackers using the internet frequently target mobile applications. Users or the company itself may be affected. The following outcomes could occur if malware is used to attack a mobile device:
Stolen credit card information;
Unauthorized access to business networks;
Stolen login details;
Identity theft;
Copying and scanning SMS texts for personal information.
Contemporary mobile development technologies can assist with app security. Let's review some of them.
Biometrics
Biometrics provides a quick and secure way to sign in to mobile applications. It uses a real-time scan of the fingerprint, iris scan, or facial features to verify the user's identity. Unlike traditional password authentication, there is no reliable technique for hackers to replicate biometric data, making it an effective security measure.
By integrating biometrics into mobile apps, consumer data security can be greatly increased. This not only protects users' personal information but also improves the reputation of companies that prioritize security. According to research, the global market for biometric systems was valued at $42.9 billion in 2022, with a predicted increase to $83 billion by 2027.
Effective Two-Factor Authentication
Account hacking is a widespread problem, and relying solely on passwords as a security measure can leave your account vulnerable to attacks. Passwords can be easily guessed or hacked, which can result in hackers accessing private information. To address this issue, mobile app developers have implemented two-factor authentication (2FA).
In 2FA, users must enter a one-time code in addition to a password to access their account. This code is typically delivered via email or text message, and users must enter it within a specified timeframe to confirm their identity. Additionally, users are alerted if someone tries to access their account, providing an additional layer of protection.
According to Duo Security analysts, mobile push notifications were the most popular 2FA technique, used 68% of the time. By incorporating 2FA into mobile apps, developers can significantly enhance the security of their apps and protect users' personal information.
ID Confirmation
Identity confirmation is an essential aspect of app security that prevents online thieves from stealing users' data by verifying their identity. Digital identity verification is used by online banks to replace the traditional paper ID that a client would present in person at a branch. It is a critical stage in onboarding new customers and opening online banking accounts.
Verifying an individual's identity online can benefit businesses, governments, and financial organizations. Identity verification helps to safeguard consumers, the financial system, and the economy against fraud and criminality. It also helps businesses maintain accurate customer data, which is essential for risk management and making informed financial decisions.
Mobile Wallets & Blockchain
According to Statista, global investment in blockchain solutions is anticipated to increase from $4.5 billion in 2020 to an estimated $19 billion by 2024. The same research covered global business leaders' plans for blockchain investments. It revealed that around 60% of respondents asked about said their companies had set aside at least $1 million for the distributed ledger technology.
Blockchain technology is primarily used by creators and holders of cryptocurrencies. The blockchain relies on generating tokens for authentication. However, it also enables the creation of decentralized databases for various purposes. This decentralization makes them resistant to hacker attacks, fraud, and more.
Frequently used in mobile apps, blockchain-based wallets and currency converters offer convenience. This technology also has broad applications for secure payments, network access protection, and tracking loyalty programs and incentives. Furthermore, it can safeguard digital identities, provide cloud storage solutions, track digital assets, and even notarize ownership. The decentralized nature of blockchain prevents unauthorized changes to the information recorded in the database.
IoT and Chatbots
AI has been present in mobile devices for years, enabling a network of connected objects to collect and process data and perform tasks independently. The global Internet of Things (IoT) market was valued at approximately $182 billion in 2020. It is expected to surpass $621 billion by 2030, tripling its size within a decade. Discover more about IoT trends for 2023 in our blog.
Another significant mobile app trend is AI-powered chatbots. The global chatbot market is projected to grow at a compound annual growth rate (CAGR) of 24.68% between 2021 and 2027, reaching $13.9 billion by 2027. The rapid digitalization of industries and the growing demand for exceptional customer service across businesses are key factors driving this growth. Chatbots efficiently address customer inquiries in a timely manner.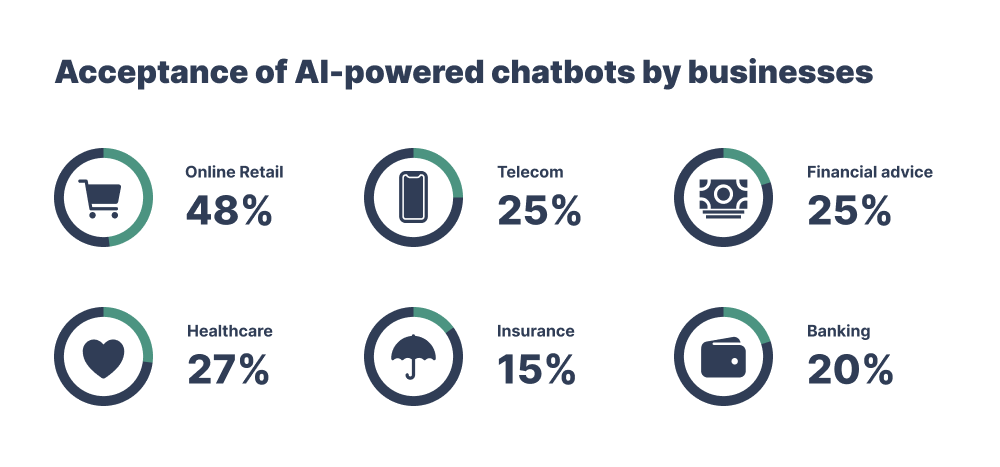 On-Demand Apps
The on-demand service app market is expected to reach $335 billion by 2025. What does this imply for entrepreneurs and app developers? To accommodate your audience's evolving requirements, you should utilize on-demand app development with a wide range of features and functions. As these platforms emerge, they may also streamline the entire mobile app development process.
On-demand apps are likely to become more personalized. Following this trend can enhance your company's visibility and usability for your target audience. In addition to the financial benefits, on-demand apps can help you raise brand awareness, connect with potential customers, and establish your authority in a specific niche.
Cross-Platform Apps
Cross-platform development involves creating a mobile application that runs on both iOS and Android platforms using a single codebase. Thus, the cross-platform approach helps to minimize the development effort.
These apps offer more opportunities to reach a broader audience as they cater to users and mobile devices across different operating systems. By coding the app once, you save time and money while reaching more users with a single app that functions and appears the same across all platforms. This approach is considerably more beneficial for businesses compared to being available on just one platform.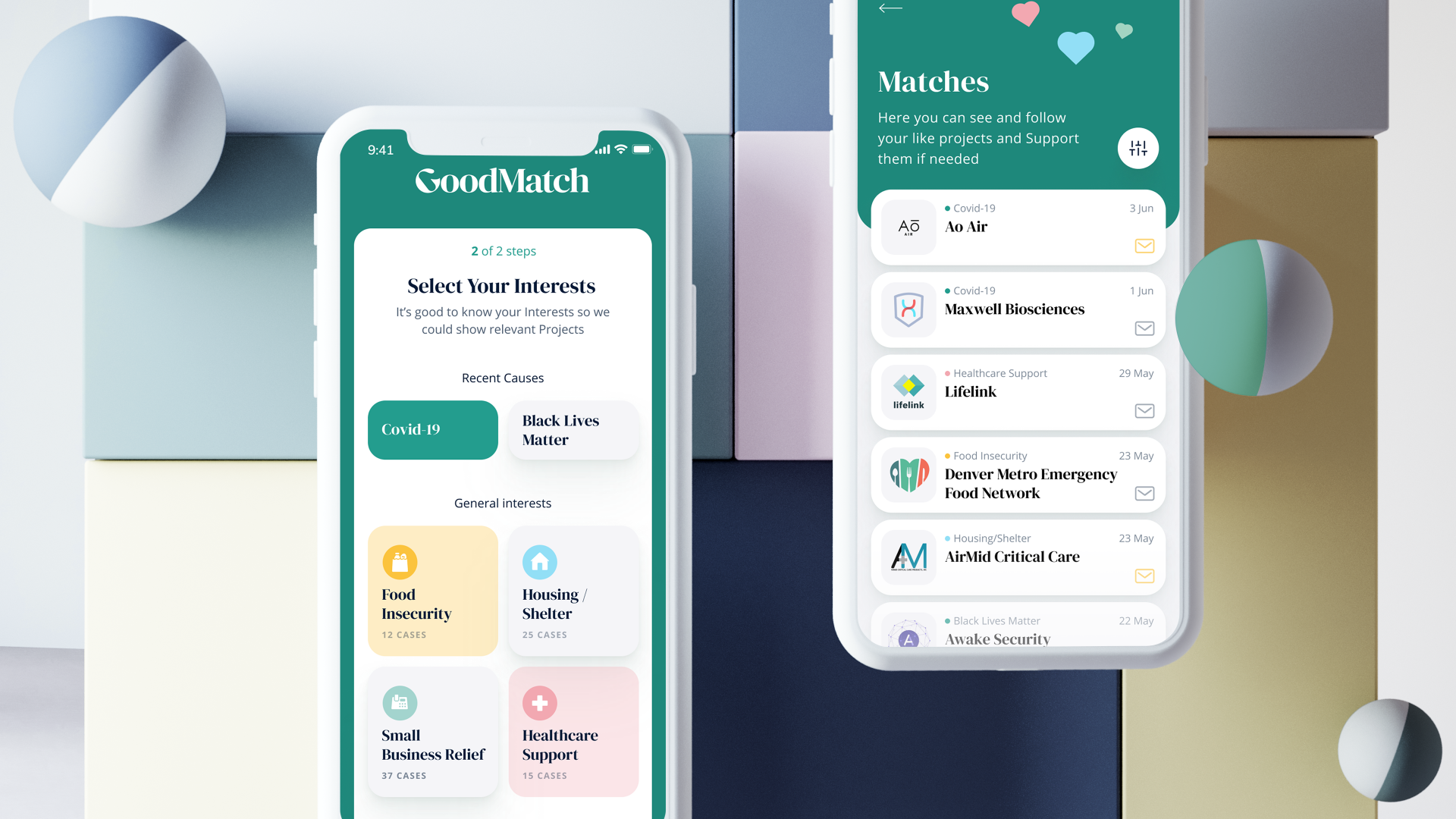 Patient-Centered Medical App Development
Many companies use app development to expand their brands and enhance customer experience. However, in recent years, the healthcare sector has experienced more focused growth in app development compared to other industries. In 2019, the market was valued at $18 billion, and it is expected to grow at a compound annual growth rate (CAGR) of 45% through 2027.
The healthcare industry has taken steps to promote medical oversight and develop apps that genuinely benefit patients, leveraging AI technology. For example, the Miiskin app monitors users' moles to detect potential skin cancer. Another app, Ada, is a patient symptom-checker that uses AI technology and a vast medical knowledge database to provide symptom-specific responses and recommend the next steps for patients.
Applications Specifically Created For Foldable Devices
According to IDC, the foldable phone market will be valued at $29 billion by 2025. The growing consumer demand for foldable devices presents a unique opportunity for entrepreneurs and software developers. Businesses can create apps tailored specifically for foldable phones, which feature large screens and the ability to display multiple windows simultaneously. This innovation may transform mobile app development.
Developing apps for foldable screens also poses challenges for app developers. Some applications struggle to adapt to the screen layout when users switch between displays (the folded screen, the unfolded screen, and the flex mode). Nevertheless, apps designed for foldable devices are expected to drive trends in 2023.
Wearable Devices
Wearable device apps are undoubtedly among the top mobile app trends in 2023. The wearable technology market is expected to grow by $61.32 billion between 2022 and 2026, with a CAGR of 14.31% during this period. Leading business owners are developing applications for mobile devices, smart jewelry, smart watches, implantable chips, VR glasses, and helmets.
Smart apps for wearable devices encompass health monitoring, automotive apps, emergency assistance, GPS, fitness applications, parental control, time management, and power control. Generally, wearable technologies are part of the Internet of Things trend. These solutions enable users to multitask and take control, reducing energy consumption for various repetitive daily tasks.
Gamification
Finance Online market research indicates that gamification is growing rapidly, fueled by the increasing popularity of mobile devices and the expansion of gamification beyond marketing and education. Gamification boosts user interest and engagement, helping mobile apps distinguish themselves from competitors.
Numerous mobile apps have benefited from implementing gamification engagement strategies. For instance, Foursquare experienced a tenfold growth in just five years after adding gamification to its mobile app. Another striking example is Duolingo, which uses gamification to teach languages for free on mobile devices and has approximately 50 million monthly active users.
Cloud-Based Mobile Apps
Currently, most apps are downloaded and installed on a user's smartphone. A significant advantage of cloud-based mobile apps is that users with limited or full internal storage can use them to store and retrieve information anywhere, anytime. For developers and companies, this leads to substantial time and cost savings. As a result, the mobile cloud market is expected to grow at a CAGR of 25.28% through 2026.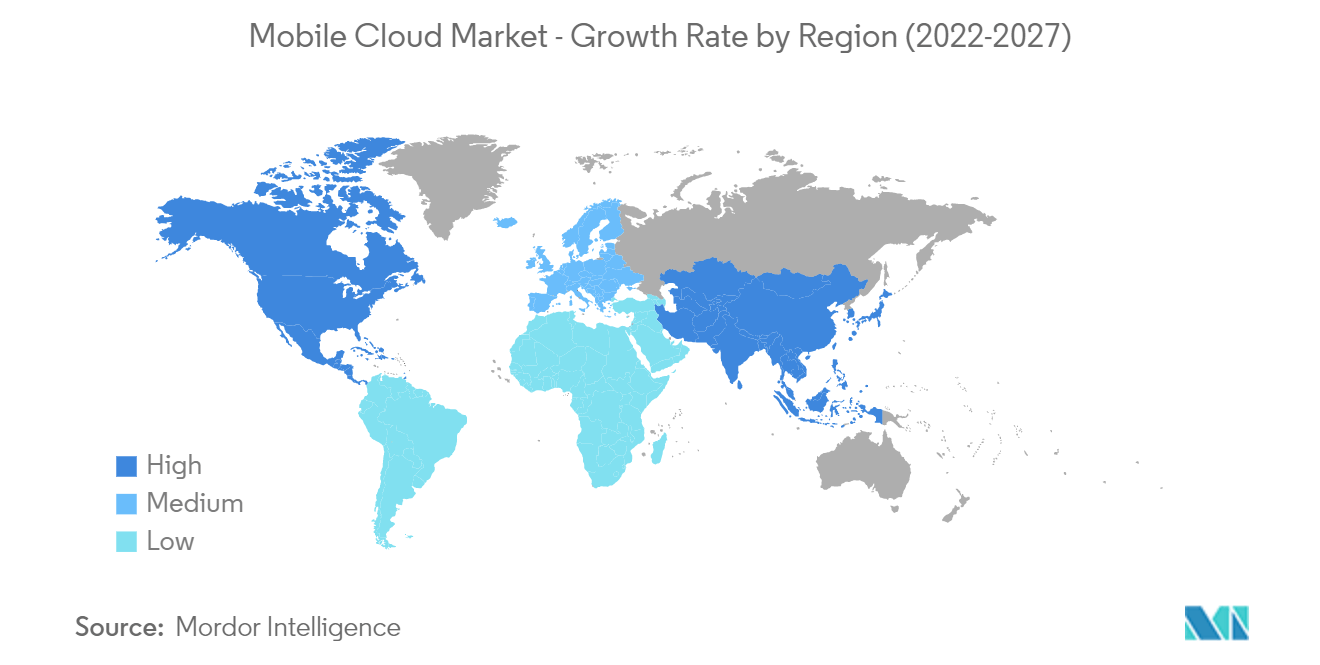 Cloud technology offers scalability and flexibility, enabling users to access and store data quickly and securely. By incorporating this technology into mobile app development, developers can reduce costs and provide better customer support.
Personalization and Customization
User satisfaction significantly improves when experiences and options can be customized and personalized. Customization and personalization are two essential strategies for successful mobile app development in 2023 for every organization.
Collecting analytics about your users is crucial for implementing customization and personalization strategies. According to the Zendesk Customer Experience Trends Report, people are becoming more comfortable with businesses gathering their personal information as long as it serves to enhance their customer experience.
Obtaining users' consent to collect data about them is vital for personalization and customization. These strategies require effort and regular review to ensure relevant content is delivered to the right profiles. However, the investment pays off when users can adjust their preferences and interests as they change.
Artkai Expertise In Mobile Application Development
Artkai is an award-winning full-cycle development company that builds innovative mobile apps to wow your customers with first-rate solutions. Keeping track of the latest app trends, we create scalable, secure mobile solutions for a range of platforms to ensure your market success and avoid typical app development pitfalls.
Our experts develop and release feature-rich apps based on in-depth market research to dominate the competitive digital app market. Let's grasp some of our success cases.
ProCredit Georgia: Mobile Internet Banking
The objectives of our client, ProCredit Georgia, were to digitize banking services completely, relieve the burden on workers in call centers and physical branches, and improve existing tools.
The Artkai team completely redesigned the mobile banking app, adding video identification for onboarding, smart login, the My Finances feature, and bank account registration. We also created a dashboard and easy-access navigation for web banking.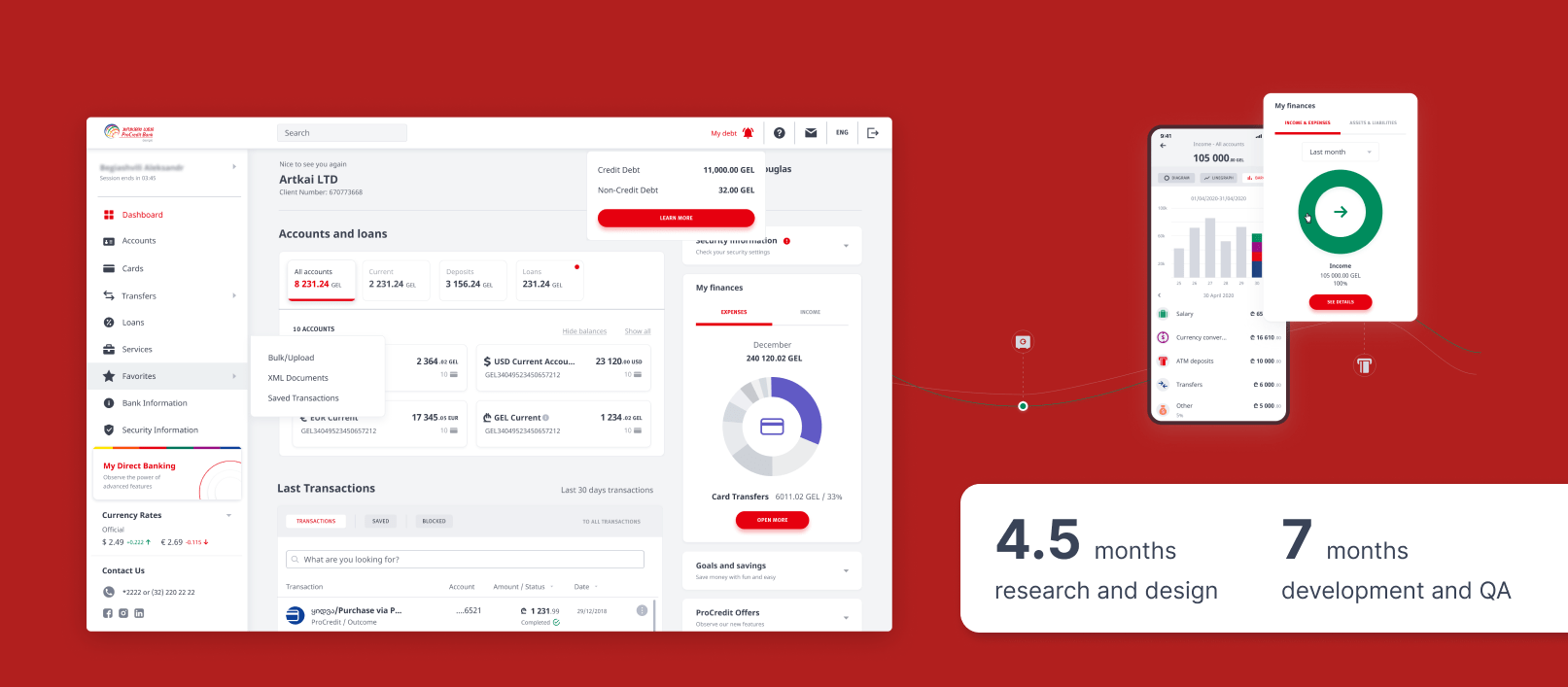 Our initiatives have significant outcomes:
99% of financial services are now available online.
The time for mobile money transfers was reduced by 50%.
Blocking a card via a mobile banking app can now be done 60% faster
The mobile app logs events two times faster than the previous version.
Red Rocks: A Financial Wellness Application
Our client, a financial wellness application Red Rocks, requested Artkai to do in-depth market research and develop the logic for a new system. It was based on an analog conceptual model of people's financial lives. With the help of our team's expertise in research, UX/UI, business analysis, gamification, testing, and pre-development activities, we were able to bring this idea to reality.
Artkai built a comprehensive and trustworthy mobile app for Red Rocks based on a data-driven approach. The app encourages the creation of dependable local support networks and helps people follow wise financial practices. The product got a lot of good reviews from companies after its release. Artkai will keep developing the ecosystem for financial wellness by adding more functionality to the Red Rocks app.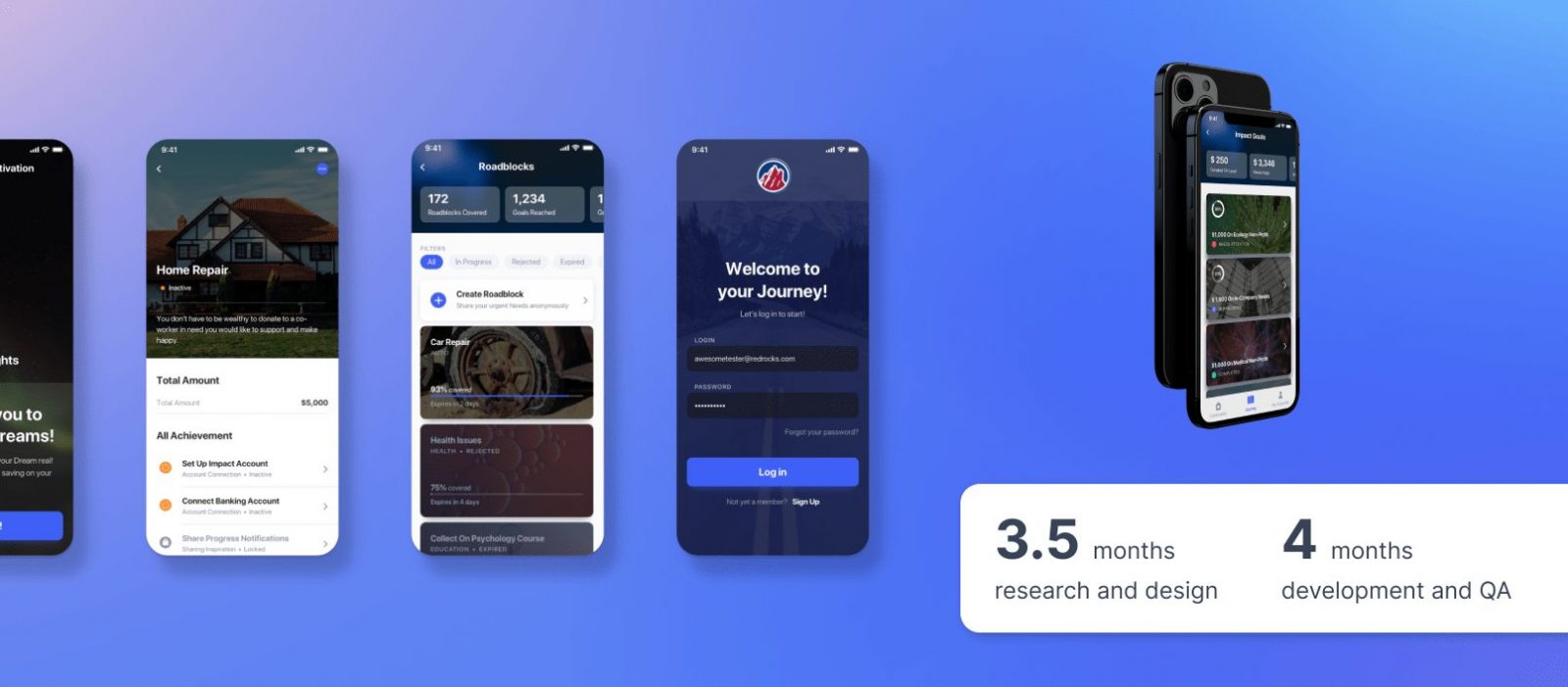 Ace Your Mobile App Development with Artkai
Using the latest trends in mobile app development, such as mobile commerce, AI, low-code, gamification, and beacon technology, can give you a competitive advantage. Nevertheless, before applying any mobile app development trends in your business, ensure that it will be beneficial for the customer experience.
Having completed 220+ challenging projects, Artkai has advanced expertise in developing mobile apps of the future based on the latest mobile app industry trends. We will build a top-notch secure, scalable, and cross-platform mobile app to pleasantly surprise your customers and outcompete your rivals.
Contact us to discuss your innovative mobile app idea and get an estimate.
Read More
Explore articles from Artkai - we have lots of stories to tell