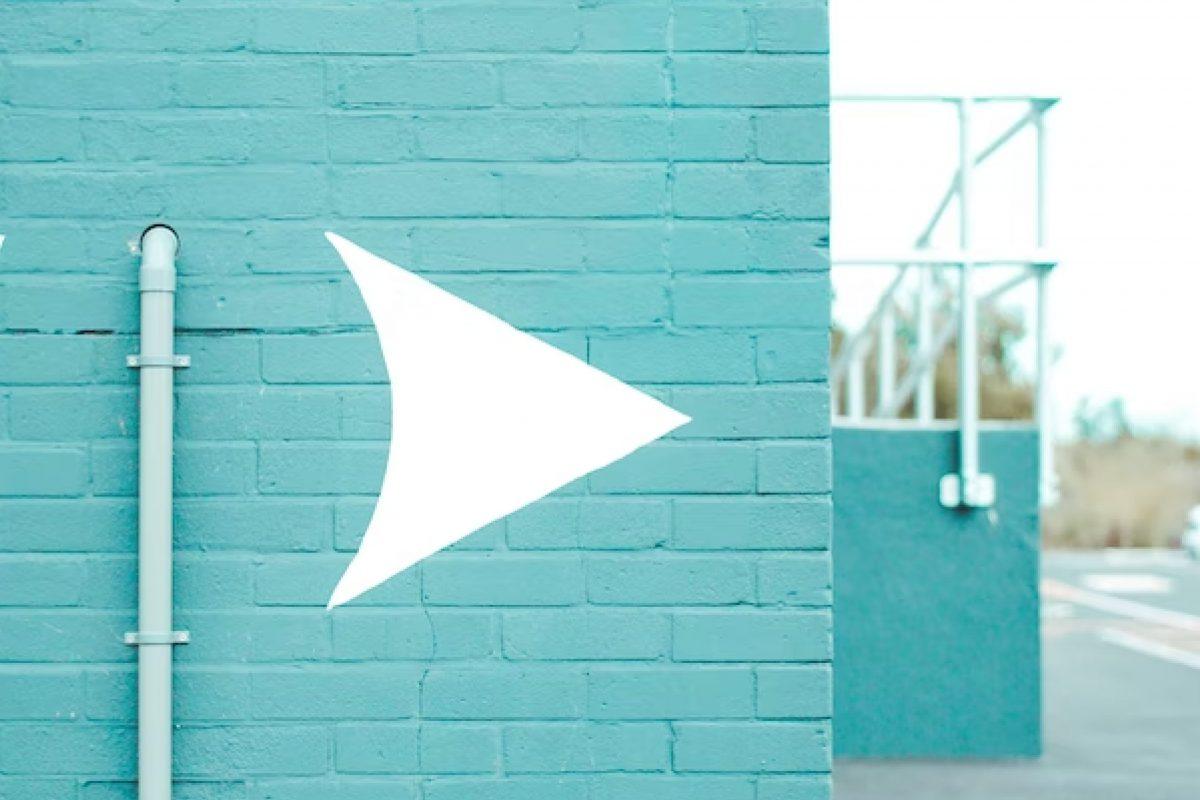 What Is Product Development Strategy? A Comprehensive Guide
To remain competitive in the ever-changing market, product companies must continually innovate and provide value to their customers. According to Forbes, most software products fail due to the lack of agreement between the stakeholders, misunderstanding of customers' needs, and pressure to release goods as soon as possible. 
In the 2022 Product Benchmark Report, more than half of the organizations surveyed describe themselves as product-led. Moreover, compared to sales-led companies that demand direct interaction between a user and a salesperson to use the product, surveyed product-led companies routinely grow at or over 30% at scale and have crossed $30m in revenue. 
And here comes the question: how to develop a product that will succeed? A well-thought-out product development strategy is the key. You'll need a clear direction to follow to make the most of your resources, determine your top objectives, and ensure a seamless product development process. This guide is for those who create their own products, think about it, or even just productize their services. 
We will define product development strategy, describe how it differs from the product development process, and explain why you need to create a product strategy. We will discuss best practices and examples of product development strategies and share Artkai's expertise on the topic with examples of such cases as Red Rocks iOS Mobile App, DTEK, Qvans, and AutoAccess.
Difference Between Product Development Strategies And The Product Development Process
What is product development strategy? Before we dive deeper into the product development strategy definition it is essential to understand how it differs from the product development process. The latter covers the entire product life cycle, from idea generation to launch to customers. 
The product development process is typically broken down into stages: conducting market research, planning, designing, prototyping, and testing the product before introducing it to the market.
A product development strategy links the product development cycle with the marketing strategy, business strategy, and existing market and customer research data to produce a high-level action plan. With the aid of a development strategy, product companies can have a steady stream of cutting-edge products that please consumers and alter the market.
A product development strategy aims to create a competitive edge by positioning product offers to support business objectives like sales growth, revenue, and profitability across the product development life cycle.
| | | |
| --- | --- | --- |
| | Product Development Process | Product Development Strategy |
| Definition | The product development process includes each step required to take it from conception to market. It entails determining a market need, studying competitors' landscape, envisioning a solution, creating a product roadmap and a minimum viable product, etc. | Product development strategy describes the techniques and steps taken to introduce new items to the market or alter current products to generate new revenue. |
| What it covers? | Entire product development life cycle from idea generation to launch. | Product development life cycle, marketing strategy, business strategy, market, and customer research. |
| Goal | To break down the process into stages such as idea generation, market research, planning, designing, prototyping, and testing, and follow them step-by-step to achieve business goals. | To gain a competitive edge through positioning the product and driving business goals like sales growth, revenue, and profitability. |
Benefits Of A Product Development Strategy
A sound product development strategy can assist your business in developing an idea into a profitable product, which can then be modified to maintain market competitiveness. Your strategy can highlight opportunities for development and the most effective approaches.
Minimize Risk at the Product Ideation Step
You can leverage the work you've already done on market research in your product development strategy. By doing this, you can understand your market and the needs at each step of product development without making any accurate predictions. Your approach can change as you conduct additional research or your business expands to achieve the most significant outcomes.
Adapt Your Existing Products to Market Changes
If you want your goods and services to remain competitive in your market, a product development strategy will help. Using it, you keep track of your growth and analyze the performance of your current products. When you need to adjust or revise your plans, you can be flexible and modify your development strategy or choose a new one to fit your current needs.
Eliminate or Improve Under-Performing Products
Receiving feedback on your product's development progress can help you make quick evaluations of products that need to be hitting the mark. This implies that resources, such as time and money, might be allocated differently for greater utilization.
Provide a Big-Picture Direction Forward
With a product development strategy, development team managers may guide cross-functional teams toward priorities that will advance the result. Enhancing your products more effectively can have a positive impact on sales generation. It can be achieved through more effective product development.
Why Develop A Product Development Strategy?
A product development strategy can boost customer satisfaction, assist expansion into new markets, increase product sales, and support corporate growth. In addition, it helps larger organizations that have a more robust product portfolio identify new opportunities to capitalize on. For start-ups, a development strategy lays the groundwork for future activities.
It is especially helpful when you hit a revenue sales plateau and want to assess your future moves. Consequently, a product development strategy is essential to a product's continued success and expansion, which in turn helps the company as a whole.
Mitigate Risk
With a product development strategy, a team has a better chance of developing a product that meets the users' needs. The strategy should be based on a comprehensive market, competitor, target audience, and other types of research. With this approach, you will remove the guesswork and rely on actual data.
Save Resources
The product development strategy outlines what should be built and what shouldn't. The team doesn't invest resources in increments that have nothing to do with the product development plan and vision. Thanks to focusing on the objectives defined in the strategy, a product's time to market is significantly shortened.
Improve Team Coordination
Reworks caused by misunderstandings are among the most frequent problems during product development. The team needs to establish effective communication so everyone is on the same page and knows where to go to release a product on schedule. In this situation, a product development strategy is a helpful tool to keep the team focused on the main goal regardless of the roadmap they decide to follow.
Artkai Expertise in Product Development Strategy
Artkai is an award-winning full-cycle product development company. We use best practices of product strategy development to create products that matter and are consistently successful. We believe that creating profitable products shouldn't be a matter of chance. As a result, we ensure that every product we develop benefits people and businesses. Here's how we accomplish that.
Better market position. We strengthen competitive advantage, improve brand equity, and accelerate time to market.
Greater financial results. We help to boost conversion, maximize sales and revenues, cut costs, and foster greater client loyalty.
Improved product quality. We enhance user experience, increase product usability, and boost customer satisfaction.
Let's look at some case studies of product development strategy implementation by the Artkai team. 
Development of the Red Rocks iOS Mobile App
The client requested Artkai to undertake extensive field research and design the logic for a new system based on an analog conceptual framework of the financial journey of individuals. We brought this vision to life with our team's knowledge in research, UX/UI, business analysis, gamification, testing, and pre-development activities.
Artkai supplied comprehensive and reliable solutions based on a data-driven approach that included:
Understanding the industry.
Mapping customer journey.
High-fidelity prototyping for iOS application..
Testing the experience.
As a result, the Artkai team created the Red Rocks mobile app, which promotes the formation of trustworthy community support systems and aids in developing good financial habits. The solution has gotten a lot of positive feedback from users and member businesses. Artkai will add even more capabilities to the app to increase the ecosystem for financial wellness.
Enterprise Product Development and Design
The goal of DTEK, a Ukrainian power grid operator, was to make managing and paying electricity bills easier. Artkai worked with DTEK to introduce a digital solution allowing online, account-based electricity consumption and bill management. To achieve the client's objectives, our team has used a product development strategy that included:
On-site workshop with DTEK
Conducting personal interviews with different representatives
Building high-fidelity prototypes
Developing a design system
Building a solution architecture based on gathered requirements.
Artkai helped DTEK to build an agile, digitally conscious, and design-focused solution. Customers may now more easily access precise information, and DTEK helps them manage their energy use to reduce costs. DTEK, as a result, got the following outcomes:
More contracts for power usage were signed.
Customer service received three times fewer questions.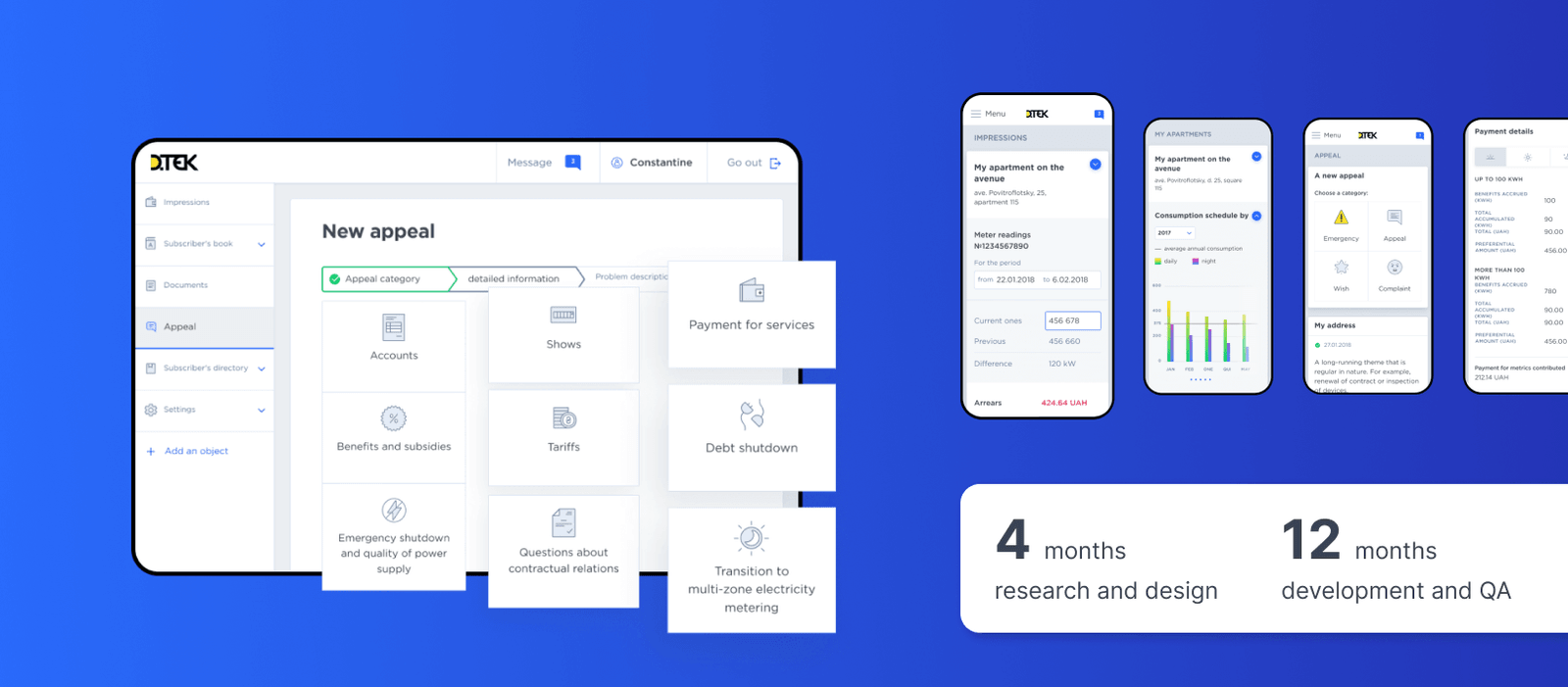 Building a New Digital Ecosystem for ProCredit Group in 13 Countries
The client wanted to create an easy-to-use user experience to keep the bank's current clients and draw in new audiences in all 13 countries. The challenge was to accomplish this while considering all the technical, legal, and unique characteristics of their core banking system and a wide range of devices and operating systems.
From websites, ATMs, mobile applications, and web applications to diverse marketing materials, Artkai designed and implemented consistent communication for the bank, having built a new digital ecosystem. To achieve this, we conducted:
Five pieces of research
Employee interviews in the bank's branch offices
Discussions with the client's IT department
Divided redesign into stages and implemented them step-by-step
Over the years of partnership we have managed to 
Embrace digital transformation by creating an omnichannel platform for a variety of banking products.
Form trustworthy, long-term cooperation with ProCredit's core banking team in front-end design and development.
Centralize our digital solutions within ProCredit's broader
As a result, E-banking (50%), POS transactions (25%), and ATM operations (22%) account for the majority of automated services and transactions. We continue working together to improve current products and develop new ones for ProCredit daily.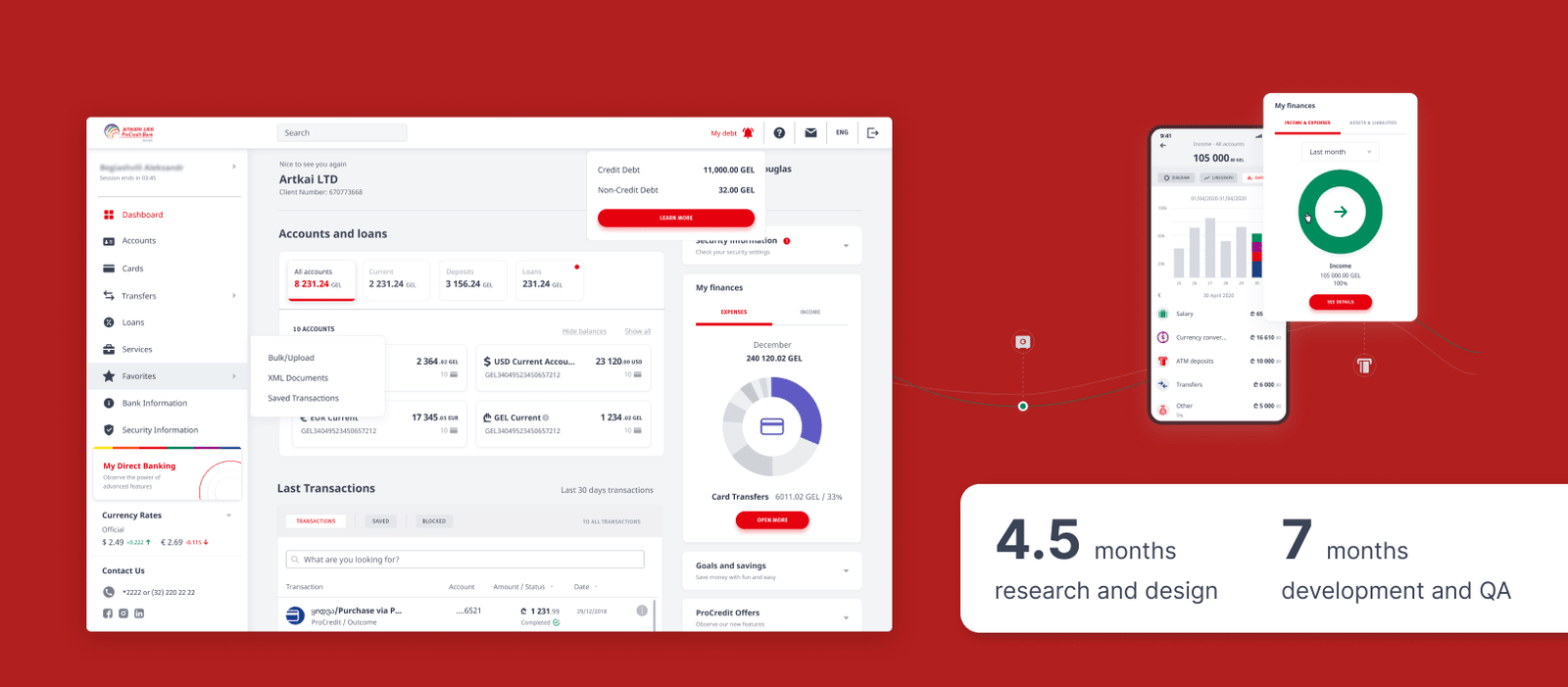 E-Commerce Platform Design and Development for a Major Automotive Seller
Artkai team was tasked to create the brand, UX, and technical solution from scratch for Qvans, an automotive seller that helps users customize vans to their needs. Through the platform potential customers would be informed about the advantages of working with Qvans and the strengths of its features and products.
With our knowledge in research, UX/UI, business analysis, and development, Artkai contributed to the realization of the design. We offered a comprehensive and reliable solution based on a data-driven approach that included: 
Qualitative desk research to understand the industry
Competitors analysis
Features prioritization
Developing visual concept
Parallel design and development
Artkai has developed an incredibly user-friendly e-commerce platform where users can browse, personalize, and buy work vans for a wide range of business requirements, professions, and industries. Our solution helped build a strong brand for a niche commercial vehicle market and optimize and automate customer acquisition and data management processes by combining CRM with third-party applications.
Digitalization and Innovation for Automotive Supplier
AutoAccess, a specialized provider of automotive accessory solutions, aimed to increase the efficiency of their business and marketing operation by adding more automation to an existing digital solution. Artkai's task was to support the client's strategy for growth and find ways to reduce operational issues. 
We worked closely with AutoAccess to develop a strategy to digitally transform the company's operations processes and launch a new website, which included the following stages:
An interactive discovery workshop with clients
Business analysis to set up a product backlog
High-fidelity prototyping for Admin panel and website
Front- and Back-end development
QA testing
We have built a website with features tailored to different user types. Dealers can access commercial and retail prices per product and branded sites with exclusive products. Our solution helped AutoAccess achieve the following outcomes: 
Reduced the time for filling the website Admin panel by 50%.
Decreased the cost of adding new features to the website by 2.5 times.
Made the process of placing an order 1.6 times faster.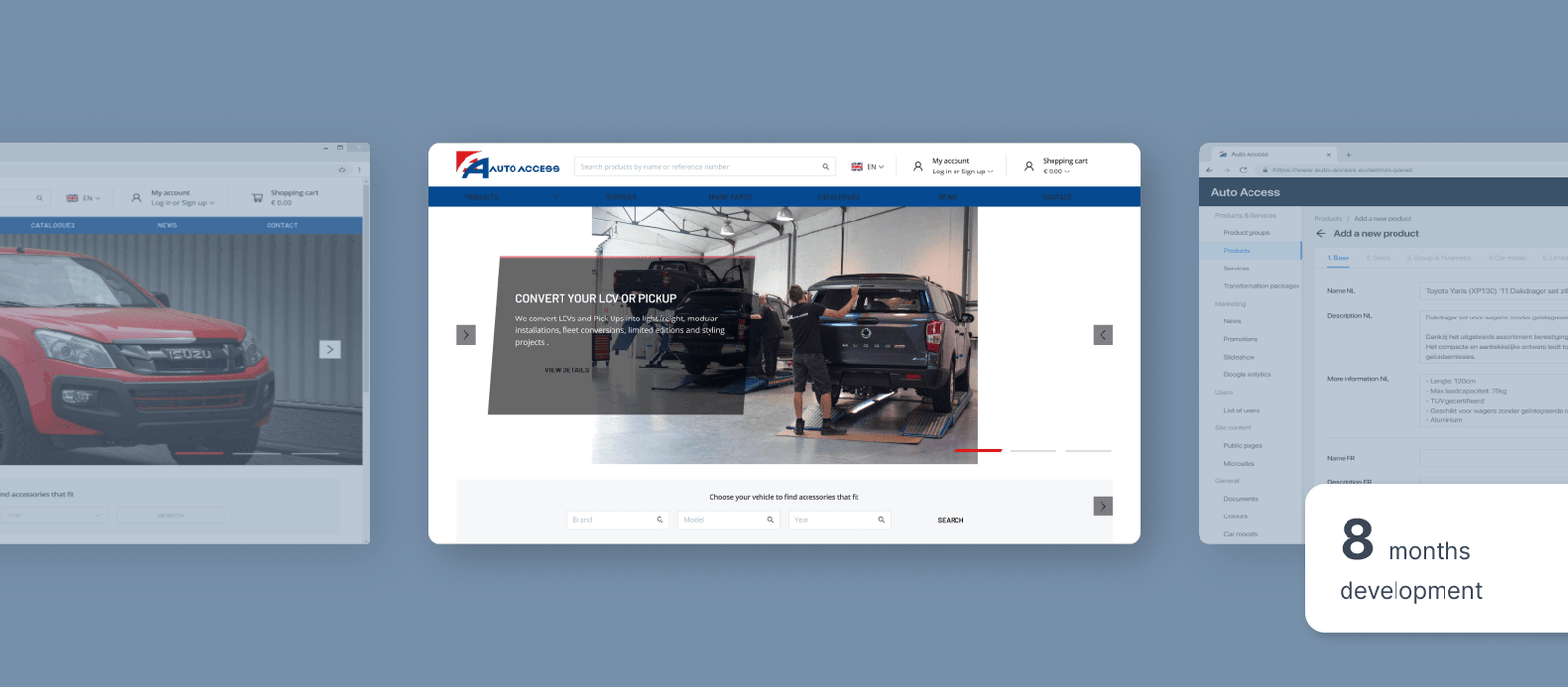 Developing A Product Strategy: Best Practices
It's a good idea to adhere to best practices while developing a product development strategy to prevent typical problems and pitfalls. The fundamental guidelines are staying in touch with your clients, maintaining a balance between speed and quality, and setting reasonable goals. Let's examine some of the new product development strategies.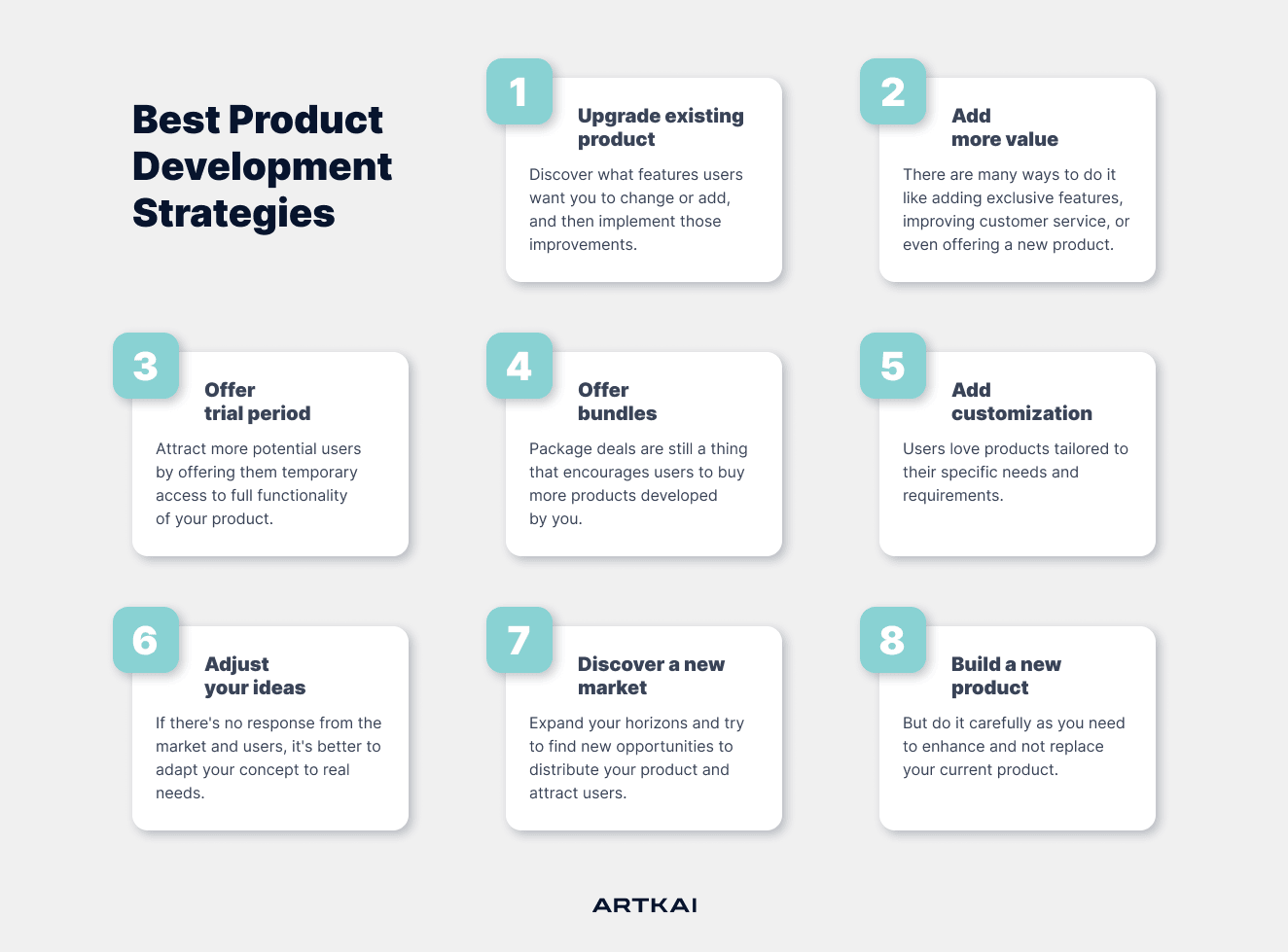 Modify Existing Products
You can encourage your clients to buy an upgrade by developing a new version of an existing product with minor changes. Customers are more likely to test the updated version of a product when it has been modified, and updated-focused marketing is used. This approach focuses on determining what features customers want to see changed and implementing those improvements. Apple releasing a new iPhone with minor changes every two years is an example of this strategy. 
Make Your Product More Valuable
Many businesses attract clients by bundling extra benefits with purchasing a product. You can raise the value by offering more products, enhancing customer service, or including exclusive features. Due to the extra features, potential clients may be attracted to your product, and current ones may decide to buy from you again to get a great deal. IKEA is a vivid example of a company that consistently offers high-quality furniture at affordable prices.
Offer Product Trials
Customers who might not have purchased the full version may be persuaded to try your product by providing a free or inexpensive trial version. This strategy depends on the quality of the product since it anticipates that many users of the free trial will also buy the full version. Trials of their streaming services are available from companies including Netflix, Prime, Disney, and Amazon.
Create Package Deals 
By offering package deals, you may encourage clients to buy more of your goods. This tactic introduces clients to a range of your items through sample packs or assortments that may address various customer issues. Additionally, package deals introduce clients to a product they might not have otherwise bought and persuade them to do so in the future. For instance, computers are frequently sold in bundles with mice, webcams, and other accessories.
Specialization And Customization
Many products can be tailored to target a specific customer segment or made just for you to provide a one-of-a-kind gift. Customers may be more inclined to purchase your product over a rival that sells a generic version if you allow them to customize it to suit their wants and lifestyle. For instance, Moonpig.com offers personalized occasion-specific templates to customers.
Modify Your Ideas
Changing your product idea is one strategy for creating a product. If a market isn't responding well to innovation, a corporation might consider investing resources to determine what that market wants. A willingness to modify ideas as necessary can be a successful strategy because not all ideas will lead to a successful product. Coca-Cola, for instance, develops new flavors like Diet Coke and Coke Zero, considering customers' preferences.
Discover New Market Areas
Lots of products can find their paying customers in various markets. Consideration of marketing an existing product to a different market or demographic is one product development strategy. This can entail focusing on businesses rather than single customers, marketing to a particular age group, or geographically expanding your offering. For instance, Amazon initially sold books in the US but gradually expanded its offerings to sell a range of goods worldwide.
Create New Products
New product development strategy is another way to expand your product line. Consider your customers' needs while developing new products, but avoid making them less likely to purchase your current offerings. Any new items should enhance rather than replace what your current product offers to the customer. For example, Gap started as a record store selling jeans before expanding its product line to include clothing and apparel.
Examples Of Product Development Strategies
In this section, we will list strategies for new product development from three tech giants. Discover product development strategy examples of Amazon, Apple, and Netflix.
Amazon
It is an example of product development strategy focused on customers. Amazon prefers to start with the target market and work backward.
The press release for the product is written first, then polished until it is written in a way that is easy for anyone to read. This approach to product development concentrates on how Amazon interacts with customers internally to produce a particular product that fills a known demand.
Apple
Apple is an illustration of a platform-derivative strategy. They link their product development process to their top-level strategy, developing goods and determining their market. Apple takes a risk that consumers will pay more for exceptional items and frequently focuses on improving current ones.
The company depends on consumer brand loyalty and is content to let rivals dominate the market for cheaper items that compete with its own.
Netflix
To increase engagement and retention, Netflix has adopted a profit and margin-driven strategy. The main benefit of a Netflix subscription is unrestricted content access. Monthly retention is an essential metric in the company.
To draw viewers to screens, it has become more and more focused on producing original material of the highest quality. Netflix's rivals have difficulty replicating its powerful brand, simplicity of use, and customization.
Leverage Your Product Development with Artkai
Product-led growth is a smart way to ensure your stable growth. However, it is hardly imaginable without a robust product development strategy. The latter helps your business mitigate risk, adapt existing products to market changes, remove underperforming products, and see a big-picture direction forward. 
Artkai uses the best practices of product development strategy to design products that matter and are consistently successful. We ensure that every product we create benefits consumers and enterprises by improving market position, increasing financial results, and maximizing product quality. 
Contact us to get an expert consultation on product development.
Clients and Results






See Our Portfolio
Schedule your free consultation
Don't miss this opportunity to explore the best path for your product. We are ready to delve into the specifics of your project, providing you with expert insights and optimal solutions.
Book your free session
Read More
Explore articles from Artkai - we have lots of stories to tell
Join us to do the best work of your life
Together we advance the human experience through design.