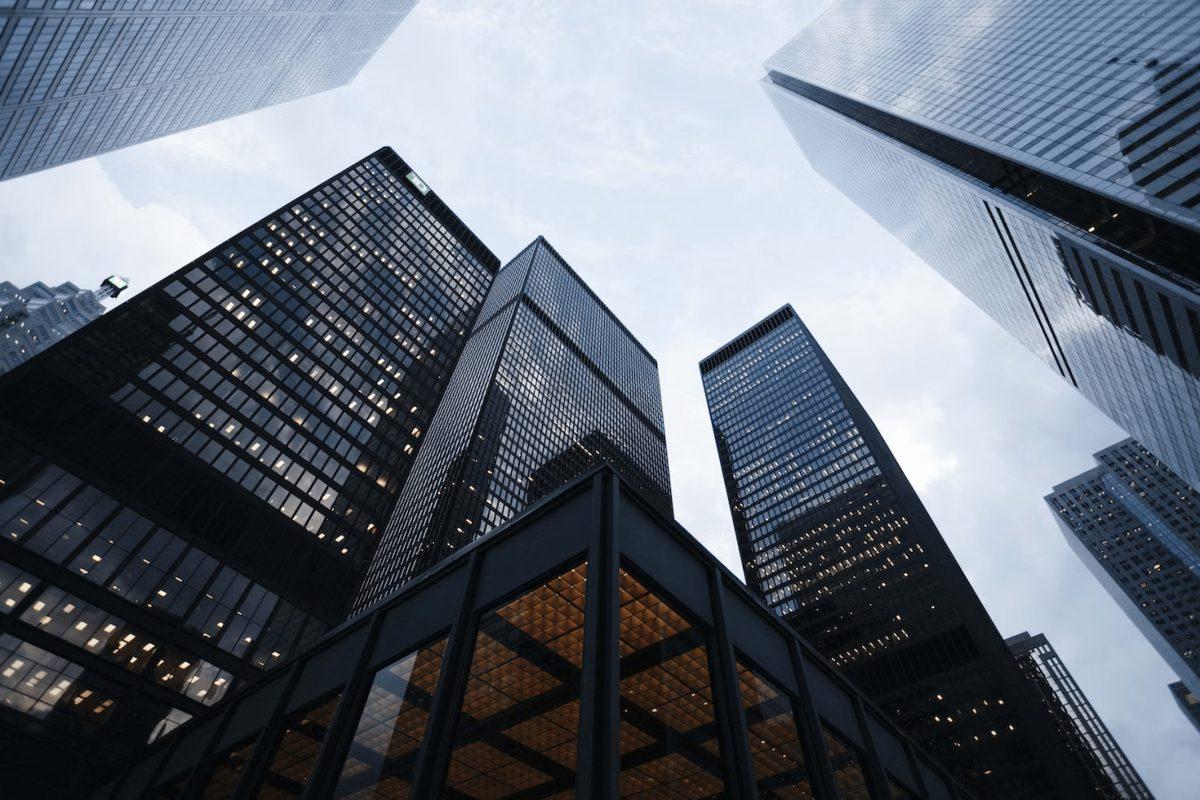 The 3 Horizons: Product Scaling Model & How Can You Use It
Technology adoption has experienced positive growth rates across all technologies, as the 2022 Global Innovation Tracker indicates. However, organizations need to prioritize and focus on the right innovation investments. The three horizons model, representing core business, emerging technologies, and long-term objectives, can guide your company's growth and innovations.
As your company matures, you may encounter a decline in growth rate because innovation gives way to inertia. To maintain consistent growth throughout your organization's lifespan, it is essential to concentrate on current operations while exploring potential future development areas. The three horizons approach, discussed in "The Alchemy of Growth," offers a framework for assessing growth opportunities without compromising current performance.
This article will explain the 3 horizons model, its practical applications, and its benefits for your business. We will showcase Artkai's experience in product design and strategy, highlighting how our innovative solutions have influenced our clients' growth and digital transformation based on success stories such as DTEK, ProCredit Georgia, and a marketplace for new and used cars. 
What Is the 3 Horizons Model?
The three horizons model was first introduced by McKinsey consultants Mehrdad Baghai, Stephen Coley, and David White in their book "The Alchemy of Growth." This growth strategy framework is designed to help businesses of all sizes focus on innovation and long-term growth.
The structured approach allows for the evaluation of potential growth opportunities without jeopardizing current operations. For instance, when Microsoft launched the Microsoft Box, which was quite distinct from their core business, they employed this model to identify new niches for success in horizon three.
McKinsey horizons represent the following:
the short-term development and maintenance of the current core business;
medium-term expansion and investigation into new opportunities,
research and ideas for future growth and new opportunities to manage business and development.
Each horizon has a specific focus and demands a unique management approach. While horizon one involves evaluating your current assets, horizon three requires strategic planning for your company's growth. Horizon two represents the tactical decisions necessary to transition from horizon one (where your company is now) to horizon three (where you aim to be in 5-12 years).
What Does the 3 Horizons Model Measure?
The McKinsey three horizons of growth model has a "Time" axis and a "Value" (sometimes also referred to as "Profit") axis. Each horizon is represented by a series of three S-curves, one after another. The duration of each horizon may vary depending on whether your sector moves quickly or slowly, but this explanation offers a general idea.
As seen in the corresponding graph, Horizon 1 represents your core business as it currently stands. It focuses on maintaining your existing assets and supporting short-term growth (1-3 years), with the lowest value. Horizon 2 is where you explore and identify emerging opportunities that help develop your company in the next 2-5 years. Horizon 3 has the highest value and illustrates your long-term goals (5-12 years), which involve creating entirely new possibilities for your business growth.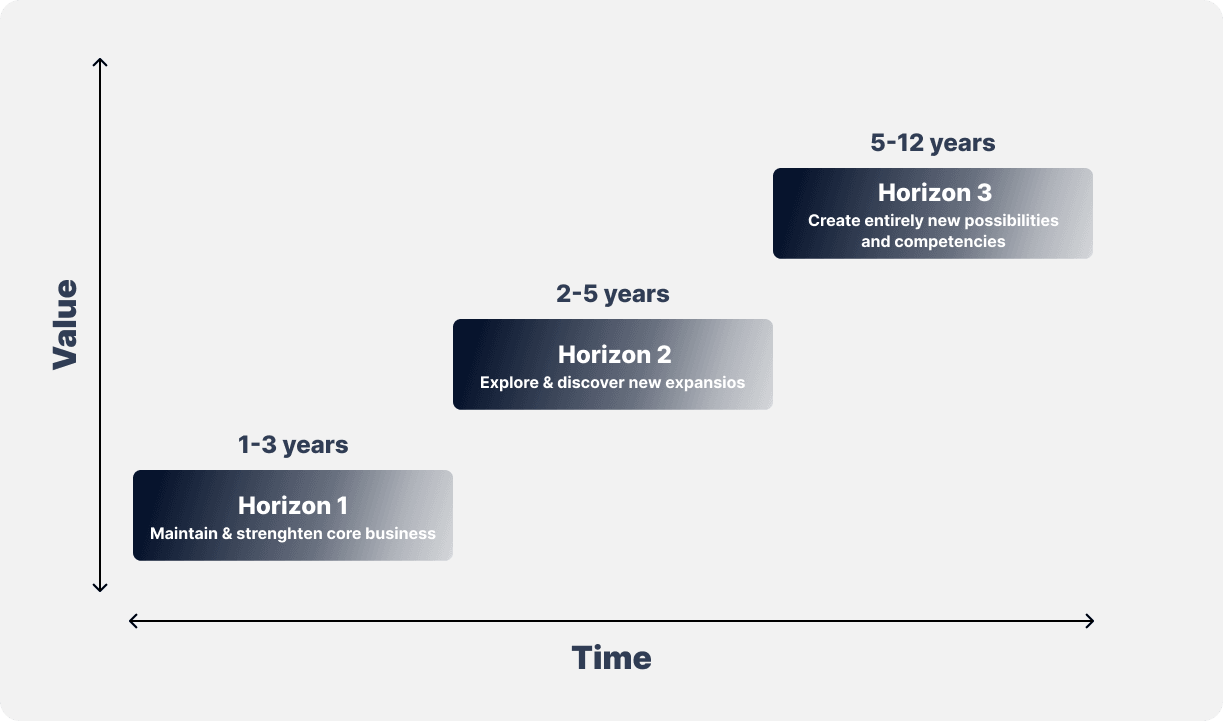 Using the McKinsey Horizon Model In Practice
The primary advantage of the three horizons model is that it provides a common language for discussing and understanding various types of growth. Anyone in a C-level position within a large corporation knows that each board member has a unique perspective on the organization's future development.
The 3 horizons model presents your team with the overall innovation plan and the objectives for that plan across time, including when they can anticipate a return on investment, outcomes, or profit. It assists in managing diverse views and directing conversations by establishing long-term goals. Consequently, the horizon model is excellent for portfolio management and growth strategy, as it enables clear and straightforward communication of your future intentions for the organization.
Horizon 1: Core Business
The first horizon often receives considerable attention as it reflects the current business. Here, you assess your strengths and weaknesses, identify what is working and what may have peaked, and determine any areas you need to relinquish. This short-term horizon spans six months to three years and aims to defend the core business and understand its present value. For instance, Microsoft's core business includes software, computing devices, and cloud services.
As a company owner, you might sometimes overlook current operations when seeking growth opportunities. Horizon one helps you focus on satisfying existing customers while making tactical adjustments to reach new clients. Actions that provide a competitive edge in this horizon are short-term.
While maintaining and defending the core business on horizon one requires significant effort, it is crucial to allocate resources to horizons two and three as well.
Horizon 2: Emerging Opportunities
In horizon two, you should evaluate your core business and identify opportunities for the next two to five years. It is now up to you to decide which innovations to incorporate into your company's portfolio to ensure success. Continuing with Microsoft's example, its emerging opportunities include launching a line of computer games, such as Microsoft Flight Simulator and Age of Empires.
Consider options that complement or build upon your current business model. Explore possibilities that enable company growth, entry into new markets, or the achievement of new goals.
Next, determine how to support these ventures—what resources you will need, what skill sets to seek when hiring new employees, what new technologies to acquire, and how to integrate corporate resources. Horizon two may require a substantial initial investment, but launching a new product line or expanding your company's geographic reach should yield a strong return on investment.
Horizon 3: Long-Term Goals
Once your company's value has increased, it's time to consider planning for the next five to twelve years. The third horizon is where you think about developing entirely new opportunities. This stage may involve focusing on new markets, launching new businesses, undertaking long-term research initiatives, and piloting programs. For instance, Microsoft's horizon three involved launching Xbox after conducting thorough market research and identifying new areas for success.
You might create new divisions within your company or even establish brand-new business units through mergers and acquisitions. This kind of expansion may require a significant amount of money. Additionally, some of your ideas might be untested and not yield success for an extended period. However, when long-term planning on horizon three is executed correctly, these expenses are offset by additional sources of income.
What Does McKinsey's Three Horizons of Growth Help You to Achieve?
Most businesses aim to grow, recognizing that innovation is crucial for achieving this growth. However, innovation is often perceived as a one-time event, such as a large project or a creative program. The apparent gap between future innovation and the current realities of business operations is one of the most frequently cited reasons for using the three horizons model. Let's examine the achievements you can gain using this model:
The 3 horizons framework helps connect your business's daily operations and innovations by building a bridge between operating your company profitably today and expanding it for the future.
This strategic framework aids in continually striking a balance between focusing on the present requirements in horizon one, the future state of your company in horizon three, and the steps necessary to reach it in horizon two.
The three horizons model is a highly adaptable strategy framework that assists you in overcoming challenges on your path to growth and innovation.
This framework also helps you stay on course in your core operations, ensuring business continuity and stability.
How Do You Apply the Three Horizons Model to Your Business?
If you have decided that your company needs to develop and innovate, you are willing to see if McKinsey's three horizons model can help you get there. Below are the steps you can apply to your organization to test the three horizons framework. 
Begin by Gaining a Comprehensive Grasp of Your Horizon 1
Firstly, determine the most critical assets that currently drive your company's success. Recognize the factors that contribute to your business's achievements. Envision a scenario where you lose these factors altogether, and all your customers are no longer interested in purchasing your products or services.
Your Horizon 3 Describes What You Would Do If That Happened
After assessing your Horizon 1, jump to Horizon 3. Here, envision launching a product or service that is far from your core competencies because your customers are no longer interested in your current offerings. Identify a niche where you believe you can succeed. While working on Horizon 3, you still need the core business that will allow you to thrive. However, in Horizon 3, you don't rely on the factors that contributed to your previous success.
Horizon 2 Brings You There
The value of Horizon 2 lies in bridging the gap between your strong core business in Horizon 1 and the new competitive market you identified in Horizon 3. Create a plan of action to close the gaps, which may involve introducing a new line of products or services.
This step will provide you with the necessary experience and additional income in both your current primary and new industries. For example, Microsoft's launch of its line of games allowed it to introduce Xbox in the future.
Horizon 2 may not solely be a revenue generator, but it should include enough of your critical assets from Horizon 1 to give you a chance of making money. This horizon aids in bridging the gap between your current situation and your ideal future situation in Horizon 3.
Applying The 70 / 20 / 10 Rule
This simple rule helps you determine the appropriate allocation of time and resources for each growth horizon in your strategic plan.
Make sure that about 70% of your activities focus on your horizon one. Remember, to thrive in the future, you must first survive and prosper in the present.
Allocate approximately 20% of your efforts to the "bridging" opportunities in horizon two. Horizon two will have its share of setbacks and false starts, so it's essential to have enough projects in progress to transition to horizon three.
Finally, dedicate 10% of your overall effort to horizon three. This 10% is crucial, ensuring you don't lose sight of your long-term goals. Thus, you won't get stuck in a never-ending cycle of horizon two activities.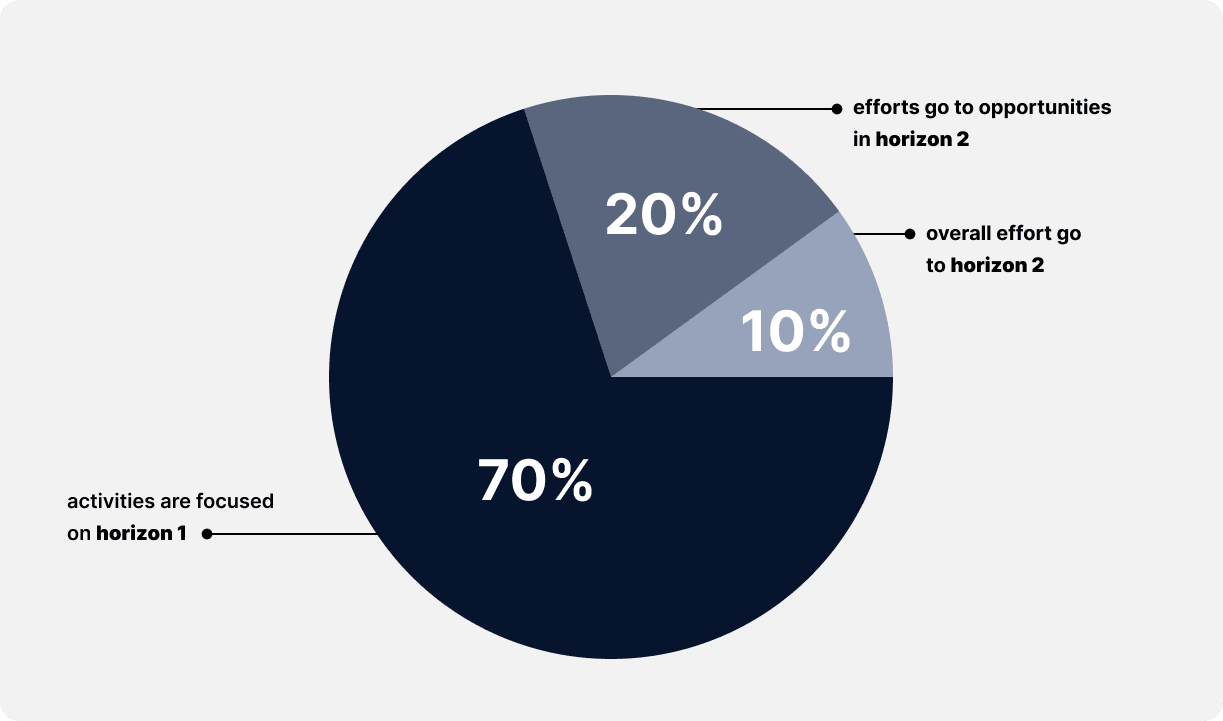 If you are a startup owner, read about the initial steps to grow your business in our blog.
Pitfall Of The Three Horizons Framework
The three horizons of growth were initially designed to highlight the need for an ambidextrous organization. Previously, organizations assigned relative delivery times to each horizon, such as new features being ready within 3-12 months or business model extensions being prepared within 24-36 months. However, in today's landscape, disruptive innovations happen at breakneck speed. Every industry faces risks due to rapid market changes.
So, what can you do in this situation?
Avoid relying on traditional strategic planning cycles that take too long to identify core and supplementary product areas. Focus on shorter, more agile processes allowing quick pivots when necessary. Identify opportunities swiftly and out-innovate the disruptors in your industry. You can partner with startups, bring in external innovators, or rapidly replicate the latest disruptive innovations. Success hinges on your agility, adaptability, and ability to act quickly.
Artkai Expertise
Artkai is a customer-centric digital product development company specializing in offering unique Artkai Consulting Sessions™, UX Design, and End-to-End development services. These services enable clients to create apps with faster time-to-market, enhanced customer satisfaction, and remarkable financial success. Our team possesses extensive expertise in product design and development strategy, which has been instrumental in helping our clients achieve growth and innovation. Let's explore some of our success stories.
DTEK: Digital Transformation for Energy Sector Enterprise
DTEK, a Ukrainian power grid operator, aimed to simplify the management and payment of electricity bills. Artkai partnered with DTEK to implement an agile, digital-first, and design-focused solution. As a result, DTEK now empowers customers to take control of their energy consumption, save costs, and easily access essential information.
The Artkai team developed a solution architecture based on the client-provided parameters. We conducted on-site workshops with the DTEK team and interviewed various target audience members. We then compiled the results as guidelines for platform development moving forward.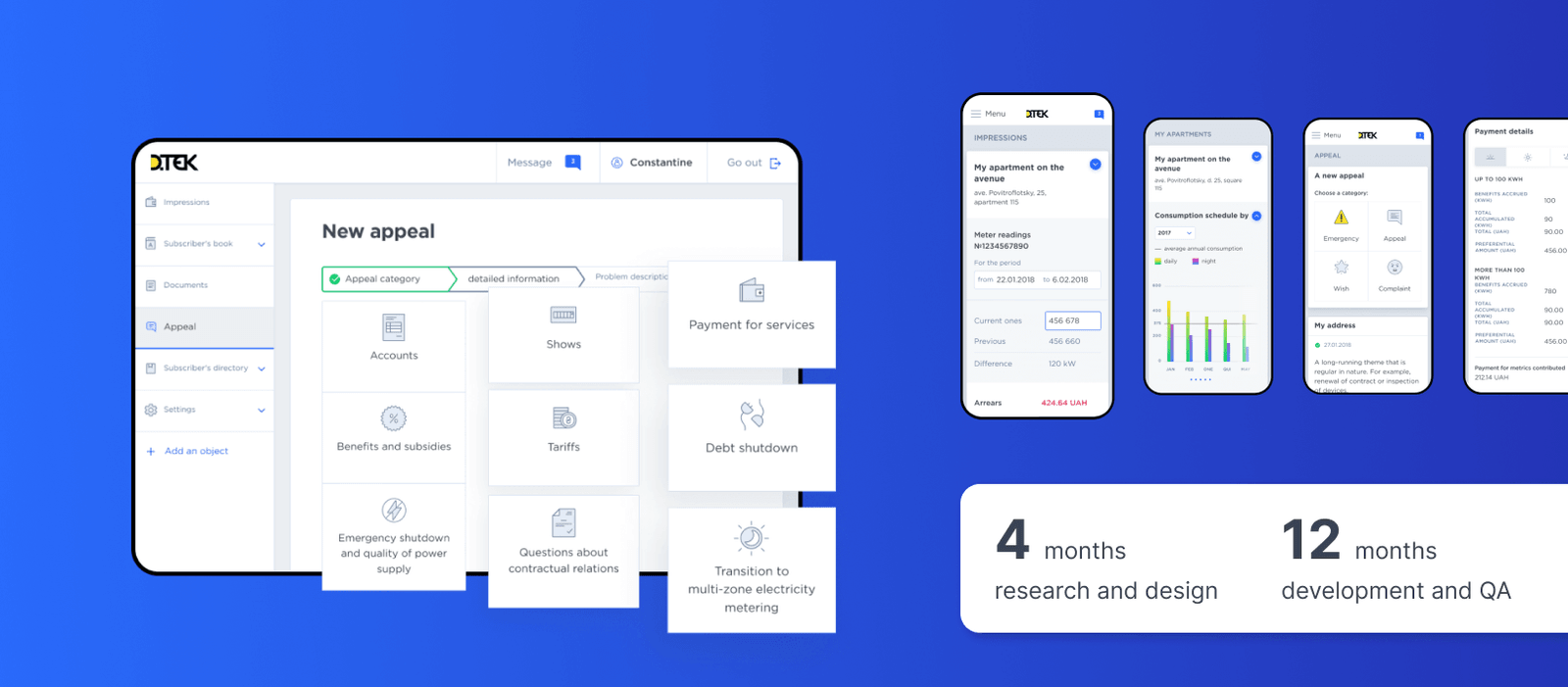 Due to our collaborative efforts, DTEK achieved the following outcomes:
Increased contracts for power usage;
A threefold decrease in queries to the customer service center;
A 1.5 times increase in client satisfaction scores.
ProCredit Georgia: Internet Banking App
ProCredit Bank sought to go entirely digital, aiming to create an app that would alleviate the workload on contact center staff and employees of physical branches. Collaborating with the ProCredit team, Artkai experts developed a plan that minimized and eliminated downtimes during all project phases.
We established project goals based on research, interview findings from the research phase, and product discovery results. Besides redesigning the mobile banking app, our team also built web banking with a dashboard and quick access navigation.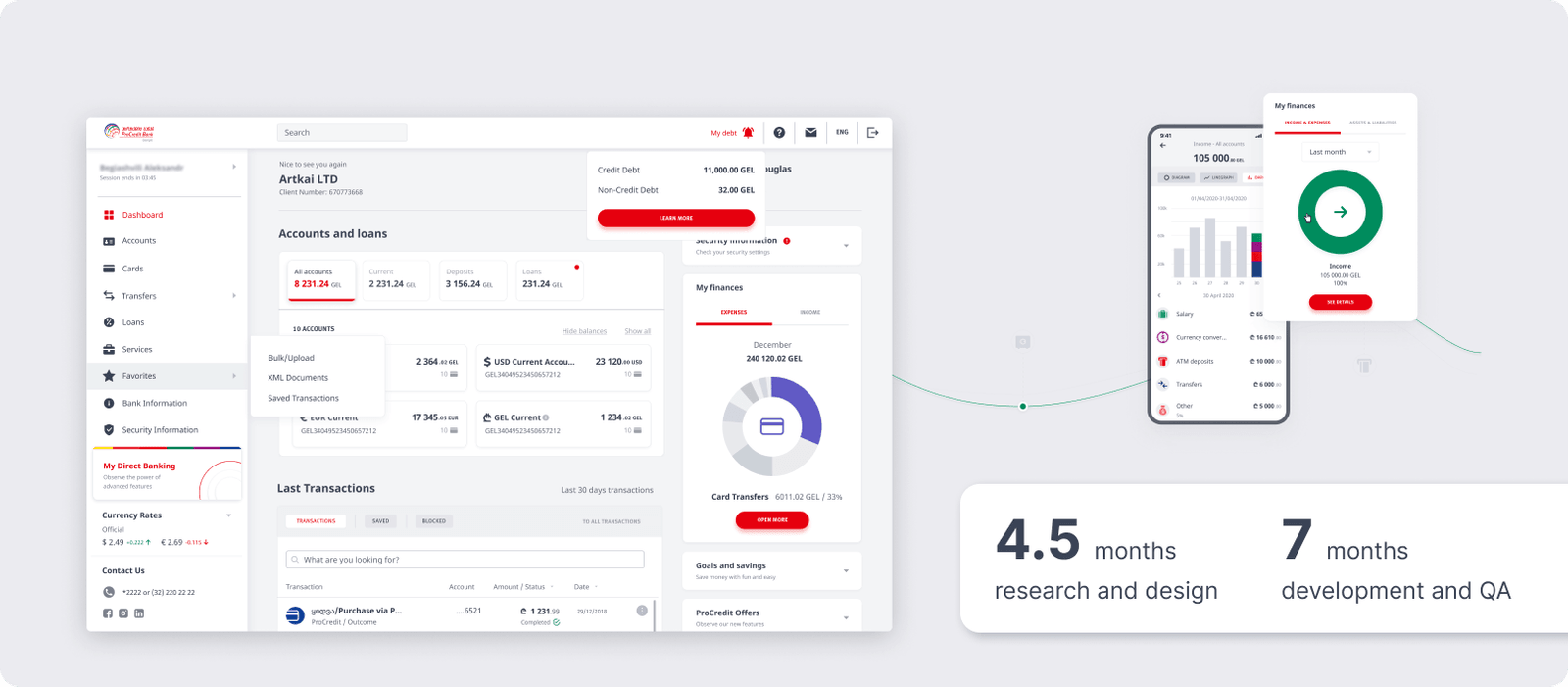 Our efforts led to impressive outcomes:
Online access to banking services reached 99%;
Money transfers via the online platform became twice as fast;
Blocking a card through the mobile banking app now occurs 60% faster;
The mobile app logs events twice as quickly as the previous version.
Marketplace for New And Used Cars
The clients approached the Artkai team to create a cutting-edge online marketplace for buying and selling European cars. Although several markets already existed, they mostly faced the same issues: challenging and time-consuming searches, confusing information structures, and complicated interactions between buyers and sellers.
We developed a marketplace with distinct roles for buyers and sellers, ensuring a smooth user experience. Our team designed a user experience that addresses customer pain points and reduces the time needed to purchase a car. Additionally, we created a visual identity for the online product, which also extends to its offline presence.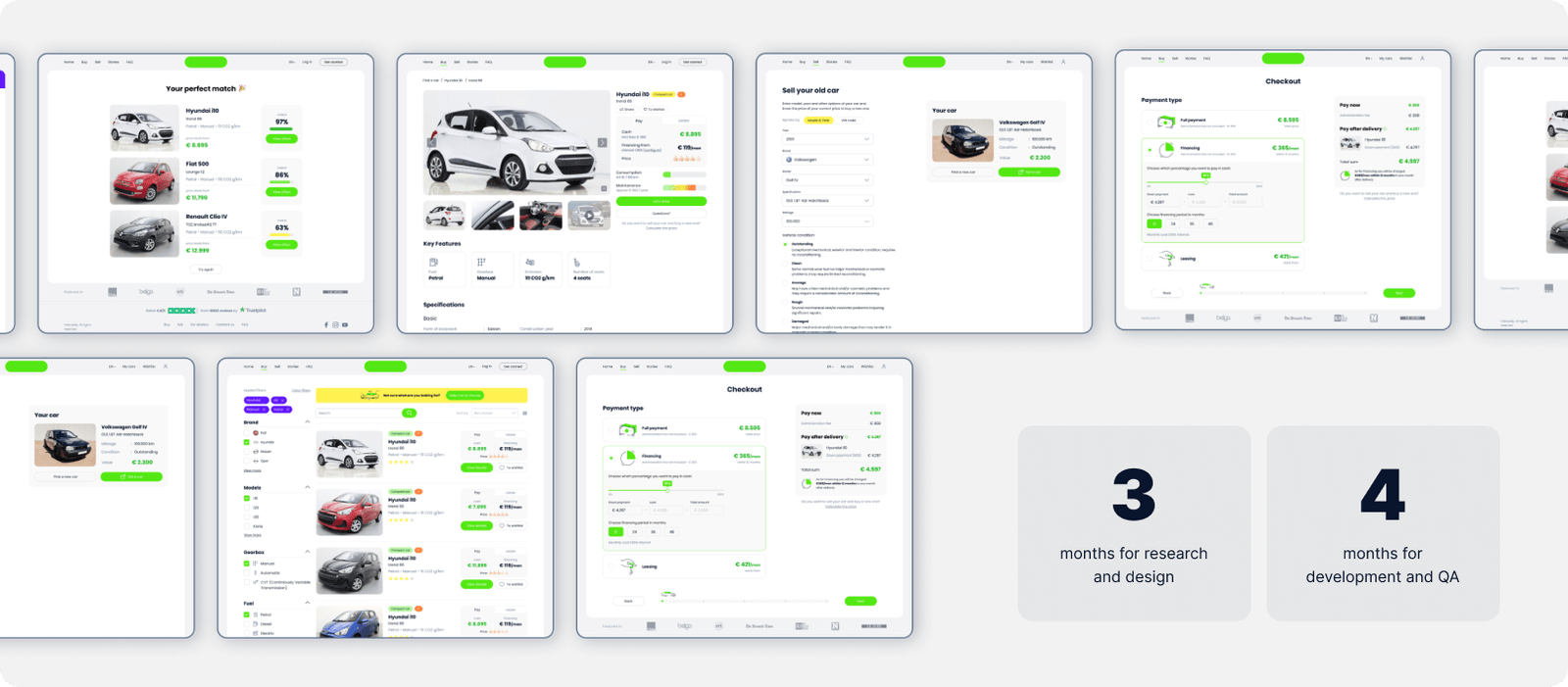 Upon launch, the marketplace quickly attracted both merchants and buyers. Our clients signed agreements with significant auto vendors through advertising efforts, filling the platform with attractive deals. As we analyzed customer interactions with the platform, we found substantial time spent on the website. The project outcomes include:
1 million monthly payments made on the marketplace;
80+ automobile dealers across Europe.
Foster Your Business with Artkai
The McKinsey 3 horizons model highlights short-term maintenance of the current core business, medium-term expansion and exploration of new opportunities, and research and ideation for future growth. This model is an excellent choice for business owners who face challenges in identifying emerging opportunities and implementing innovations for further growth.
However, since the three horizons framework was developed in the 1990s, it might not account for the rapid pace of disruptive innovations in today's constantly evolving markets. To succeed, you need to identify new opportunities and innovate faster than your competitors.
Artkai stays at the forefront of innovations and emerging technologies. Our experts will help you design your product and strategize its development. From the product discovery phase to the product launch, Artkai experts will assess the viability of your idea and create cutting-edge software products that will make a significant impact on your market.
Get in touch with us to discuss your innovative product ideas and receive an estimate.
Clients and Results






See Our Portfolio
Schedule your free consultation
Don't miss this opportunity to explore the best path for your product. We are ready to delve into the specifics of your project, providing you with expert insights and optimal solutions.
Book your free session
Read More
Explore articles from Artkai - we have lots of stories to tell
Join us to do the best work of your life
Together we advance the human experience through design.