Product Development Engineer Salary, Skills, & Career Paths
Every product idea begins with conceptualization and prototype building. A result is only possible with product development engineers. They help the company create a clear, viable concept for the idea, as well as build and test a prototype.
At Artkai, we employ the help of our product development engineers to create proofs-of-concept and prototypes that allow business owners to move forward with confidence in their idea. (You can learn more about our PoC development from our Taurus case study.)
So, we know first-hand what it takes to be a skillful product development engineer – and why having one on board is crucial.
Of course, product development engineers' services come at a price. But that price isn't the same depending on the location and the engineer's experience. Today, let's review the product development engineer salary range based on location and experience. Also, let's discuss what product development engineers do in their daily job and their must-have skills.
How Much Do Product Development Engineers Make in the US, UK, and Europe?
Location is one of the critical factors that impact the product development engineer salary. So, let's analyze how much these specialists make in three markets: the United States, the United Kingdom, and the EU.
Product Development Engineer Salary in the United States
According to Indeed, a product development engineer in the U.S. makes $88,664 annually (or $38.06 hourly), on average. They also receive an average of $6,000 in annual cash bonuses. Most survey respondents hold a Bachelor's degree (60%) and say they are satisfied with their compensation (63%).
Now, let's look at other data sources. According to Glassdoor, the average salary product development engineers get in the U.S. amounts to $100,233 per year. This is the total pay that consists of the base pay ($85,045) and additional pay in the form of cash bonuses or other incentives ($15,189).
The average base salary varies depending on the industry, according to Glassdoor's data. It's the highest in IT ($97,948 per year), insurance ($97,045), and real estate ($96,581). Product development engineers in telecommunications ($74,990) and education ($75,240) are on the other side of the spectrum.
PayScale, in its turn, estimates that product development engineers make $77,633 per year (or $33.53 per hour) in the U.S.
Product Development Engineer Salary in the United Kingdom
Compared to the United States, the UK is a more affordable destination for hiring English-speaking product development engineers.
According to Indeed, the average base salary for a UK specialist of this kind is £34,111 per year (or £18.17 per hour). That's around $41,000 per year, or $22 per hour – twice as low as the US engineers' rates.
Let's compare these figures with other sources. According to Glassdoor, UK-based product development engineers earn £38,580 in base annual salary, with an average of £2,225 in additional pay. (The industry-specific data isn't available for the UK.)
Now, what does PayScale have to say about the average salary product development engineers earn in the United Kingdom? According to its data, these specialists make £32,788 per year (£11.34 per hour) in base pay.
Product Development Engineer Salary in Europe
Europe spans multiple countries with drastically different costs of living and, therefore, salaries. So, let's narrow down our search to two EU countries that best reflect the differences in rates: Germany and Poland.
Germany
The costs of hiring a product development engineer in Germany are comparable to those in the United States – although they are still somewhat lower.
According to Indeed, the average base salary for a Germany-based specialist amounts to €60,620 per year in base salary – or €25.29 per hour. That's around $64,400 per year and $27 per hour.
However, Glassdoor has a higher estimate for Germany-based product development engineers' average salary. According to its data, they bring in €77,387 a year in total pay. The base salary averages at €70,963 per year (around $75,000), with €6,424 (around $6,800) in additional pay. (Average salary estimates based on the industry are unavailable for Germany.)
PayScale also paints a somewhat different picture. It estimates the average base salary for a Germany-based product development engineer at €56,074 per year. Hourly rates for this location aren't available.
Poland
This Eastern European has been a hotspot for outsourcing product development for years, all thanks to its affordable rates.
When it comes to product development engineers based in Poland, they make 79,057 PLN a year, or 35,33 PLN an hour in base pay, according to Indeed's data. That amounts to around $17,500 per year or almost $8 per hour.
Glassdoor paints a similar picture: according to its data, Poland's product development engineers earn 7,000 PLN a month, which amounts to 84,000 PLN (~$18,800) annually. (Industry data isn't available.)
PayScale has no data available for this job title in Poland.
Average annual and hourly base salary estimates for product development engineers in the U.S., UK, and Europe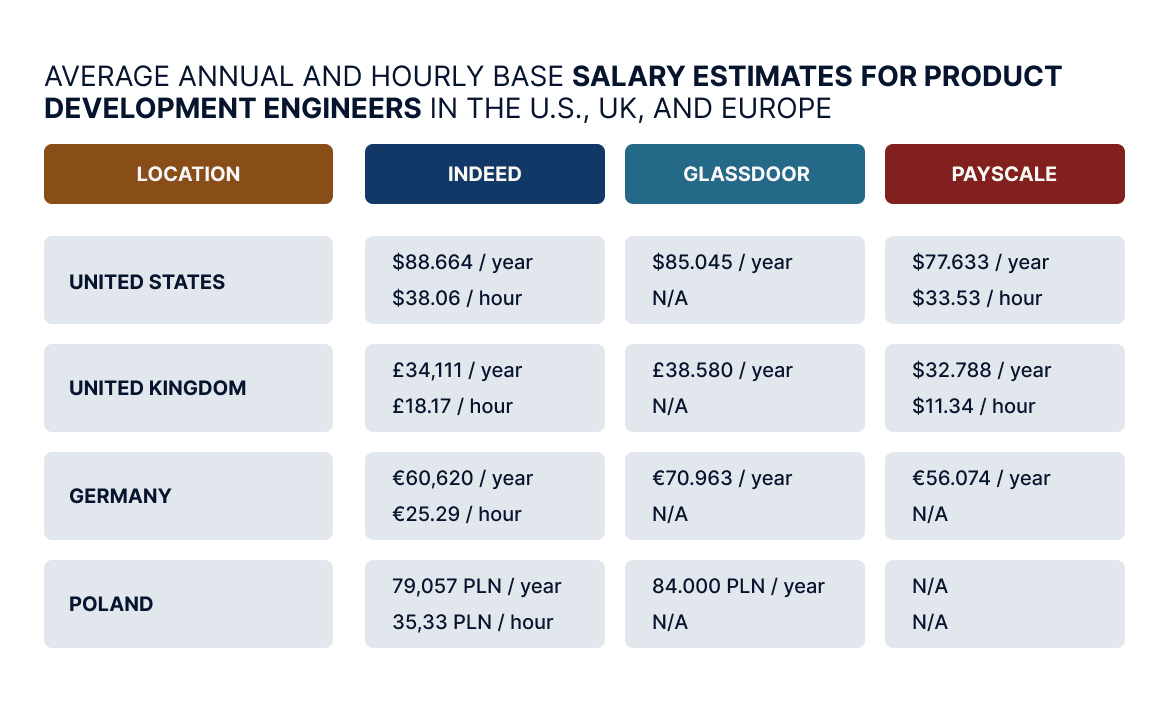 How Does Experience Affect Product Development Engineers' Salary?
Unsurprisingly, senior specialists in product development engineering receive higher compensation for their work than their junior counterparts. But how exactly does the salary differ based on experience? Let's investigate using data for U.S.-based product development engineers from Glassdoor and PayScale.
Let's start with Glassdoor's data. It puts the base annual salary of US-based product development specialists in the range of $78,967 to $122,323.
The entry-level base salary for US-based specialists amounts to $78,967 per year. That's 7% lower than the overall Glassdoor average for this job title. Their junior counterparts with 1-3 years of experience make $86,079 (+1%). Mid-level product development engineers (4-6 years of experience) see their base annual salary rise to $92,939 (+9%).
The average senior product development engineer salary amounts to $99,315 (+17%) for 7-9 years of experience and $111,735 (+31%) for 10-14 years of experience. Finally, specialists with 15+ years of experience under their belt bring in $122,323 (+44%) in annual base salary, on average.
According to PayScale, the total product development engineer salary entry-level is 12% lower than the average and is at $68,490 per year. A specialist with one to four years makes $74,330 annually (-4%), while their counterparts with five to ten years of experience earn $84,163 a year (+8%), above the average. Finally, product development engineers with 10-19 and 20+ years of experience make $94,763 (+22%) and $103,461 (+33%), respectively.
What Do Product Development Engineers Do?
A product development engineer's job is to conceptualize and bring new products or modifications for existing ones to life. They create prototypes and test them for acceptance and validation. They're irreplaceable throughout the product development process.
But what do product development engineers do day by day? Their responsibilities typically include:
Conducting market research to gain a deeper understanding of the target audience and competitors
Conceptualizing new products or upgrades to existing ones based on customers' needs and preferences
Using software tools to design product prototypes
Conducting acceptance and validation testing on product designs
Creating new testing methods and documenting them
Tracking QA metrics to ensure the product meets the specifications
Finding ways to optimize costs for the company during product development
Creating and maintaining design control documentation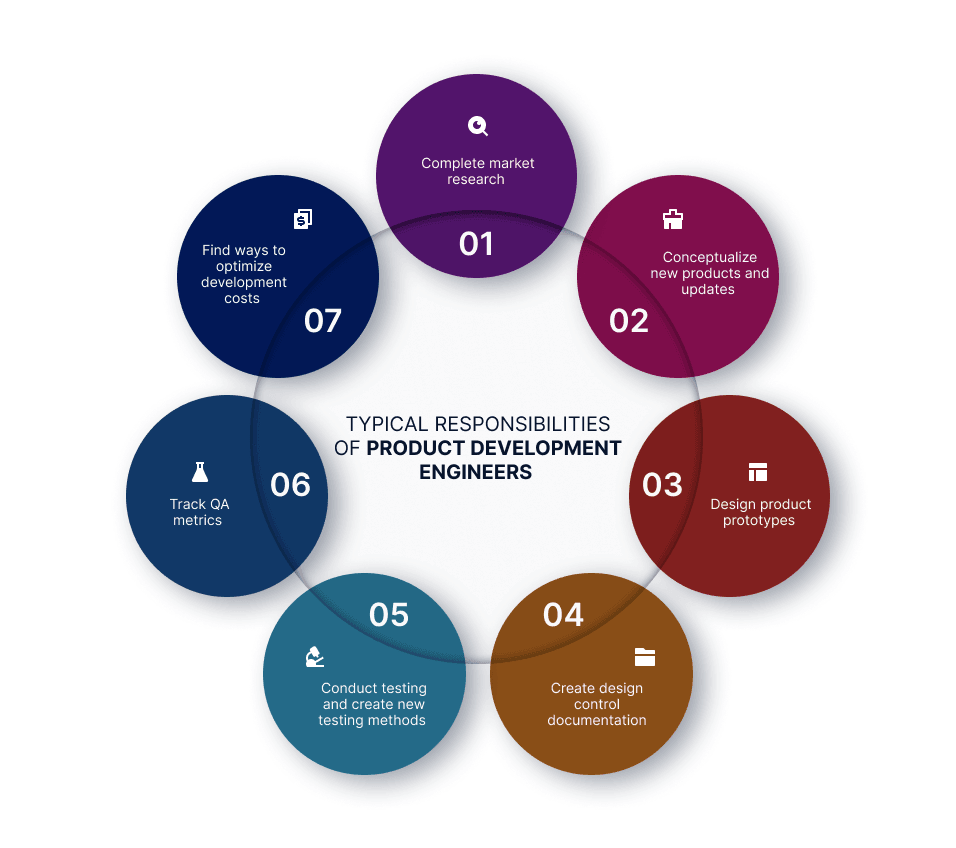 Six In-Demand Skills for Product Development Engineers
From our PoC development experience, a great product development engineer has to be a well-rounded specialist with the following hard skills:
Market research. The product development engineer's job starts with researching the market opportunities, competitors, and target audience. To excel at it, they need solid analytical skills to interpret data and spot trends and patterns.
Product design. When it comes to software solutions, a product development engineer needs to have a good grip on UI/UX design principles and best practices. Without that, they won't be able to conceptualize products that the target audience will enjoy using.
Prototyping. From designing UX flows and wireframes to proofs-of-concept, a product development engineer needs hands-on experience using standard prototyping tools (Figma, Adobe XD, etc.).
Testing. It's the product development engineer's job to conduct validation and acceptance testing to catch flaws in product design early on. They may also have to create new testing methods for the product if needed.
Technical documentation. Product development engineers are responsible for creating some of the most crucial technical documentation for a product. So, they need strong technical writing skills to produce useful, comprehensive, and easy-to-navigate documentation.
Understanding of software development. While product development engineers don't have to be coders, they must understand the overall development process. This allows them to spot possible product limitations and assess its feasibility.
4 Soft Skills Essential in Product Development Engineer's Work
While hard skills are important, it's the person's soft skills that can make or break cooperation with the client. So, we believe a product development engineer should possess these four soft skills:
Strong communication and interpersonal skills
Analytical and critical thinking skills
Problem-solving and creativity
Time management and flexibility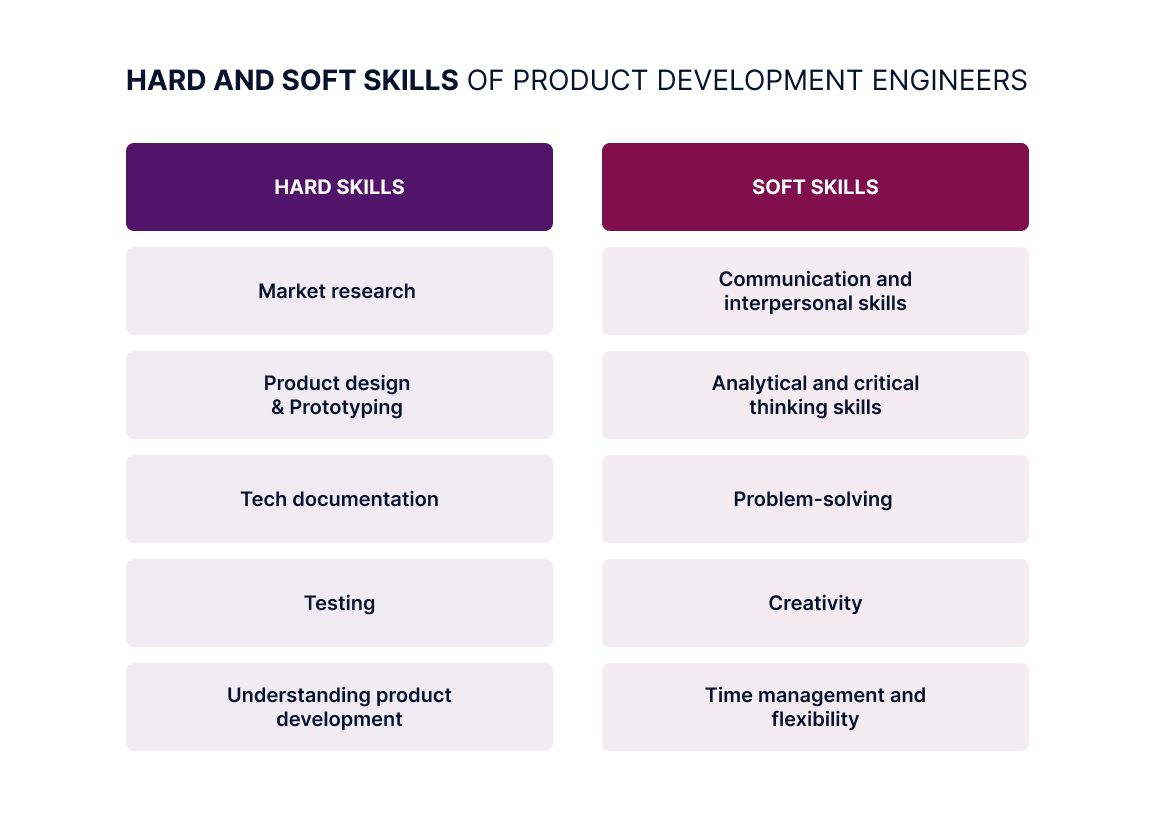 6 Skills that Impact Product Development Engineer's Pay
According to PayScale's data, these six skills can increase the product development engineer salary:
Computer-aided design (CAD) (+27%)
Design for Six Sigma (+17%)
UNIX proficiency (+15%)
Test automation (+15%)
Systems engineering (+14%)
Software development (+7%)
Three Career Paths for Product Development Engineers
According to data from Indeed and PayScale, most product development engineers start their careers with a Bachelor's degree.
Once a graduate lands their first job in this capacity and builds their expertise, they can continue their career and become a senior product development engineer. Or, they can choose from several other career paths:
Product engineer. Product engineers are there throughout the whole product development cycle to design, test, launch, support, and improve the product.
Project manager. The project manager oversees the team and ensures the project is finished on time, within budget, and according to specifications. They also allocate resources and keep stakeholders updated on the project's progress.
Software engineer. Software engineers design, develop, test, optimize, and maintain software applications. They need strong hands-on coding skills to carry out these tasks.
Conclusion
As you can see, the product development engineer salary varies quite a lot globally. Hiring such an expert in the United States will entail greater costs than finding your specialist in the United Kingdom or Poland.
On top of this, how much a product development engineer makes depends on their experience. After they pass their junior years, they can expect above-average compensation for their work.
However, to achieve this level, a product development engineer must continue developing their essential skills to achieve this level. Those include market research, product design, testing, and creating technical documentation.
If you're looking for a product development engineer for your project, you've come to the right place. We at Artkai are in the business of end-to-end PoC development, from idea discovery and market research to prototyping and design. We can also lend you our talent with our team extension services.
Ready to talk business? Reach out to us – and we'll get back to you to discuss how we can help you.
Clients and Results






See Our Portfolio
Schedule your free consultation
Don't miss this opportunity to explore the best path for your product. We are ready to delve into the specifics of your project, providing you with expert insights and optimal solutions.
Book your free session
Read More
Explore articles from Artkai - we have lots of stories to tell
Join us to do the best work of your life
Together we advance the human experience through design.