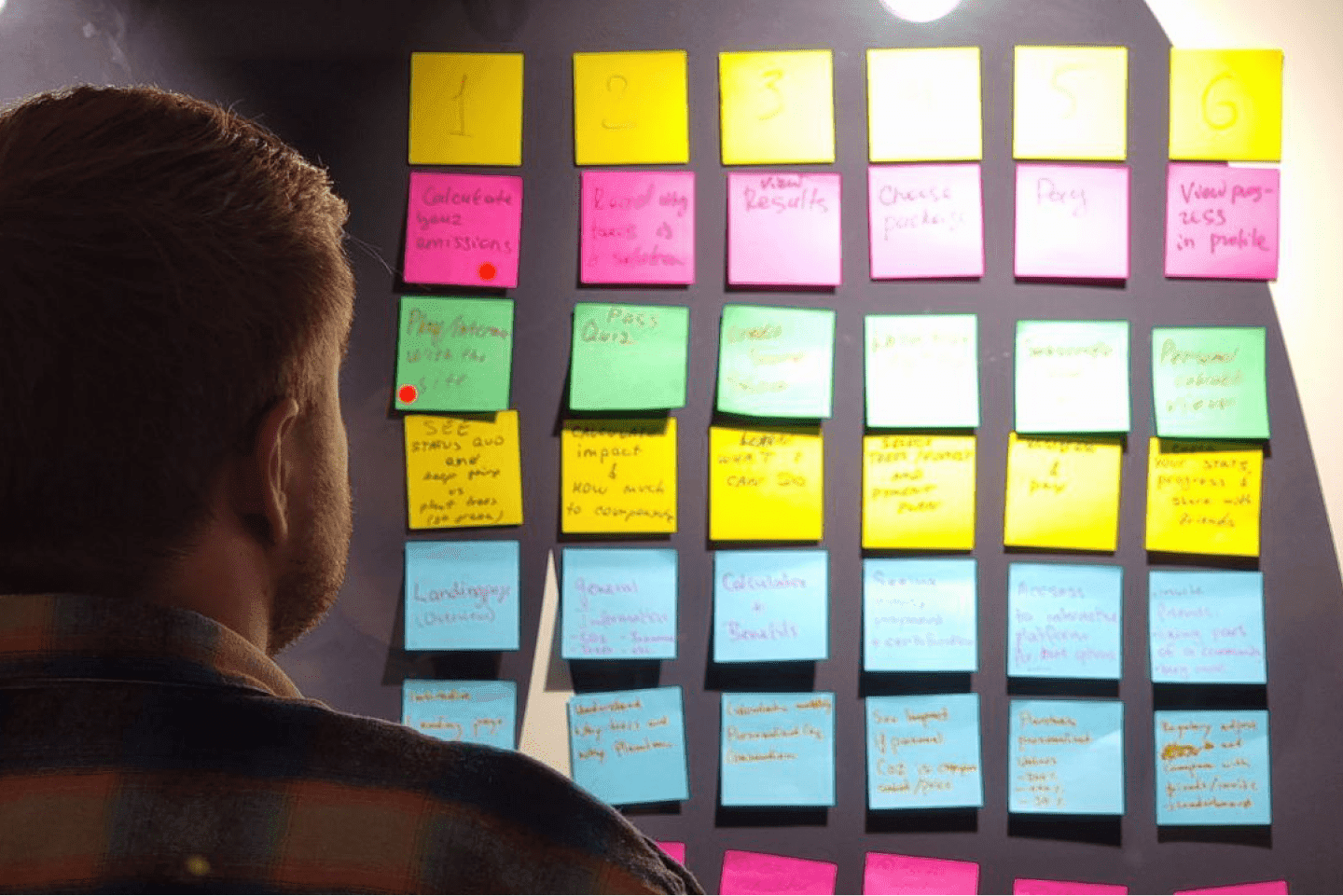 How To Create An Effective Product Vision Board
A product vision board is a powerful tool for visualizing your product management strategy and all team communications. This instrument describes the purpose of a product, the motive behind its creation, and its goals for clients and users. A practical vision board helps you define your target group and develop a convincing value proposition and measurable business objectives. 
This post explains how to create an effective product vision board. You will learn its benefits, use cases, essential elements, and valuable tips for making this visioning tool. Finally, we will provide a product vision board template and share the expertise of Artkai in product discovery, PoC development, and end-to-end product delivery of winning software solutions, such as DNA Payments and Nezha. 
What is a Product Vision Board?
A product vision board is a tool designed by product management expert Roman Pichler. It captures the idea behind a product while keeping the target market in mind. The board is helpful for product managers, the product development team, product stakeholders, and business owners. With this tool, product teams move forward swiftly and confidently, setting clear goals and objectives for product management. 
A strong vision board justifies the creation of the product and defines customer demographics. It is a foundation for your product strategy and planning. However, distinguish between your product strategy and vision. While the former may change, the latter should remain valid. 
Benefits of Using a Product Vision Board
Use a product vision board to your advantage in many ways. The most beneficial aspects of this instrument are listed below. 
Regaining the Focus on Achieving Your Business Goals
Vision boards work because they serve as a visual reminder of your business goals and help direct your product management. This concise and high-level document keeps you focused on key business objectives. Track and assess your progress toward your goals by constantly returning to a product vision board.
Understanding The Risks 
The vision board identifies the most significant risks associated with developing your product. It also shows the opportunities that you can grasp through its release. As long as the bottom areas of your product vision board have clear statements, it will be easy to identify all leap-of-faith assumptions and significant hazards. Testing your vision board will reduce the chances that the product strategy has flaws. As a result, you will pursue a clever-sounding, tested strategy that produces a successful product.
Keeping an Open Line of Communication
The board aids teams in maintaining a shared understanding, enhances teamwork, and serves as a roadmap for everyone involved in the product's development. This tool benefits all parties involved in product management, development, marketing, sales, support, and other stakeholders involved in the process.
Facilitating Product and Idea Pitching
The vision board is also practical for helping teams facilitate product and idea pitches and preserving transparency throughout the product management process. It also enables team members to coordinate their duties and goals with those of others efficiently.
Use Cases for a Product Vision Board
A product vision board is helpful for more than just coming up with ideas and describing your product's goal. It can also assist you and your team in shaping a big picture of the finished project.  
Research and Validation
Test your assumptions using the vision board and record fresh ideas for your offering. Reviewing your finalized board can pinpoint your strategies' most considerable risks or ambiguities. It lets you check what functions rapidly and what does not and determine whether presumptions are accurate. 
Before going on to feature development and product deployment, research can verify your hypotheses. At Artkai, we use the product vision board to conduct competitors and market research during the product discovery phase. It is beneficial to recognize the project's current analogs and rivals and make the deployment of the new project's entire business context clear.
Product Planning
Your vision board serves as a compass throughout the planning phase of your product, pointing in its proper direction. Referring to it frequently ensures that your product plans are on the right track. With Artkai's Proof of Concept  Development Services, you can test your product idea and move forward with confidence.
Product Strategy and Alignment
Your vision board is the basis for your product strategy and a tool to align the team, the product, and the company. Learn more about the best product development methodologies that increase a cross-functional team's productivity in our blog. 
Elements of an Effective Product Vision Board
Product owners can answer essential questions concerning the product vision using the vision board.
Vision
Describe your purpose, mission, and overarching objective in the Vision field. It is the driving force behind the creation of your products. It explains the beneficial change you aim to see in the world. Therefore, the vision is a concise statement. One of Ikea's statement examples is: "Our vision is to create a better everyday life for many people." 
Target Group
This section states the market or segment you intend to target. List the groups of people the product is likely to help, such as users and clients. Make sure to select a homogenous, precise target market for your product. Building a product with a narrow focus that does a few things well is better than making a complex product that does a lot on a mediocre level.
Needs
Discuss the value proposition of the product in this part. The Needs section outlines the critical issue that the product solves and the main advantages it offers. This paragraph explains why customers want to purchase your products. Additionally, describe what success looks like for users and clients. If you've identified a variety of demands, rank them by importance.
Product 
The Product section outlines up to five vital characteristics of your product. This is not a comprehensive list of everything your product is capable of. Instead, it lists your top unique selling points (USP). These distinguishing characteristics correlate to the needs you listed in the Needs section and are related to its USP. Keep this list brief and eventually write down more extensive information about your goods or services in lower-level documents, such as a Product Canvas or the Product Backlog.
Business Goals
List the desired business benefits for your organization in the Business Goals area. You can aim to boost sales, break into a new market, cut costs, build your brand, or learn something important. If you have a lot of business objectives, rank them similarly to the product section and try to limit yourself to 3–5 goals. It will be much harder to evaluate the performance of the products and use the proper measurements if you don't apply the right metrics.
Seven Valuable Tips for Creating a Product Vision Board
Developing and maintaining a successful product takes a lot of time and effort. This section provides seven guidelines to assist you in creating a compelling product vision that motivates the development team and stakeholders.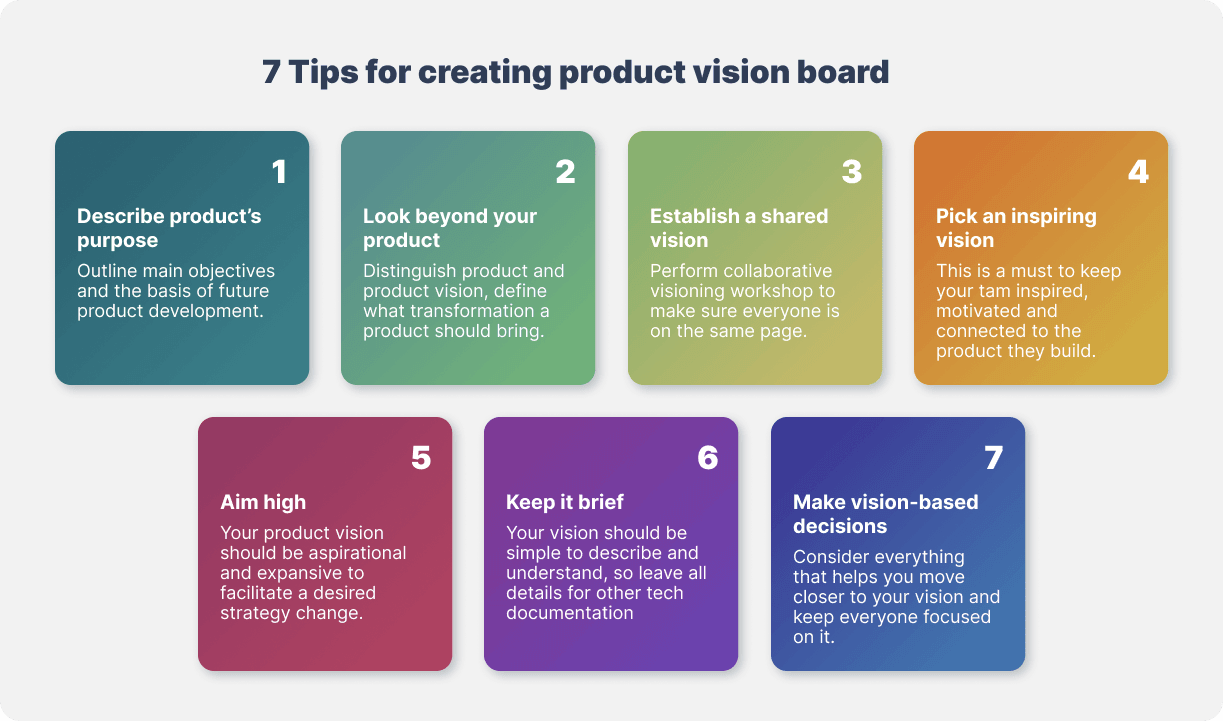 Describe the Product Purpose
Best product vision board examples guide product management, development, marketing, sales, and support to ensure the product's success. The vision outlines your main objective and the basis for developing the product. The vision board encourages product teams and enables successful collaboration. Knowing why you are motivated to work on a project, why you care about it, and how it will influence the future will help you choose the proper vision. 
Make sure to distinguish the product and the product vision. The vision is the inspiration for creating the product, while the product is a way of achieving the main objective. A compelling product vision encompasses the transformation the product should bring about in addition to the actual product. "Help children enjoy learning while playing" can be a persuasive coding game's product vision example.
Establish a Shared Vision
You can create the most glorious vision for your products. But it's pointless if the teams working on the product's success don't believe in it. Everyone must have the same idea for the product to achieve alignment and promote practical cooperation. Without a shared vision, individuals pursue their objectives, which makes it far more challenging to succeed with a product. A collaborative visioning workshop is a terrific way to develop a shared product vision. 
You don't have to push yourself if you are working on something interesting that you genuinely care about. The vision pulls you. People should be inspired, connected to the product, and motivated by your vision. If it centers on generating a benefit for others, it triggers a potent drive and enduring inspiration. It helps product teams navigate when they feel uncertain more than a self or money-centered vision can. People perform better when they feel as though they are contributing something worthwhile. 
Make your product's vision expansive and aspirational to facilitate a strategy change and engage individuals. For instance, "Help children enjoy learning while playing" is a broad and ambitious concept for the coding game. It doesn't mention the actual product concept or a particular target market, and it's not content with making entertaining games. It has higher goals. 
Your vision is the main driver behind the creation of the product. Therefore, it should be simple to explain and understand. You can specify additional information about your product in other documents, such as a product strategy, business model, product backlog, and marketing plan. Product vision should be simple to memorize and recite. To express the vision, use a short slogan. Reaching such a vision may take several iterations, but the effort is worthwhile. 
Make Vision-Based Decisions
Use your vision to direct your product decisions and keep everyone focused on the main product goal. It acts as an initial screening for new recommendations and requests for changes. Whether it's a new feature, a shift in tactics, or a new technology, you should consider everything that moves you closer to your vision and discard anything that is not helpful. 
Product Vision Board Template
Product owners can find the answers to essential questions about the product vision with the product vision board template designed by Roman Pichler. The board outlines five main categories described above: vision, target group, needs, product, and business goals.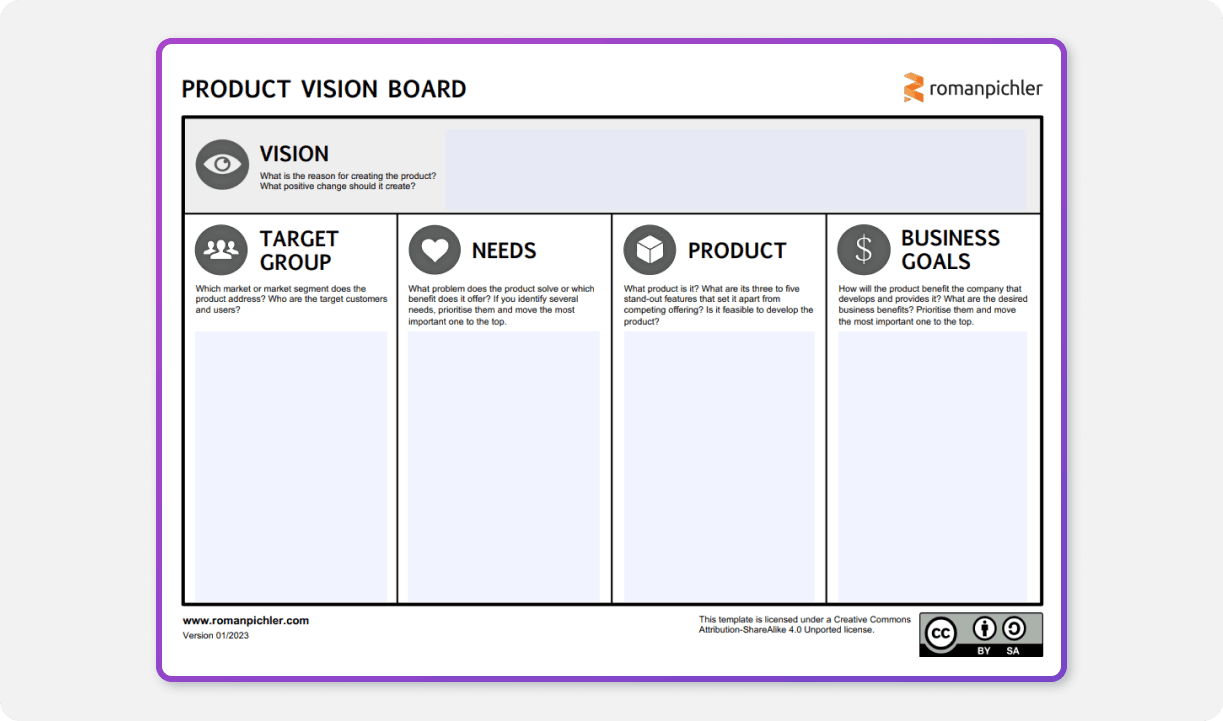 Artkai Expertise
Artkai is a customer-centric digital product development agency. We use a product vision board as a powerful tool in the product discovery phase and PoC development. Our team assists you in developing a precise project scope and refining goals to get a clearer vision of your product's features, function, customer value, and target market.
We assess your proposal's market potential, viability, and originality and develop quantitative measures for your further decision-making. With expert proof of concept application services from Artkai, you will see the potential and practicality of your business idea. As a result, you will profit from our in-depth market research and professional perspective. Let's examine how our clients benefited from Artkai's end-to-end product delivery of winning software solutions.
DNA Payments: An Intelligent Payment Ecosystem
The Artkai team received a request to redesign the current portal from DNA Payments Group, an omnichannel payment provider serving the EU and the UK. Our experts completely redesigned significant parts of the portal, which produced noteworthy outcomes. 
By the end of 2022, DNA Payments was on track to rank as the fourth-largest payment service in the UK, serving over 65,000 merchants. Now the portal offers a perfect selection of payment solutions for corporate clients and processes £900,000,000 each month.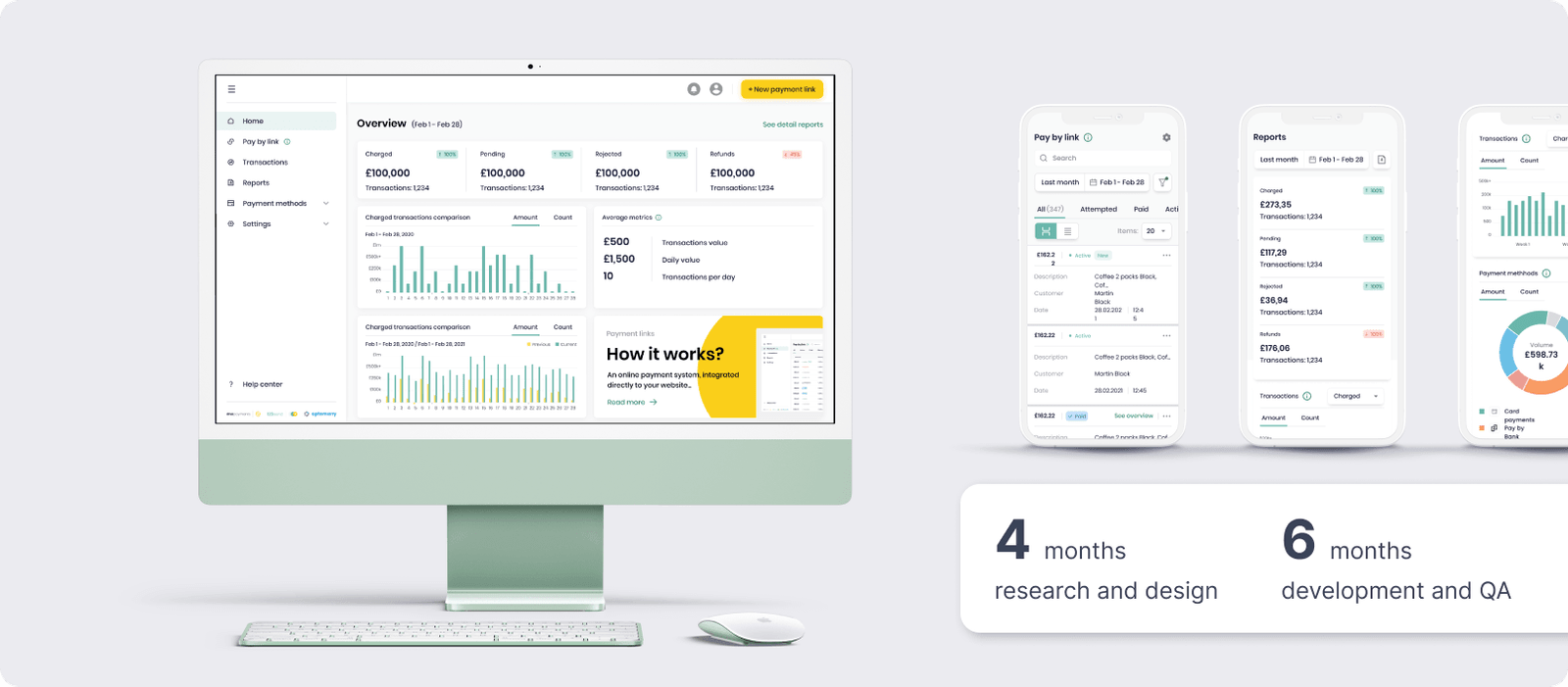 Nezha: A Blockchain Prediction Market Protocol
Nezha is the liquidity engine that enables market participants to avoid putting their principal investment at risk. The client challenged the Artkai team to create a web-based Blockchain prediction market protocol that would intrigue investors, innovators, and gamblers alike. 
Product Discovery aided in outlining the goals of the project's stakeholders and optimizing company operations to keep clients by enhancing services. The final result is a sophisticated solution with user-friendly navigation that boosts conversions and platform usage.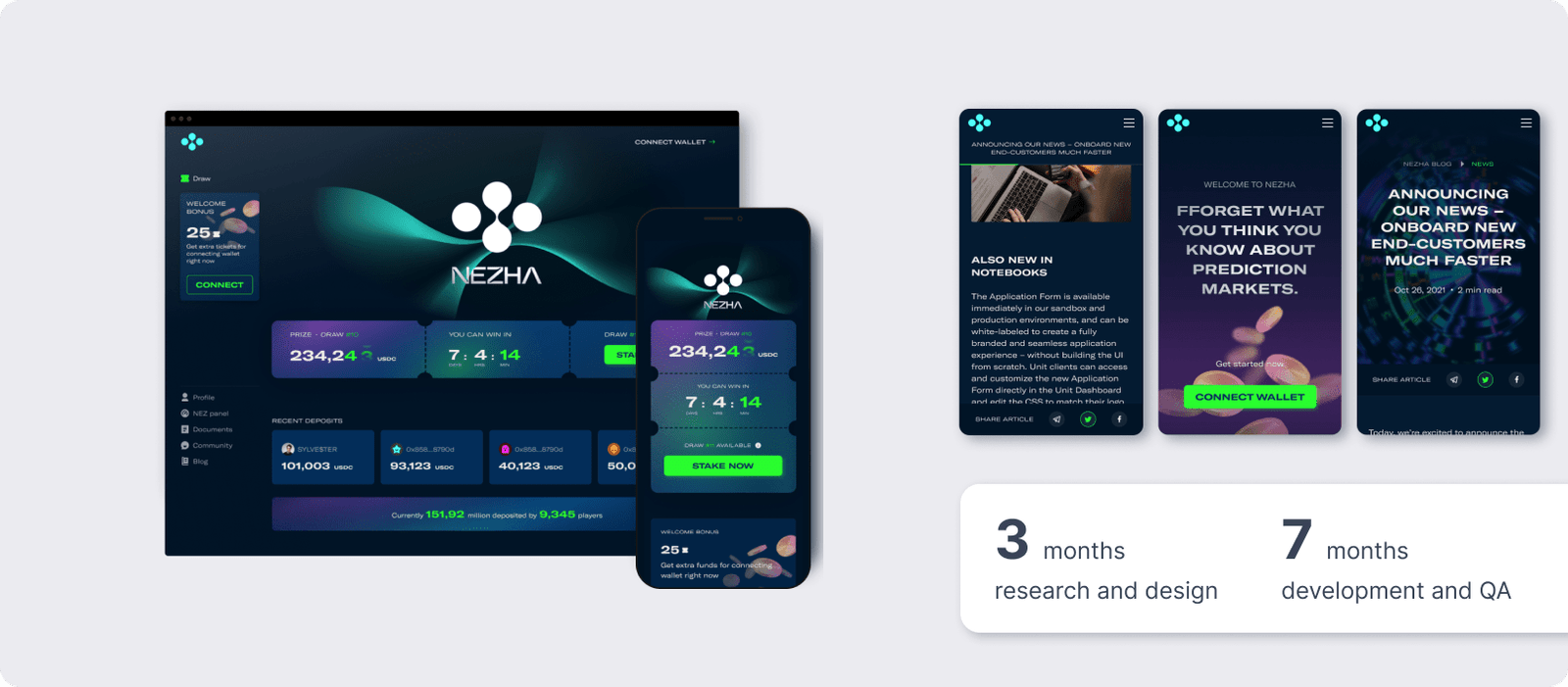 Accelerate Your Product Development with Artkai
A vision statement explains a product's purpose, target market, and unique selling proposition. It is the overarching motivation for teams to create the product and unites their efforts. A product vision board is a helpful tool for visualizing the idea behind a product while keeping in mind the target market. 
Artkai is an award-winning full-cycle product development company that will help you to maximize your end-to-end product delivery. With our product discovery phase and PoC development services, you can confidently test your idea and marketability and take the next steps of product development.
Contact us to discuss your digital product idea and get an estimate. 
Clients and Results






See Our Portfolio
Schedule your free consultation
Don't miss this opportunity to explore the best path for your product. We are ready to delve into the specifics of your project, providing you with expert insights and optimal solutions.
Book your free session
Read More
Explore articles from Artkai - we have lots of stories to tell
Join us to do the best work of your life
Together we advance the human experience through design.