Product Opportunity Assessment Framework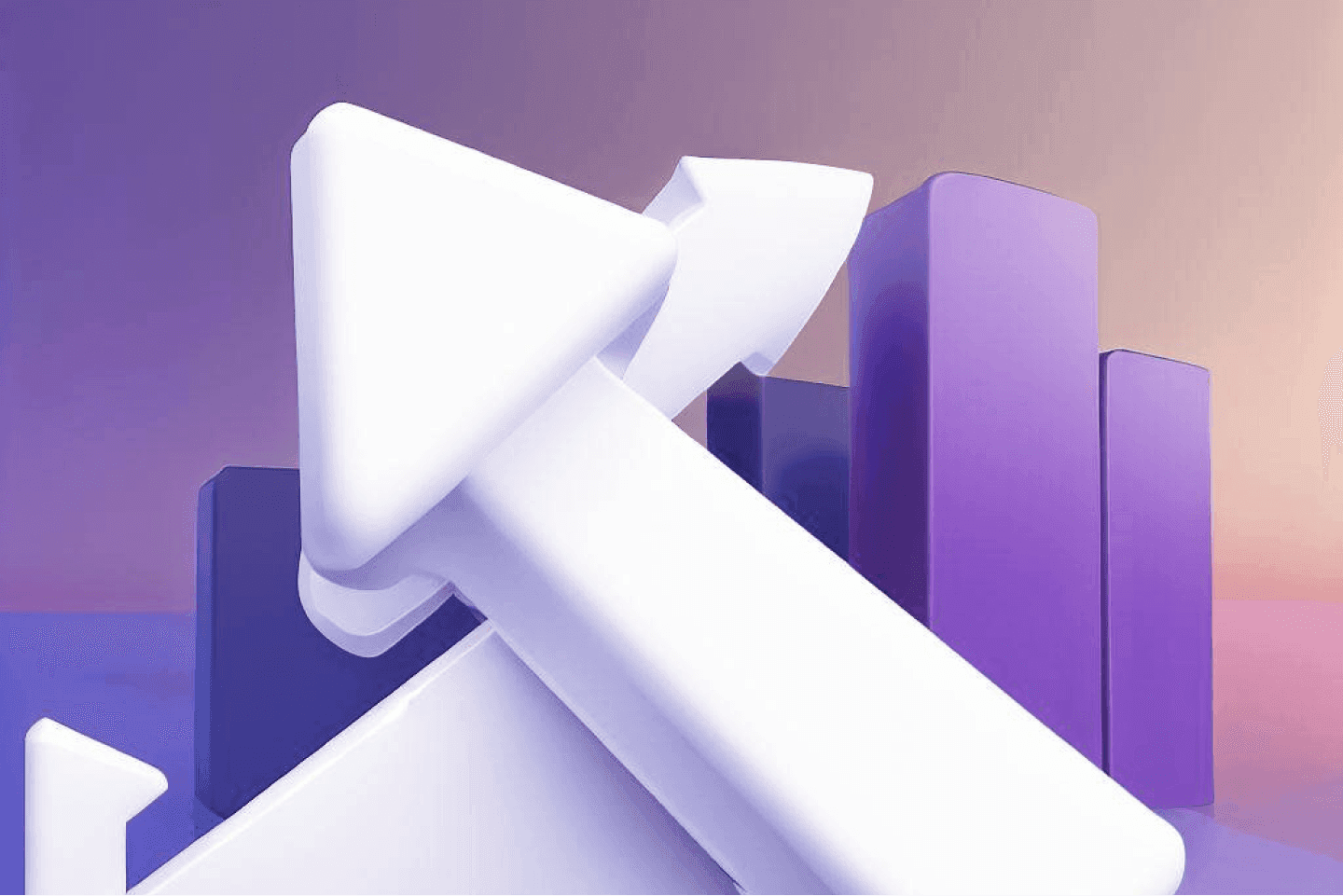 As emerging technologies are constantly evolving, every market opens up opportunities for new products. Therefore, product managers should swiftly assess them to determine which ones are worth pursuing and which are not yet ready. A product opportunity assessment framework helps companies avoid wasting time and money on irrelevant new products or features. Also, it provides a clear idea of what a business needs for prospective beginnings to return investments and profit.
This article will define product opportunities, explain a product opportunity canvas, and reveal evaluation stages. You will find the answers to fundamental questions when analyzing opportunities and the steps required to perform the assessment. Finally, we will share the expertise of Artkai in using the opportunity assessment framework for product discovery and PoC development based on our DNA Payments and Nezha cases.
What Are Product Opportunities?
A product opportunity is any perceived or actual need that a newly developed, altered, or reimagined good or service can serve while remaining commercially viable and profitable. Opportunities for products or services come in various shapes and types.
What Product Opportunities Offer
A product creates a new market, undercuts competitors, reshapes the industry or provides a differentiator. For example, it can be a broader or narrower selection, different pricing, special packaging, or a unique user experience. Some products close opportunities, while, others finish adjacencies or serve as alternatives.
How to Find New Product Opportunities?
Businesses and entrepreneurs find product opportunities using or combining various techniques like trial, organized analysis, unstructured brainwaves, gut instinct, and more. The hypothesis-driven approach and background research are crucial for a product opportunity at the beginning of the discovery process. With their help, product managers maximize their time, providing a basic understanding and framing the discovery.
The Role of Product Managers in Product Opportunity Assessment
Product managers should verify a product opportunity, its priority, and its relevance to the company's goals. It's also vital to prioritize product opportunities. This way, product managers create a hierarchy of the most critical ones and ensure that tackling a specific problem aligns with the company's product development strategy. Thus, the assumptions of product managers and other product team members significantly impact opportunity assessment.
Product Opportunity Canvas
The canvas is a one-page opportunity assessment template for evaluating new product ideas. It's inspired by the Business model canvas developed by Swiss business theorist, author, speaker, consultant, and entrepreneur Alex Osterwalder.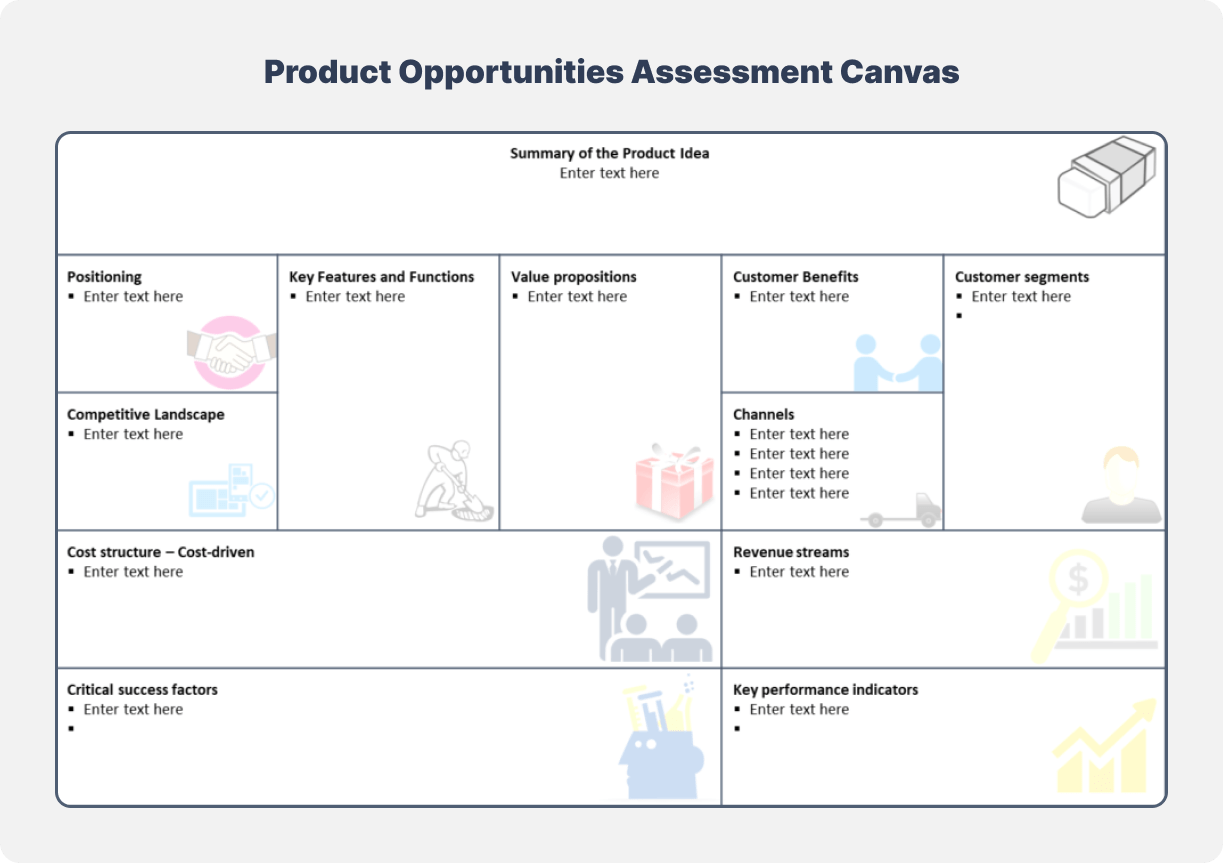 Source: Stratrix
The subheadings and categories of the documents assess the product opportunity. Let's take a closer look at each.
The Product. Emphasize your product's advantages. Make sure your product description highlights all unique features and services that make it stand out from the competition. Keep your description focused on the customers.
Positioning. Specify the desired role of the product on the market and in potential customers' minds. The product position should show how unique its UTP is, how it differs from competitors, and how it can address the customers' pain points.
Core features and functions. Provide a brief list of your product functionalities and how they make your product distinct from others on the market.
Customer benefits. Define tangible and intangible characteristics your customers will recognize, buy, or use.
Customer segments. Divide your consumer base into groups based on each category's shared traits.
Channels. List your communication, distribution, and sales to describe how your business reaches your customer segments and interacts with them to deliver your value proposition.
Cost structure. Describe the most significant expenses to establish your innovation and value proposition creation strategy.
Revenue streams. List the potential ways a company can benefit from selling the product.
Critical success factors. Provide the elements the company needs to achieve its objectives. Also, determine the differences between the keys and various roles of the key result area.
Key performance indicators (KPIs). Create a list of goals and achievements in your sector. Financial KPIs include the current ratio (liquidity and cash availability), revenues, less specific expenses, and net profit (or the bottom line, gross profit margin).
The product opportunity canvas aims to gather and clarify these sections to the best of your knowledge. With its help, you will obtain a perspective through critical analysis and synthesis. But note that you shouldn't aim to make your idea look good. Instead, it should be a sincere effort to determine the viability and outcome, whether you like it or not.
Ways to Conduct a Product Opportunity Assessment
Depending on how much money you should invest in developing the suggested solution, the assessment should be as thorough as possible. It's better to go through the sequence of assessment approaches until you feel confident in the chosen promising opportunities. Generally speaking, the more thorough the technique, the bigger the opportunity. Here are the three major approaches to business opportunity assessment.
Scoring ( for characteristics of an existing product);
Opportunity Assessment (for extensive features and small products);
Prototype or MVP (for full-size products).
Scoring
The quickest assessment method is to rate the suggestion using a weighted scoring formula in an accessible spreadsheet. You can easily compare your ideas using this technique. This approach is often sufficient when rating improvements to current products.
In his presentation "60 Second Business Case," blockchain and cryptocurrency policy expert Jason Brett provides an out-of-the-box implementation of scoring. Jason's strategy corresponds to a client base and products already on the market, supporting operational requirements and benchmarks for evaluating predicted revenue impact.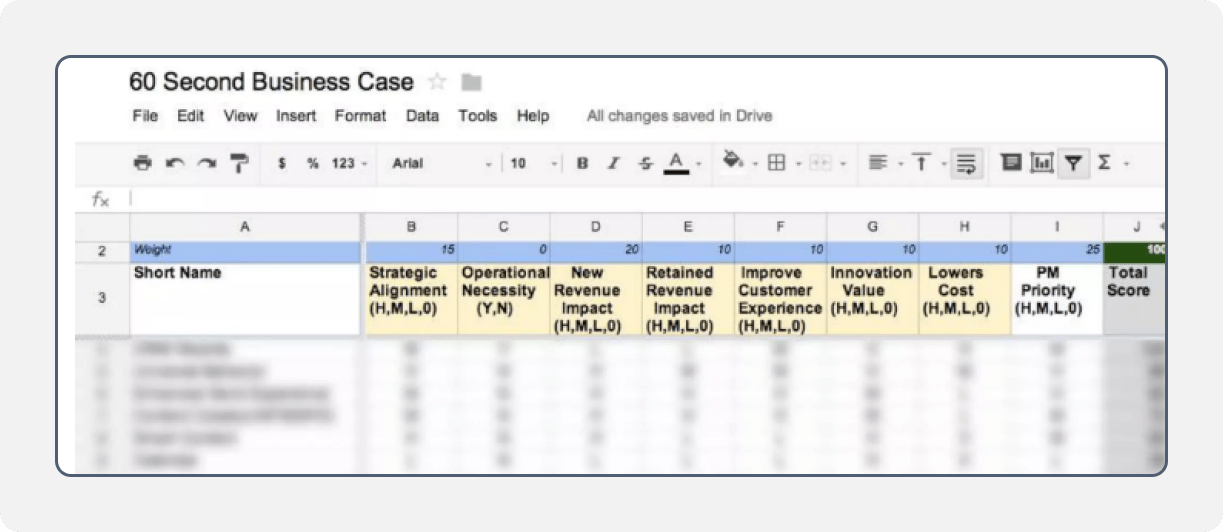 You can modify the headings to adapt the evaluation technique to the requirements of your specific product organization. For example, a team may swiftly narrow its emphasis on concepts worth pursuing and weed out the remainder through scoring opportunities.
Opportunity Assessment
Ideas that make it beyond the first screen and propose significant features or a new product require a more detailed opportunity assessment. According to Marty Cagan, the ten questions should evaluate a product's possibility. Now, let's review these fundamental questions in detail.
Besides answering the ten fundamental questions, it's a good idea to complete a lean canvas to evaluate the opportunity. Here are the two critical components to mention:
Solution. The Lean Product Canvas briefly describes the solution itself. This way, it keeps everyone on the same page and provides more detail on the product requirements.
Unique value proposition. It's worth clarifying why a particular idea has a unique value proposition that makes it competitive.
Sometimes, a quick sketch of the answer helps communicate the assessed product idea. For example, a visual representation of the product idea in wireframes and a list of essential workflows can provide the agreement. It's especially crucial when you share the assessment with your team.
Prototyping / MVP
The lean startup movement encourages early market testing of a potential product idea. This way, you can learn from the results and adjust your product based on the insights discovered. It's the next step to commercialization for product ideas that address unmet customers' needs in new markets.
You can't genuinely answer some questions (such as how much you should invest and whether a product workflow corresponds with actual business processes) until a prospective client assesses a prototype. The minimum viable product (MVP) is an excellent way to get those answers as early as possible.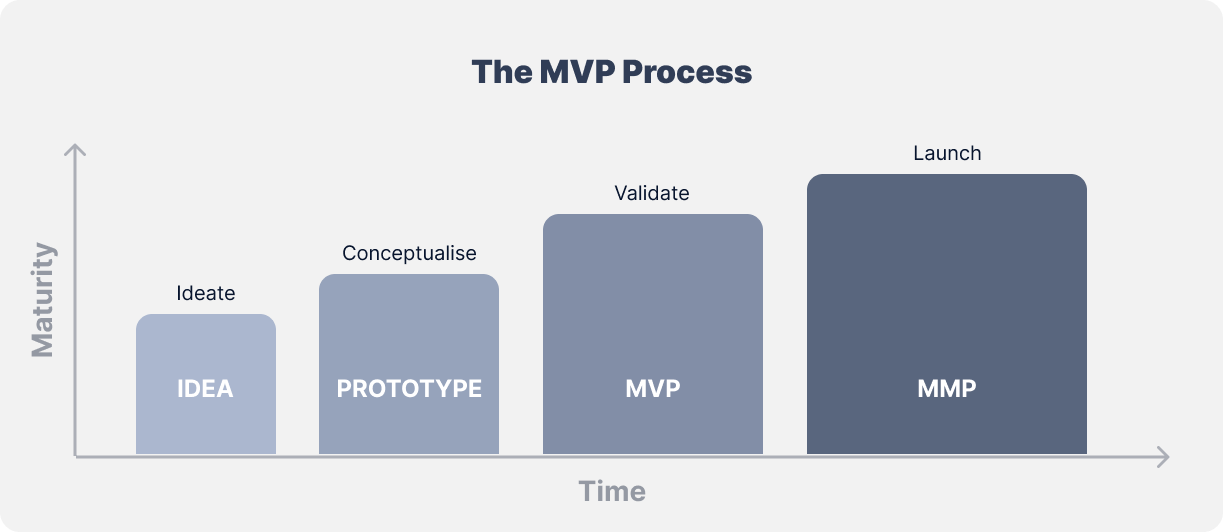 A startup can demonstrate that a specific market issue doesn't present a viable opportunity via the opportunity assessment. It could be the case for several different reasons, including the following ones:
Too narrow market
Not enough room for profit
No alignment between the opportunity and the company's business strategy
In such cases, it might not be wise to build an MVP. Instead, you may need to pivot and change the idea before moving further. Alternatively, suppose your findings show that the opportunity is feasible. Then, you can keep testing it using an MVP.
10 Fundamental Questions You Should Answer
Assessing product ideas is the first step of the Product Discovery phase. To be more specific, product managers should answer ten essential questions for product opportunity assessment outlined by Marty Cagan. Now, it's time to explore each.
1. What problem will it solve, exactly? (value proposition)
First, identify what problems your product solves for potential users and customers. What demands, objectives, or tasks will your solution address? List possible improvements, features, and innovations that are valuable for your target audience.
2. For whom do we solve that problem? (target market)
Think about the types of users facing the problems your product solves. Next, search for variations in user objectives that impact how they adopt the product. Finally, divide target customers into multiple categories depending on the distinctions that matter. Note that it's better to avoid marketing your product to "everyone."
3. How big is the opportunity? (market size)
Explore how users currently solve their problems. Then, list your users' alternatives for addressing their needs, such as competing products or workaround strategies.
4. What alternatives are out there? (competitive landscape)
Next, consider how those customers' pain points affect your company. Would it harm your business if you don't find solutions for your users and customers? And, if yes, how?
5. Why are we best suited to pursue this? (our differentiator)
Think about the change your solution brings to the target market. Does it improve anything?
6. Why now? (market window)
The market window is the ideal moment for the launch. That's when a product is sufficiently different from the competitors from a strategic positioning standpoint. Decide what user behavior you can track to see if they try, adopt, use, and value your solution.
7. How will we get this product to market? (go-to-market strategy)
Determine how the customers learn about your solution. Also, consider how they start using it.
8. How will we measure success and make money from this product? (metrics and revenue strategy)
To answer this question, identify the business KPIs showing you if the solution is successful. It's vital as people purchasing and using your product trigger changes in these core metrics.
9. What factors are critical to success? (solution requirements)
Think of your company's consequences if you fail to develop the solution. What could your company gain or save if you do? You will learn how much your company should invest in developing the product by answering this question.
10. Given the above, what's the recommendation? (go or no-go)
Finally, here's your conclusion. Senior management should know the findings of the product opportunity assessment. Then, the company decides whether or not to pursue a product to address this opportunity. Thus, you will understand what you will gain and what it takes to succeed if you decide to move forward.
Product Opportunity Assessment: 8 Key Steps
Cagan's framework outlines the step-by-step process for assessing product opportunities. Go through the phases listed below and focus on each to capture your responses as efficiently as possible.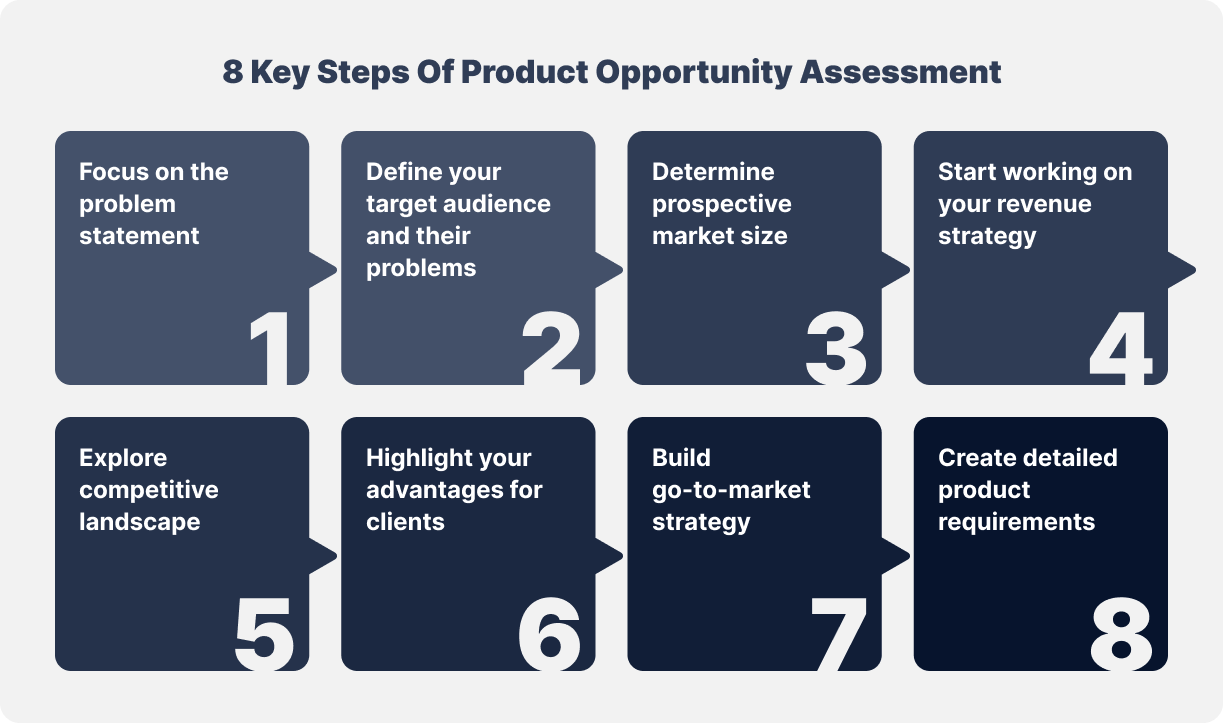 1. Problem Statement
When assessing an opportunity, focus on the problem rather than the proposed solution. Note that it's often challenging to solely discuss a pain point and avoid discussing how to solve it. But in this case, you should evaluate the opportunity itself to decide whether it's worth solving eventually. It's also vital to speak to potential clients to determine your solution's value proposition.
2. Target Audience
The following assessment phase aims to identify who struggles with the problem discovered in the first stage. Once you respond to these first two inquiries, you have the basis for a strong problem statement: the target user has problems with particular tasks.
3. Market Size
When you know the users' issue, determine how many people face. It will give you an idea of your prospective market's size, serving as an early warning system for the business opportunity you're pursuing.
4. Revenue Strategy
The following subject makes you consider how you will evaluate your performance if you use the opportunity. Avoid rushing new product development and launching new solutions too soon. First, you should reach a consensus on how they will benefit your company. Thus, you will prevent your product portfolio from becoming bloated and unmanageable.
5. Competitors
Now, let's talk about the competitive landscape. It doesn't only depend on an external vendor taking your deal. Sometimes, it's about the customer's inability to decide. Alternatively, a customer may endure the discomfort or discover a suitable solution.
To survive, you should learn what your target customers do to address the problem and what solutions your direct competitors provide. These indications will guide your business to creating a custom solution that is more beneficial than the other existing options.
6. Our Advantages
It's time to look within at this point of the assessment. You should identify why your business is best suited to take advantage of this opportunity. In a nutshell, answer the question, "Why you?" The client's problem should be something you are aware of and qualified to handle. You must provide a compelling solution that lies within your company's competence.
7. Strategy
All your development, quality assurance, and deployment efforts won't pay off without an efficient go-to-market strategy. So as you evaluate how to bring your new product to customers, give this subject a significant thought. Most importantly, determine whether the channels are already set up or you're diving into unexplored territory.
8. Product Requirements
In this step, sit down with your technical staff members and ask them to list all the dependencies and factors that impact your development plans. You need this information to inform your decision-making. Thanks to a direct conversation with engineers, you will assess the opportunity objectively from a technical point of view. Learn more about how to write a Product Requirement Document in our recent blog post.
Artkai Expertise
Artkai is a customer-oriented digital product development agency. We implement a product opportunity assessment framework as a part of product discovery and PoC development services. In addition, our team defines specific project scopes and refines goals. This way, we immerse ourselves in your product's features, functionality, customer value, and target market.
We evaluate your idea's market potential, viability, and originality and create quantifiable metrics to ensure informed decision-making. You will see your business idea's viability and potential with our professional proof-of-concept application services. As a result, you will benefit from our extensive market analysis and expert viewpoint. Let's look at how Artkai's end-to-end software solution delivery impacted our clients.
DNA Payments: An Intelligent Payment Ecosystem
DNA Payments Group, an omnichannel payment provider serving the EU and the UK, requested the Artkai team to redesign the current portal completely. Our experts used the knowledge from desk research, interviews with key stakeholders, current project audit, and customer journey map. Thanks to these steps, we redesigned a significant part of the portal and created an intelligent payment ecosystem.
The Artkai team's efforts produced measurable outcomes. By the end of 2022, DNA Payments' growth made it the fourth-largest payment provider in the UK, serving over 65,000 retailers. The website currently processes £900,000,000 monthly for corporate clients and provides various payment options.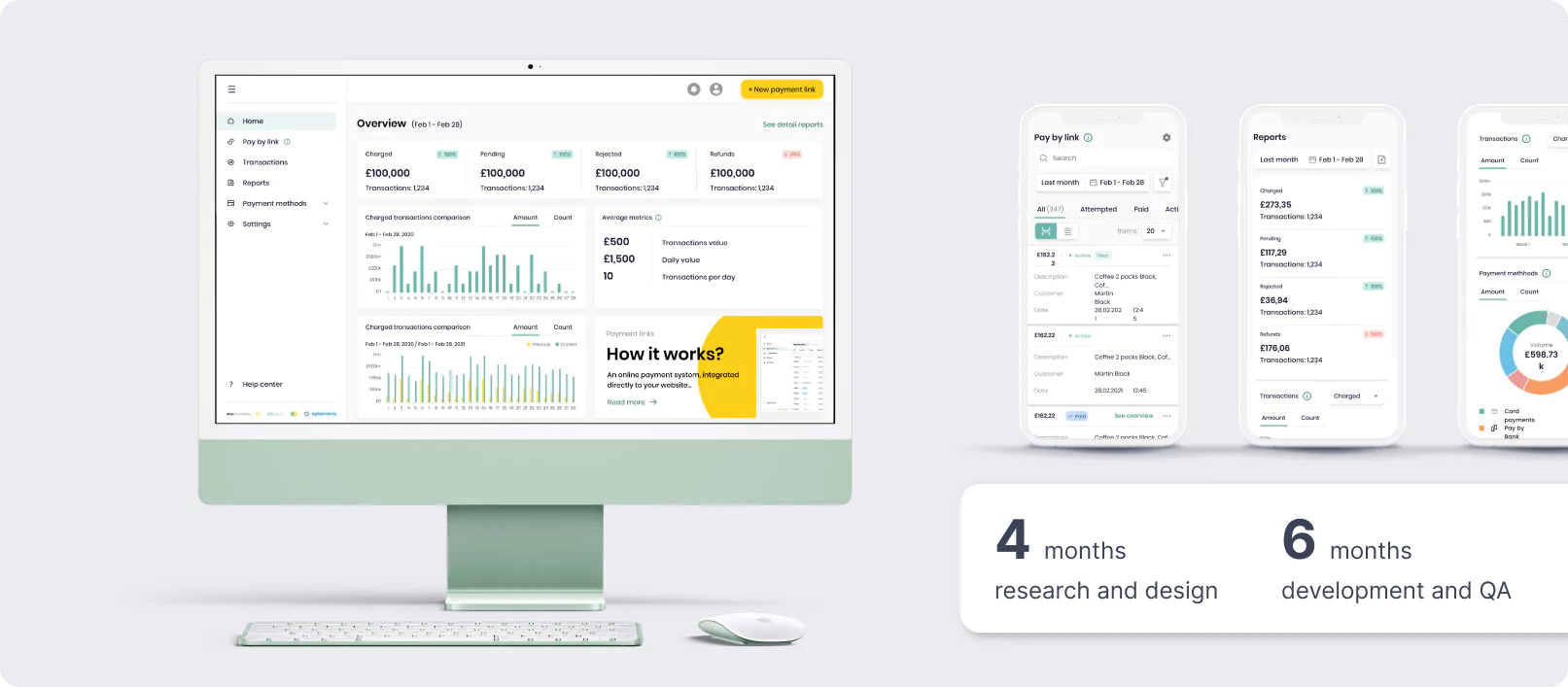 Nezha: A Blockchain Prediction Market Protocol
Nezha is a liquidity engine that enables market participants to avoid putting their principal investment at risk. The client turned to the Artkai team to develop a web-based Blockchain prediction market protocol for investors, entrepreneurs, and gamblers.
We implemented product opportunity assessment as part of the product discovery phase. This way, we outlined the objectives of the project's stakeholders and streamlined business procedures to retain customers. The result is a complex solution with intuitive navigation that increases platform usage and boosts conversions.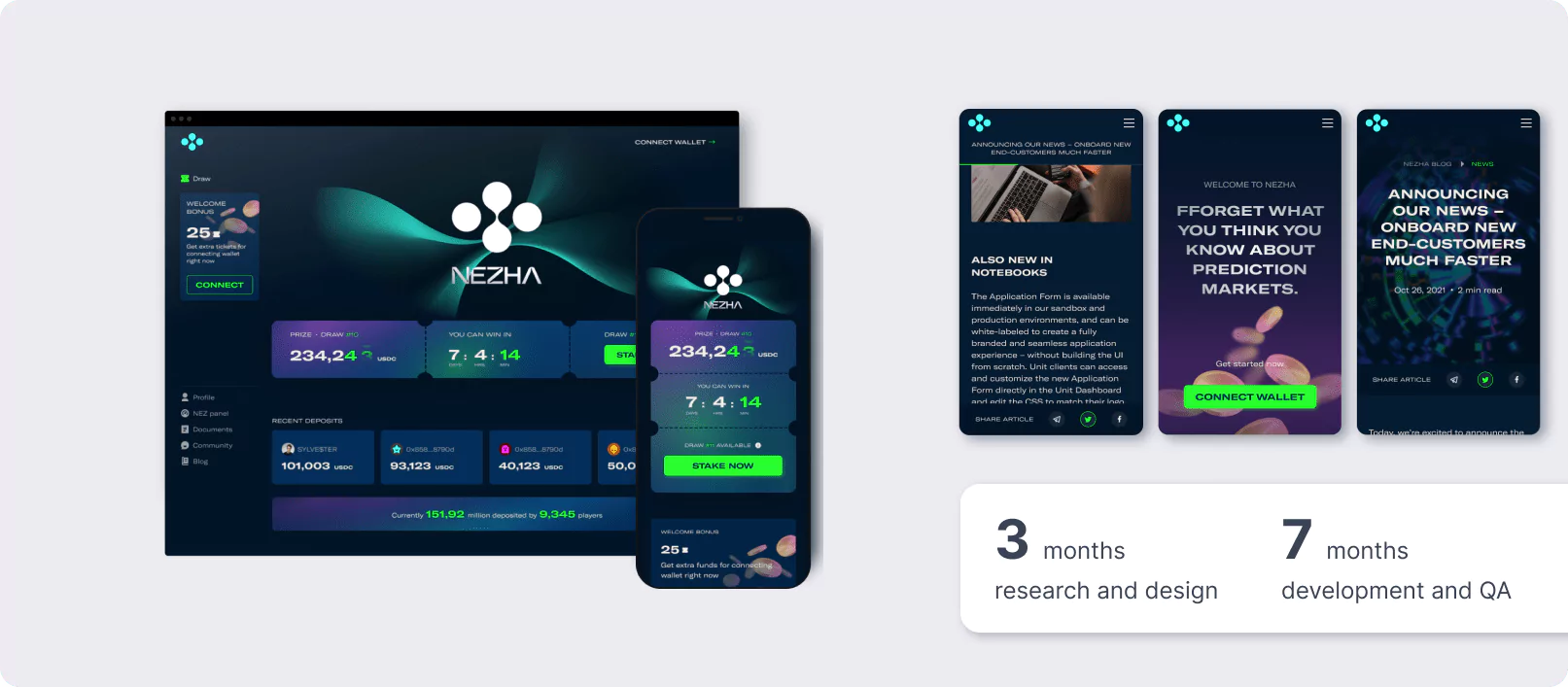 Benefit from the Most Lucrative Product Opportunities with Artkai
A product opportunity assessment framework is a valuable resource helping businesses understand what they need for potential ventures to thrive. Also, they avoid wasting time and money on ineffective solutions. Answering the ten fundamental questions proposed by Marty Cagan will assist you in laying out a step-by-step product opportunity assessment process. If you need expert advice on evaluating your product idea, seek help from an experienced vendor.
Artkai is an award-winning full-cycle product development company. We have proven expertise in end-to-end product delivery, including product discovery and PoC development services to assess your product idea's viability. In addition, our technical experts will provide you with a versatile and comprehensive opinion on any promising product opportunity.
Contact us to discuss your product idea and get an estimate.
Read More
Explore articles from Artkai - we have lots of stories to tell
Join us to do the best work of your life
Together we advance the human experience through design.
Get the latest news from Artkai
Hand-picked insights from our experts on human-centricity, digitalization trends, and more in one click. No spam, only quality.