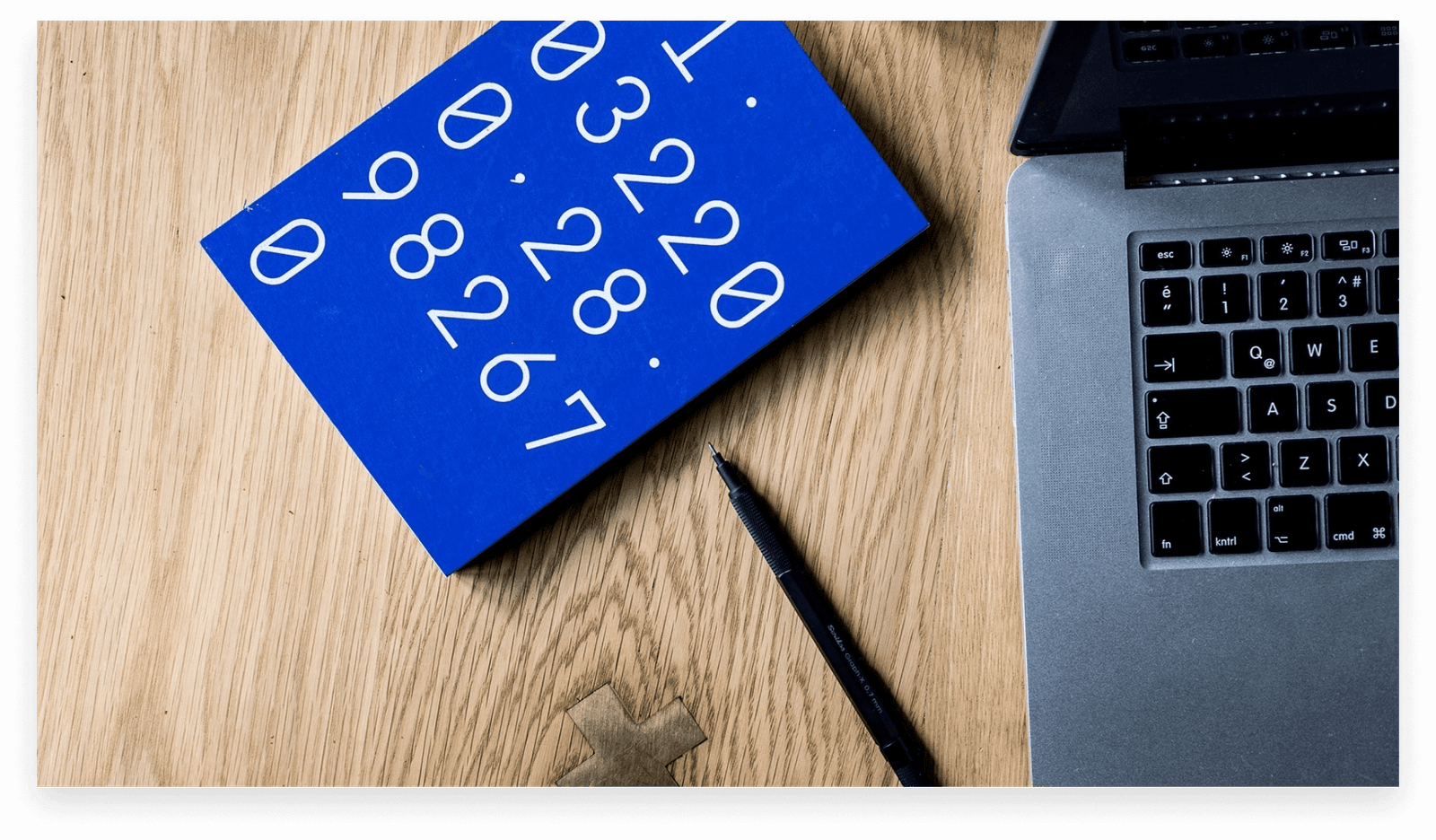 How to excel in user experience (UX) via human-centric design
Human nature is that people don't always do exactly what we think they're going to do. What we need is to be sure that we're designing a user experience keeping that in mind. That is why every designer should understand his/her client better than even he/she does. This is one of the main working principles in Artkai. This is one of the most sophisticated skills to develop, and the most challenging psychological approach in work to dwell on. 
Table of contents:
The Role of UX
For User Experience, the Human-Centred Design philosophy involves a start-to-end process that helps to make a successful product from the user's point of view. This is not just about how visually beautiful the products look, but rather about making them accessible to the users. When you do not understand the user behaviors and patterns and do not do robust user research, this is more likely to lead to problems.
With the help of human-centered design, people can get involved in creating products & services right from the very beginning. The process of human-centered design ensures the product will be based on solutions to problems and provide an optimum user experience. It ensures effortless interaction and ultimate business benefits, which is also essential for business owners.
How do we design technologies that bring people joy, rather than frustration?
How to conduct fieldwork with people to help you get the right design ideas and keep the user in mind?
How to make prototypes or low-fidelity mock-ups that are incredibly interactive? How to use these designs to get thoughtful feedback from other stakeholders like your clients, users, or even your teammates?
Is it essential to search for the problem solving that the client may not know about? Does it help to design technologies that bring people joy, rather than frustration?
Armed with these design-thinking ideas and strategies, you'll be able to come up with a unique approach to do more creative human-centered designs in any domain.
How do we design with a user in mind?
Here, at Artkai, we believe that the greatest products can be designed only by finding out the answers to these two questions:
Who our users are?
What do they need to do with products?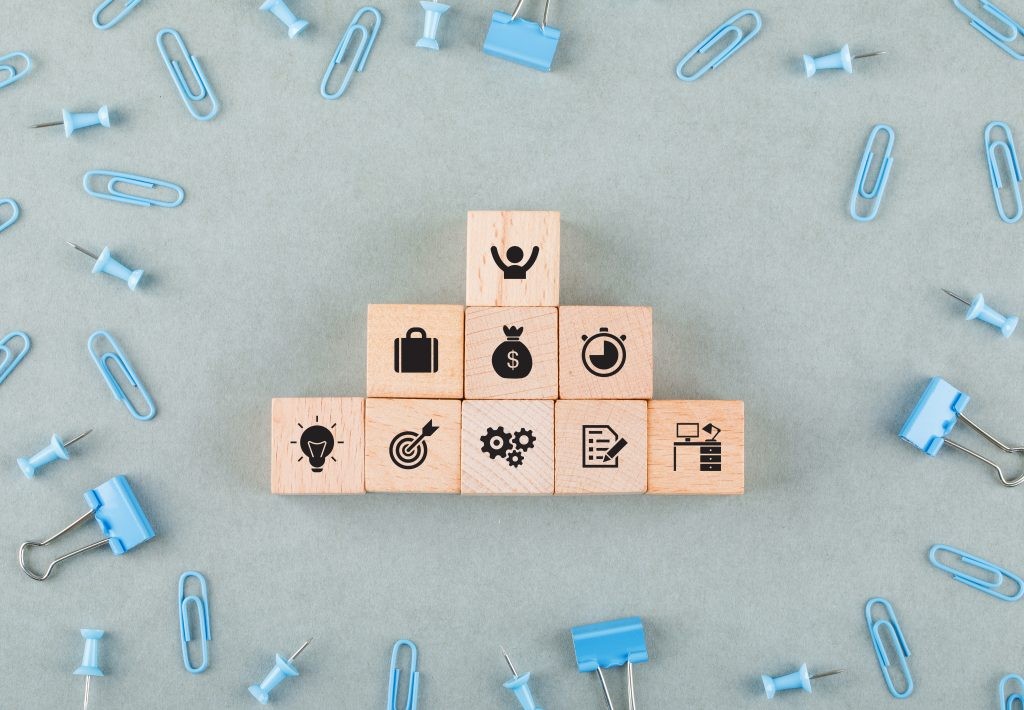 Conceptual of business office with wooden blocks with icons, paperclips, binder clips on sage color background top view. horizontal image
The research is going to be concentrated around the questions given and the data we find and will further lie in the human-centered design process. As a rule, the human-centered design process goes through the six main stages as follows:
1. Early focus on users & tasks - Here we're specifying the context of use and users, indicating business requirements. We also define user characteristics & observe users doing their normal tasks.
2. Making sure the problem really exists - To search for the best solutions, we need to understand that the problem really exists and what it is. 
3. Iterative design. Here goes the creation of design solutions from rough concepts to finished design. In work, we stick to a principle: Design - Test - Measure. We also apply redesign for as many cycles as possible until we achieve perfection.
4. Empirical measurement - We also test the first mock-ups with users. Further, we may provide new assessments based on usability tests.
5. Implementation - At this stage, the product development and product release are implemented. Deployment of the final product is assessed as the customer changes.

6. Finalization - We should do our best to find solutions and then check if we've solved the problems that occurred in the process of interaction between the users & the product. Here we also check if we've managed to solve the problems better than others. 
User-centered research methods applied
What's especially important about the human-centered design process is that it is a scientific method and to the forefront goes:
experiment,
iteration,
research,
and failure study.
At Nielsen Norman, Don Norman's approach to the human-centered design philosophy provides the following pieces of advice to stick to while designing great products:
1. Focus on people
Most projects optimize economy, efficiency, time, or productivity. We emphasize the experience of all people who are influenced because if it is done, the rest will follow at a level that "fits in". Thus, the product always optimizes for price and time. But not for people.
2. Solve the right problem 
To solve the right problem, ask why it's a problem. Don't solve symptoms, find an underline reason, or core problem. How far should you go in your search for causation? It is necessary to find such a deep level that can still be influenced by the project. For some projects, this will be a shallow level. But even here, any success will allow further iterations to deepen.
3. Think about the whole system 
A project usually incorporates not merely the business-user relationships, but rather more counteragents. They may be the states with their legislative restrictions, various technical aspects involved, or a variety of cultural backgrounds, etc. All this has to be noted during product creation. So, consider a problem as part of an extensive, complex socio-technical system that is dynamic and changeable.
4. Test, iterate
Always assume that something will go wrong. The fact is that modern products are extremely complex and it's hardly possible to think them over and make everything perfect from the start. Making continuous analyses and corrections are your best friends. Approach your solutions iteratively. Measure results. This helps on two points:
First, with complex problems, initial attempts will never be right. The flexible system can be constantly adjusted. 
Second, conditions will change, and the system will change. New opportunities will appear, as well as new difficulties. By moving in small incremental steps, it is relatively easy to change your goals and approach.
Cases 
Among the brightest products created as per a human-centered design approach, it is possible to highlight the following cases: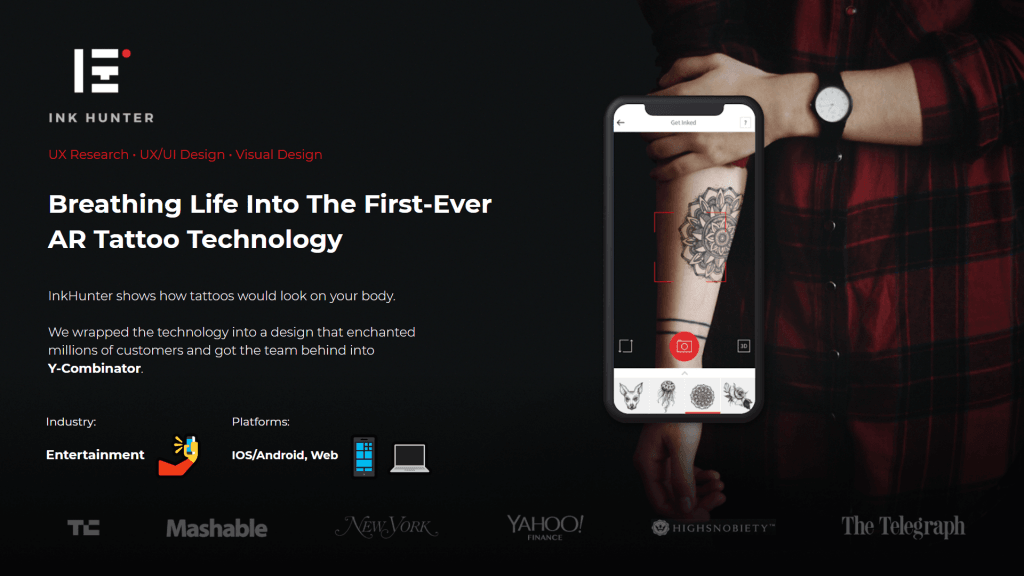 A unique first-ever augmented reality tattoo App is a bright product aimed to show what a tattoo would look like on a body. Thanks to Artkai, it is now a polished UX/UI product designed by people with the user in mind.  The InkHunter project was a real breakthrough and got invested by Y-Combinator. It hit 13 million downloads, and Apple awarded it an App of the Year. 

ProCredit
ProCredit Bank is one of the largest Digital Banking Ecosystems that are represented and used in 13 countries. With the user in mind, Artkai has helped to improve the core banking system and adjust a range of devices & operating systems. Keeping the designed ecosystem in mind, we continuously apply a human-centered design approach to other products, to test & develop consistent design systems.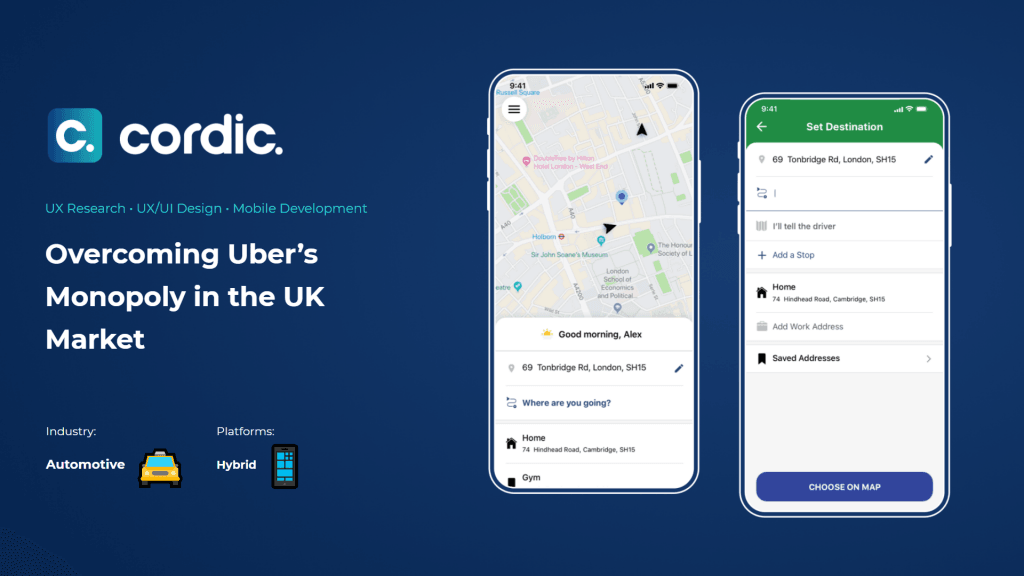 Nowadays, Cordic is a leading fleet management SaaS provider for UK taxis. As competition pushed on similar services, big market players like Uber were improving. So, the client wanted an App to be redesigned for passengers, and separately - for the drivers. We needed to adjust UX to the newer standards and exceed competitors in detail.  Due to close collaboration with both passengers & drivers, we've created a simple, highly functioning, and flexible solution, adding up to Cordic's capacity to stand fierce competition, match market trends and satisfy both riders as well as passengers.
Conclusion
For designing great user experiences, we should keep users and their changeable nature in mind. We need to foresee what they want even better than they think they do and involve them in the product creation process from the start. That's where the Human-Centred Design philosophy helps to make a successful product from the user's point of view.  And this is how we work in Artkai. It helps us do our design technologies to bring people joy, instead of frustration and master one of the most sophisticated skills to develop in work.
Clients and Results






See Our Portfolio
Schedule your free consultation
Don't miss this opportunity to explore the best path for your product. We are ready to delve into the specifics of your project, providing you with expert insights and optimal solutions.
Book your free session
Read More
Explore articles from Artkai - we have lots of stories to tell
Join us to do the best work of your life
Together we advance the human experience through design.