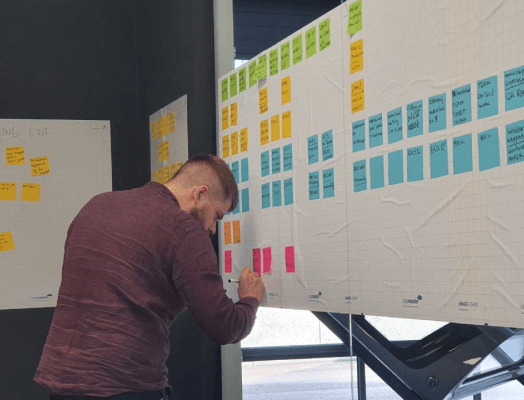 Initial steps to grow your startup: Express discovery workshop
If you're about to launch a startup and need some insights on your new project, as well as synchronize with a future team,  it's not necessary to dive into thorough research for understanding if further findings are needed. A 2-hour Express Discovery Workshop is worth trying in case you need to decide whether you want further full-fledged Discovery or if it's possible to launch a project right away. 
When do you need a discovery phase?
The Discovery phase is quite a complex issue. Every product design/development expert may put their vision into the term depending on a variety of issues. 
As a rule, the majority of agencies approach the discovery process too laboriously, which is also time-consuming. They arrange long sessions with lots of superfluous expertise, and the result is not always useful to the clients. What we do is simplify the Discovery Workshop process from the start. Based on it, we've come up with an easy express discovery framework developed especially for startups and their needs.
The books say that you will need it from the project start or when significant stages of the project are about to launch. Moreover, you will also require it to build a mutual understanding of the overall project direction, key milestones & vision. 
You need a discovery anytime when there are many unknowns that can be too costly to discover & improve in a development stage that prevents a team from moving on. A discovery might also be of use when the team is not quite aligned in what they want to achieve. Besides, it may also be referred to as 'a product discovery' which sets assumptions & expectations in discovering exact requirements given a future product. 
Of course, the discovery phase is very important, but the choice to use it or not depends on the context.  If the development of a product/solution requires big investments then discovery can prevent a lot of unnecessary spending. 

At the same time, if planned production is not that expensive and you are ready to change direction on the go (or simply in a rush) then Discovery can be skipped. But how to choose if you are not confident? Here comes the mighty Express Discovery Workshop. 
Our approach: Express discovery workshop
What we offer is a 2-hour Assumption-mapping workshop. It is useful because user-related questions & assumptions are often not traced throughout the life cycle of the product. This may cause overconfidence & misalignment. When you document these questions and assumptions in a knowledge board, it differentiates them from real facts.
So, during express discovery workshops, we bring in experts and do data gathering activities. Here, they may question the validity of certain facts, as well as identify some deep-rooted assumptions that should be further explored. Setting assumptions priority in terms of risks to the outcome of the project may also be included in a process. The riskiest assumptions are prioritized in terms of research activities.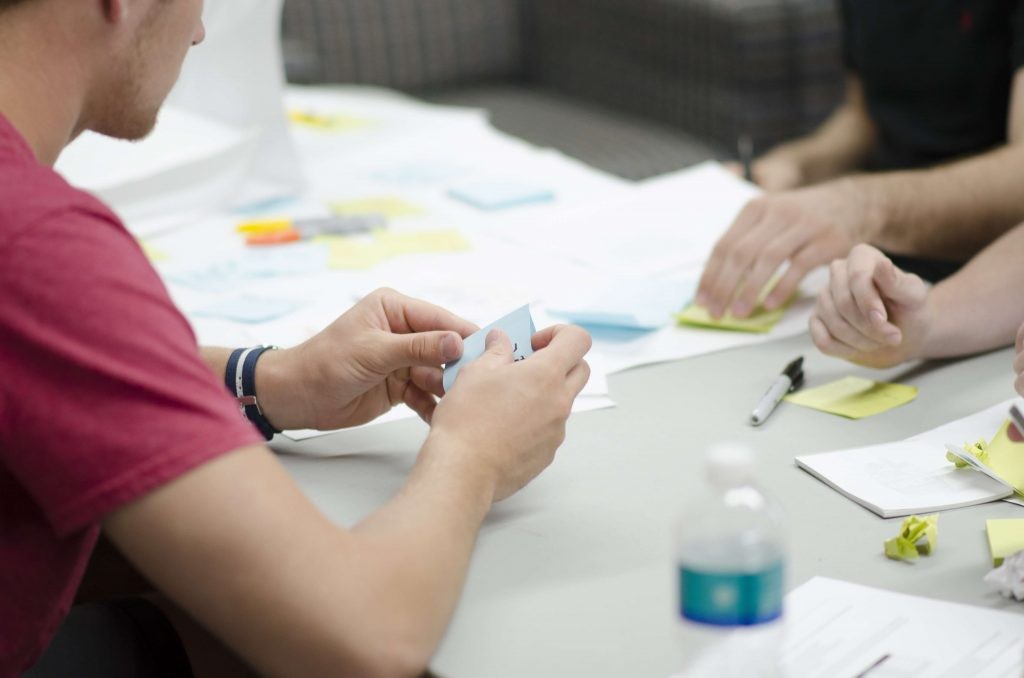 People involved
It is better to perform discoveries with multidisciplinary teams, where team members are dedicated full-time and are collocated, it's common. However, depending on the problem scale, as well as discovery activities, people involved and the type of roles they play may vary greatly.
Key Workshop roles included
Both the agency and the client actively participate in the discovery phase as it is needed for effective communication and avoiding misunderstandings or discrepancies in the initial project stages. They may be represented by various specialists in their field that may vary from project to project. 
On the Agency side: 
UX designer,
Business analyst,
Technical architect.
On the Client side:
Someone aware of business goals & processes (A sponsor or a product owner),
Someone familiar with the target audience & their needs (A sales or marketing person),
Someone who understands technical details enough to be able to communicate with engineers to explore available technologies, their capabilities, and constraints if needed (A developer or a technical architect).
Major outtakes of an Express Discovery Workshop 
If you choose a fast & effective discovery phase for your project kick-off, be ready to make the following outtakes:
What is known about your target audience? - During the workshop, the project team achieves an ultimate understanding of who your users are and how a particular problem affects them. What do they need, desire, and value from a solution (and why)?
What problems to solve? - Now when the team understands how and why the problem(s) occur, it is easier to define what effects it produces on the users, as well as on the organization. The team understands the magnitude of the problem and may provide opportunities for the organization, product, or service.
Which are actual facts vs. assumptions? - This data may not directly answer the research questions. Nevertheless, it is crucial because it allows you to make a semi-informed guess and move on with the project. The weakest assumptions will be wild guesses. Estimates that you derive from insights are better, though still not the same as proven facts. So, you may come up with empirical information that needs to be validated.
Which assumptions need validating? - Once you're through with assumptions and you've documented the next step will be validation. It tests your hypotheses and allows moving on.
After the designated research is conducted, you will anyway get the following outtakes:
Shared vision: During the discovery workshop, the team works with stakeholders to understand overarching business objectives and desired outcomes to get answers to the questions such as 'what do we want to achieve?', or 'what does success look like? etc.' This approach, in turn, focuses the team on the problems that will have the greatest impact on that outcome (and later the solutions). The team should have an idea of what to measure while going forward, to understand if the solution works towards the desired outcome, etc. If the phase is successfully accomplished, the team may offer the next steps to the client.
Next steps: After we successfully accomplish the Discovery Workshop, we have two options to offer to the client on how we proceed with the project:
1. Proceed with Extend Discovery/research to gain more data & insights from users
Well-done discoveries approve that any solutions proposed later are desirable to the users, viable for the client organization, and feasible with the technology made available. Thus, if assumptions are wrong, and we need extra data; we refine them and continue documenting them until we feel confident enough with it. Only when assumptions are validated, we move on to the next step.
OR
2. Rapid prototyping and user tests
This method is especially useful for startuppers. When risks are low, we can go faster by building and testing the prototype with a real user. If it turns out that the hypothesis is wrong, we are ready to redesign the prototype quickly and test it over again till we find a perfect solution. 
Our workshop cases 
Practice makes perfect. The best illustration of a successful discovery is another client success case. Find them right away to understand better how discovery contributes to the outcome.
A discovery case for Automotive Marketplace.
The client from the automotive market wanted to immediately invest a large sum in the project development.  Therefore, it was important to make sure the process was totally well-thought. We did a workshop & conducted research to eventually outline the entire development strategy.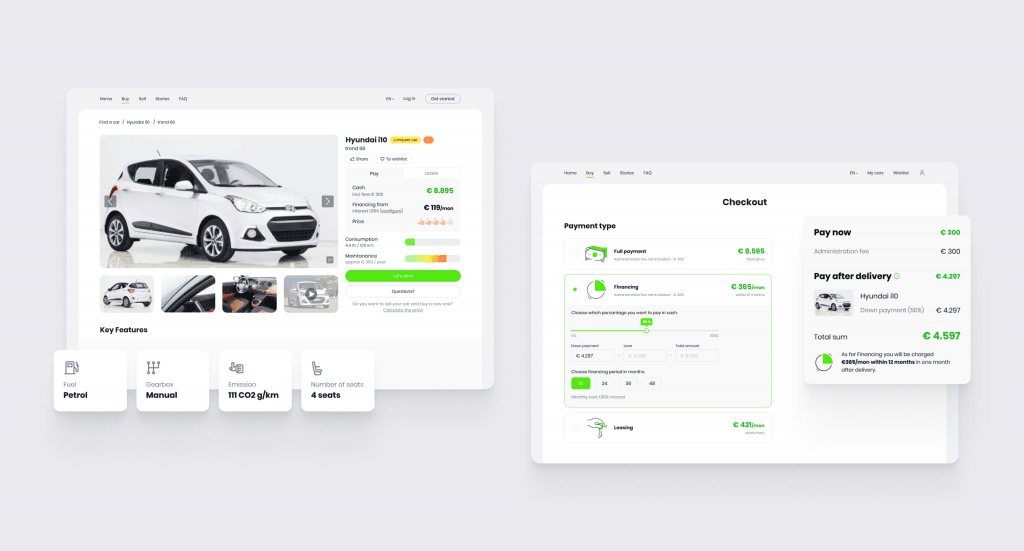 Rapid prototyping case for Testhub. 
Just on the contrary, the client's budget was short. Thus, it was necessary to quickly validate the hypothesis and show the idea was worth it to investors and potential clients. The decision was to go through rapid prototyping, which turned out to be the right one. The client got good feedback, got into a Norway accelerator & was paid off. 
Conclusion
As you might know, Discovery is quite a broad & complex issue. Not every startupper may need it to the fullest & deepest. Nevertheless, we've dared to make it easier to understand and now recommend starting from a 2-hour Express Workshop that may define either the further need for a full-fledged Discovery or passing over to the rapid prototyping and testing it on real users straight ahead. 
Clients and Results






See Our Portfolio
Schedule your free consultation
Don't miss this opportunity to explore the best path for your product. We are ready to delve into the specifics of your project, providing you with expert insights and optimal solutions.
Book your free session
Read More
Explore articles from Artkai - we have lots of stories to tell
Join us to do the best work of your life
Together we advance the human experience through design.