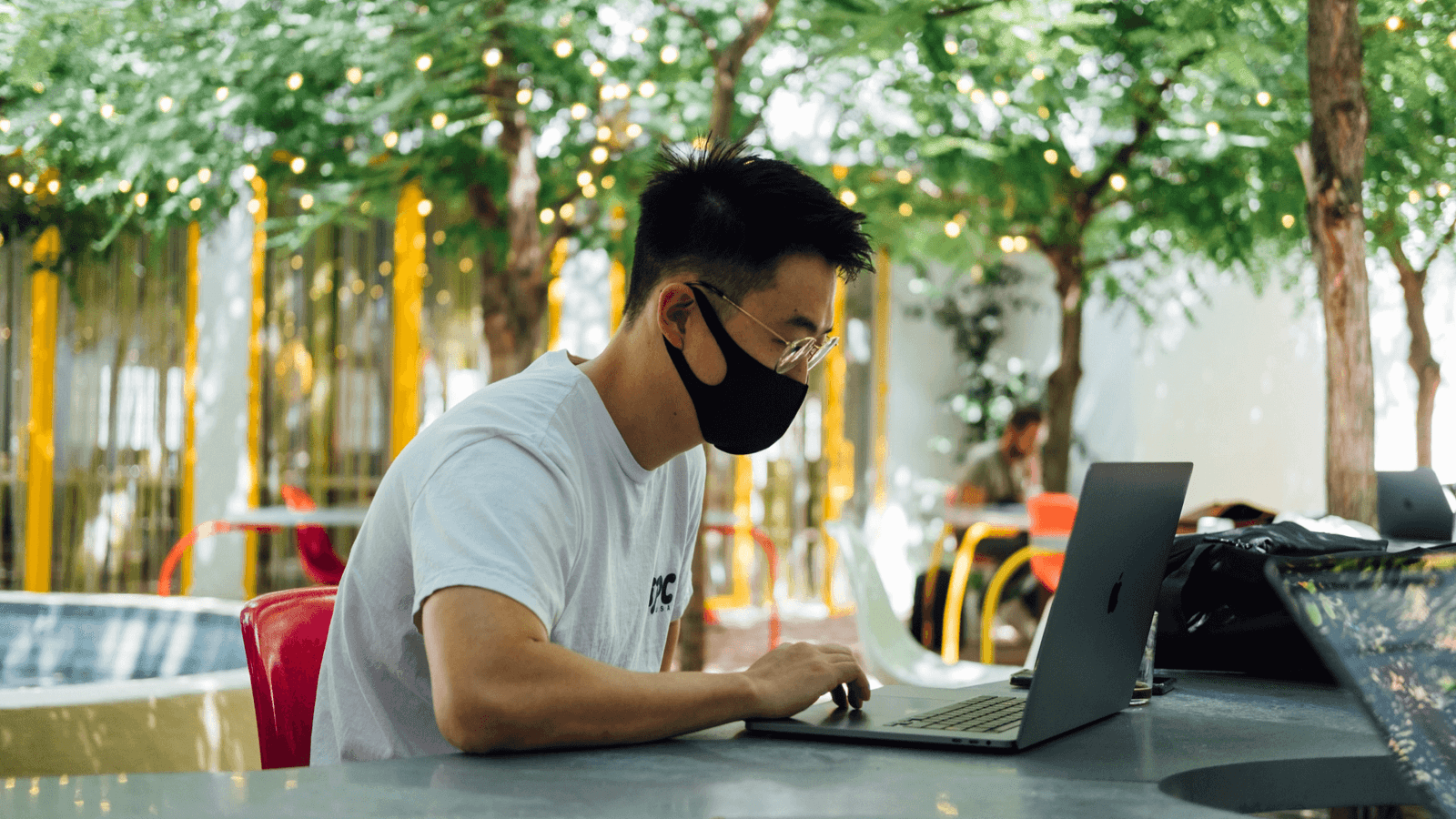 UX & cryptocurrency: How improve trading experience for end users in 2024
The worldwide cryptocurrency adoption growth of over 880% in 2023 has exposed long-ignored problems with user experience (UX) in crypto. Initially targeting a techno-savvy audience that can find their way around a complex program, blockchain trading services focused all their efforts on excelling in backend engineering and cryptography, getting away with completely ignoring the user experience part.
But with the Bitcoin and non-fungible tokens (NFTs) boom, blockchain is now gaining momentum among everyday users. People without deep technical knowledge are looking for apps to help them understand, invest in, and trade cryptocurrency. 
The platforms most people end up finding are complicated, frustrating, and often borderline unusable services that push them away. 
This gap in demand and supply creates a huge opportunity and competitive advantage for cryptocurrency brands that will address this need for better UX.
Common UX challenges with cryptocurrency exchanges
According to Statista, only 9% of traders are satisfied with the crypto exchanges they use.
The reason is simple: the exchanges' creators don't understand and, therefore, don't address the pain points and needs of their new adopters. User research - the bread and butter of the UX design, - has never been favored and properly practiced in crypto projects, if addressed at all. 
As a result, we see crypto exchange platforms with utterly broken UX that is close to impossible to wrap your head around for anyone but blockchain gurus. 
Financial statements. There is rarely a description of cryptocurrency differences specifying their nature (token, a medium of exchange, or the store of value) and functionality specification over the others. Prices differ from platform to platform; the exchange rate and transaction fees aren't always clear, posing a risk of overspending. And, of course, platforms rarely provide users with the functionality to purchase all cryptocurrencies in one place.
Onboarding. Onboarding is a hugely underrated part of user experience, and financial services aren't an exception. The onboarding in most crypto exchangers frustrates the user; the know your customer (KYC) and registration procedures often take more than a day to accomplish. It results in high product abandonment rates.
Transactions and purchases. Transaction processing is another aspect that has to be well-explained. There should be a tutorial for using a wallet, specifications on using private and public keys, and what they stand for. A newbie needs to understand that not all crypto can be purchased with fiat (regular USD or EUR) and that many transactions require ETH (Ether) to be in the wallet to pay transaction fees, etc.
Security and privacy. Blockchain apps invite mass adoption but fail to inform users about the baseline safety rules while using their platforms. For instance, the majority of newcomers don't know that it is preferable security-wise to keep your cryptocurrencies in offline wallets. However, the exchanges often don't provide the functionality to transfer crypto to offline wallets, allowing custodial storage only. This is a serious UX issue, especially considering that the platforms fail to inform their users about the potential risks of this option.
Why should you bother with UX?
According to Finder, more than half of financial experts foresee that by 2050 bitcoin will overtake fiat currencies. If it is even half the case, then building blockchain products exclusively for advanced users won't be a sustainable business model anymore. 
Before, blockchain companies could afford to skip user research and UX/UI design steps, focusing on other competitive edges. But if (or when) crypto will equate to or even dominate fiat currencies, customer-centricity and user experience will become the main distinguishers.
We can witness the same trajectory in fintech, where challenger banks like Revolut have elevated the standards of digital banking experience. Legacy banks that wanted to keep up with the competition and grow their customer base now had to create digital experiences on par with the new customer expectations. It means investing in in-depth research and complete UX redesign of their digital assets, like our client ProCredit Bank Georgia did. 
More on that you can find in our Case study.
To earn customers' trust and loyalty, blockchain services need to focus as much innovation on their customers' experience as they focus on the backend development. 
Educating the mass user on the complexities of crypto has now laid on the blockchain services' shoulders. "The new user" arrives unprepared, hoping to be guided and helped while also expecting a smooth and frictionless experience they get from online banking. And it is only a matter of time when this "new user" becomes an "average" user who abandons the service the second they don't receive the frictionless experience and guidance they expect to receive. 
How to build a cryptocurrency exchange platform with top-tier UX
The term "user experience" consists of three fundaments: 
Research
Functionality
Customer journeys
If you get these fundaments right, you can expect a product that actually serves its users the way they want it, exceeds their expectations and turns them into loyal fans of the brand. This approach in UX design is called human centricity, and we at Artkai use it whenever creating or redesigning products, be it in blockchain, fintech, automotive, or another niche.
Let's break down these fundaments.
Research
Everything starts with research. Research can be a stand-alone process or a part of the product discovery stage and usually consists of:
Market research. It is a deep dive into a domain to analyze what drives the market, learn the current industry challenges, and understand the demand for the idea/project.
User research. It is the most crucial part of the discovery, especially for the blockchain, where the user is rarely addressed at all. User research aims to understand the user persona's behavior with the product, their knowledge, and experience in trading, preferences, main goals and needs, fears and challenges, etc. It will allow the creation of customer personas with efficient and friendly user journeys.
Competitive analysis. It does what it says - analyses the business competitors for their strengths and weaknesses, features and solutions, potential threats, and so on.
This research results in the customer persona, user journey map, vision and scope, and prototype and wireframe concepts.
In Artkai, we conduct user interviews, surveys, focus groups, field studies, and more to help us create a product that addresses all user's pain points and needs. One of the options is to conduct working sessions with 5-10 participants who have specific experience with trading. Comparing product functionality and usability journeys with competitor offerings can grant better feedback and understanding of value and user expectations.
To find out more about the nuances of the UX research process in Artkai, check out this article. 
Friendly platform navigation
Design isn't just about visual product representation; it also builds a seamless user journey throughout the offering. As mentioned above, users often face challenges with exchange navigation and understanding of the overall functionality. Ease of use is one of the core principles that should go hand in hand with the product's value. 
When creating the exchange's interaction design, user journey, and interface layout, it is essential to adhere to usability principles:
how seamlessly users can interact with this exchange
its visual design comprehension
functional, frictionless features
well-put informative onboarding and explanations
The lack of onboarding, customer support, and poor information architecture can make navigation complex and hard to follow. The above-mentioned usability principles will help build an informative and simple product design for functionality and value.
Prototyping and MVP development will help to test how well an exchange can satisfy users' needs. Plus, it gives the necessary feedback on what should be changed or improved for a better experience. 
Comprehensive functionality
A good UX/UI provides users with functionality that solves their commonly-faced problems. Here are the most common functionality issues users have when dealing with cryptocurrency exchange platforms:
Small choice of the cryptocurrency to buy;
Many restrictions and limitations;
The lack of support of fiat, and so on.
Of course, every exchange has a different focus and offers unique features. However, some functionality is necessary for all types of trading platforms. It includes:  
support of fiat currency, stablecoins, and most popular cryptocurrencies
multi-functional wallets with friendly navigation
sorting and filtering orders by price and date
price comparison of various currencies across platforms
fees calculator
visual aids and informative explanations for complex financial statements
customer support
tutorials on the wallets' use and keys management
But again, functional features will differ from exchange to exchange, so you need to test your solution and gather user feedback to fuel improvements.
UX design in crypto trading projects: Case studies
Having over 30 blockchain-related projects under our belt, Artkai wants to share our experience to help crypto startups and established brands in designing/redesigning UX for their platforms. 
Here are two examples of UX/UI for crypto exchange projects
Coinhaven - an all-in-one platform for OTC, crypto trading, and exchange
The goal of the Coinhaven platform is to deliver legally compliant and bank-approved OTC services to African countries. A key requirement was enabling the platform to accept five major African fiat currencies.
Artkai's responsibility was to create the UX/UI design concept of the platform and connect it with a white label crypto trading platform & exchange. Also, we had to manage the work of three independent service providers.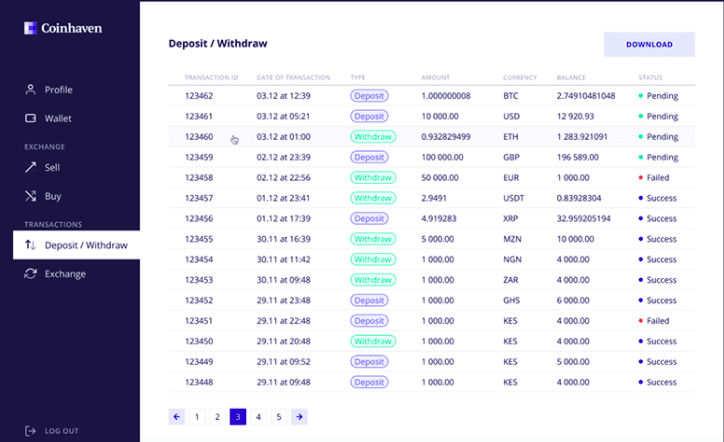 Coinhaven interface: transactions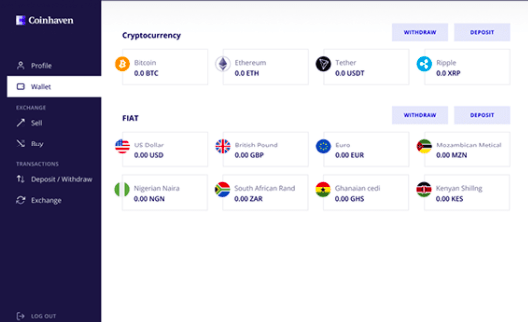 Coinhaven interface: wallet

Huobi - a top-5 trading platform in Asia 
Huobi is an established Asian crypto trading platform aiming to enter the European market.  Our main task was to uncover the pain points and needs of European users and address them in the customer-centric UX/UI design.  
To help us gather data, we engaged a design research agency. Then, we conducted face-to-face interviews with traders and uncovered key details about the decision-making behaviors of the European audience. 
By analyzing the collected data our team synthesized a list of insights and priorities for the platform design. This helped our client enter the European market with tailored customer-centric UX design.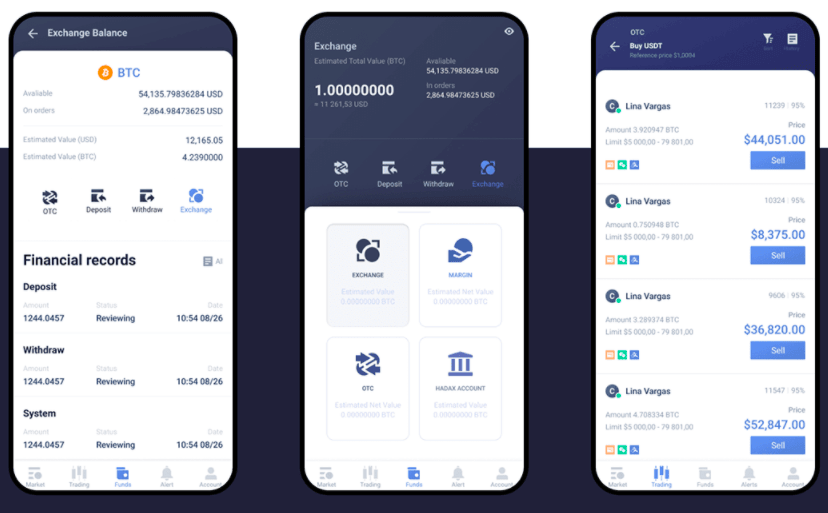 Huobi mobile platform interface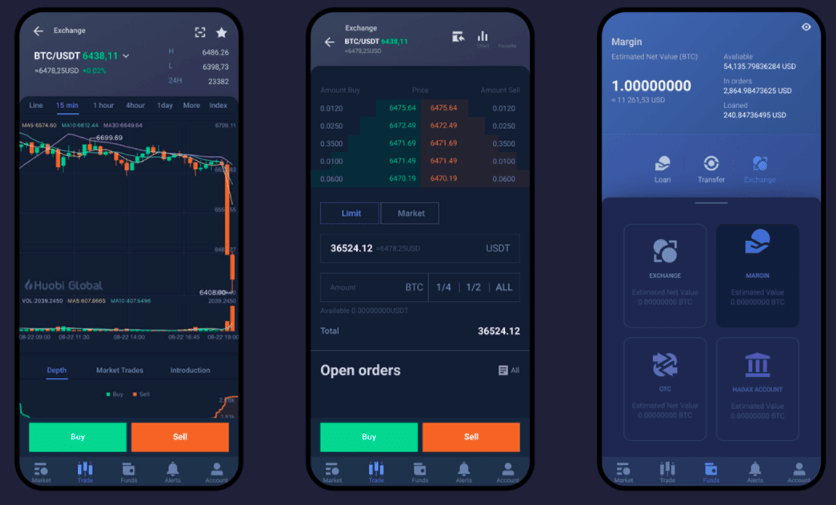 Huobi mobile platform interface 

Artkai will be happy to assist you with UX/UI design, branding, or development for your crypto/blockchain/NTF project. Drop us a line and get a free consulting session with our experts.
Key Takeaways
Most cryptocurrency brands' UX design is borderline unusable for anyone except tech-savvy crypto investors. In the light of the recent cryptocurrency boom, this has created an increasing demand for an accessible UX among crypto exchanges and other blockchain-related products. 
The brands that will win the market in the following years are the ones that can:
Understand and address the needs of everyday users with no background in technology just like they can for advanced crypto traders;
Reduce the learning curve by educating and guiding the users;
Make cryptocurrency trading sweet and easy by providing comprehensive functionality and reducing friction;
Design complete user journeys based on the research data.
Clients and Results






See Our Portfolio
Schedule your free consultation
Don't miss this opportunity to explore the best path for your product. We are ready to delve into the specifics of your project, providing you with expert insights and optimal solutions.
Book your free session
Read More
Explore articles from Artkai - we have lots of stories to tell
Join us to do the best work of your life
Together we advance the human experience through design.