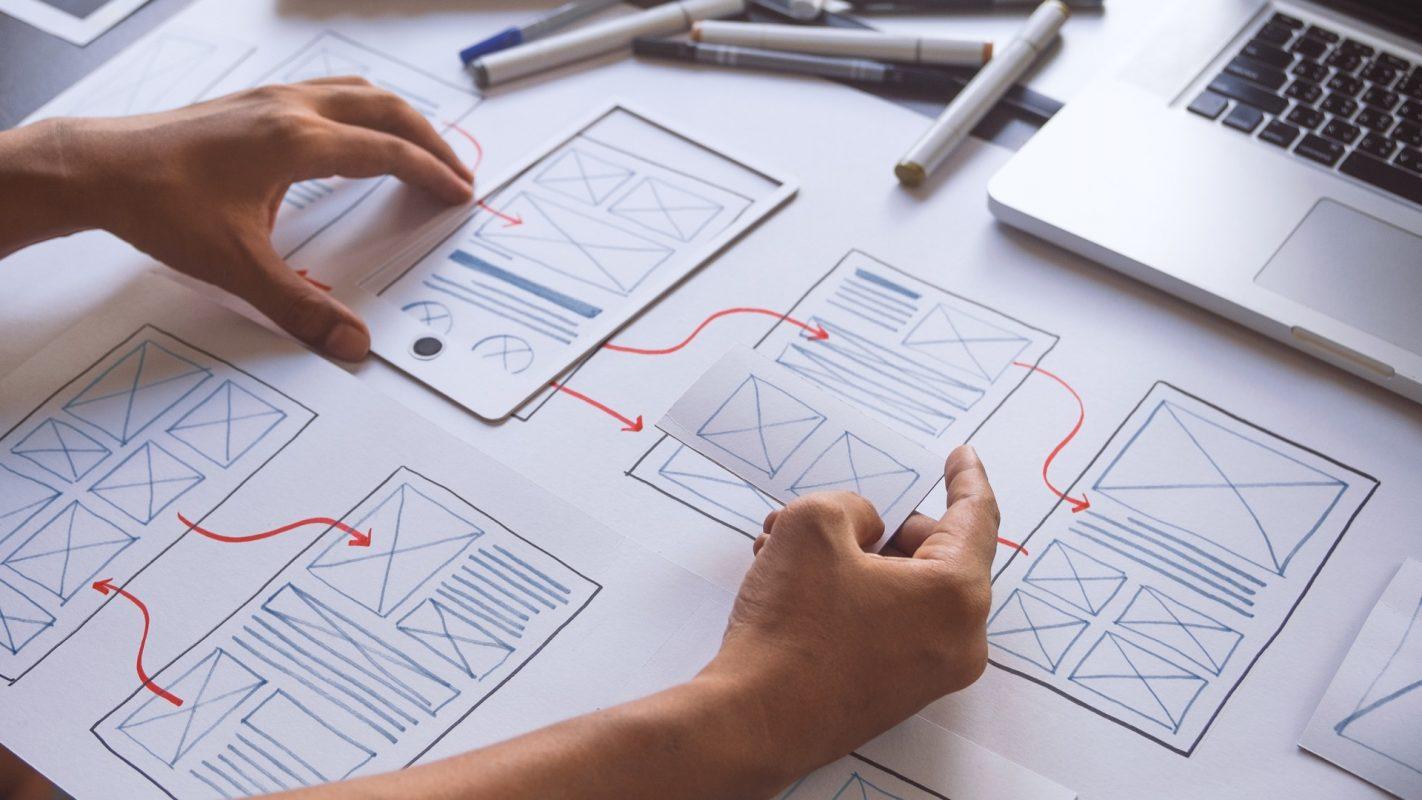 The true ROI of a UX design system: Estimating the impact on your business
Business owners do realize that if they want to grow and profit in the current economy, they have to deliver an interactive and memorable online experience. However, this realization rarely rushes them to pour a good chunk of business capital into a website UX redesign. 
It's understandable. While the price they have to pay for the class UX design is pretty obvious, the profits they will receive from it are far from being concrete. 
This article will attempt to make the return of investment (ROI) of design work more clear and quantifiable. We will translate the "soft" and somewhat vague metrics like aesthetics, consistency, and usability into "hard" dollars a decent UX design will save and earn your business.
Table of contents:
Understanding design ROI measurements and criteria
Even the most frugal and numbers-oriented decision-makers understand that companies with a decent design outperform their competitors. A seamless, consistent, and engaging user experience has become the pillar and starting point of the overall customer experience in the digital-first world. In 2021, the excellent customer experience affects the company's bottom line more than it has ever had. 
In 2021, 81% of marketers expect to compete primarily based on customer experience. (Gartner)
And yet, when it comes to deciding in which sphere of the product to invest your hard-earned dollars, general statistics can sound less persuasive than the calculations tied to your specific business model. "Like, what specific customer experience metrics I should look at and invest in optimizing, and why?", "How exactly will a better design increase customer satisfaction?" and "Will the result cost money?"  
To answer these questions with cohesive directions and potential ROIs, you need to connect two dots and see how design affects the two main goals every company has:  
Increasing revenue
Decreasing expenses
In turn, these goals should be distilled into measurable indicators. Let's quickly list the main ones.
Increasing revenue
Attracting new customers:
| | |
| --- | --- |
| ​Higher conversion rates​ | ​# of visitors who buy, # of transitions from freemium to premium​ |
| ​New referrals​ | ​# of referral buyers​ |
Increasing customer value: 
| | |
| --- | --- |
| ​Higher average order value or net dollar per visitor​ | ​% increase in $$ per customer, % of purchase frequency​ |
| ​Higher retention rate​ | ​% of resubscriptions or repeated purchases​ |
| ​Higher user engagement/ usage​ | ​# of daily active users, # of sessions, % of the time on the platform​ |
| ​Decrease in purchase/premium subscription cancellations​ | ​# of users or % of reduction​ |
Decreasing expenses
Reducing recurring (fixed) costs like rent, utilities, etc. As we can't influence this with design, we will leave it there.
Reducing variable (direct) costs:
| | |
| --- | --- |
| ​Lower cost per acquisition (CPA)​ | ​% or $ of decrease ​ |
| ​Decrease in programmers' / designers time​ | ​# of hours * by labor rate​ |
| ​Error reduction​ | ​#, %, or resulting $ amount​ |
| ​Decrease in support calls​ | ​$ per call/minute/hour |
The table presents the most common metrics that influence companies' profits and can be affected by user experience. The mix of these metrics will be more or less unique for every business. To predict the design ROI, you need to define your business levers and translate them into numbers. 
Estimating the ROI of UX design for your business case
To calculate the business impact, you need to do three things:
Determine the most critical metrics for your business;
Determine the status quo - where your business stands in terms of these metrics and what should be improved;
Determine the design impact: how much the design project will improve where you stand.
Even if you are deeply immersed in the company's business processes, uncovering the first two points all by yourself will be challenging. You will likely need to scratch this data from different departments like sales and marketing folks, product managers, business analysts, or an accountant team. When you have this data, you'll be able to connect the dots with the design project and calculate its potential effect on the primary business metrics. 
To help you, we shall illustrate this process with two real-life examples. 
Hypothesis №1: Decreasing costs with UX design
Let's imagine a designer Mike who works in a product company. He detected that users often experience difficulties during the onboarding process. The product design is complicated to become "up and running" and users seek help from support.
For a support manager, it usually takes approximately 2 hours to onboard a user. The labor rate per hour of a support manager is $30. The average number of such manual "support walkthroughs" is around 50 cases a month. 
The design and development bottleneck with the user onboarding hadn't been considered as an issue before Mike calculated its financial impact. 
Calculating the ROI of UX as a result of a better onboarding process:
| | | |
| --- | --- | --- |
| | ​Status Quo​ | ​Impact Estimation​ |
| ​Support requests​ | ​50/month​ | ​100hrs (50 x 2hr)​ |
| ​Hours to onboard a user​ | 2 | ​100hrs (50 x 2hr)​ |
| ​Labor rate of a support manager​ | ​$30​ | ​$3000 per month (100hrs x $30)​ |
| ​Yearly cost impact​ | ​ $36,000 | ​ $36,000 |
If Mike's hypothesis is correct, reducing this seemingly minor bottleneck in user onboarding experience can result in saving $36,000 per year. For small businesses or startups, this money can be defining. 
Now, let's look at the second theory.
Hypothesis №2: Increasing revenue with UX design
Problem: Low conversion rate.
Let's imagine that our second hero Sarah works as a designer in a fintech startup. She was trying to make the new design system happen for a while now but couldn't justify the spendings it required. Having some previous experience working with digital banking companies, Sarah understands the importance of a brand's visual trustworthiness in the fintech industry. To communicate that, she had to create a hypothesis showcasing the numbers.
Calculating the ROI of UX as a result of conversion rate growth:
| | | |
| --- | --- | --- |
| | ​Status Quo​ | ​Design Impact Estimation​ |
| ​Customer base​ | ​700,000​ | ​700,000​ |
| ​Freemium to premium conversions​ | ​2,5%​ | ​3% (0,5% increase)​ |
| ​Paying customers​ | ​17,500 (2,5% x 700,000)​ | ​21,000 (3% x 700,000)​ |
| ​Yearly revenue per premium customer​ | ​$100​ | ​$100​ |
| ​Total yearly revenue​ | ​$1,750,000 (17,500 x $100)​ | ​$2,100,000 (21,000 x $100)​ |
| ​Yearly revenue impact​ | ​$350,000 ($2,1M - 1,75M)​ | ​$350,000 ($2,1M - 1,75M)​ |
If the new design system grows the conversion rate by 0,5 percentage points (which practice proves to be more than realistic expectations), it will gain the fintech startup the impressive $350k in just one year. Not bad!
We described these two examples as separate occasions for different businesses so you would be more likely to recognize your situation. But the reality is, creating a new design system will always affect both the costs decrease and revenue increase within one company. 
You may discover that investing in human-centered design would reduce the work time of both developers and designers. The new design system with coherent design principles would fix the errors users encounter, reducing the time programmers spend fixing them. Also, it can help to move through product cycles faster. As for designers, instead of reinventing the wheel and creating new design elements for every new product, they could use custom-prepared visual assets. It will speed up the design process, substantially saving on the labor rate. 
At the same time, you can expect that better navigation with reduced friction, cleaner aesthetics, and style consistency will convert more visitors into customers or increase the average paycheck, resulting in more profits.
"Aren't those numbers just assumptions?"

Yes, they are. Like any financial priorities you set, these numbers are educated theories based on the key business metrics and historical data. Other managers or decision-makers can challenge them, just like every decision involving money investments, and rightfully so. You should get into the evaluation process with as many experienced team members as possible. In the process, you may realize that redesigning your product will positively affect nearly every team's workflow and results.
ROI of UX: B2B redesign case studies
You see already that, while it's not an impossible task, defining and calculating the ROI of UX design can still be challenging. It is far from being a guessing game, as it is based on real numbers. In Artkai, our specialists conduct an in-depth UX/UI audit of the product to make the ROIs of the redesign as clear as day. But companies usually don't have the resources to do the same. 
To make your estimates more convincing, let's look at some real-life B2B redesign cases. One of them is Artkai's client's case, while the other two are examples from prominent design/consulting agencies such as Boston Consulting Group, McKinsey, Forrester, and others.
ProCredit Bank Georgia Online Banking Redesign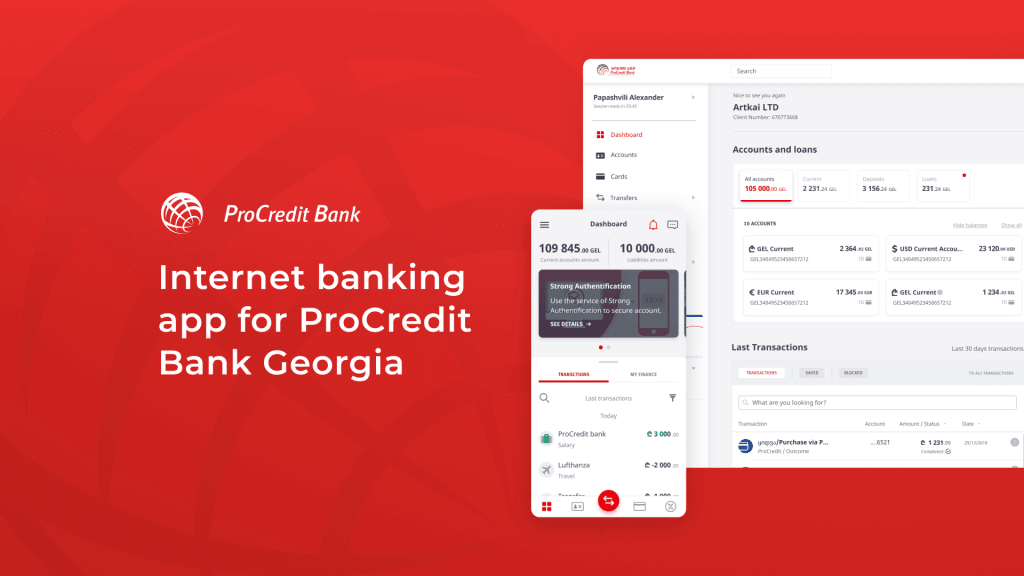 Procredit Group is an international group of full-service commercial banks. The Georgian ProCredit branch contacted Artkai to help them create a new design system for all their digital banking: internet banking, mobile application, and ATM interface. 
The bank experienced repeated problems with poor user experience online and needed complete product digitalization and a new product design system across their online services. Redesigning its UX/UI components and creating a new pattern library with reusable components was crucial for both users, designers, and developers.
Results achieved with UX redesign:
99% of available banking services are digitized and can now be performed fully online;
x1,5 faster to make a transfer via web or mobile banking;
x2 faster login compared to the previous version;
+60% faster to block a card via mobile application;
Significant increase of positive feedback about the bank services.
​Read the whole redesign case story→
HubSpot Website Redesign
In a 2017 major iteration of HubSpot, the company decided to re-think the user experience on its website, starting from the ground level with user feedback. They tested entirely new conversion methods, copy messaging, and even visual treatments. As part of the process, they pushed countless experiments live and iterated with each piece of feedback, putting the user in control.
Results achieved with UX redesign
The conversion rate doubled overall and tripled in some specific areas. There also was a 35% increase in demo requests by total volume. Plus, their new demo landing page design is converting 57% better than the previous design.
Given that HubSpot receives an endwise of 10 million visitors per month, imagine the impact on revenue! 
Continental Office B2B Website Redesign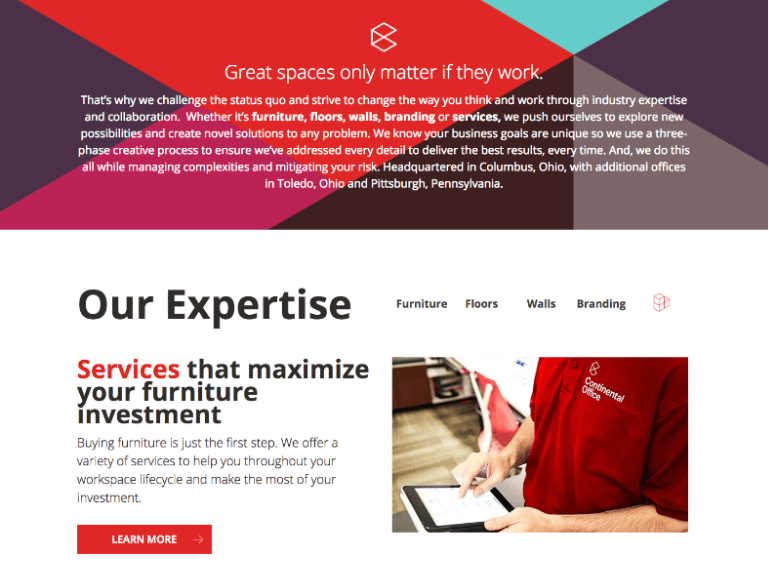 Continental Office is a customized workplace solution provider that needed to update its 6-years old website a few months after its brand refresh. The team wanted to ensure they integrated buyer personas to provide an engaging user experience with relevant content marketing.
The old website was fine at the time, but it wasn't communicating its story in the language of the customer journey.
Results achieved with UX redesign
As a result of the website UX redesign, the website traffic increased by 103% year-over-year, and net-new contacts increased by 645%.
"Even though we had such great results last year, it's already up — the number of new contacts is up over 80% from last year already. And I can't lie; I keep waiting for these numbers to kind of plateau, but fortunately for us, the results just keep trending in a positive way."
— Rachel Iannarino, Vice President, Marketing.
Conclusion
User-centered design isn't only about creating an excellent customer experience — it's also a clever business move. But to uncover the real business value of design, you have to arm yourself with data and analyze it. If you want to step up your game, soar your customer experience, and increase profitability, you need to put user-centered design at the heart of your business. Need our helping hand? Reach out to us, and let's talk business!
Clients and Results






See Our Portfolio
Schedule your free consultation
Don't miss this opportunity to explore the best path for your product. We are ready to delve into the specifics of your project, providing you with expert insights and optimal solutions.
Book your free session
Read More
Explore articles from Artkai - we have lots of stories to tell
Join us to do the best work of your life
Together we advance the human experience through design.