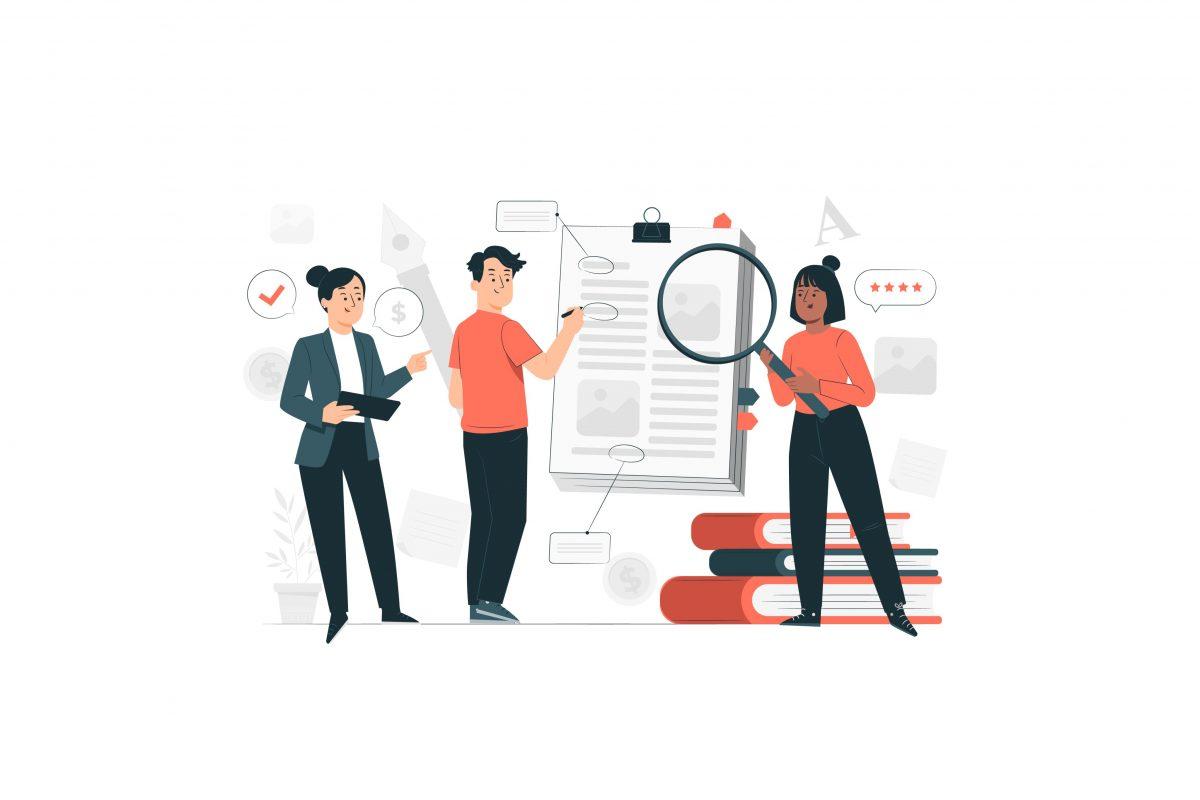 How To Write A Product Requirements Document (PRD) Effectively
Would you try something with a 5% chance of success? Many do. According to a Harvard Business School analysis, 30,000 new products appear yearly. However, 95% of them fail. Nonetheless, product companies can only exist if their products are successful. What can business owners do to increase their chances? 
Avoiding mistakes is an obvious answer. For instance, recurring product development issues frequently result in products failing. Based on the 2022 LinkedIn study, they include product irrelevance, disorganized product development, faulty assumptions, poor coordination between stakeholders, too narrow product development roadmap, and inadequate product launch schedule. 
When a company standardizes its product development process, it improves the chances of its products becoming successful. To build this procedure, a corporation needs to use accurate data. A product requirements document (PRD) is a valuable information synthesis piece that allows you to standardize and streamline your company's product development methodology.
This article will provide a PRD meaning, explain why it is essential for product development, and list its benefits. We will define the main components and a product requirements document template. You will learn how to write a requirements document effectively and avoid common mistakes. Finally, we will share Artkai's experience in PRD writing for high-quality product development, such as DNA Payments Group and Artemis. 
What Is a Product Requirements Document (PRD)?
A product requirements document (PRD) is a document that describes the product you intend to build. It outlines the function, value, and goal of the product or feature you are creating. The objectives of the product, the intended audience, and the expected usage should all be clearly stated in a lean, mean product requirements document.
One of the initial phases in the product development process is often the product manager writing a PRD. A clear plan for the product team and alignment across all stakeholders are essential components of any agile product team. The PRD will be the most frequently consulted resource as you construct your product. Developers, testers, and project managers should all be aware of the contents of the PRD.
Why You Need a PRD
A PRD's primary goal is to unite all stakeholders and foster understanding. It takes the cooperation of several teams, including engineering, design, sales, support, and marketing, to successfully deliver a product or a feature. 
A PRD establishes the release's direction, keeps all contributors on track, and guarantees you provide what your clients need when needed. In addition, it is a foundation upon which other teams will develop their strategies and produce pertinent artifacts, such as functional specifications, design documents, wireframes, mockups, etc.
Pros And Cons Of a Product Requirements Document
A well-written product requirements document boosts output and promotes cross-functional cooperation, allowing for close strategic planning collaboration and saving time on version control for requirements, roadmaps, and other paperwork. Still, there are also some challenges that you may encounter while writing a PRD.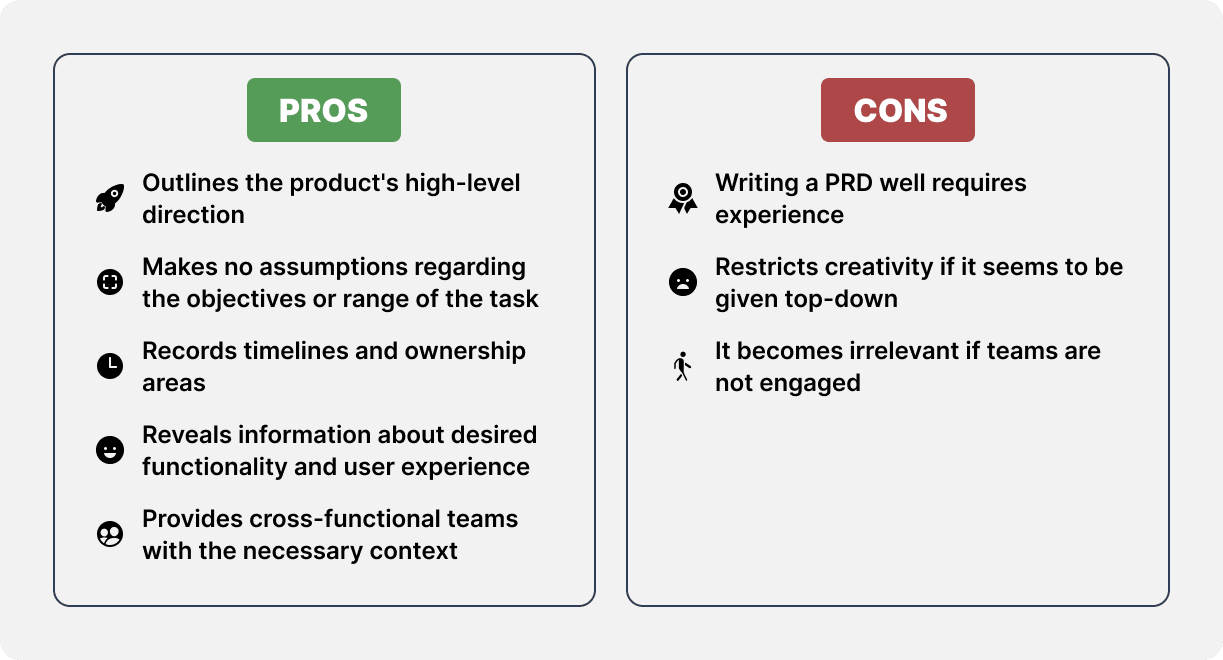 Let's look at the benefits of PRDs in more detail. 
Benefits Of Product Requirements Documents
A PRD's main advantage is that it is a single source of truth. It lists the features that a new product or release will offer. This knowledge will be necessary for the core product development team, support, sales, and marketing to work together efficiently and produce a Complete Product Experience (CPE) that delights customers and impacts the business.
Even though product managers are generally in charge of owning the document itself, creating, getting feedback, and improving a PRD as you discover new information is a shared process that promotes cross-functional knowledge and involvement.
What Makes An Effective Product Requirements Document 
Product requirement documents don't have to be lengthy. All team members should be able to go through the text, highlighting significant phrases to help them understand the main points. Keeping things as brief and aesthetically pleasing as possible is crucial when writing a product requirements document. Including some images to illustrate the key points is a good idea. ‍
Even if you succeed in producing a top-notch product requirements document, it doesn't mean your product development won't fail. Instead, it will give it the greatest start possible.
The Main Components Of a Product Requirements Document (PRD)
Depending on your company and team, the components of a decent PRD may vary. Yet the majority of product requirements documents should have the following parts.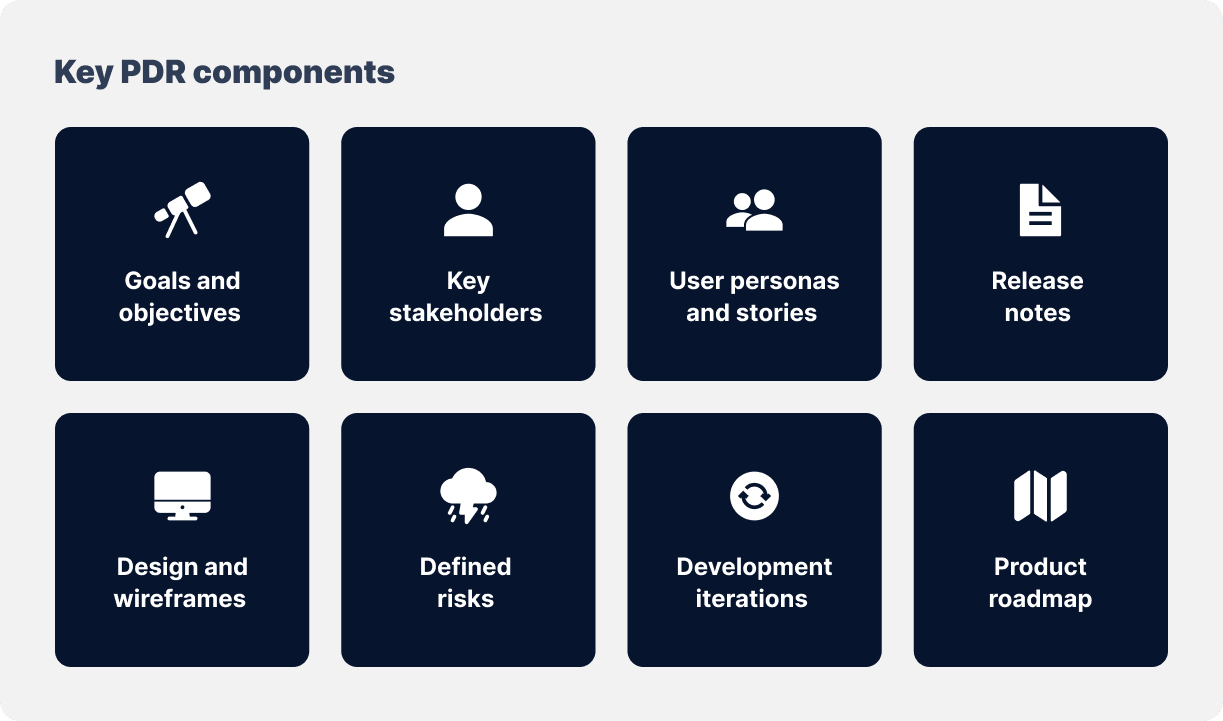 Goals & Objectives
This section should reveal why you want to create the product in the first place. It explains how the product fits your organization's overall goal and vision and describes its lifecycle context. Focus on outlining the issues that this product is intended to solve. It will guarantee that your development team's product serves its objective and is entertaining for the user.
Key Stakeholders
Identifying the important players in the product roadmap process is a straightforward but frequently ignored PRD component. A product manager, internal or external designers, product developers, a document owner, and any direct reports or leadership positions involved should be included. Your project depends on everyone knowing who to contact and for what. Clear ownership is essential.
User Personas & Stories
User personas are vital to your product's creation and success. Each persona you develop should provide feedback on the experience of using the product and should have a specific goal or challenge to achieve that goal. They aid in supplying use cases for the product. You need to answer questions like Who are they? What is their age? What do they do for a living? What particular need does your product specifically meet?
Release Notes
Release notes enable other teams to stay engaged and the product team to keep the product plan on track. It will assist people in organizing their workflow so they can provide product support as required. Release notes for a product should list milestones, features, fixes, and forthcoming upgrades.
Design & Wireframes
Visual designs and wireframes are essential for a PRD to be effective. They assist engineers in comprehending the design concept and responding to user personas' pain points. Wireframes allow you to detect issues and discover solutions that would not have been obvious without a visual aid. 
Your wireframes should serve as a basic layout or design for how your main features will fit on each page and what those pages should contain. They give your engineers and other stakeholders a clear understanding of how the product will be used and how a user will flow through it.
Risks
We can't predict a product's success or failure, much alone every obstacle we might face during product development. What we can do is make an effort to recognize as many hazards as possible that may arise. A risk could be anything, such as an uncertain timeframe, new code or talent, a specific integration, or the requirement for external resources. 
By recognizing risks early in the product document, the team can better address any pressing issues and create a plan B for any eventuality.
Product Development Iterations & Future Roadmap
A product constantly evolves, picking up new features through usage and development to meet changing client demands or technological advancements. Your product should be in its initial iteration, nothing more than a first draft. 
Consider which functionality to develop for the MVP and which may wait until the second or third iteration. Consider what you can postpone until the second or third iteration and deploy after the user feedback. To help the design and engineering teams understand what to do right away to make these versions viable, try to sketch out the product's future roadmap.
Example Of a Product Requirements Document
Writing a product requirements document can be challenging to know where to start. To start your process, let's start with a PRD template for a product requirements document. You can customize the PRD example below to suit your needs.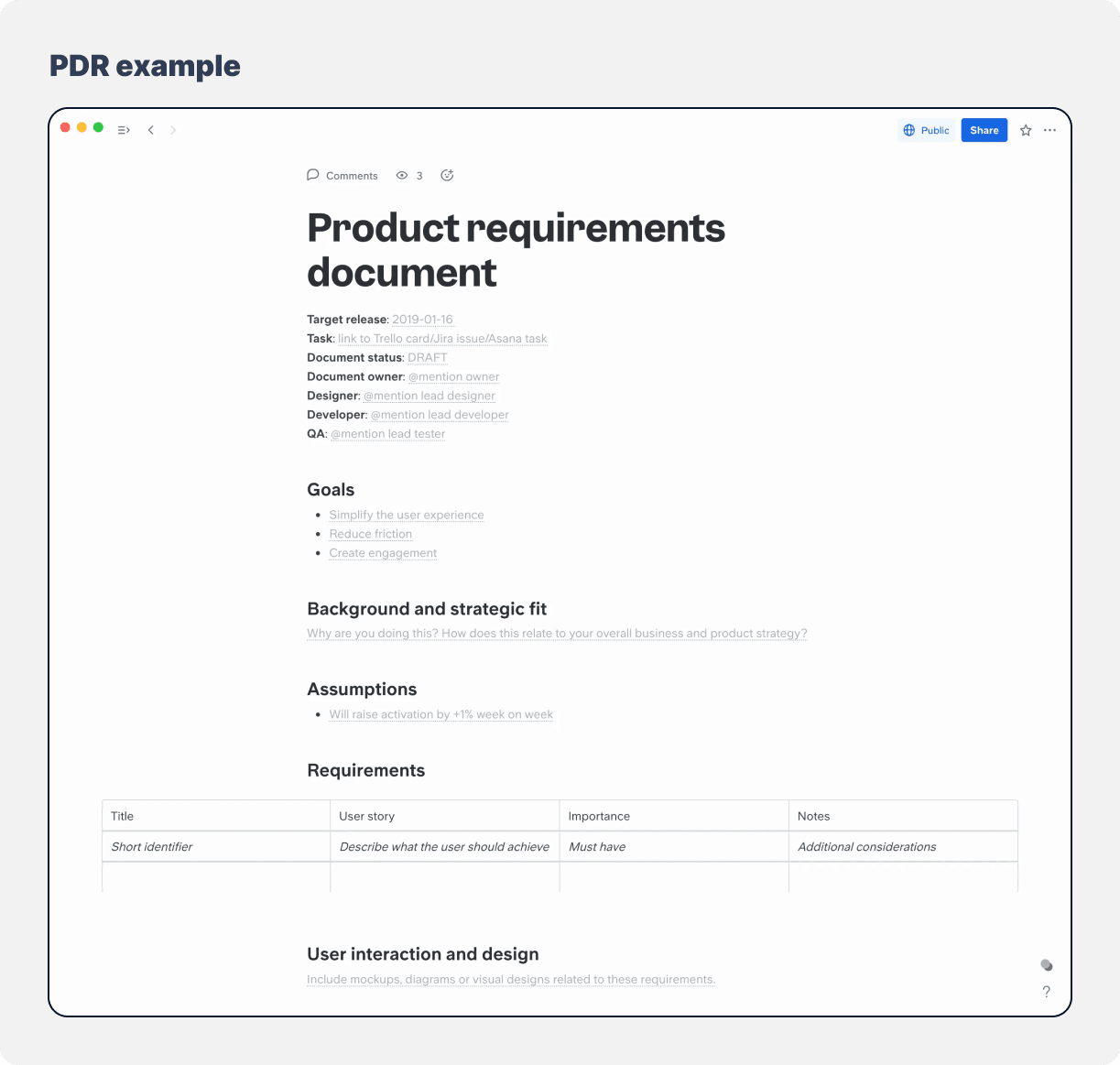 How To Write a Product Requirements Document (PRD)?
There is no doubt that creating a product requirements document is an essential part of project planning. But what is a PRD, and how do you start writing a PRD? An example product requirements document will be used to convey product needs to the product team. Thus it must be an exhaustive and transparent process. Each capability needed for the release must be described in depth.
Although every project is unique, a sample product requirement document can help outline the parts of a PRD that apply to all products. The following is an excellent place to start when creating a practical product requirement document.
Outline Project Information
This product overview introduces the topics covered in the product requirement document. Here, you should identify all project participants, including stakeholders, the anticipated release date, and some general details about the product, such as its function, the need it addresses, etc.
Specify Objectives
Now go into further detail and outline the project's objectives. You should explain why you are creating this product and what you aim to achieve after you do. The SMART approach can be used to define your objectives and goals. SMART stands for specified, measurable, achievable, relevant, and time-bound, and it aids in ensuring that your goals and objectives are practical.
Highlight Assumptions & Constraints
Create a list of the deliverables your product's users anticipate seeing. Then list any constraints and internal and external influences that might impact your project, either favorably or unfavorably. Finding any task dependencies at this time is a good idea.
Provide Context & Strategic Fit
Define any challenges or issues the project will address during its life cycle in the background. It is comparable to developing a risk management strategy by determining potential risks and your response. The product you are generating must fit the organization's broader business strategy to be considered strategically fit.
Include the Scope: Requirements & User Stories
The project's scope defines each feature that will be created for the product. It is built on user stories, which provide an overview of features from the user's viewpoint. You should also determine your stakeholders' expectations for the product and get their comments.
Determine Product Features
Outline the features of the new item or release and explain each feature's purpose, benefits, and use cases. If a component is complex or out of scope, adding more details is advised to ensure everyone understands it completely.
Showcase Release Criteria
Take note of the conditions that must be satisfied for clients to receive the merchandise. Clarifying the parameters of user testing, ensuring the product is user-friendly, and defining the minimal capabilities required for the product to be publicly launched are all included in this. Also, you should establish a performance baseline.
Indicate Success Metrics
It's a good idea to specify the success measures for your product. It entails determining the product development KPIs that are most crucial for producing a successful product and how you intend to monitor them. It can involve watching how consumers engage with the features and how frequently or for how long they use the product or other features.
List Exclusions
Understanding what is outside the project's scope is just as crucial as knowing what is within it. Outlining these steps may prevent the team from taking unnecessary deviations that waste time and increase project expenses.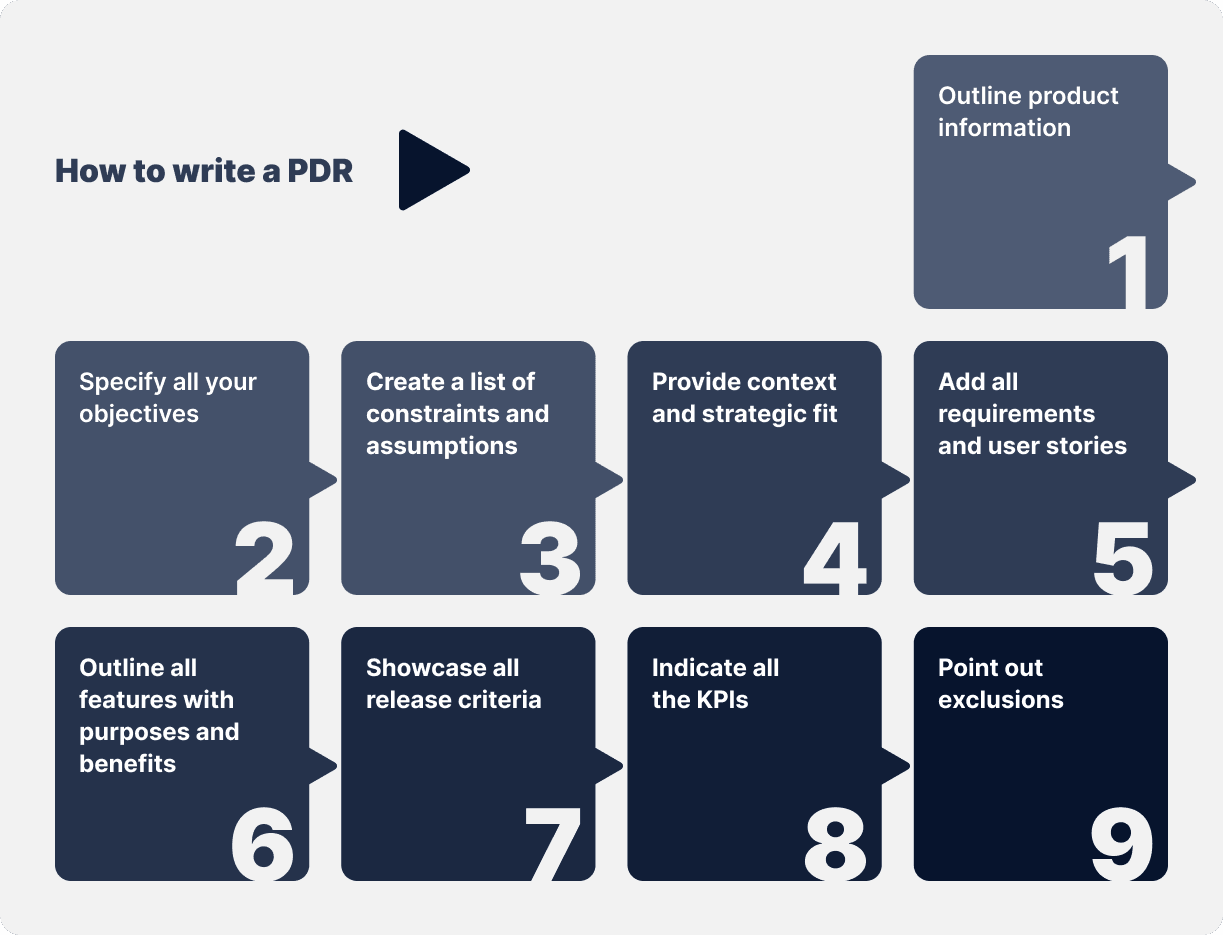 Creating a Product Requirements Document: Common Mistakes 
Now as you know the directions on how to write a PRD, let's look at some pitfalls to avoid to make your requirements document straightforward and efficient. 
Testing Usability After Implementation
You will learn their problems and how to fix them in your first usability test. Effective usability testing should be conducted before implementation, not after. You need to make several adjustments and keep other stakeholders informed. Concentrate on user actions rather than words and watch how customers interact with the product. If you don't have usability engineers, hire them and include their recommendations in your requirements document.
Not Keeping Your PRD Customer-Centric
Customers are typically less tech-savvy than product designers. For instance, product specifications that make sense to your designers may confuse users. A negative first impression of your goods can turn a buyer off. It justifies the importance of incorporating user feedback into the development process.
Starting With Solutions
Your product requirement document should outline your customer's problem rather than how the solution will resolve it. A solution-based strategy could make your engineers make false assumptions, and your development team become perplexed and frustrated.
Leaving No Space for Further Adjustments
Engineers and designers should have a lot of freedom in your product requirements document. Team members will close any gaps in PRD. Prepare for issues that may arise throughout development, set aside time to address them quickly, and update the PRD as necessary.
Excessive Detailing
If the PRD is too detailed, team members may be unable to read and understand it. For each subsystem, complex products could require lower-level papers to explain the meaning of a particular PRD. Make your requirements document concise and easy to understand to keep it practical.
Redundant Features
While trying to satisfy every customer need may be alluring, high-tech products may suffer from excessive features. The product becomes bloated with extra features, which causes user confusion and raises maintenance expenses. While adding features to your product requirement document, be disciplined and ensure they are necessary.
Engineering-Driven PRD
If your engineering team is obsessed with a new technology, you risk overloading the product manager. According to project management guidelines, you must pay attention to engineers while focusing on value and providing instances of requirements that customers would buy and your business can fulfill.
Marketing-Driven PRD
A difficulty with marketing-driven requirement documents involves special features or purchases demanding additional fees. Customers may become frustrated and confused as a result of specials. Additionally, they call for the development, testing, upkeep, and support of several product versions. Also, customers can find that the additional features don't fit their needs. Consider each element proposed, and know when to leave.
Lack of Requirement Traceability
You must track issues, test cases, defects, and problem solutions for each requirement in your PRD and provide requirement traceability. Your PRD's meaning can be clarified, and requirements traceability is made significantly easier using integrated requirements management technologies.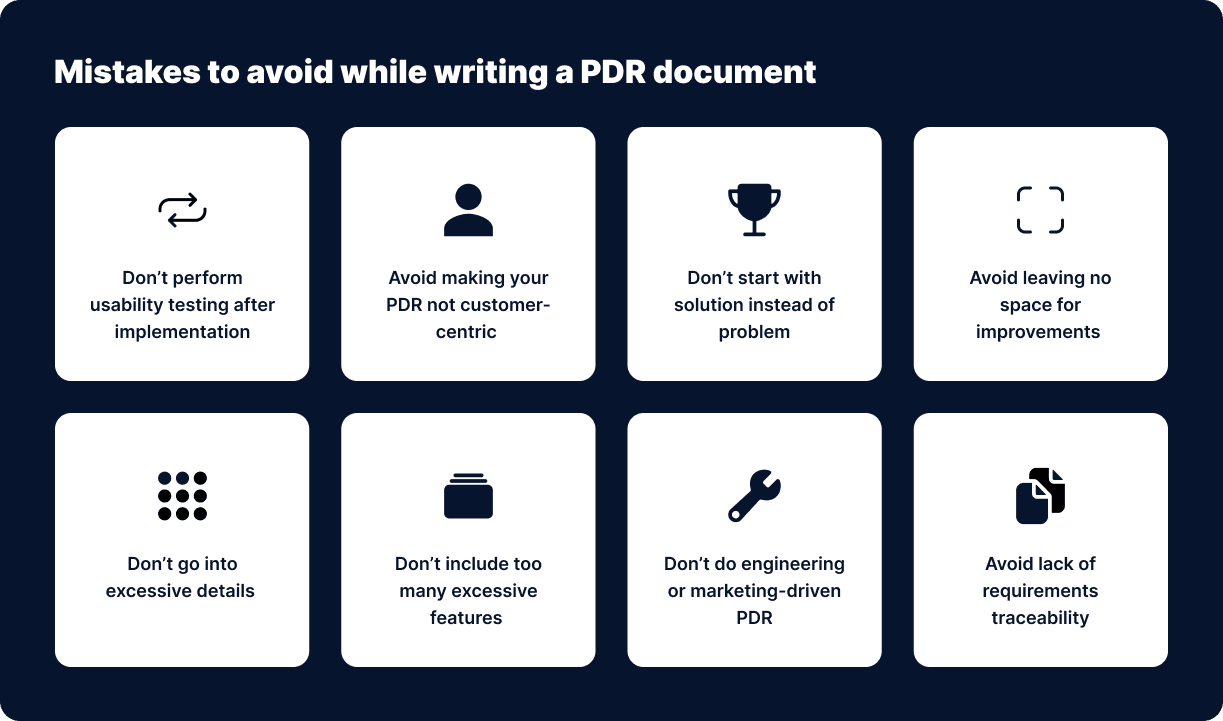 Artkai Expertise
Artkai is a full-cycle product development company that substantially impacts your market. With us, you can test the viability of your proposal through a thorough discovery phase and consulting. We follow a procedure to make the project's discovery phase predictable and transparent. Writing an effective project requirements document is one of our best practices.
We interview stakeholders and analyze the results to establish the actual product needs with the client and negotiate the product's goals and restrictions. From there, we develop a clear set of KPIs for the efficiency measurement of the product. The Artkai team resolves the organizational issues and coordinates the work schedule, writing them down in the PRD.
Let's look at some of Artkai's case studies where a feature requirement document helped to facilitate the development process and deliver high-quality products. 
DNA Payments: An Intelligent Payment Ecosystem
DNA Payments Group, one of the biggest omnichannel payments companies in the UK and the EU, contacted the Artkai team with a request to redesign their current interface. The goal was to completely revamp the website to make it helpful for existing users and appealing to new ones, enabling businesses to grow and generate more revenue.
The Artkai team has outlined the project's requirements in the PRD, identifying the objectives, key stakeholders, user personas, and risks. The document contained product wireframes, future roadmap, and product iterations. Writing an effective PRD helped to standardize the product development process, keeping all the stakeholders on the same page. 
Our team's ability to grasp the big picture allowed for a significant reworking of the portal's core components. Our team's contribution allowed DNA Payments to offer the ideal selection of rapid, secure, safe, and user-friendly payment options for company needs at every location, both online and offline.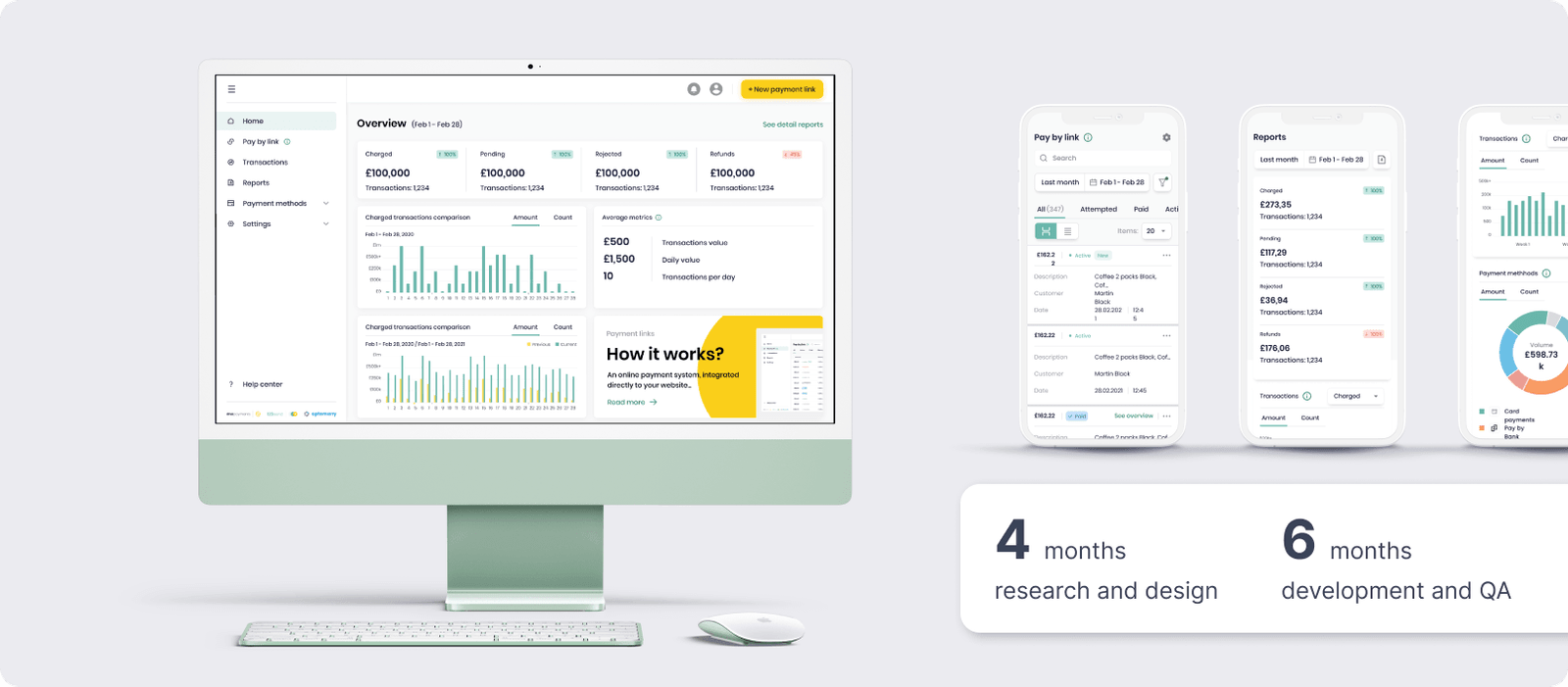 Artkai's platform redesign directly impacted the following outcomes:
+18% of new users in the first month after the platform's redesign;
x2,3 reduced churn rate.
Artemis: NFT Marketplace
An NFT marketplace Artemis allows producers and owners of digital art to list their assets for sale or accept bids for digital commodities. The client has challenged the Artkai team to create a dependable market for non-fungible tokens and other digital assets that adhere to industry norms. Also, we had to come up with a strategy for attracting new users, differentiating the platform from rival NFT marketplaces, and engaging existing customers.
The project's requirements have been specified in the PRD to organize the product development process. We began the research phase by examining the characteristics of the market, identifying the major players, and studying consumer behavior. One of our objectives was to develop a method for more effectively engaging the audience to gain a competitive edge over other NFT marketplaces.
We have developed an NFT platform architecture with the following features: artist's catalog, large art selection, auction, digital assets verification, lottery, and direct wallet collection. Thanks to the new algorithm's architecture, random users might try their luck for free and obtain a limited marketplace card. It became an excellent strategy for growing the neighborhood.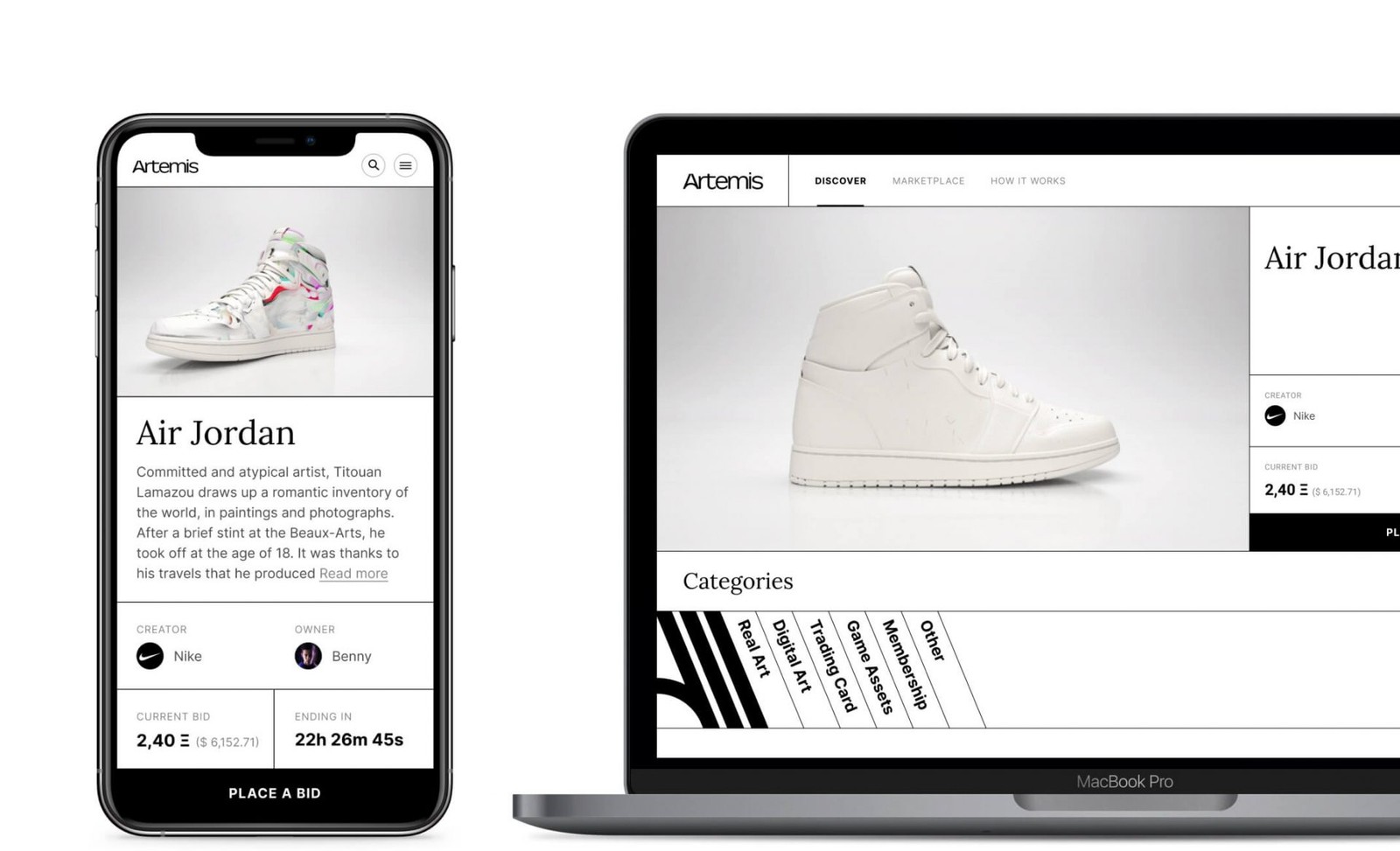 As a result, our customer drew the interest of essential investors after receiving the initial favorable comments and seeing a rise in user numbers. Then, they could plan the following phase of fundraising and project scaling.
Kickstart Your Product Development with Artkai
A product requirements document is a valuable tool to standardize and streamline your product development process by employing precise information on the product's objectives, key stakeholders, user personas, and risks. An effective PRD will give your product development the best start possible and significantly increase its chances for success. 
Artkai uses the best practices of PRD writing as part of the product discovery phase to optimize the product development process, keeping all the product's stakeholders on the same page. We will help you assess your product's viability and create a precise set of KPIs for the product's efficiency measurement. 
Contact us to streamline your product development. 
Clients and Results






See Our Portfolio
Schedule your free consultation
Don't miss this opportunity to explore the best path for your product. We are ready to delve into the specifics of your project, providing you with expert insights and optimal solutions.
Book your free session
Read More
Explore articles from Artkai - we have lots of stories to tell
Join us to do the best work of your life
Together we advance the human experience through design.