Real Estate marketplace that shifts power to property owners
In just 6 months we created and launched a user-centered and intuitive real estate platform that solved problems of both agents and sellers. This case study explores the whole journey of this digital product starting with research and design and ending with the implementation of unique features.
Front-end & Back-end Development

OVERVIEW
About
the business
The sale of residential property in Singapore is dominated by real estate agents. Top agents spend large amounts of money on marketing, and property owners find it difficult to critically evaluate agents. Property owners want an agent who will get the highest sales price for a reasonable commission.

Prop.ly has revolutionized the Singapore real estate market with a mobile application that helps homeowners choose from many real estate agents. The app connects the property owners and agents in a single marketplace, ultimately helping them get the best deal for their property. It provides owners with options, information, transparency, and control over the commission.


Our main goal was to collect at one place all the tools for an effective launch, analysis, and optimization of advertising campaigns.
Hypothesis 1
Property owners will use the platform to compare commission rates, terms, conditions, and property type specialization to find the perfect agent.
Hypothesis 2
Real estate agents will use the platform to advertise their services to property owners and to ensure a steady stream of clients.
PROJECT JOURNEY
Timeline 
& methods
The total project duration was six months, and Artkai created and launched a user-friendly application that solved real estate seller and agent problems. Here is how we met the challenge:
Understanding the industry
To create a user-centric, visually appealing product that would address the target audience's problems and outperform the potential competition, we conducted: desk research, interviews with stakeholders, user journey analysis, and competitor analysis.
Product backlog
We created a backlog of features and requirements for MVP product release and a list of marketing activities to attract the first 10,000 users quickly.
Brand identity
A deep understanding of the competitive landscape and target customer preferences helped us design a distinct brand identity.
UX/UI design
We tested our concept by interviewing target users and uncovered hidden usability problems. This approach allowed us to unearth problems early on and Artkai saved the client dozens of hours on development. After that, we finalized the UI and handed it over to our developers.
Front, Back-end & QA testing
We developed a cross-platform mobile app using the same code for both platforms. It allows more flexibility to add new features, ease in use, and higher potential business scalability. One of our Quality Assurance specialists tested and approved the result.
• 2 UI/UX designers
• 3 Front-end engineers
• 2 Back-end engineers

• 2 QA engineers
• Project manager
• Business analyst
3
months for
research and design
3
months for
development and QA
OVERVIEW
Tech Stack
Get a quote
or free consultation

React.js
React Native

TypeScript

Redux

Next.js

Node.js
PROJECT JOURNEY
Target audience
We defined two main roles and created Persona's for each of them. That helped us to keep focus on their needs and desires:

Hanyu, seller
A potential customer who plans to sell his apartment for the first time so that he can buy a bigger unit for his growing family
Pains
A confusing mixture of offers from real estate agents on the market

Hard to find an agent with a required commission rate

Agent business and private contacts are mixed

Inconvenient to request friends for agent recommendations

Limited to a small circle of candidates to choose from
Desires
Sell a property in 2 months

Find a responsive agent

Find a commission lower than 2%

Always be in touch with the agent
Xiaoyu, agent
Had difficulty getting listings after the pandemic hit, and the good old door-knocking method was no longer available
Pains
Tried to get clients via digital marketing but received poor results

The cost of advertising is too high

Doesn't have a network to get a steady stream of clients

Desires
Have a platform where he can publish his service offers for free

Have access to a good pool of potential clients

Have a smooth, direct process to get clients that saves time, effort, and money

FROM INDUSTRY INSIGHTS TO MVP
Customer Journey Map
Create you CJM with our expert UX/UI design team.
The industry insights we gathered helped us build
a Customer Journey Map for the property seller and real estate agent. We used this to determine which features to include in the MVP release of the app.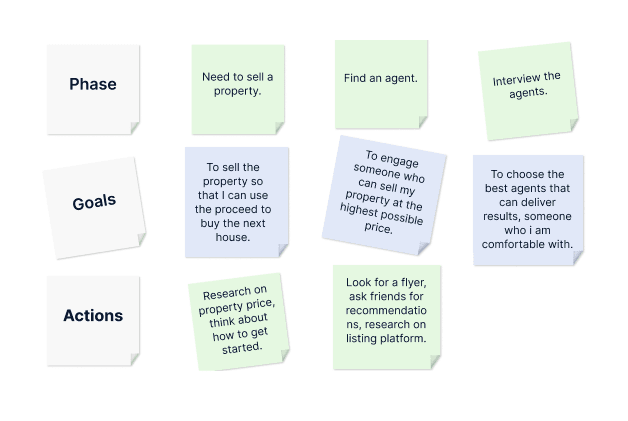 We created a memorable brand identity that leveraged contrasting elements. We evoke warm and welcoming feelings using the color scheme while creating a bright and fresh image using bold contrasting typography.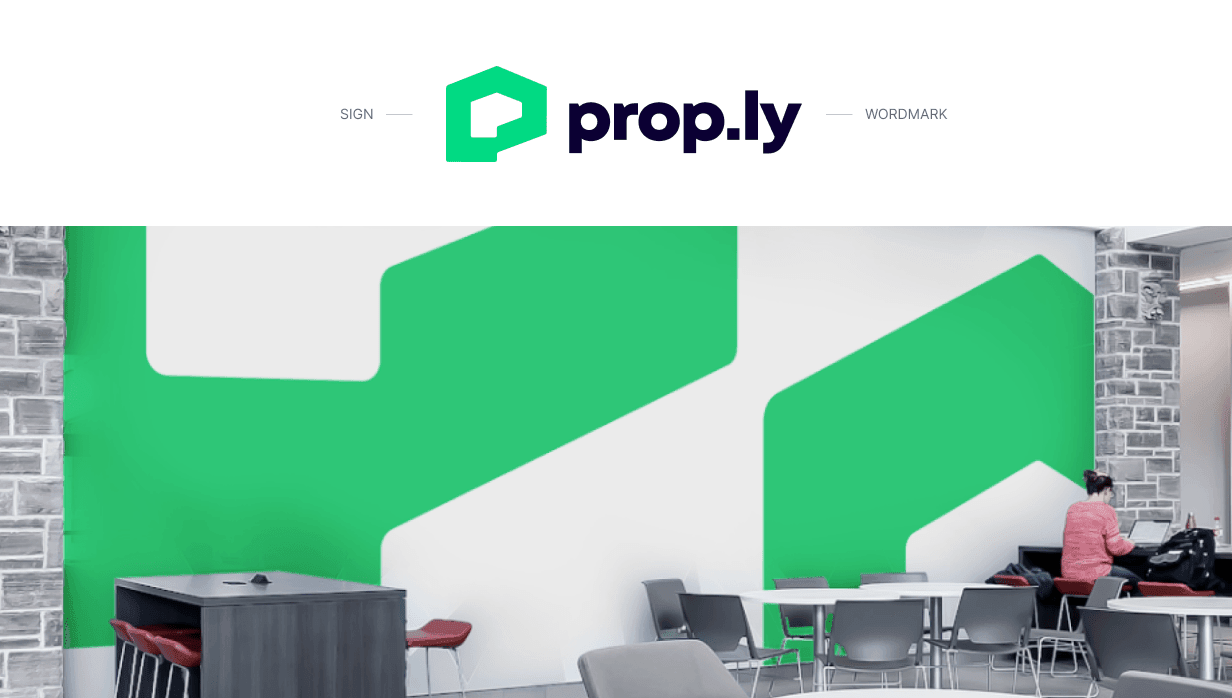 APPLICATION UX
Mobile app features
Different roles in one app: we have two types of users - property owners and real estate agents. For both roles, we created different functions that reflect their needs.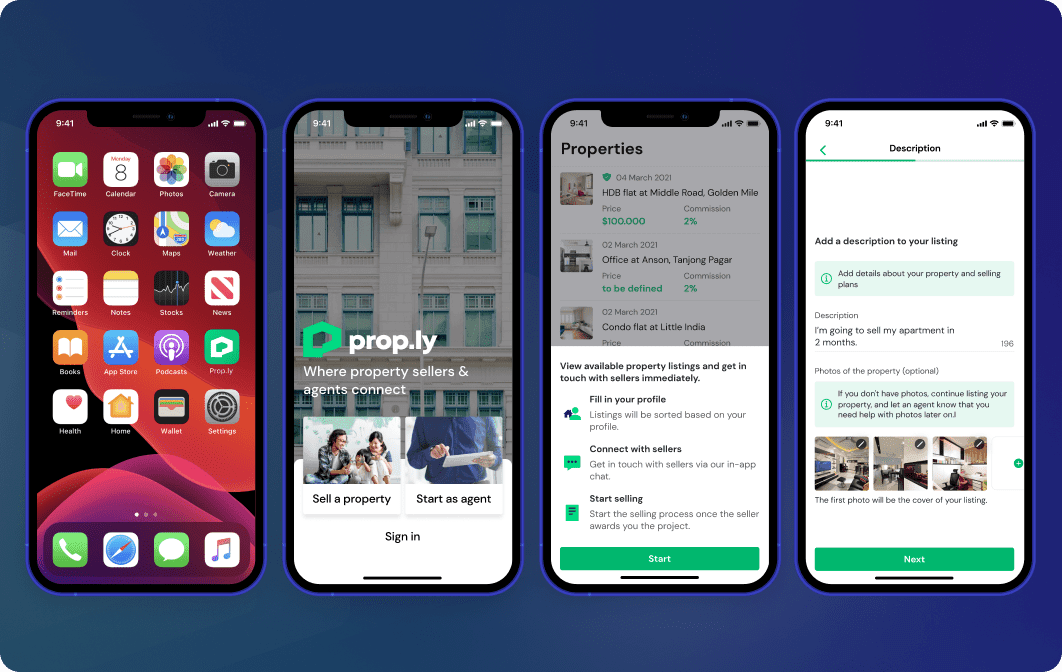 Simplification
We enabled property sellers to quickly find agents who specialize in specific types of real estate and locations in Singapore.
Time savings
Now property owners can get offers from agents within minutes after posting a property in the mobile app with the help of the Sendbird chat solution & native push notifications.
Reputation
Agents can promote their profiles on the platform and receive reviews from sellers to stand out among other agents.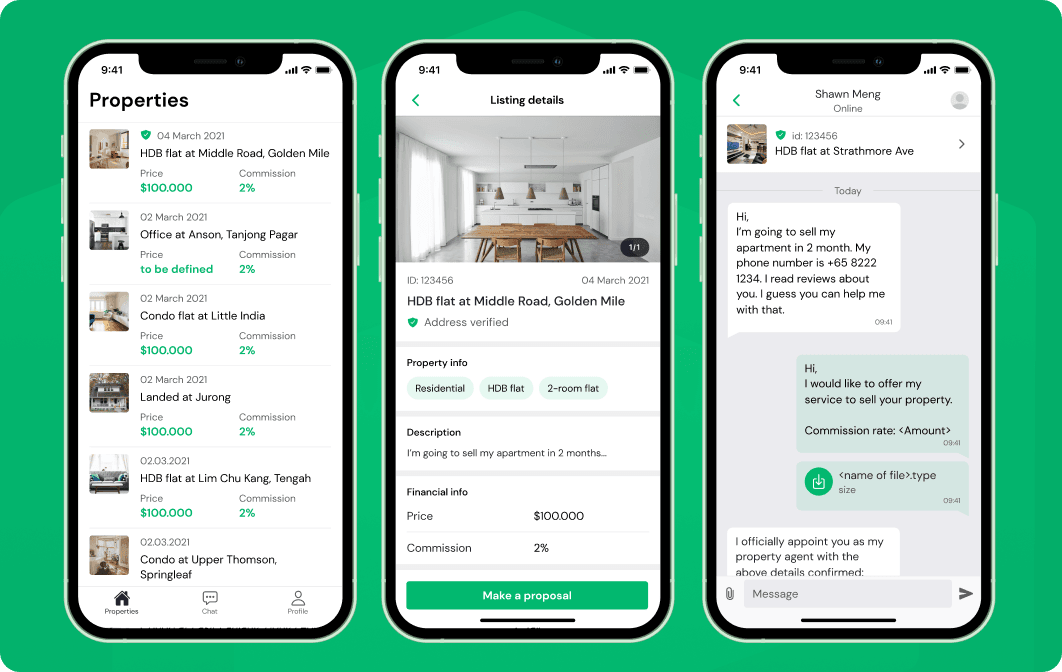 APP FUNCTIONS
Referral system
Upgrade your user experience with our expert UX/UI design team.
This feature is a core part of Prop.ly's marketing strategy to get the first 10,000 users after the application launch. Each user role has a unique referral system to motivate current users to invite new users to join the app.

The agents will receive additional tokens for sending offers to the homeowners, while property sellers will get special vouchers.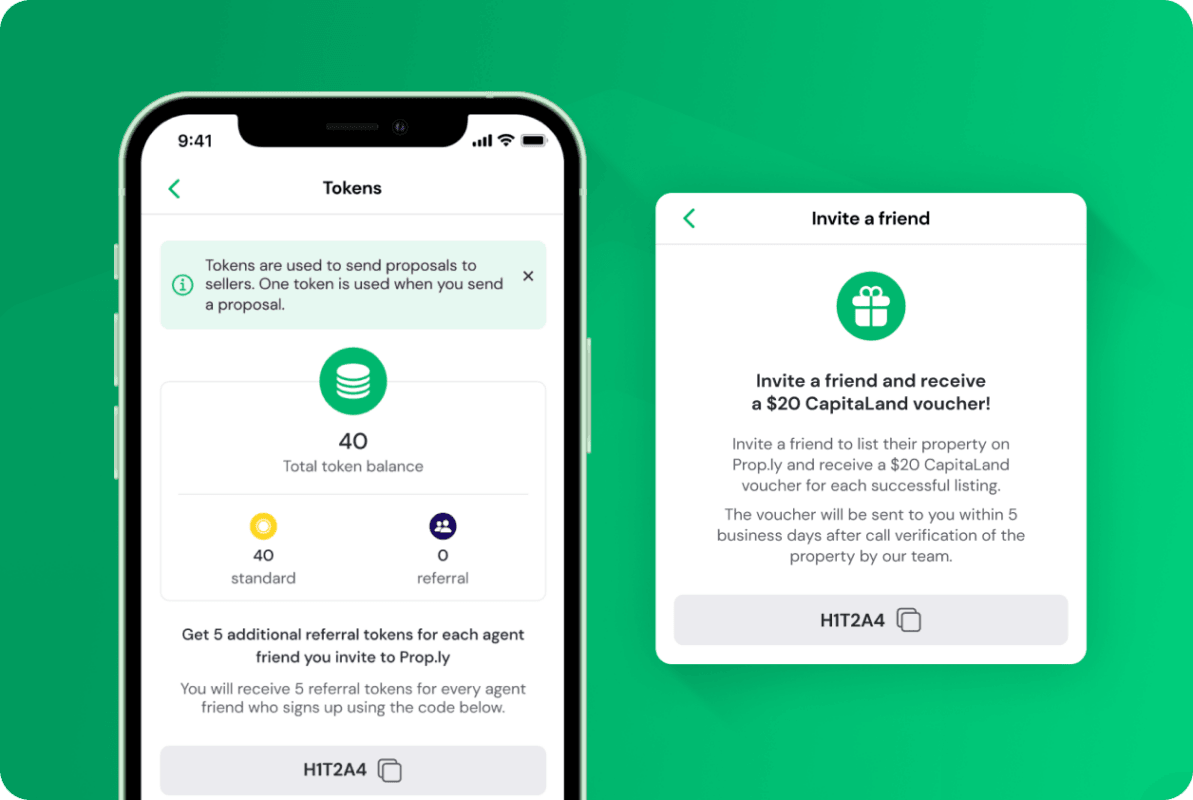 STRUCTURE
App moderation
Upgrade your user experience with our expert UX/UI design team.
Admin panel
Moderators can see a list of posted properties and registered users, approve or block them if they violate the rules, and check the activity of the referral system.
CRM system
We integrated the app with the CRM system Customer.io, enabling the marketing team to track the main events happening in the app and send personalized emails to the users.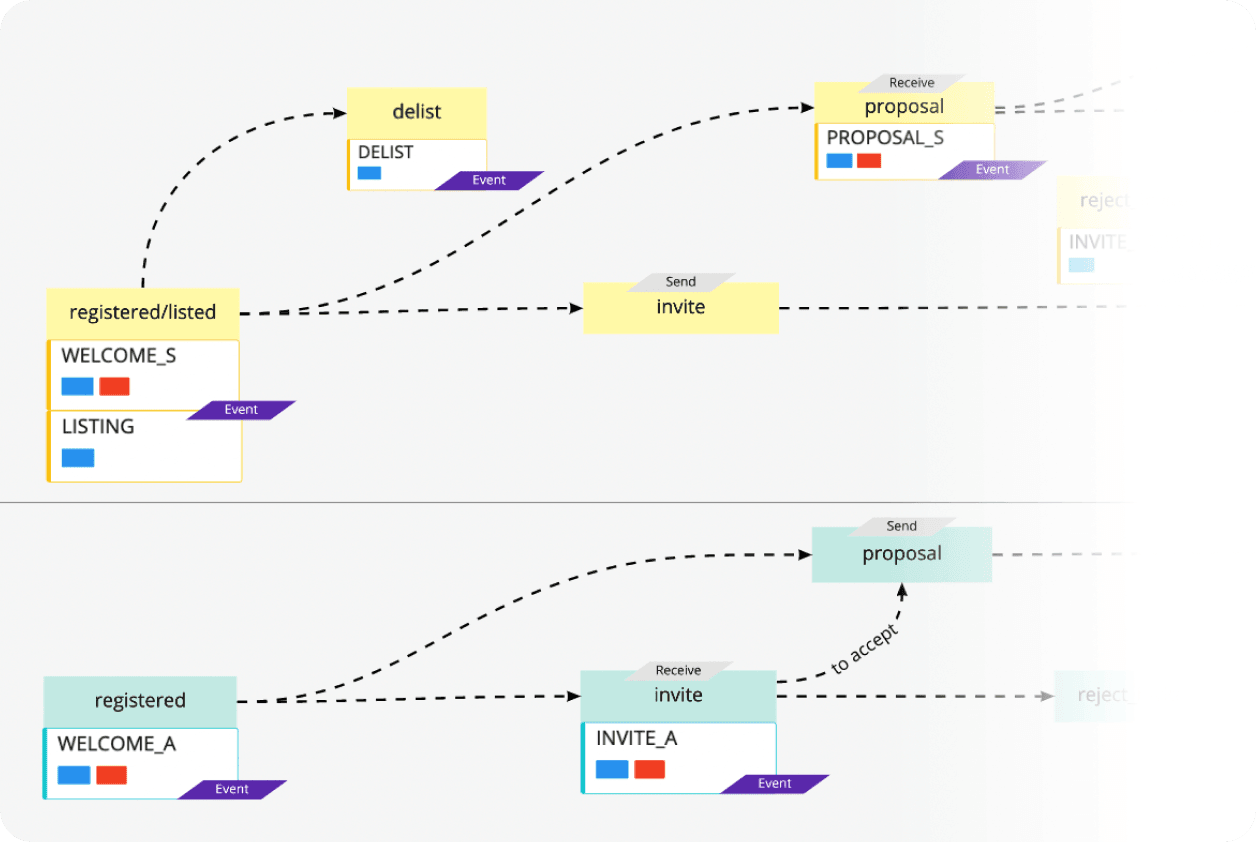 UI decisions that make sense
3 images
Prop.ly turned out to be a huge success in Singapore and received numerous positive reviews from its users. Our team created a strong brand identity for Prop.ly and wrapped its high-quality code into a user-centered design. 
We built a feature-rich solution that helped our client to win users' attention and revolutionize the real estate market. Now real estate agents and property owners have a single marketplace where the deals are closed fast and convenient.
X5
An application that helps property sellers to find an agent five times faster than usual
4.8
Prop.ly's average rating on app markets is 4.8 stars
40%
The cost of finding new customers for real estate agents dropped 40%
Read More
Explore articles from Artkai - we have lots of stories to tell
Join us to do the best work of your life
Together we advance the human experience through design.