IT Staff Augmentation Roadmap: How to Outstaff Smart in 2023
In September 2022, LinkedIn published its annual ranking of 50 emerging US companies "gaining attention and recruiting top talent." We looked at the job postings for the 10 fintech companies on the list, and we found they had 125+ open roles. An astounding 87% of those roles were or remote positions.
Why? Hiring local talent is tough: wage rates in some markets can be very inflated, and sometimes there is simply a lack of people with certain skill sets in specific areas. Two common solutions are hiring remote in-house staff or using an augmentation service. Both approaches have their pros and cons.
Our software development team has been providing augmentation services for the US and EU markets for 7+ years. We decided to gather and share our insights as a Roadmap, where we hope you find not-so-obvious tips on building remote teams and finding the right candidates with necessary expertise faster with fewer tears and sweat.
'Why?' | Key Business Benefits of Staff Augmentation
Staff augmentation is often described as the dream solution to fill all your staffing gaps. While it looks too good to be true, don't rush to search for a hidden catch. There's a particular set of business benefits that you can expect from staff augmentation model:
Labor cost cuts. You don't need to pay taxes for the augmented staff, compensate paid leaves, provide a benefits package or provide office space and hardware. The outstaffing agency does it all for you.
Simpler staff administration. The augmented staff agency handles your augmented team's administrative and legal hassles, as your service provider formally employs the augmented staff.
Reduced recruitment time and cost. You save time and costs on the lengthy and tedious staff recruitment and screening. The provider handles these tasks for you, offering shortlisted candidates matching your specifications within days. You only do the final review and approval.
Ultimate scalability. You can scale your augmented development team up and down whenever you need to. The agencies can hire additional staff when your project grows or quickly reallocate the augmented staff members to different projects once they complete the work on your tasks.
Global talent pool. You receive access to a huge talent pool and tech stack across the globe. You aren't burdened with high local rates and the limited availability of a certain tech stack of local coders.
'How?' | Staff Augmentation Tips to Maximize Your Value
During our 7+ years of industry experience, we have observed in the marketplace inspiring cases of how outstaffing helped companies meet their goals and we've heard stories of real problems. Here are some workable tips to help maximize the ROI of staff augmentation and enhance your in-house operations.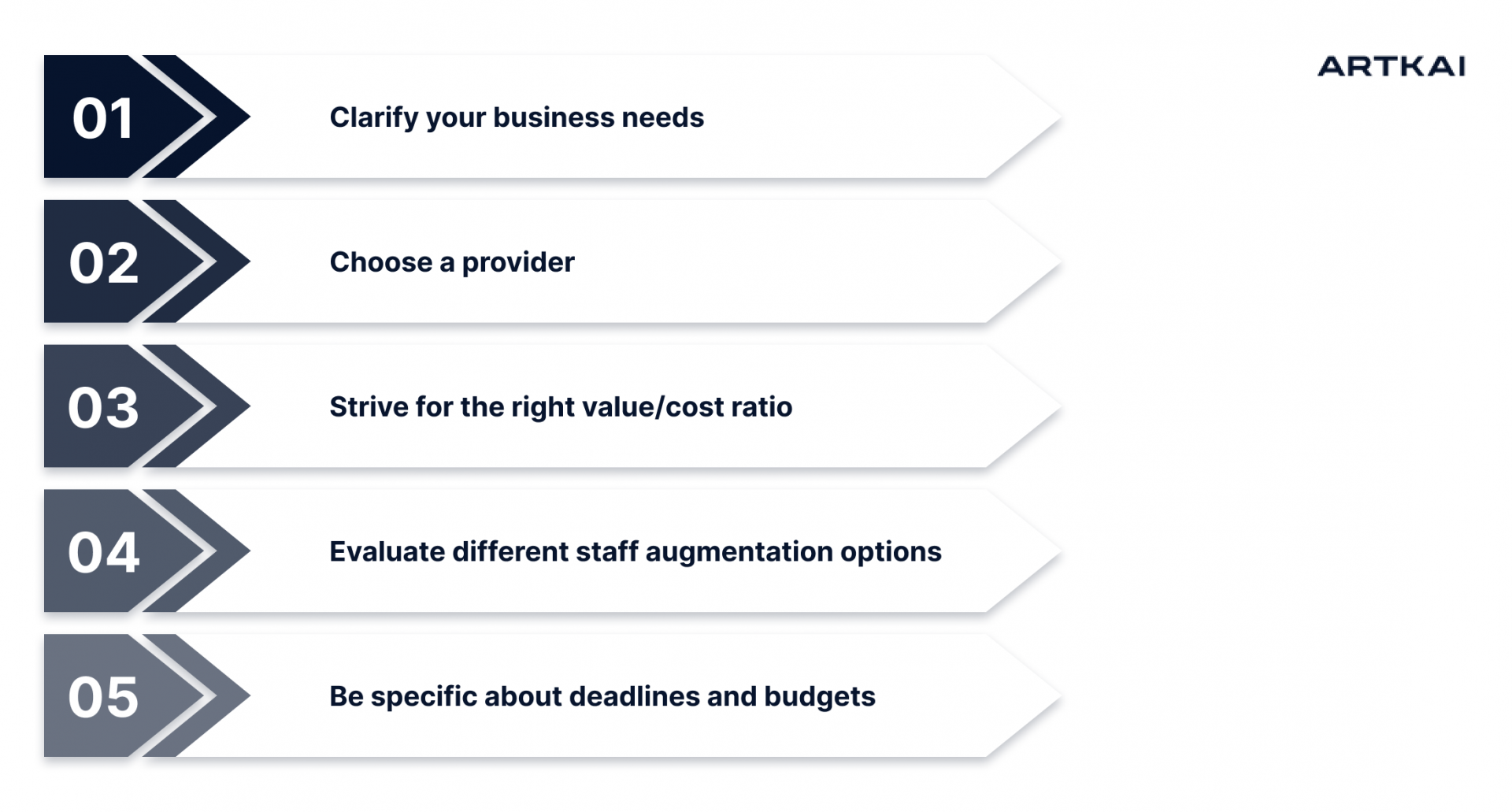 Clarify your business needs. Before hiring a staff augmentation agency, you need to refine your request into a clear vision. The basic level is to determine: the tech stack, domain expertise, the number of staff members, and the approximate duration of work. The next level is to specify what you expect from a candidate: language proficiency, specific skill set or background, work attitude, or even a person's character, if that is a factor of interest. The additional information helps find the right candidates faster.
Choose a provider. Check portfolios, request contact with past clients, and verify how long a software development company has been in the business. Usually, you can find customer reviews on platforms like Clutch and Upwork. These findings will help you make a more grounded decision. However, don't ignore the emotional level, as starting with those you have good communication and matching values is essential. After all, staff augmentation is a service that is similar to other areas of life. Like choosing a hairdresser – you don't always consider whether it's cheaper or more expensive. An important factor is the overall vibe and your trust in the skill level of the specialist.
Strive for the right value/cost ratio. Don't look for the cheapest service offering, as it may be a bad investment. The same goes for the most expensive company; high prices don't guarantee quality. Instead, we recommend specifying your min/max cost expectations and including the agency's rates in a broader formula of the provider's value estimation, such as the company's team size and qualifications, quality of team communication and client service, flexibility, and contract terms.
Evaluate different staff augmentation options. The provider's service model is a critical factor to consider. We recommend learning how your outsourcing vendor validates and recruits staff for clients, what guarantees it can offer, what are the payment options and other conditions (e.g., the hourly vs. monthly rates for staff augmentation, fixed-price projects, etc.). For example, some staff augmentation providers will pay for a candidate' sick leave and vacation time for you, and some will not.
Be specific about deadlines and budgets. Don't agree to vague terms, as they may come with hidden fees and delays. It's much more reassuring to work with a company that offers transparent pricing and delivers up its promises.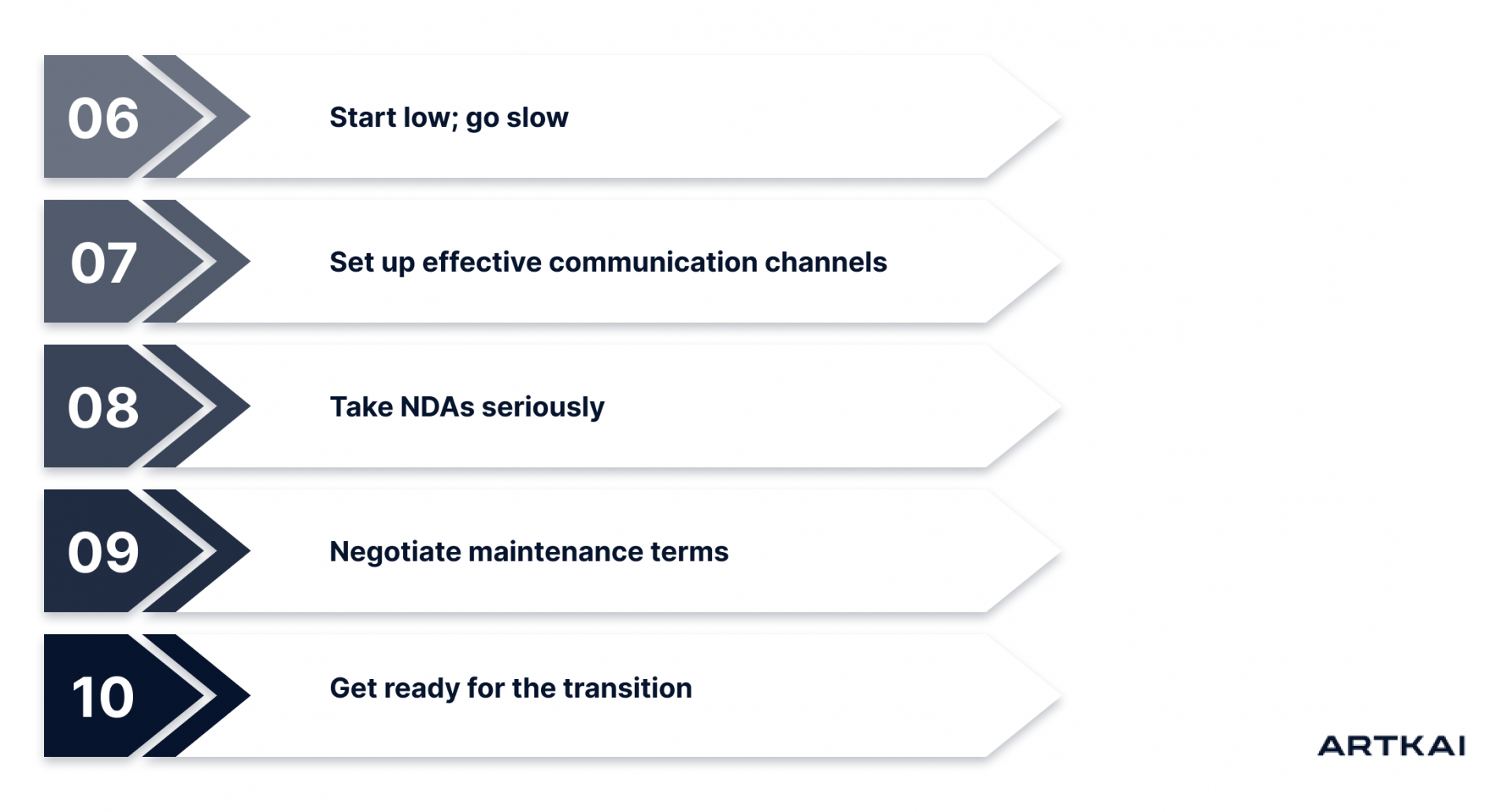 Start low; go slow. If you've never dealt with staff augmentation and still have doubts about the chosen provider or software developers, a good option is to start with a test task. Such a trial run will give you a better idea of the provider's workflows, staff expertise, and pricing to decide on further cooperation. Most companies have 2-4 week trial options to see if their candidates are right for you.
Set up effective communication channels. Communication is the key to staff augmentation success. As the augmented staff works remotely, communications should be well integrated into your existing in-house processes and workflows. Check what communication tools and methods the provider employs to ensure a match with your internal procedures.
Take NDAs seriously. Don't underestimate the power of NDAs; sign the contract and NDAs with the staff augmentation companies and every staff member to legally secure your business's sensitive information.
Negotiate maintenance terms. Development and design are only part of the software operation process. Once your product is ready for deployment, it will still require post-launch maintenance, bug fixing, and regular updates. If you don't have in-house resources for high-quality administration and maintenance, it's better to negotiate this service with the staff augmentation provider.
Get ready for the transition. Hiring an augmented development team is a step that your in-house team should be ready for. You also need to set up effective collaboration and communication tools to align the in-house and augmented teams.
'What?' | Optimal Workflow Arrangement with an Augmented Team
The initial steps may be awkward if you're new to working with an augmented team. However, care in setting up a productive, distributed work environment can minimize friction. Based on our current workflow, we suggest the following path to optimize communication, time, and effort for both sides: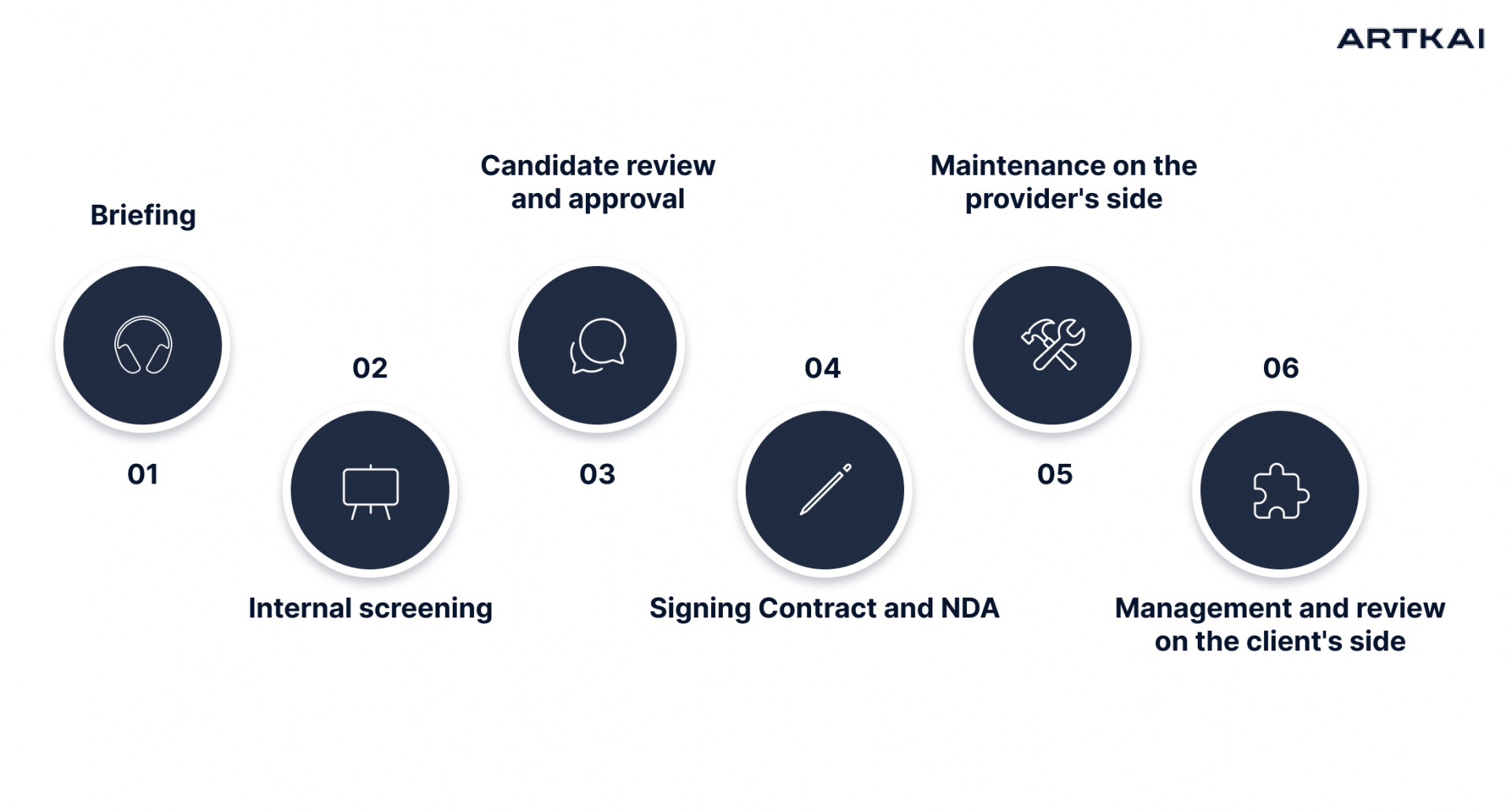 Briefing
This involves the exchange of the project's core information and requirements between both businesses. As we mentioned before, providing detailed software development project descriptions and position requirements is essential. If the staff augmentation services provider asks additional questions – it's a good sign.
Please don't neglect providing full details on your needs. Details are critical to help you find suitable candidates faster. To work with several staff augmentation companies at once, we advise you to make a briefing document in which you can add information as new questions and clarifications arise.
It is also essential to explain your preferred procedure for interviewing the candidates. For example: how many interview stages do you want, who will participate, what tests must the candidate complete? These requirements are essential for the search process and the final list of candidates.
Internal screening
Our managers pass the information to the internal recruitment team. First, they check out the shortlist – a list of recently screened and valid candidates updated weekly.
We keep about 500-800 candidates on our short list. If there is a match, you will get the first CV's within 24 hours from the Briefing. Our team also creates recruitment requests at all popular job aggregators and hiring communities and uses our LinkedIn network to look for matching candidates. Our team hand-picks relevant candidates and interviews them according to your project needs.
Candidate review and approval
We share resumes of candidates that passed screening with your team. You choose the ones you like and conduct technical interviews according to the requirements you shared earlier. When you feel you have found the right candidate, we proceed with a Contract and trial run.
Signing Contract and NDA
Once the augmented team is assembled and ready to start working, you sign the Contract. For example, our team has US and UK entities, so our clients can choose the Contract's jurisdiction according to their preferences.
Of course, it's essential to have clear payment conditions. For example, the price in our Contract always includes all taxes and has no extra or hidden costs. You will also sign a Statement of Work and NDAs for each new team member.
We usually share our standard Contract along with the first candidates' resumes so that you can review it ahead of time so that both teams have extra time for feedback and revisions without an unnecessary delay to the start of work.
Maintenance on the provider's side
We allocate dedicated Project Managers who will be your primary communication point and handle ongoing support to your augmented team. Our team will handle all HR, legal, financial, and administrative operations.
Management and review on the client's side
You manage the team and track its progress, conducting ongoing performance reviews for all team members. You provide feedback and requests to your Dedicated PM. For example, you can request reports, share performance reviews or even ask for a personnel replacement.
This time-tested process allows us to quickly provide high-quality candidates, good client service, and maintain the consistent performance of our candidates.
We offer end-to-end administrative support and procurement assistance, so you can focus on achieving business goals by getting a talented and highly functional team instead of constantly solving internal recruitment issues.
More | Reasons to choose staff augmentation services of Artkai
The main goal of our team is to always provide services that make sense and make you succeed. You can easily augment your team with our specialists and manage the work effectively. Here is a short list of values that we offer to all our clients:
an access to a wide tech talent pool of front- and back-end coding experts, DevOps and QA engineers, and product design specialists who can fill a tech gap your in-house development team experiences;
tech talents who work with the advanced technologies, build web and mobile projects, and create strong and trendy UX/UI design;
software developers who built projects for a variety of business industries such as fintech, automotive, e-commerce, real estate, entertainment, banking and ad-tech;
transparent pricing and cooperation model, including high-class communication and project management;
deep involvement and focus on your particular business objectives and project;
well-established and coordinated processes of product development;
fast onboarding & development speed and incredible price/quality ratio.
And last but not least, our clients have raised $350+ million of investor funding, and received recognition from such business leaders as Apple, Y-Combinator and even Forbes. We are more than just a tech partner, we are a remote team who cares about every project and every little detail and drives your success.
Conclusion | Staff Augmentation Still Rules
The popularity of staff augmentation services is rising due to the widening talent gap and the climbing rates in the global tech market. The marketplace for staff augmentation is mature and has dozens of companies offering skilled experts with a diverse tech stack under one roof.
The staffing model is worth considering as a flexible and cost-effective way to close your talent shortage without undermining the IT project's workflow.
As with every solution, some effort is needed to find and master the optimal workflow that will benefit your business. Use this cheat sheet when choosing a staff augmentation provider. Organizing the process this way will bring you better performance and less friction across the project lifecycle.
Read More
Explore articles from Artkai - we have lots of stories to tell