How Artkai improved a car buying experience for automotive companies via UX redesign
Customers in volumes switch to digital retail instead of showrooms, expanding buyer journeys from being initially in-dealership interactions to being an array of digital touchpoints, influencing customers' decisions. It forces automotive businesses to reinvent themselves as digital companies and invest in digital presence and online customer experience (CX). 
This post will share Artkai insights from automotive industry research based on our extensive experience in reshaping and digitalizing projects in this sector. 
Table of contents:
The challenges of digital automotive retail in 2021
While the pandemic makes auto ownership more and more appealing, the car buying experience is becoming more critical than it has ever been. The pandemic has shown customers the convenience of buying things online, and car dealership is no exception. 
For obvious reasons, physical showrooms are no longer the preferred place for choosing and buying a car for most people. People increasingly prefer going online to purchase or resell cars. This trend expands buyer journeys from being initially in-dealership interactions to being an array of digital touchpoints, influencing customers' decisions.
Along with this, the bar for the digital product experience has never been higher, reflecting the increasing demand for a seamless and personalized experience. People have gotten accustomed to a certain level of simplicity, and personalization e-commerce platforms provide, and they expect the same from purchasing a car online. Customers now expect omnichannel experiences across multiple touchpoints – seamlessly integrating digital and in-store experiences – all the way through to purchase.
This situation has resulted in an apparent mismatch in customer expectations between the digital product experience and the experience automotive businesses provide. The brands' inability to integrate online and offline CX into a holistic brand journey contributes to the growing consumer dissatisfaction with the car dealership experience.
Download our free digital transformation whitepaper
By analyzing customer journeys during discovery sessions with our clients and conducting the industry research, we discovered the following pain points automotive businesses face:
Buying a car is a time-consuming and often tiresome process due to various boring operations and loads of paperwork accompanying the process;
Choosing a vehicle is confusing because there is not enough information about the quality;
Some online services are so complex and time-consuming that customers would prefer to purchase a car offline;
Lack of vehicle customization;
Outdated website design that decreases customer trustworthiness and UX satisfaction;
Outdated technologies and poorly designed admin panels of the websites highly affect the effectiveness of managers, sales, and marketing;
A higher amount of manual effort is required from employees and clients to complete the purchase in comparison to competitors.
As we can observe, to retain and sharpen their competitive advantage, businesses have to meet and, preferably, exceed modern consumer expectations at each step of the buying process.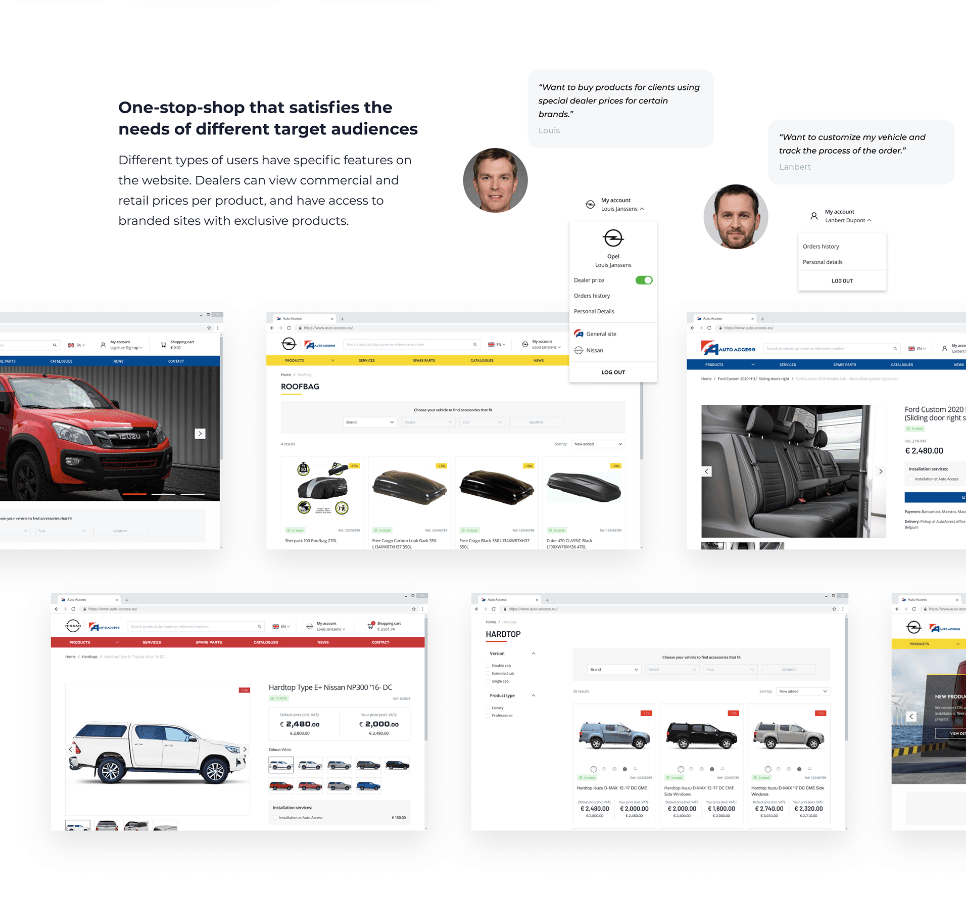 The impact of human-centric UX design on customer satisfaction: Artkai's experience
Finding data on ROI from real-world UX redesign cases in the automotive industry can be challenging, to put it mildly. For that, we will use our website digitalization and redesign experience in working with Belgium automotive projects Qvans and AutoAccess.

Our human-centric UX/UI design had the following qualitative impact on our clients:
10-20% increase in conversion of the website's visitors;
30% decrease in manual work due to the processes automation;
50% less time wasted on filling out website forms and navigating the admin panel;
1.6 times faster process of ordering a product;
Entering new markets and expanding the existing ones: B2C for existing B2B and B2B for existing B2C;
Four times more options for customization during the vehicle search;
Up to 100% increase in customer satisfaction and positive UX impression from the digital interaction with the brand;
2.5 times in cost decrease of adding new features to the website (growth in scalability).
The quantitative impact of our human-centric UX/UI design:
A ready digitalization strategy for operational processes;
New Service Blueprint based on the digitalization strategy;
A complete, quick, easy, and effortless platform for buyers and sellers;
More specific marketing by using data about the client's main target audience;
Entering and occupating the new market segments: entering B2C for business that used to be oriented to B2B, and vice versa, occupation of B2B by traditional B2C business. It extends the business potential by attracting new consumers from other market segments;
New attractive and outstanding UI/UX based on the research-based approach;
Increase in employees' productivity and efficiency due to the automatization of operations;
Cost savings due to the decrease of the call center and user support overload are thanks to user-friendly UX/UI and new features.
Conclusion
While the automotive sector seems to rebound from the 15-percent sales decline in 2020, the challenges it has been facing during the pandemic had a non-reversible impact on the industry.  To keep and strengthen their position in the market, automakers should turn to innovative strategies and create superior customer experiences. If you need help navigating this road, get in touch with our experts and accelerate your digital transition!
Clients and Results






See Our Portfolio
Schedule your free consultation
Don't miss this opportunity to explore the best path for your product. We are ready to delve into the specifics of your project, providing you with expert insights and optimal solutions.
Book your free session
Read More
Explore articles from Artkai - we have lots of stories to tell
Join us to do the best work of your life
Together we advance the human experience through design.