A one-in-one solution for the travel industry
A case study covering the development of a user-friendly booking platform for tours and leisure reservations. We implemented a robust inventory and CRM management tools, empowering businesses to have complete control over their bookings, pricing, and payments.
Product Ideation & Strategy

OVERVIEW
About
the business
Our clients have a wealth of experience in the travel and leisure industry. With over a decade of working closely with B2B providers, including walking tour guides and adventure park managers, it became apparent that while many booking solutions were available, most were geared towards travelers rather than providers. The goal was to develop a tool to revolutionize the industry by creating more opportunities for B2Bs to establish and expand their dealings.

The Artkai team was enlisted to create a sophisticated booking platform from the ground up, encompassing additional tools to help cover all operational and marketing sides of things. The resulting product was aimed to be a stunning fusion of our technical expertise and clients' extensive industry knowledge.
Design a user-friendly booking platform for booking tours and leisure activities

Create inventory management and CRM tools for businesses to fully control their bookings, availability, pricing, and payments

Build integrations with leading Online Travel Agencies (OTAs)
to expand the reach and attract more customers
• 2 Product Designers
• 3 Front-end engineers
• 3 Back-end engineers
• 2 QA engineers
• DevOps
• Project manager
• Business analyst
7
months for
research and design
12+
months for
development and QA
OVERVIEW
Tech Stack
Get a quote
or free consultation

TypeScript

React.js

Redux

Next.js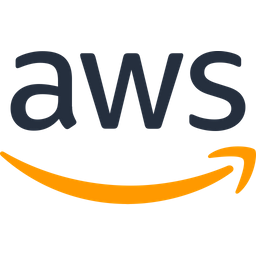 AWS

REST

Swagger
React Native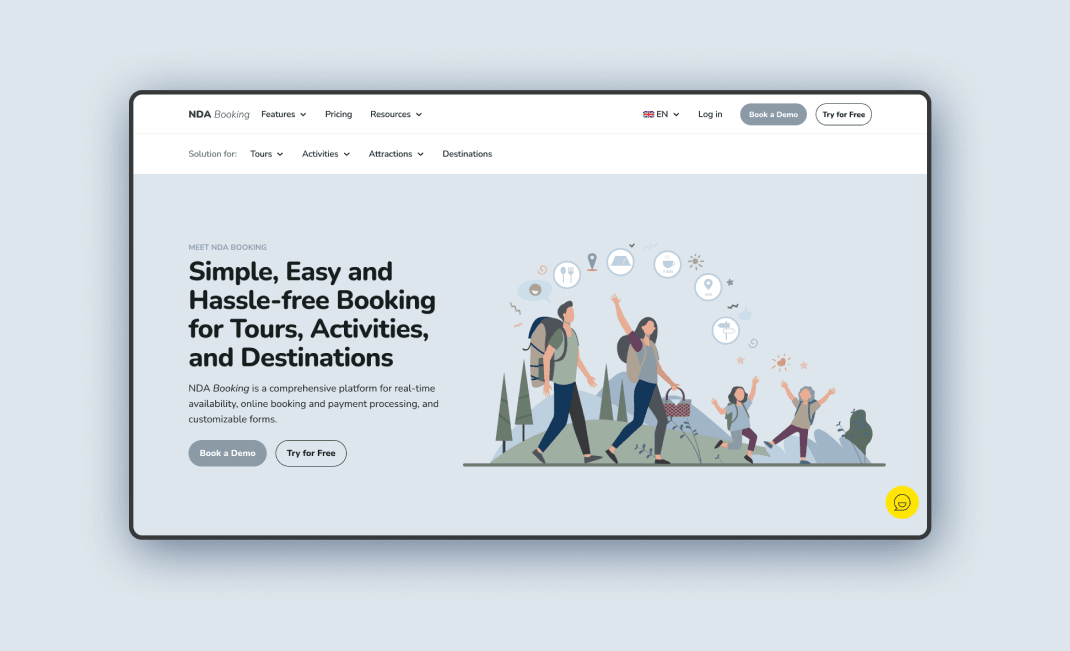 PROJECT JOURNEY
Product requirements
The overall goal was to establish an online booking platform for tours, activities, and trips that would enable businesses to manage bookings, expand their customer base, and grow their business by linking with top Online Travel Agencies.

The platform had to offer a user-friendly interface for customers to search, book and pay for tours and activities effortlessly. At the same time, it had to provide businesses with an extended version to manage operational tasks in a centralized location. Our team incorporated CRM, inventory management, reporting, and analytics tools to help businesses track their performance and identify areas of improvement. Additionally, it was crucial to integrate the product with leading OTAs such as Expedia, Viator, and GetYourGuide. This integration enabled tour providers to manage their inventory across multiple channels and provide OTAs with real-time updates.
PROJECT JOURNEY
CRM
Customer relationship management (CRM) is a process in which a business or other organization administers its interactions with customers, typically using data analysis
to study large amounts
of information.
The obvious purpose behind CRM was to help businesses run their operations in a more effective way. While medium and larger business might already have experience with such systems, for the small businesses that could become a major boost. The platform offered a streamlined solution for managing customer inquiries, bookings, and sales all in one place. 
Sales statistics and reports
Real-time statistics provided businesses with immediate feedback on their sales performance, while historical sales data allowed long-term analysis to anticipate demand and adjust accordingly. Users were able to get granular and compare bookings by date, payment methods, price and so.
Additionally, service providers could identify the most effective promotion methods by comparing sales channels and allocating resources accordingly.  All data could be converted in  in a spreadsheet format and exported in for further use. 
Customer data management 
All customer data was automatically captured and securely stored in the account. The platform eliminated the need for manual data entry and made accessing and managing customer information easy. If there was an existing customer database, it could easily be imported in bulk to streamline the onboarding process. The platform ensured the value of the customer data and the importance of keeping it secure. Moreover, if there was a need to add a new customer manually, the user-friendly interface made it easy to enter their information and include any additional notes or details. This ensured that the customers had a complete and accurate record of their booking history and preferences
Custom notifications
Automatic notifications provided complete control over communication with customers. Service providers could create personalized messages and track customers' notifications: bookings, confirmations, cancellations, and other transactions via SMS and email. That would additionally become a great way for a business to express its tone of voice and build long-lasting bonds. 
Overall, we designed a comprehensive approach to customer relationship management for businesses of all sizes. That was critical as we targeted various industry players: boat and city tours, amusement parks, Zoos, and aquariums.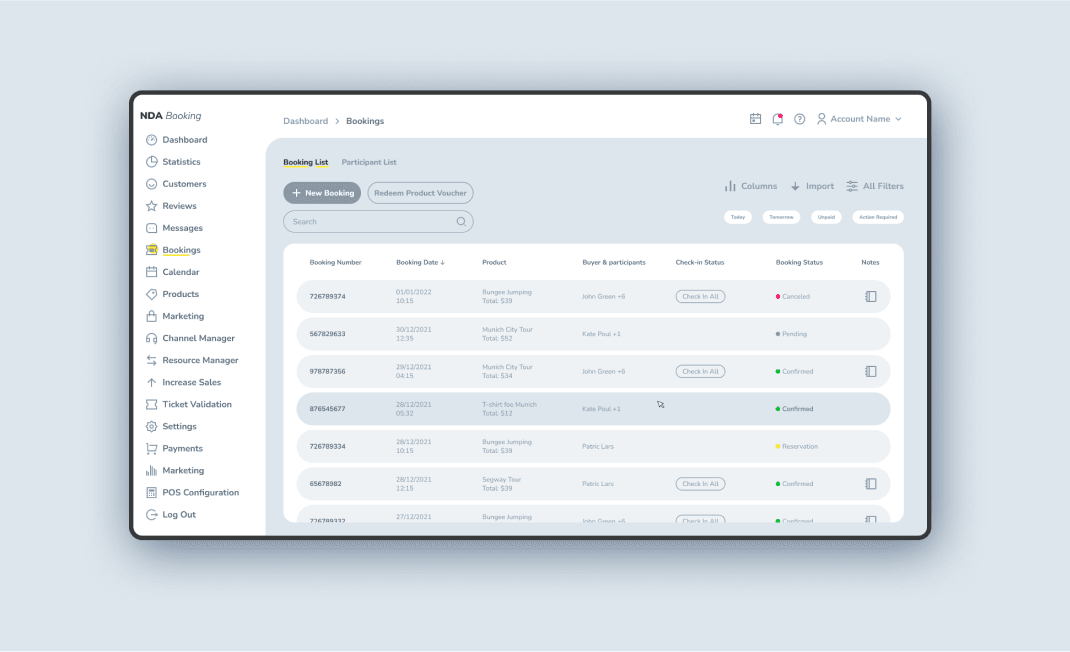 WEB BANKING
Payments
During our interviews with clients, it was clear that payment methods played a crucial role in choosing tours or other activities. It could become a visible barrier, especially in cases related to group or corporate customers. This made us come up with features to prevent argumentative situations.
Our team came up with a comprehensive payment solution for businesses to accept payments both online and offline. By offering popular payment methods such as credit cards and PayPal, businesses can convert more customers on their website and in-person.

One of the key features of payment functionality was a bank-grade security. We used 256-bit encryption, which was the same technology used by major banks and governments, businesses could keep their customer data safe while getting paid.

In addition to the popular payment methods, our product also supported region-specific providers like Giropay and Sofort in the DACH region and WeChat and Alipay in China. With 16 different currencies available, businesses could be well-equipped to convert every visitor.

For the local businesses that required a point-of-sale (POS) solution, we offered a system for tablets and mobile phones. That allowed businesses to quickly accept payments and improve the customer experience on-site.
Payment options
During our interviews with clients, it was clear that payment methods played a crucial role in choosing tours or other activities. It could become a visible barrier, especially in cases related to group or corporate customers. This made us come up with features to prevent argumentative situations.
Deposit payments
Ability to accept partial payment at the time of booking to improve conversions and reduce no-shows. Businesses can collect the rest when the customer arrives on-site.
Different payment methods per ticket
Businesses can accept different payment methods for group tickets and corporate events for each ticket. For example, customers can pay by card for one ticket and invoice for the rest.
Invoicing for groups
If a business offers a mass activity or corporate team building, there's an easy invoicing model for customers, which reduces the chance of a sale.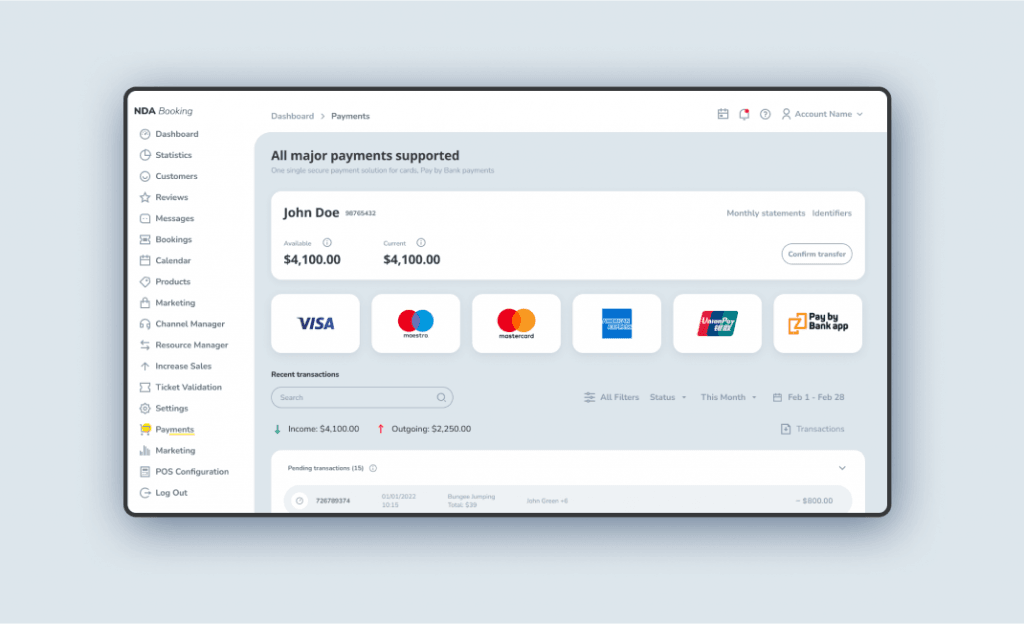 WEB BANKING
Ticket
scanning app
During our interviews with clients, it was clear that payment methods played a crucial role in choosing tours or other activities. It could become a visible barrier, especially in cases related to group or corporate customers. This made us come up with features to prevent argumentative situations.
As our team was developing payment models, we better recognized the needs of the travel and leisure industry. In particular, we understood that tickets were critical in the customer journey. To address this, we created an additional solution: a ticket-scanning app that seamlessly integrated with our CRM platform for easy sales tracking. This additional product offered a powerful tool to enhance the customer experience and streamline business operations.
Offline mode 
Whether a service provider is in a remote area or dealing with network connectivity issues, the app offers seamless functionality with its offline mode. Tickets would be scanned at any terms, and data would be synced later without interruption.
Scanning restrictions
Service providers can restrict scanning access to one device for a specific event. This feature ensures the scanning process is organized, efficient, and confusion-free.
Participants list
Businesses could discard the traditional pen-and-paper method and easily monitor all attendees with the smartphone, using the advanced technology available at their fingertips.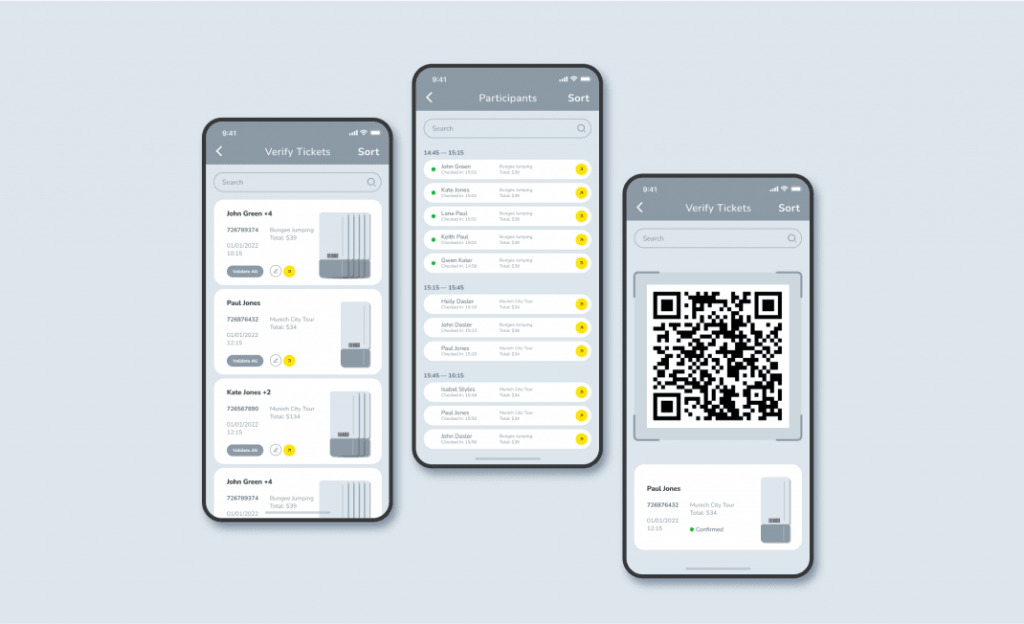 During the platform's development, our team encountered the need to integrate multiple services to create a comprehensive tool that meets businesses' needs in one place. It ranged from a standard analytics integration to more comprehensive solutions. 
Google Things to Do
This integration has been a game changer for service providers looking to reach a global audience. By listing their tours and activities on Google products, businesses gained increased visibility and profits, all for free.
Online Travel Agencies
Our platform extended the reach of providers by integrating with the most prominent Online Travel Agencies like Viator, GetYourGuide, and Klook. This allowed for an accessible listing of tour offerings across multiple platforms in one central location.
Content Management Systems
We ensured our platform was compatible with all the primary Content Management Systems, including WordPress, Wix, Joomla, and Drupal. Even those without technical expertise could effortlessly integrate and manage their offerings.
Resellers
For businesses seeking to reach customers through Resellers, we established custom integrations with over 600 platform partners, including local hotels, DMOs, and tourism offices. Our network of partners has been continuously growing, making it even easier for businesses to expand their reach.
Payment Service Providers
To increase conversion rates and streamline the payment process, our platform supports a range of Payment Service Providers like PayPal, giropay, and Alipay, giving customers the flexibility to choose their preferred payment option.
Zapier
To streamline workflow further, our Zapier integration connected with over 3,000 popular apps, including Google Sheets, MS Excel, and Mailchimp, enabling businesses to automate repetitive tasks and focus on growing their brand.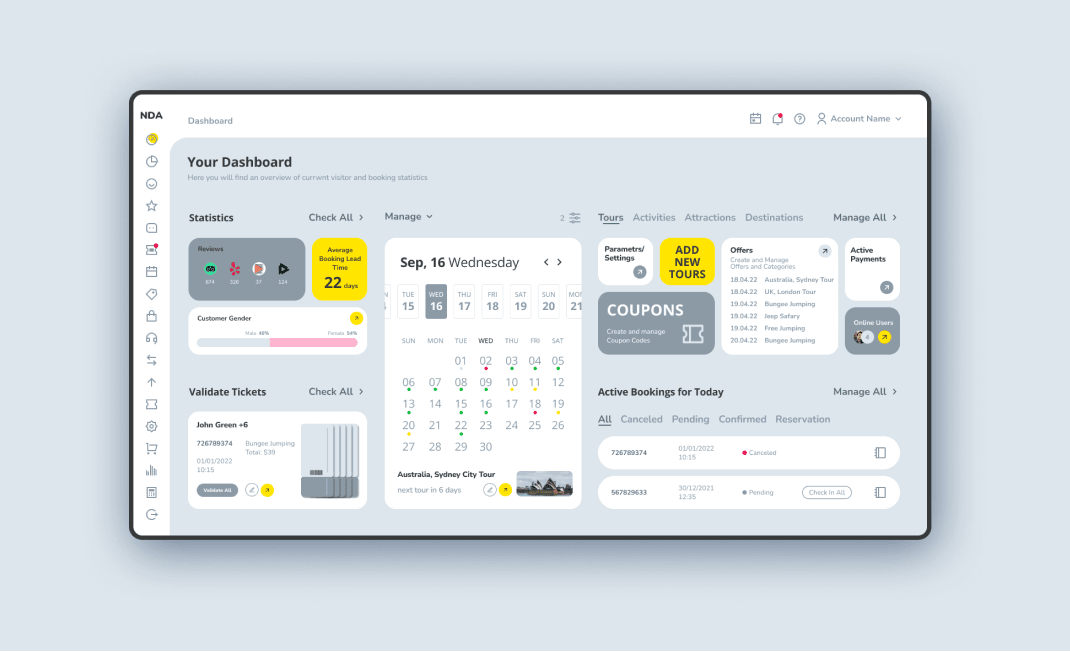 It was clear that small businesses often struggled to engage in effective marketing due to the challenges of managing day-to-day operations while also prioritizing promotional activities. This often resulted in limited or non-existent marketing efforts, hindering business growth and potential profit. Our goal was to automate marketing tasks and let service providers focus on core operations while benefiting from the increased visibility and customer engagement that effective marketing provides.
Automated Customer Reviews
Customer reviews were automatically collected to help boost conversion rates and enhance brand loyalty. Our product provided an option to enable automatic feedback requests after each booking, manage and track reviews, reply directly from the account, and display selected reviews on the website or redirect customers to the TripAdvisor listing.
SEO Optimization for Higher Ranking
Service providers got an option to rank higher on search engines by defining key meta tags for their offers and category pages. Business owners could preview how each page would appear in Google search results and improve their SEO.
Performance Tracking
The business could track its performance and make data-driven decisions by connecting accounts to Google Analytics, Google Ads, and Facebook Ads. This helped to gain easy access to essential metrics and optimize their marketing campaigns for better results.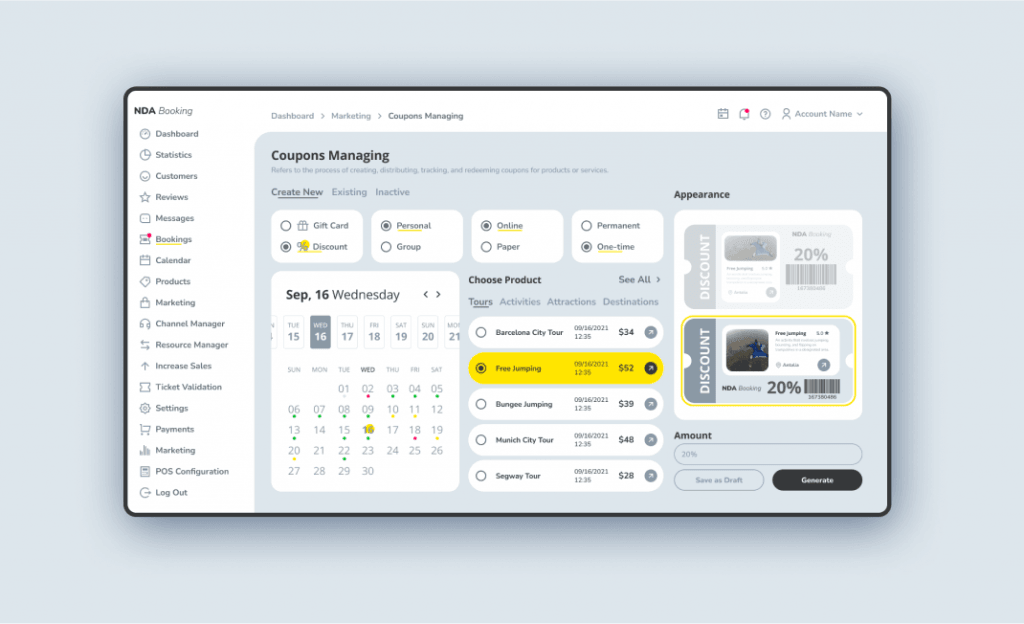 UI decisions that make sense
6 images
Following a year of collaboration and development, the platform has seen a remarkable response, with over 200 B2B providers signing up and over 10,000 bookings facilitated since launch. Notably, our clients have experienced a staggering 30% increase in revenue since incorporating the platform into their operations, a testament to its success in driving business growth.

Our integrations with leading Online Travel Agencies (OTAs) have also been instrumental in attracting new customers and expanding providers' reach beyond their traditional markets. Overall, the platform has transformed how B2B providers in the travel and leisure industry operate, simplifying their operations and helping them maximize their profits.
Read More
Explore articles from Artkai - we have lots of stories to tell
Join us to do the best work of your life
Together we advance the human experience through design.