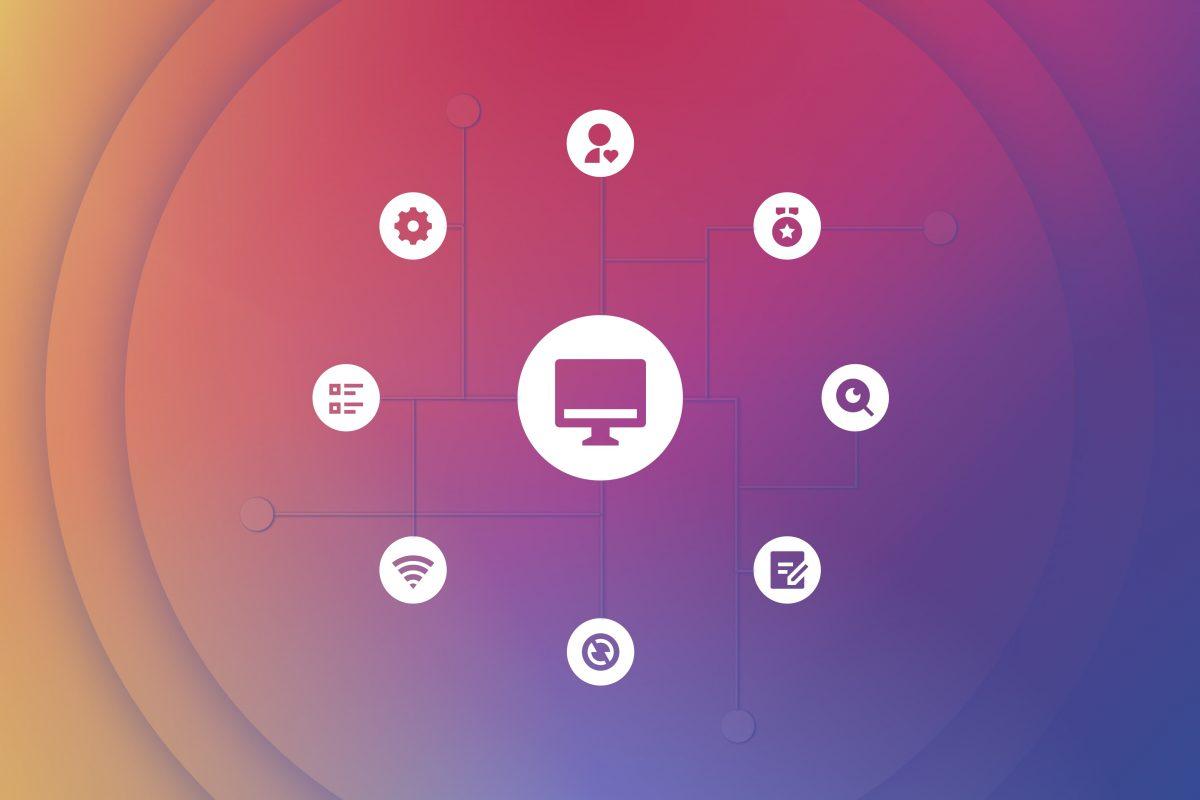 Top Enterprise Application Software for Businesses in 2023 
Most businesses operate digitally today, so they need a reliable software product to manage their activities, collect and analyze data, and keep all business records in one place. That's what enterprise-level software can do for you. This software type is meant to cover most (if not all) operational business aspects, ensuring data security and streamlining big data simultaneously. 
Enterprise software's key strengths are powerful automation, process and data consolidation, and integration of fragmented software fragments into a well-functioning ecosystem. Such improvements are what a regular business needs to scale and develop, so the enterprise software market is mature and well-established, exhibiting health growth at a CAGR of 11%+ every year. The 2021 estimate of this market was $196+ billion, and the estimate for 2028 is $400+ billion. These figures show that enterprise software remains in high demand, supporting businesses across their complex operational activities and helping companies meet strategic and security-related goals. 
Here we offer a brief overview of the enterprise software market and discuss 10 common types of enterprise solutions you might consider for your business in 2023.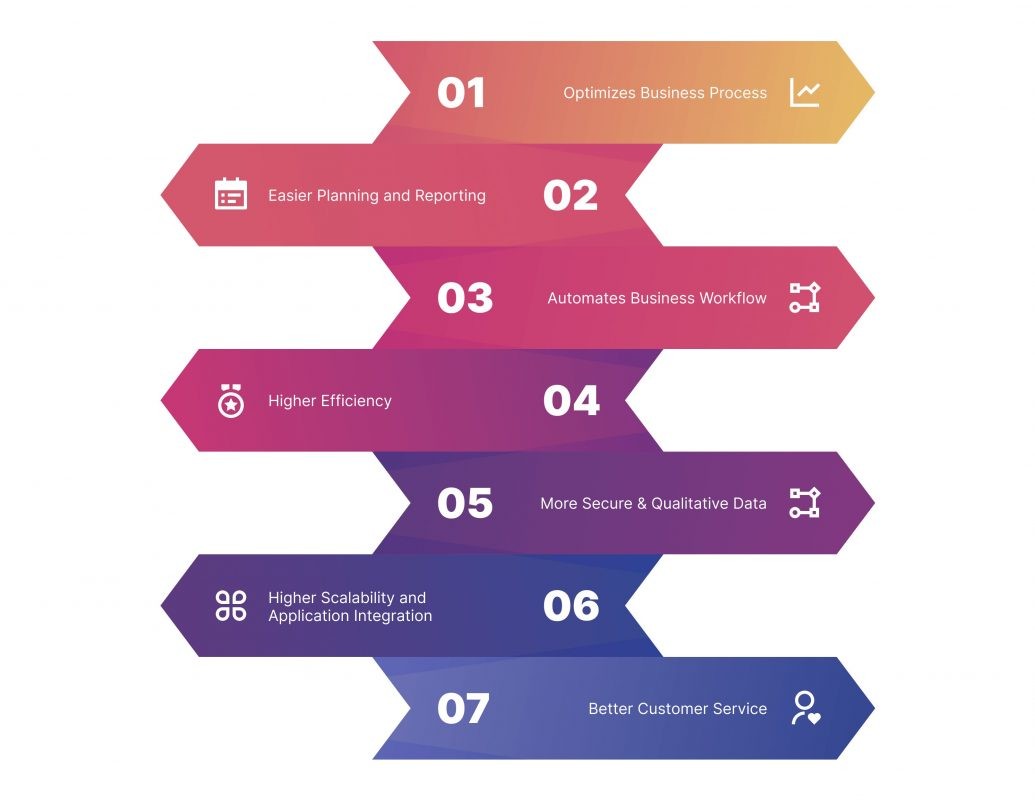 Why Do Businesses Need Enterprise Application Software? 
So, why would you consider purchasing an off-the-shelf enterprise software product or developing a custom-tailored solution for your company? Enterprise software responds to business needs for efficiency and flexibility, enables seamless and affordable access to top-tier technology, and delivers a whole new level of business activity arrangement, with all key business decisions backed with data insights. 
The use of such software lets business improve their revenue streams and expand without limitations, as they have all operations under control. Various software types exist for different business purposes, but most cover procurement, salary processing, accounting operations, order processing, HRM and CRM functions, and cybersecurity. With such a winning combo of features in one software solution, you're geared for business success.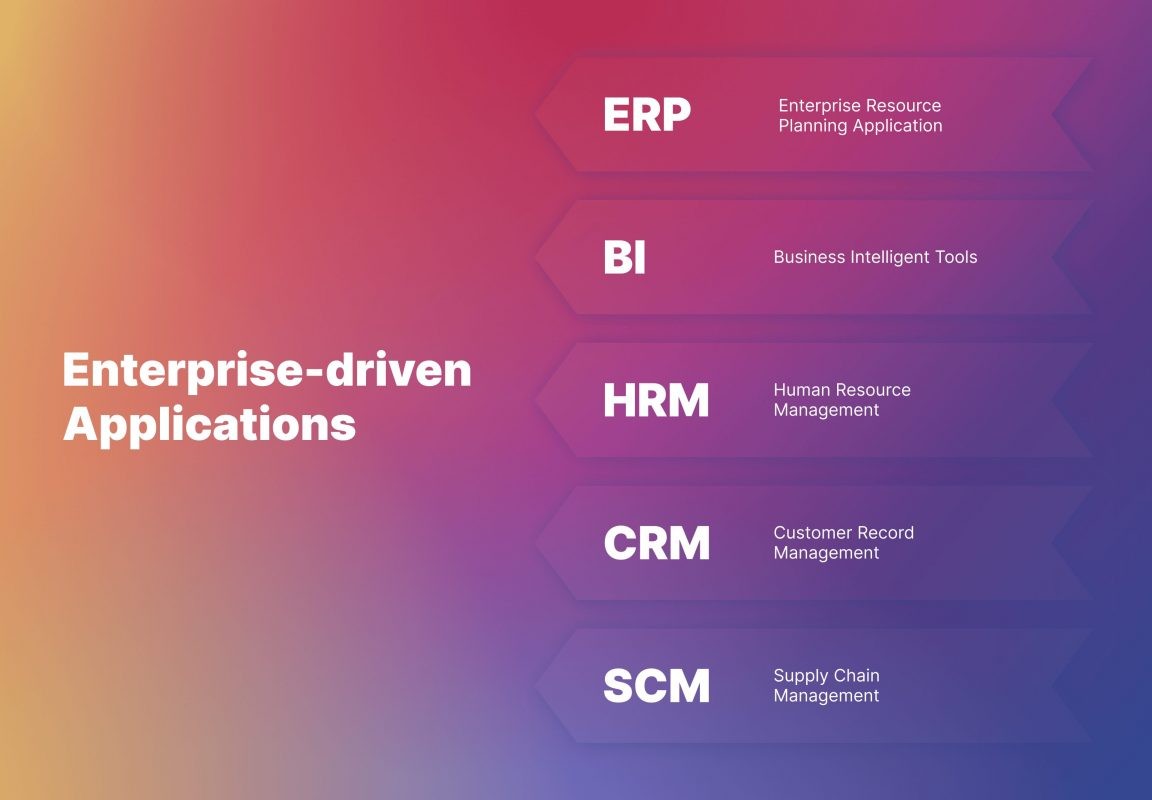 Enterprise Application Software Examples: Our Top 10 
Though there are some jacks of all trades in the field of enterprise software, most businesses choose software solutions depending on the features they need the most. It's often possible to combine several software pieces into a single IT infrastructure with well-designed DevOps integrations. So, in this section, we consider top enterprise software types by their core functions to see how these solutions can help your business address specific operational aspects.
1. Accounting & Billing (Financial Management)
As a business, you need an efficient solution for handling your cash flow. So, moving from manual accounting and billing to automation is always a good idea. Financial management software should resolve these issues with automated management of incoming customer payments, supplier invoices, and expense/revenue tracking. 
Best-known financial management software products for enterprises are OneCore, FreshBooks, and Wrike. Let's talk about Wrike in more detail. 
Features: Advanced budgeting tools, time tracking, analytics dashboards, accounting, and data visualization. 
Clients: mid-sized companies and enterprises wishing to embrace remote teams and multiple projects 
Pricing: free version, $9.80 per month for a business version
2. Intranets & Enterprise Portals
Intranets and enterprise portals are used to ensure connectivity between various departments within a single organization without critical data loss or interception risks. They operate as internal corporate portals for posting sensitive business information, ensuring that it doesn't get into the World Wide Web, where it can be stolen. 
This category's most famous software products are Ametys, Claromentic, and GreenOrbit. The latter deserves a separate mention. 
Features: blogs, Wiki database, activity and news feed, knowledge base management, and handy searches and filters 
Clients: Organizations with 100+ employees 
Pricing: the pricing plans start from $4.5 per user per month
3. Customer Relationship Management (CRM)
As its name suggests, this software type helps track customer activities and improve your business's interactions with existing customers and prospects. This system is a must-have for any business, from a startup to a mature corporation, as it fuels better customer connections to boost your sales and reputation. 
There are many well-known apps in this category, but the top leaders are Salesforce, Zoho, and Apptivo. Let's take a closer look at what Salesforce offers: 
Features: It provides sales support, servicing, and marketing solutions, cutting business costs on customer retention and acquisition. 
Clients: The software is ideal for sales, marketing, and support teams. It suits businesses of any size and scale. 
Pricing: The cost of software starts from $25 per user (monthly fee).
4. Enterprise Resource Planning (ERP)
ERP systems are meant to manage all production and distribution business processes in a holistic, integrated manner. Well-designed ERP software should bring all your financial management, HRM, and supply chain data under one roof to guarantee transparency of operations and tight accounting control. 
NetSuite, TallyPrime, SAP, and Sage Intacct are the best ERP software suites. Let's say a few words about NetSuite.
Features: This #1 cloud-based ERP system has been at the top of the market for over two decades, with impressive inventory management, HR, service automation, and ecommerce solutions with omnichannel coverage. 
Clients: Accounting managers and controllers at IT SMEs 
Pricing: General access costs $99 per month, employee self-service version costs $19 per month, and NetSuite planning and budgeting suite costs $120 per month. 
5. Supply Chain Management
Supply chain management software provides visibility and control over your entire supply chain, thus giving you a single point of data access and analysis, inventory tracking, and warehouse/transportation management. With the help of supply chain management tools, you can easily capture all processes within your production or delivery lifecycle, thus tracking orders from origination to delivery. 
Solvoyo, StockIQ, and RELEX Solutions are the best-known tools in this category. Here are some details about the StockIQ software. 
Features: Intelligent supply chain planning, demand management, replenishment planning, supplier planning, inventory and capacity planning, and promotion planning. 
Clients: SMEs within various industries 
Pricing: The software pricing starts at $750 per month. 
6. Inventory Management System (IMS)
IMS software helps businesses track and manage their inventory, ensuring they order stock replenishment at the right time and avoid storage overload. It also allows quick checks of the items' availability and avoids double booking of the same item by several customers. 
The most popular solutions for inventory management are Booqable and Megainventory. Here are some notable features of Booqable.  
Features: multi-location tracking, barcodes, equipment check-in/check-out, mobile app integration
Clients: small and medium-sized businesses in the rental sector
Pricing: $29 per month (annual plan), $35 per month (monthly plan). The Premium version is available for $249-$299 per month (unlimited order, product, and customer coverage)
7. Marketing Information System (MIS)
Businesses develop through healthy marketing efforts, like traffic generation and quality leads. That's what an automated MIS software product can provide. These tools can help you measure the ROI of your marketing efforts, automate content posting, streamline your advertising activities, and the like. 
You can choose from Semrush, Monday Marketer, or MailerLite to complete these goals. For instance, Monday Marketer possesses the following characteristics. 
Features: live feedback, file versioning, detailed creative prompts, and multiple marketing campaign support. 
Clients: Marketing teams of all sizes 
Pricing: Basic plan starts at €10 per user per month.
8. Enterprise Asset Management
EAM software is a good fit for companies that need to acquire, manage, and keep physical assets under control. These systems optimize asset management and allow businesses to easily track their belongings' full lifecycle, along with asset performance, maintenance cost, and use measurement. 
The best-performing apps in this category are Fiix, IBM Maximo, and Maintenance Connection. Here are some details about Fiix. 
Features: asset, work order, parts management tools. Mobile features and powerful integrations. 
Clients: tech consultants and SSEs at various enterprises 
Pricing: $75 per user per month
9. Human Resources Management (HRM)
All enterprises employ people and operate with their help. So, no business activities are possible without well-organized hiring and employee onboarding efforts. HRM systems can automate this work and introduce several other handy features for human resource management, reward, and performance appraisal. 
The best-performing tools in this category are Monday, Gusto, and Freshteam. 
Let's take Gusto as an example and consider its details: 
Features: compensation management, a self-service portal, hassle-free employee onboarding, time off schedules, and benefits management. 
Clients: small businesses 
Pricing: simple plan starts at $40 per month with $6 per person per month. The Plus plan is available for $80 per month ($12 per person), and a Premium plan is calculated individually.
10. Enterprise IoT Systems
IoT platforms are essential elements that bind a set of IoT sensors and detectors into a single, intelligent system. Many low-code and no-code solutions in the modern market make the IoT system design a plug-and-play matter. This software helps build and configure smart homes and offices by setting specific parameters for their monitoring and activation if some parameters deviate from the norm. 
The most common IoT software products modern businesses use are Particle, Hologram, and Azure IoT Central. We would like to stop on Hologram in more detail. 
Features: branded cellular SIM cards and a user-friendly operational dashboard. Global coverage and a broad, multi-carrier network. 
Clients: SMEs, businesses in the transportation industry 
Pricing: The provider offers a pay-as-you-go pricing plan with $0.70 per device per month and charges $0.8 per MB of used cloud capacity.
How to Choose the Right Enterprise Software for Your Business? 
Now that you know the power and potential behind enterprise software, it's time to share some selection criteria that may help you distinguish mediocre and stellar software solutions. The same criteria apply to the work with a custom software developer, as you should set specific expectations and quality metrics before ordering such a product. 
The key points to focus on include: 
Speed and responsiveness. There's no value in slow, non-responsive software, as it will cause employee irritation and will fail to deliver performance improvements. Thus, you should double-check whether the developer uses lightweight tools to minimize wait time while at the same time preserving the versatility of features.
Cybersecurity. With cybercrime on the rise, enterprise software providers must introduce robust cybersecurity measures and always be one step ahead of hackers and fraudsters. To ensure that you're getting a well-protected software product, check its password policies, permission, availability of two-factor and biometric verification, encryption approach, and firewalls. It also makes sense to inquire how the provider detects threats and what data recovery tools it has in place.
Innovative technology. Your enterprise solution should be flexible enough to incorporate rapid, disruptive tech changes without requiring an entire update or replacement. Many companies achieve such adaptivity with API integrations and microservices architecture that allows updates without the whole system's downtime.
Scalability. Last but not least, enterprise software should be supportive of growth, not restrictive toward it in any way. It's natural for successful businesses to scale, and you must ensure that your enterprise apps will do the same for you. For instance, cloud computing can assist in storage scaling without accessibility hurdles. So, check with your provider and see how they factor in the clients' growth in their apps' architecture.
Get Started with Your Enterprise Solution Today 
As you can see, custom-tailored enterprise solutions can benefit your business in many ways. This single functional platform can cover most business activities, from order processing to IT maintenance and cybersecurity, attending to heterogeneous aspects of your daily routines. Thus, you're sure to enjoy the simplicity and automation it will deliver. If you're ready to step on the path of business process optimization and logical integration, welcome to a consultation with Artkai experts. Let us explain in detail what solution we can create for your business benefit. 
Clients and Results






See Our Portfolio
Schedule your free consultation
Don't miss this opportunity to explore the best path for your product. We are ready to delve into the specifics of your project, providing you with expert insights and optimal solutions.
Book your free session
Read More
Explore articles from Artkai - we have lots of stories to tell
Join us to do the best work of your life
Together we advance the human experience through design.