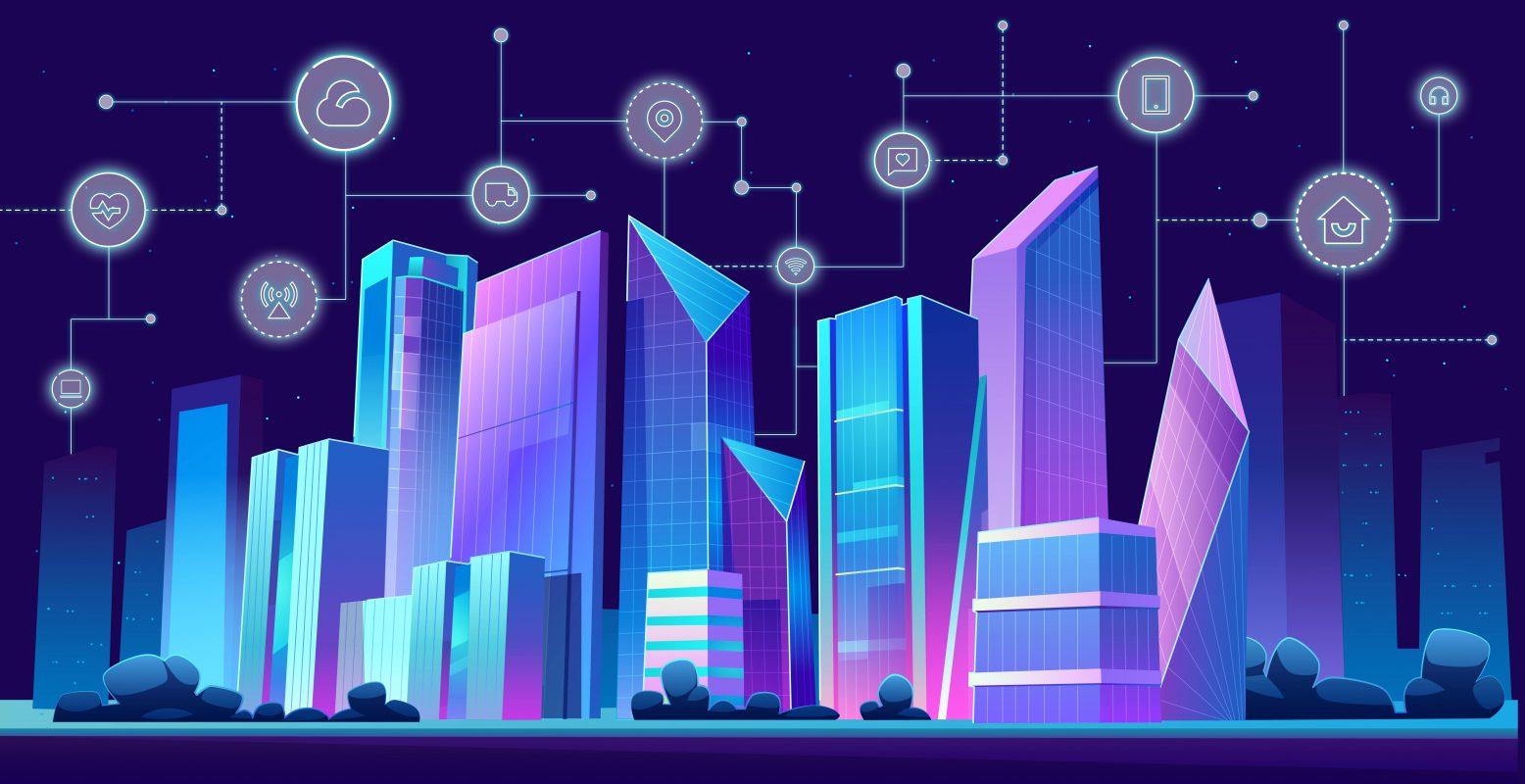 IoT Applications for Smart Buildings: Benefits and Use Cases
You walk into your apartment, say "hello," and your lamps light up while the kettle is ready to offer you hot tea… A dream from the pages of sci-fi books? 
Not at all; it's only the Internet of Things (IoT) that broke into our lives to make them easier and far more connected. The IoT systems use interconnected sensors and smart devices to deliver advanced home automation and help your home respond to (and anticipate) your needs. 
As the market's rapid growth shows, users have enthusiastically met massive smart building automation. The global smart building industry was valued at $69+ billion in 2021, and the market is expected to exceed $200 billion by 2031. The major drivers of this technology's adoption are space-conscious construction, energy-efficient home and office systems, and the early successes of IoT-powered building management systems. IoT also enhances the security of buildings via smart access controls and video surveillance. Thus, it's reasonable that IoT is here to stay, and here we examine how it is applied in smart buildings and homes. 
What Are Smart Buildings/Smart Homes?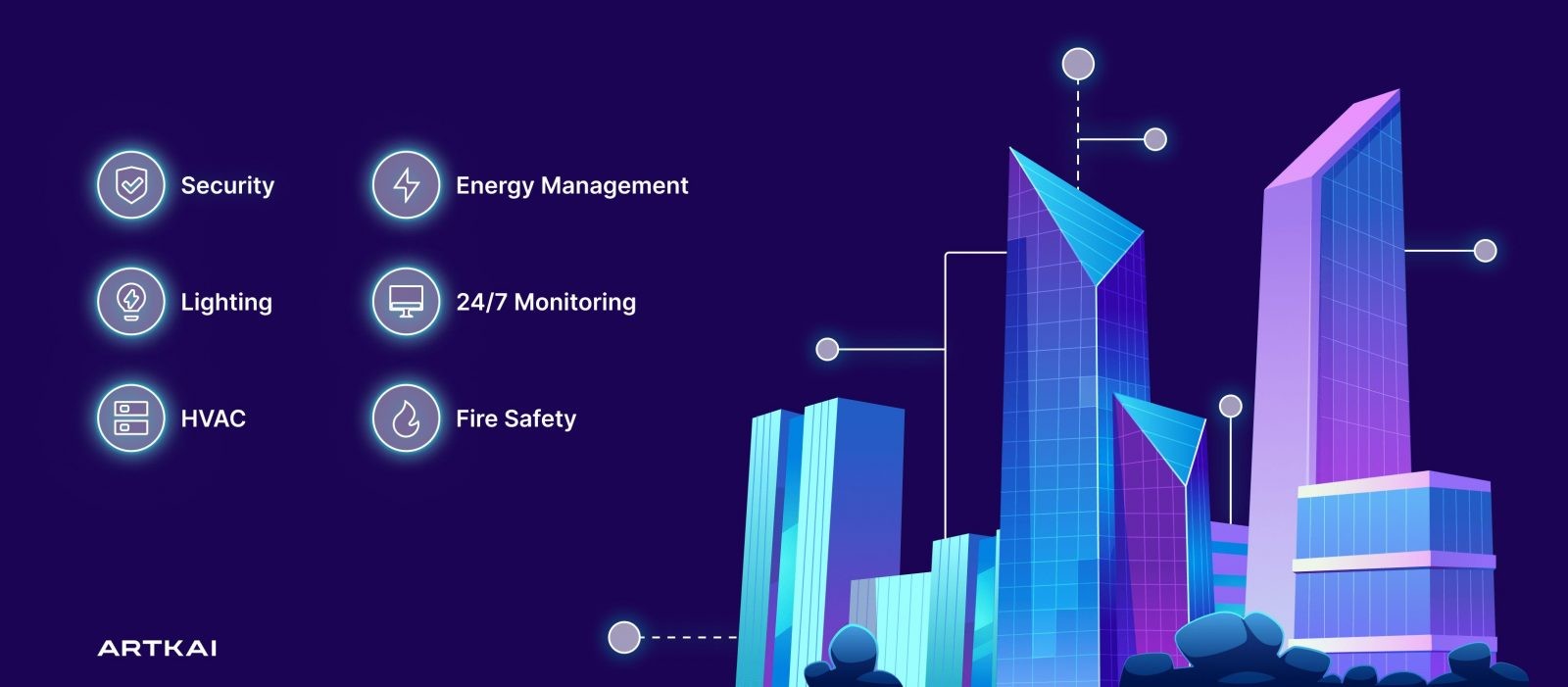 In a nutshell, a smart building is a construction type where multiple sensors collect data automatically. They are usually wirelessly connected with the help of the Internet and enable remote monitoring and management of the smart space. 
For instance, smart temperature and humidity control in a building is done with the help of sensors measuring the temperature and humidity levels with sensors over a specified period of time. That data is further fed into the central control system that activates heaters, coolers, or humidifiers depending on the current parameters' deviation from the settings you specify. 
This variant fits the traditional view of a smart building, where users can configure the intensity of light at specific hours of the day, set alerts and video recordings when people knock at their door, or activate the kettle once they open the door. Many other versions are possible today, with interactive voice assistants and AI-empowered smart home hubs you can instruct.
How IoT Is Reshaping Smart Building Automation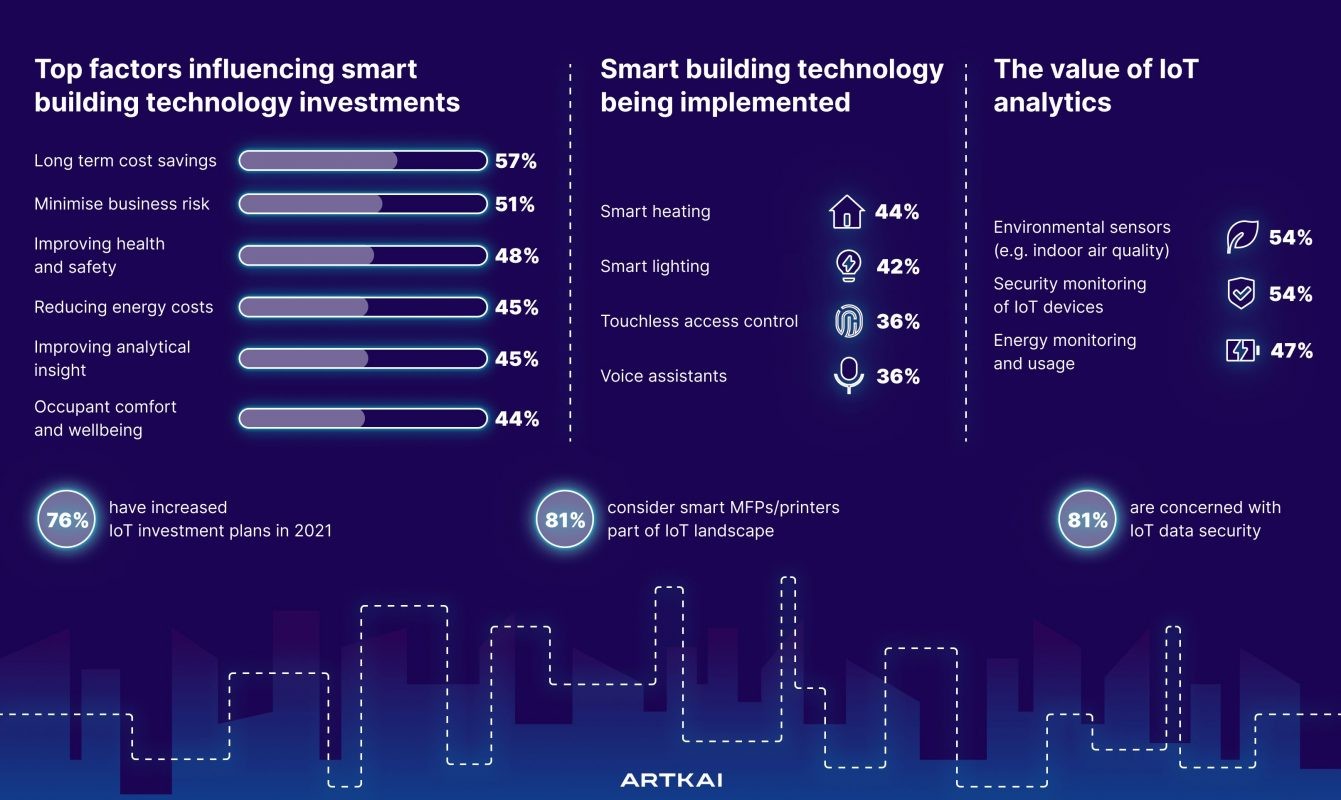 You can embrace the potential of IoT and make your home or office smarter in many ways. Here are the key aspects of building automation with IoT in everyday routines. 
Security and emergency. Smart access control given by an IoT system can let authorized staff in and regulate access to specific building parts. This way, ID or face recognition technology opens the doors and records the staff's movement around the building for further analysis. The same goes for emergencies; IoT sensors can notify about a fire, chemical leakage, or flood early and simplify evacuation by blocking access to dangerous building areas.
Advanced maintenance. You can minimize equipment repair costs by setting IoT alerts for state tracking and conducting predictive maintenance instead of expensive repairs.
Energy management. It's easy to optimize energy use with customized settings for different hours or days of the week, room occupancy, and other aspects. You can achieve greater energy efficiency and get greener with little effort.
Waste management. Energy waste and proper use of various facilities allow optimization of resource use, reducing your bills and carbon footprint.
Workforce oversight. You can monitor all staff's movements and activities without spying on people. The sensors will record everything and alert you of suspicious activities.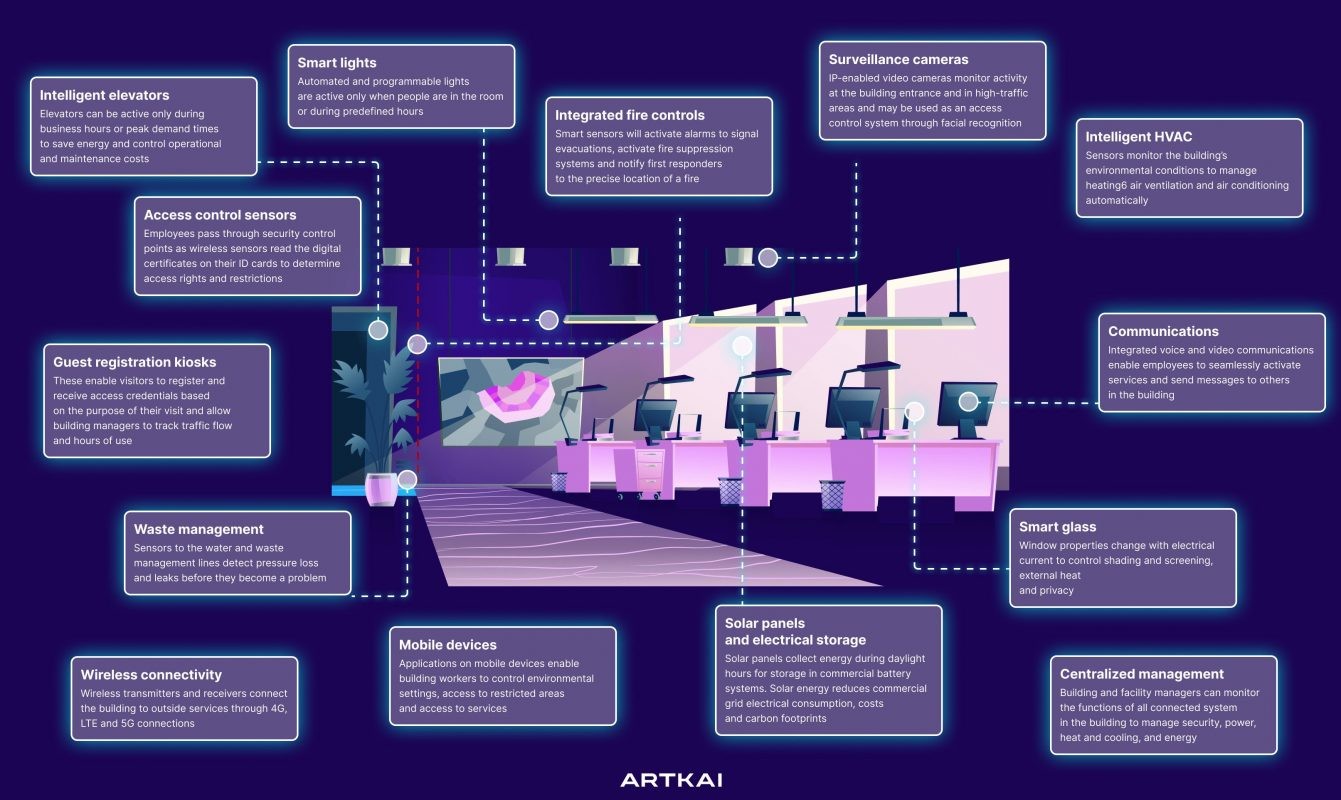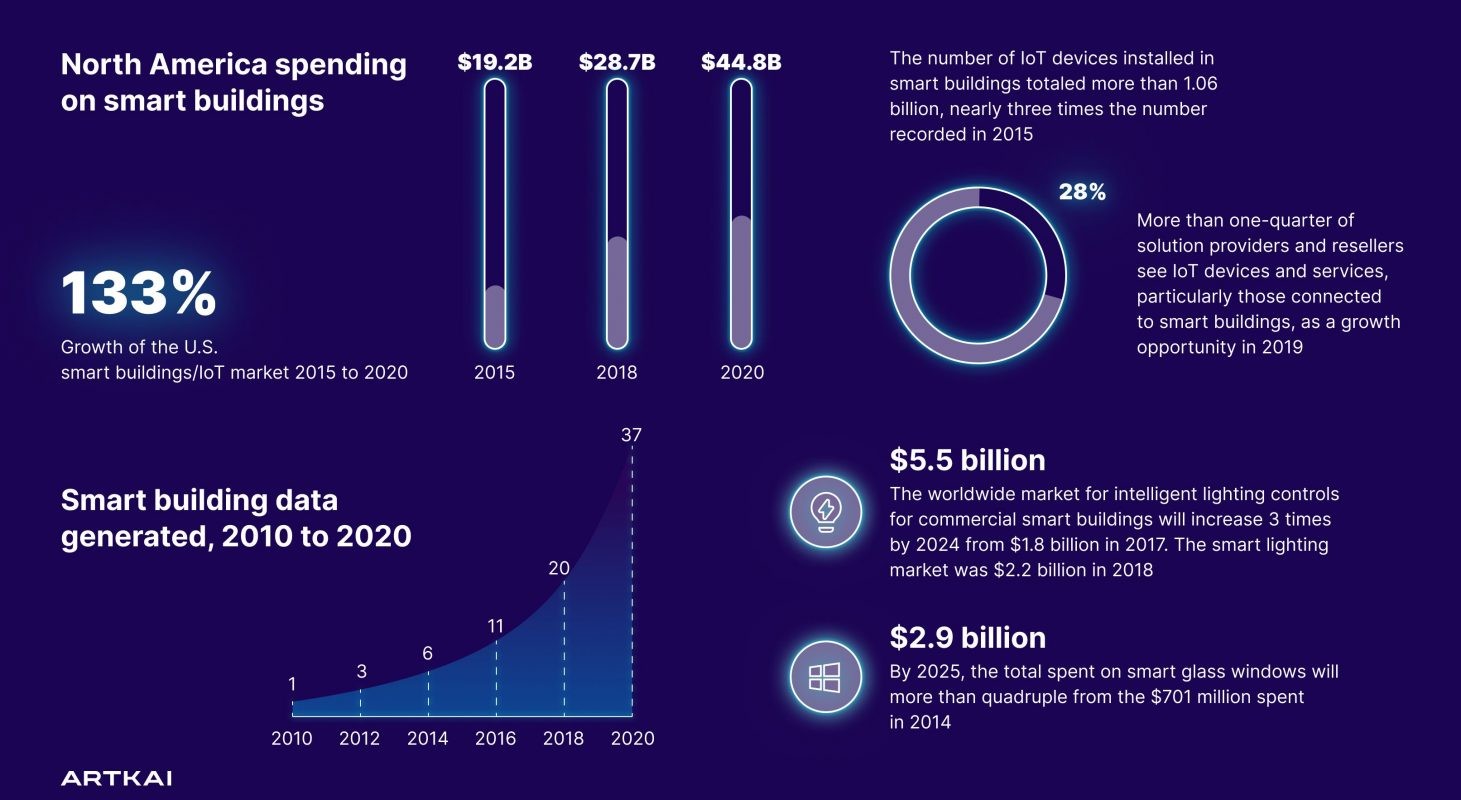 IoT Application and Use Cases 
With the safety and comfort IoT systems bring, there's nothing surprising about their increasing use in various buildings. Over 10 billion active IoT devices were used in 2021, and the number is predicted to rise to 25+ billion by 2030, so one should take the trend seriously. Here are a couple of use cases for this technology currently explored in various parts of the world.
Smart homes 
Setting up an IoT system in your home allows remote control of your air conditioning, light, and vital security settings from a smartphone or control panel. This way, you can enjoy a comfortable home environment and sleep well as your smart system reduces the air temperature for the nighttime. Home IoT networks also help control your home's intactness by recording the faces of visitors knocking at your door or turning cameras on after someone steps on your lawn. 
Commercial buildings 
Every business is interested in providing safe working conditions for its staff, including fresh air, optimal temperature and humidity levels, and proper lighting. However, maintenance of a large commercial facility is often an expensive, resource-consuming endeavor, which can be simplified with IoT systems. For instance, businesses can customize light intensity depending on various rooms' occupancy or use ambient light in the daytime. These smart adjustments can reduce electricity bills and help the company reduce its carbon footprint. The same goes for smart temperature, air quality, and humidity control during different parts of the day, which can also be custom-tailored to space occupancy and brought in synergy with other environmental settings. Another vital gain of IoT use in commercial buildings is better security. IoT technology is quickly advancing, and you can employ cutting-edge facial recognition technologies and contactless access to allow authorized personnel to access specific areas of your buildings and restrict access to other staff. 80% of businesses that have applied the IoT tech in their commercial settings underline tangible efficiency increases.
Manufacturing
The Dataprot report evaluated the cost of smart factories in North America to exceed $500 billion in 2022, a real revolution in the manufacturing sector. IoT systems increase productivity and enhance workplace worker safety, contributing to production precision and minimizing human error. These stats explain why forward-looking businesses targeting efficiency gains have invested over $1 trillion in IoT technology, seeking ultimate automation and customization to the manufacturing space they give. 
At present, IoT uses in manufacturing cover: 
Predictive maintenance
Automated alerts about deviations from set parameters
Control of liquid and temperature levels in the operating machinery
Detection of potentially hazardous spills
With these concerted efforts of the IoT ecosystem, the production facility provides better personnel safety, a more convenient working environment, and smooth machinery operation without collapses, overheating, or crashes. IoT networks also reduce the likelihood of human error and reduce workplace incidents' risks to a minimum. 
Examples of Smart Building IoT 
IoT-equipped smart buildings are not a matter of the distant future; they are real in many parts of the world. Here are the inspiring examples that will introduce you to the IoT wonders in practice: 
Oakland City Center. This business center features one of the most advanced variable air volume (VAV) systems to modify air temperature and humidity in response to occupancy and environmental changes. It also employs a cutting-edge decontamination system to oust viruses and pathogens and reduce the likelihood of virus transmission.
Fulton East in Chicago. Built in the aftermath of COVID-19, this building focuses on air quality and optimal energy use. It also has an advanced air purification system and contactless entry features to reduce contact with surfaces or buttons in public places.
US Green Building Council's Headquarters in Washington, DC. This smart building is LEED-certified due to its trailblazing use of IoT for smart lighting management, circadian programming, and advanced time scheduling.
Powerhouse Telemark. This is one of the few known carbon-negative buildings in the world, built with IoT tech and impressive energy-efficient methods. Users of its office space can book rooms remotely via a cloud-based app.
Sint-Maarten Hospital. This smart hospital is well-known across the globe, as it provides an IoT-enabled space for smooth communication between patients and staff. Besides, patients have access to the control panel of their room's parameters and can configure its settings remotely.
Why Should Real Estate Companies Opt for IoT Technologies? 
IoT integration offers many pleasant bonuses to real estate businesses. These construction and facility management actors are primarily interested in buildings' energy efficiency, safety, and optimal functioning. So, as a real estate company owner, you can take advantage of the following: 
Sustainable operations. IoT sensors will deliver accurate energy consumption, water use, and air quality data. The system can notify you about leakages or deviations from the configured settings to allow timely troubleshooting.
Energy bill reduction. Energy is very costly today, and your IoT system can optimize electricity consumption by analyzing waste and suboptimal equipment use during specific times of the day or week.
Proper functioning of critical equipment. It's expensive to repair equipment once it breaks down, and IoT sensors can help you anticipate and prevent those crashes with predictive maintenance and alerts.
Good air quality and reduced disease transmission risks. Air quality is vital to people's health and safety, and you should keep it under close control to avoid litigation or infection spread. It's easy to accomplish even with a small set of cheap sensors.
LEED and WELL certification. If you're targeting these certificates, IoT sensors will provide vital data about your building's water and energy consumption patterns and air parameters. This information can also be used during build inspections and reviews, simplifying your compliance processes.
These gains are more than enough to convince you to introduce the IoT ecosystem in your next building. You're sure to see the benefits very soon by getting ultimate control of the building's vital operational aspects. 
How IoT Benefits Builders, Owners, and Tenants 
IoT technologies are universally beneficial to all construction market participants, from builders to building users. 
Builders use a variety of IoT sensors at various stages of the construction process, which simplifies worksite scheduling for construction teams. As a result, the chances of completing construction within the deadline and budget get higher.
Owners of the constructed buildings get a 360-degree view of the building's functional parameters and processes. They can measure and configure energy and water consumption, check all critical equipment, and monitor the building's security without high costs.
Tenants receive a ready-made ecosystem of solutions that help them monitor the environmental settings in their offices and dwellings, like temperature, moisture, parking access planning for them and their guests, etc. They may also avoid unnecessary contact with managers, with all data transferred via IoT directly to the responsible person.
Ultimately, IoT simplifies operations for all people associated with smart buildings' creation and use. IoT-equipped buildings ensure all occupants' well-being and optimal productivity and guarantee robust security and access control.
Embrace IoT Before It's Too Late 
As you can see, IoT is the new word in the world of smart home design and automation of essential processes and monitoring activities in residential and commercial facilities. Thus, if you're a construction business or a real estate market participant, it's imperative to consider integrating IoT technology into your objects' functioning. If you need a reliable IoT setup partner, consider Artkai for this role. Our coders have in-depth IoT integration expertise and can create custom-tailored software for IoT systems management. 
The world is getting interconnected, and you can play a role in this process with IoT-powered smart homes and offices. Don't waste your chance to hop on the fast-moving train of IoT technology introduction in construction. It's still in the germinal stage, so forward-looking businesses can embrace the trend and gain a leading position in the market by offering cutting-edge integration services. 
Clients and Results






See Our Portfolio
Schedule your free consultation
Don't miss this opportunity to explore the best path for your product. We are ready to delve into the specifics of your project, providing you with expert insights and optimal solutions.
Book your free session
Read More
Explore articles from Artkai - we have lots of stories to tell
Join us to do the best work of your life
Together we advance the human experience through design.