Top 9 trends in strategic technology to watch for in 2021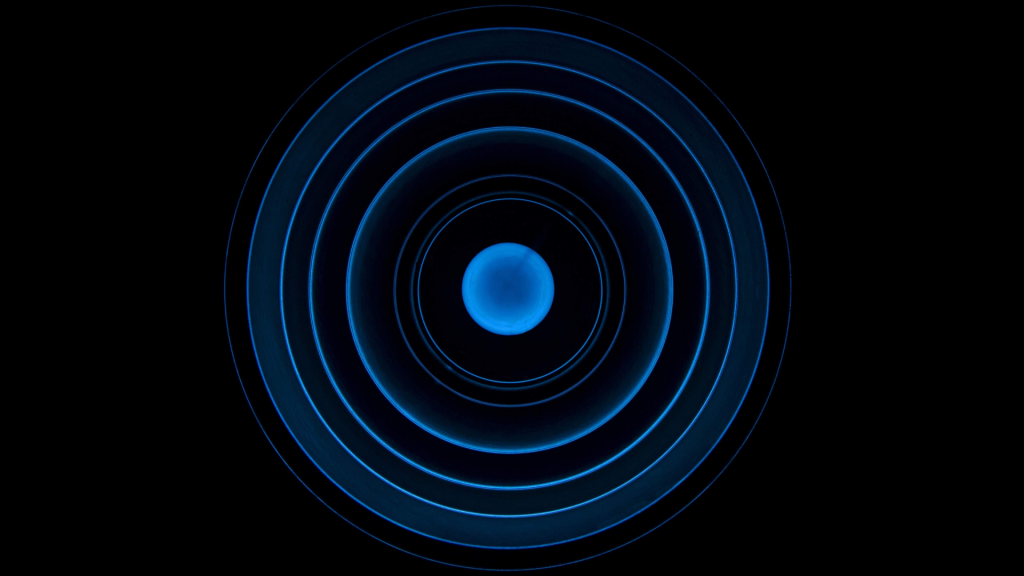 Gartner admits that the upcoming business year's trends are more likely to fall along with three major themes: people centricity, independence of location, and a so-called resilient delivery. In Artkai, people-centricity and a human-centered design approach have long been our business philosophy's keynote and the following trends are very close to our vision of 2021 digital transformations.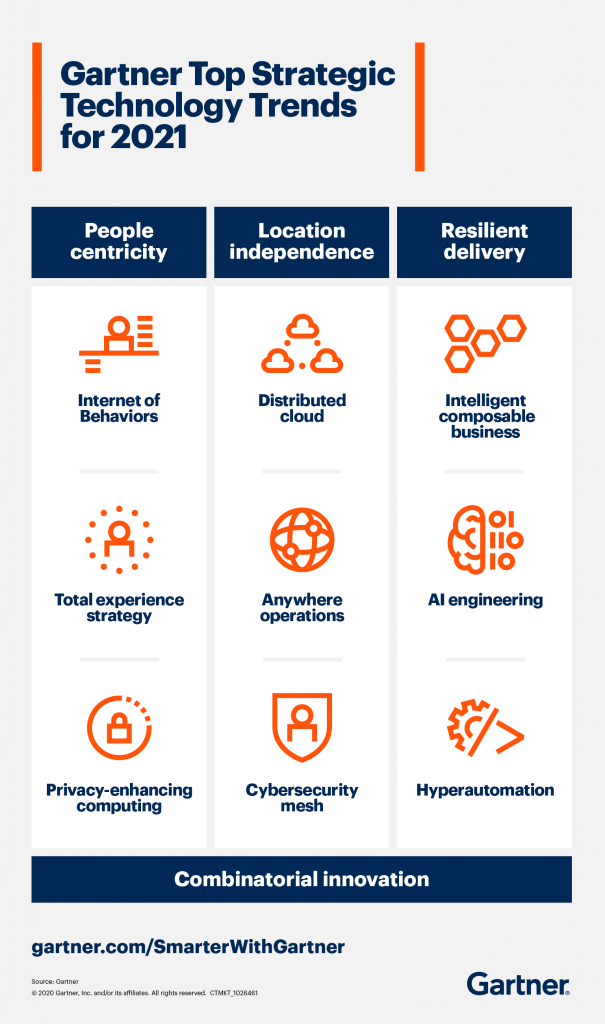 PEOPLE CENTRICITY
Customers are now the core of all businesses – and they require digitally transformed processes to work in today's environment.
1. Internet of behaviors
'The Internet of Behaviors (IoB) captures the "digital dust" of people's lives from a variety of sources, and that information can be used by public or private entities to influence behavior.' – Gartner, 2020
The reality is as follows: much data comes from various sources—commercial customer data, social media, etc. The more data becomes available, the more likely and IoB (the Internet of behaviors) will capture it and impact your company's technologies.
Organizations should adjust to these fast changes and put their technology to draw quite sophisticated insights. It will help them to keep on living, and satisfy their customers' demands. For the time being, staying data-driven and people-centered are what every business needs.
2. Total-experience
Nowadays, to lean into the challenges created by COVID-19 with an overall goal of transforming the entire working experience, the total experience trend enables organizations to identify newer activities that they can integrate and build upon & function smoothly.
So, the trend goes: people are still at the center of all businesses. Moreover, they need to go digital and transform the processes to function in a new post-epidemic environment. And that's where we're ahead of trends.
3. Privacy-enhancing computation
Another issue to deal with is privacy-enhancing computation. It incorporates the technologies applied to protect the user data and enable secure data processing & data analytics for measuring customer experience. Naturally, the more we go digital, the more protection is needed.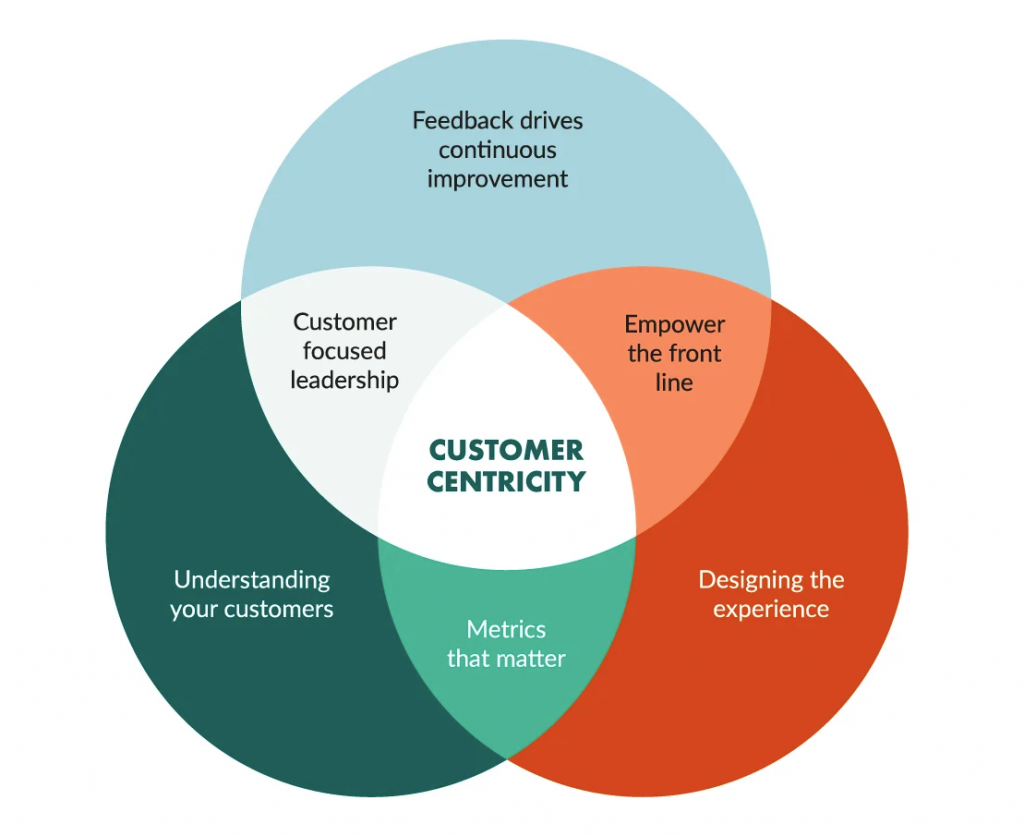 LOCATION INDEPENDENCE
No wonder that location independence trend dictates a technology shift to support this new business version simply because COVID-19 has shifted where many employees, suppliers, customers, and organizational ecosystems physically exist. Only think of that!
1. Distributed clouds
What's significant about distributed clouds is that they may provide public cloud options to various physical locations. Naturally, the public cloud web design company may maintain, operate, and evolve the products or services but physically execute at the point of need only.
This helps regulate privacy issues that need certain data to be stored in a specific geographical location. Customers may benefit from public clouds by avoiding costly and too complex private cloud solutions.
2. Anywhere operations
'The model for anywhere operations is "digital-first, remote first." – Gartner, 2020
It's not just a trend spread through word of mouth anymore. It's a real option for the new customer experience strategy in 2021. Anywhere operations are referred to as an IT operating model developed for interaction with customers & support them everywhere.
You also enable your employees and manage the deployment of business solutions everywhere. With anywhere operations, you manage IT outstaffing teams across distributed infrastructure efficiently.
3. Cybersecurity mesh
Interaction designing is impossible without flexible and reliable cybersecurity control. Thus, the cybersecurity mesh is introduced as a distributed architectural approach to scale the control & provide the necessary security level.
COVID-19 has already accelerated an existing trend, where most devices & assets are located beyond any traditional physical & logical security parameters. The cybersecurity mesh also enables any person or thing to access and use any digital asset securely, no difference where either of them is located.
RESILIENT DELIVERY
Volatility exists in the world, no matter the pandemic or recession, and organizations that are prepared to pivot and adapt can cope with all sorts of disturbances.
1. Intelligent composable business
When hit with a significant disruption like COVID-19, many business processes that were too brittle to adapt simply broke quickly. That's because these organizations have spent the past decades focusing on efficiency only. Instead, to rebuild the company and ensure that its business model is as resilient to disruption, the leaders should concentrate on:
Enables better access to information
Can augment that information with new insights
Can change and respond more quickly as decisions are made
2. AI engineering
Gartner emphasizes that 'without AI engineering, most organizations will fail to move AI projects beyond proofs of concept and prototypes to full-scale production.'
AI projects often fail due to issues with maintainability, scalability, and governance. However, robust AI engineering, well-adjusted programming languages & full automation facilitate the performance, scalability, and reliability in unstable times.
For 2021 Gartner emphasizes the new emerging term – Responsible AI. It is an umbrella term for many aspects of AI implementations. They include AI value, trust, risk, ethics, transparency, fairness, accountability, safety & compliance. Responsible AI signifies the movement from principles & declarations to the AI accountability operationalization at the organizational & societal levels.
Using tools like responsible AI, machine learning, event-driven software, robotic process automation, automated usability tests, and other types of the decision process will guarantee the resilient delivery of products and services in a changeable business reality.
3. Hyperautomation
Hyperautomation – is a process in which businesses automate as many IT processes as possible to meet the highest customer expectations.
"Hyperautomation is irreversible and inevitable. Everything that may and should be automated will be automated." – says Brian Burke, Research Vice President, Gartner
To put it simply, nowadays, customer-centric organizations should digitize their documents, design artifacts, and ensure their business and IT process workflows are digital. They need to automate their tasks, orchestrate automation across functional areas for their employees and loyal customers, and improve customer perception.
Indeed, the latest conditions rapidly pushed many organizations to allow digital transformation faster, go more remote, and generally provide more digital-first options. The key to both digital operational resiliency & operational excellence for organizations nowadays is up to their hyper-automation.
Conclusion
Following trends allows user-centered design organizations to understand market demands better, well prepared to adapt & pivot under new business reality circumstances & all types of disruptions. To put it simply, strategic technology trends like responsible AI or distributed clouds enable organizational plasticity to help find touchpoints and guide organizations in the next five years smoothly and stay closer to potential buyers. Stay tuned!
Read More
Explore even more articles from Artkai — we have lots of stories to tell.