5 great no code MVP types for your startup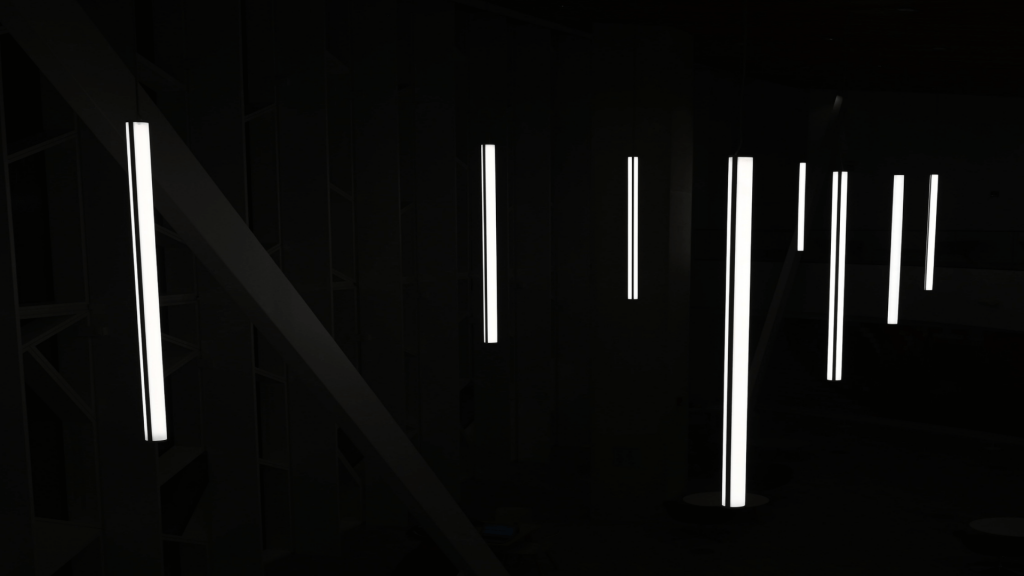 Finding the right business model & bringing a product to the market is hard without thorough research and testing the target audience. Research allows you to critically estimate all pros & cons of your business idea and reduce the risks. How to find out if it will be in demand or not? Choosing the right MVP type for your future product with no or low code might be the right learning solution.
CB Insights, which is a top-of-mind platform that analyzes millions of data points to give real-time information on startups, has recently published its report. They revealed a big picture of why many startups fail from the start. To be precise, about 42% of new businesses don't make it. Why? The answer is simple – there is no demand for their product.
This happens when a product does not pass the test for viability before the launch. Roughly speaking, building a product measure twice & cut once. In the end, it's thorough preparation that makes it easier to succeed. That is why even an already existing business needs product viability testing, to strive. So, what is MVP, and how to pick the best one either for your startup or a no-code project?
What Does MVP Stands For?
In the designing industry, a minimum viable product is a well-thought visual idea that is deliberately transformed into a design is shown to customers/investors to test its future demand. MVP may also serve as a single function or task that solves a specific consumer's problem. It is a process that allows you to nail up the final version that is truly necessary for your audience.
To make up an ideal version of a new product and guarantee the future success of your business, learn to distinguish between MVP, PoC & Prototype. That will make sense for your product recognition on the market, its sustainability, and future success for real users.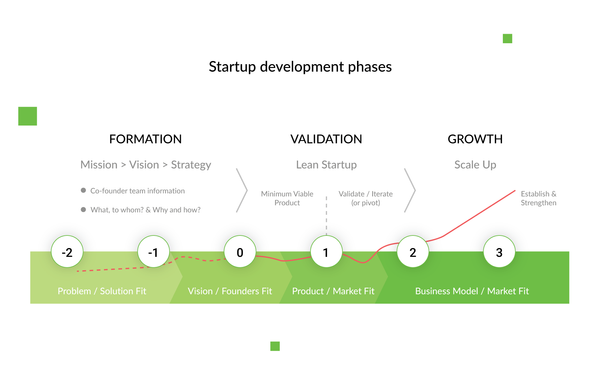 Ideas to Come Up Before Choosing the Right MVP Type
So, MVP seems to be a specific tool for a customer-oriented approach. Thanks to it, you test demand via user feedback, research to minimize your costs, modify products, add/improve development, etc. for both code & no code projects. There are numerous approaches to deciding on the right business model and choosing the MVP. Here are some ideas you may come up with from the start:
brainstorm to pick the idea,
research the market,
define your targeted audience,
research their habits,
figure out their preferred communication channels: whether or not they'd like to watch a video, read the content, interact with a real human, etc.
nail up what features you're going to add in the long run,
think about a thorough development process for code projects,
come up with other details you think are vital for the process,
take your time.
Do not be afraid to think bigger & stay innovative, while making your preliminary research. The more you think before, the better you figure your product idea out. It is also vital to assess all your resources prior to the MVP type choice and initiate any activities to create it.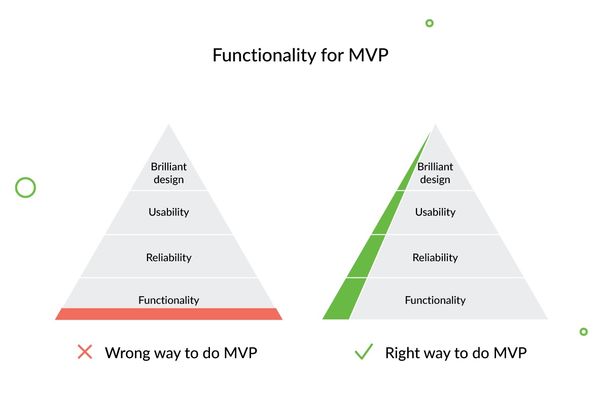 Find out what people love about the idea or not. You will get the most valuable experience & the key to understanding what MVP type to use. As you decide what MVP to use for your lean startup, rely on what you would like to learn from it, and pick the right minimum viable product example. It's all about learning! So, no matter the choice, you should never lose sight of the MVP variations offered. Strive for validated learning about customers, either current or potential.
5 Great No-Code MVP Types to Explore Before Building Any Product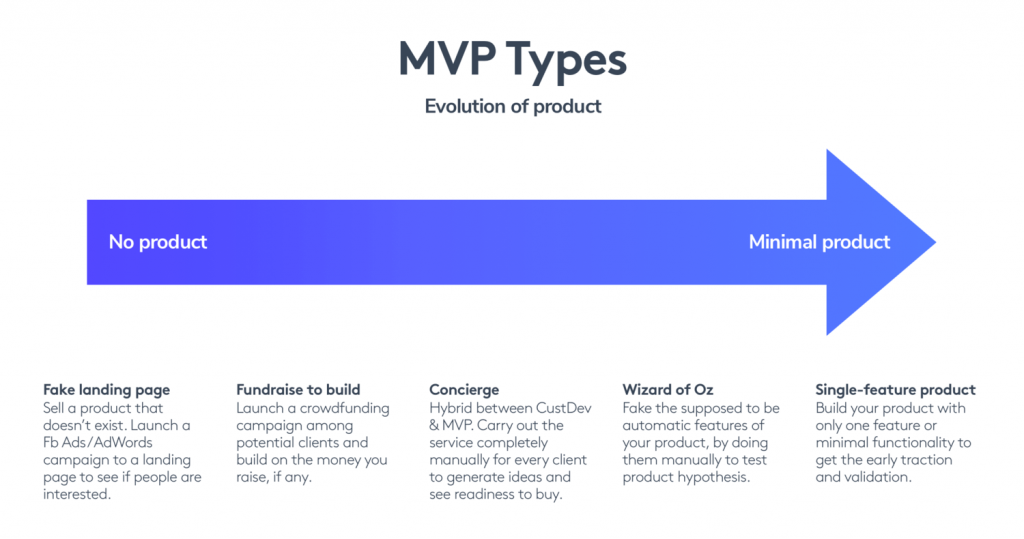 Pick a minimum viable product according to your product goals. Look through all possible MVP variations before you make a wise choice on your initial business model. What does MVP stand for in different variations?
Landing Page
A well-thought product page is one of the easiest means to prove an idea and install some traction without actual development. To make the concept valid and sum up a substantial amount of validated learning, it is easier to use a fake landing page from the offered templates or design a custom one that explains your product in a simple way.
Pros:
Promote or run some ads & bring extra traffic to the page. You may insert a typical CTA button. If needed, you may also use a dedicated development team.
Cons:
It is sometimes hard to approve your concept because people click out of curiosity. You may hardly figure out if people really care about what you do.
Fundraise
Creating a crowdfunding campaign is one of the best ideas among early adopters. They like the idea of checking out the value of their project through real people's choices. Besides, you attract potential customers & develop the product based on the money you manage to raise if any. Do it with the help of Kickstarter, or similar platforms.
Pros:
Make money practically from nothing. Mind that you should promise that if the product hits a certain pre-order level in the time set, you will release it. The most critical parts of the product may be successfully tested from the start, which makes the type quite highly scalable.
Cons:
No product, no income, if you don't hit the funding level on time. You may not release your product and, probably, you will not sell it.
Concierge
This is a hybrid of MVP+Customer development. Instead of building a prototype, you may provide the services manually for a small focus group developing your customer base at the same time.
Pros:
You may better research and get those customers who do not quite understand that technology may solve their problems. It also provides you with the maximum amount of validated ideas in this way.
Cons:
You set the process manually for each client. You generate ideas to check a willingness to buy something custom. Though it may be hard to scale and prevent the risks, you still get some useful insights.
Wizard of Oz
The idea is simple and can give you a certain impression of your solution. Your products look completely real and functional, however, everything inside is operated manually by your team. You may collect the maximum amount of data from the user interaction with a system that they believe works perfectly.
Pros:
The services look like a real full-fledged functional system. No wonder, it is much cheaper to simulate a system's functioning rather than develop it for true.
Cons:
No team to collect the data. It makes people believe that there is something wrong with the system rather than a human factor that causes trouble while solving their problems. And people blame your service system and choose someone else.
Single-Feature Product
It is a solid foundation for your future product from the very start without actually writing original and decent code. However, you use minimal functionality in product development to get both the early traction & idea validation.
Pros:
Originally faster to design, single-feature products are so simple to explain to the target audience.
Cons:
People sometimes are not engaged enough to see the real value from the single-feature product or the solution to their actual business or special needs it provides. This makes it hard to choose a very successful feature to include in the project from the start to hit the demand.
Conclusion
All startupers and new business adopters need to fully understand what is MVP and choose the right type for their business to succeed. We recommend starting from a discovery phase: workshops & research, networking, or a more complex approach with a mix of several ready product variations to get the most vital – better vision and understanding of your ideas. Depending on your idea you pick the right MVP type to test your audience & improve your thoughts on future products. Prior, learn all pros & cons of each to make sure you have the best suitable business model to embody your product ideas.
Read More
Explore even more articles from Artkai — we have lots of stories to tell.